Toranomon Hills Station Tower: One Step Away From Revolutionizing Urban Life
January 24 — Mori Building announced the opening of the Toranomon Hills Station Tower, the fourth tower of the Toranomon Hills area project, this autumn 2023.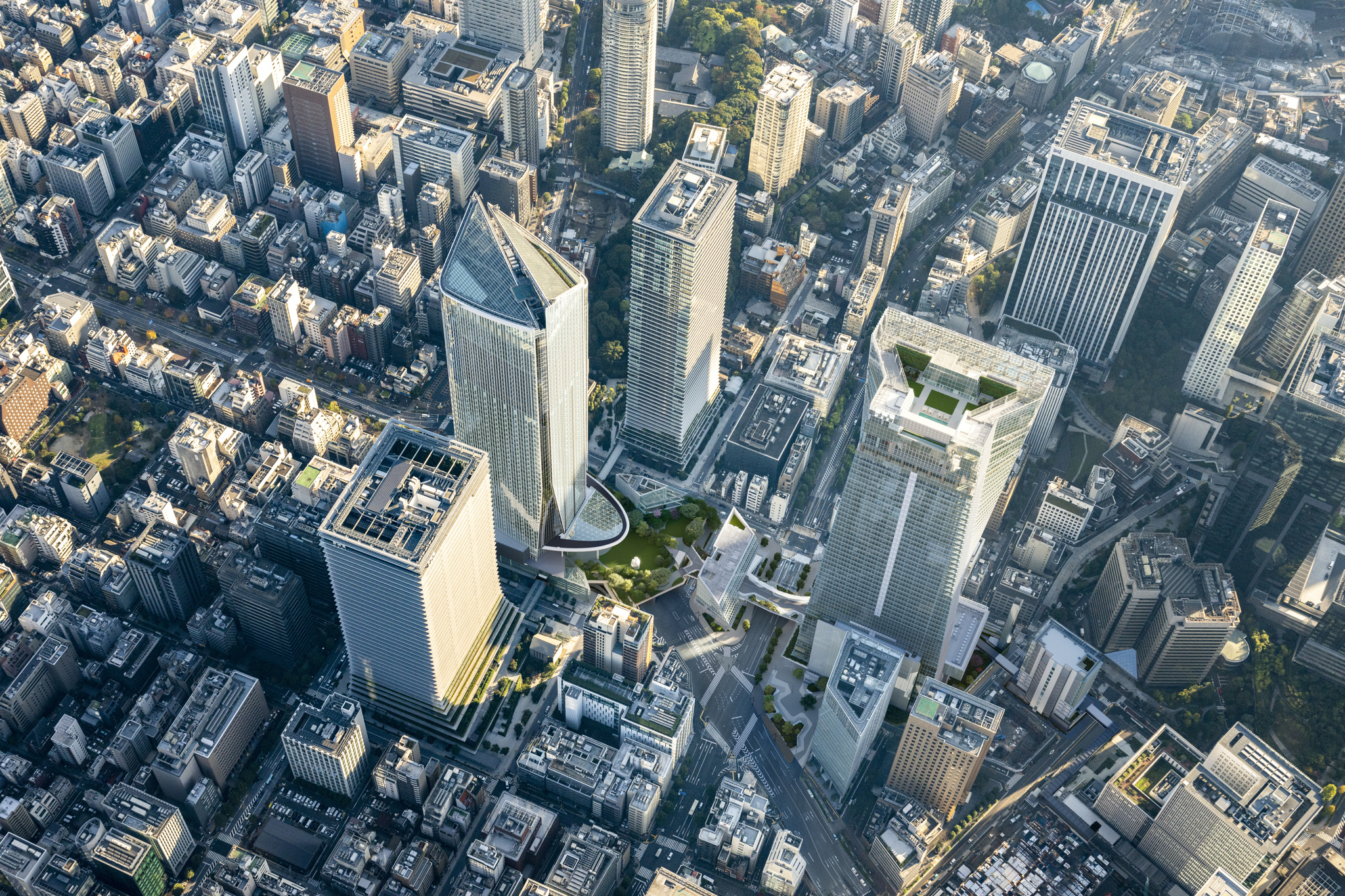 From convenience, safety, tradition, and subculture, Tokyo is an excellent place to live for many reasons. Mori Building Co Ltd, Japan's leading urban landscape developer is about to take city life to a whole new level with its Toranomon Hills project.
Imagine skyscrapers surrounded by green spaces, restaurants, schools, hospitals, and offices. Having everything you need within walking distance has long been a dream of many people. But it's not just a dream anymore.


Walkable Skyscraper Complex in Central Tokyo
Toranomon Hills is a skyscraper complex project in the Toranomon district of Minato, Tokyo, developed by the Mori Building.
The project aims to provide an unprecedented urban living experience while preserving ample green spaces. In doing so, it redefines the concept of urban development and what future cities should look like.
The developer envisions the area as a new international hub and global business center. It hopes to attract various businesses and global players to gather and disseminate new ideas and values.
Shingo Tsuji, president of Mori Building, commented on the project at a press conference on January 23. "In order to win the global urban competition, it is necessary to create a city with a magnetic attraction that attracts people from all over the world," he said.
"It is not enough to have offices," he added, explaining: "[It] is necessary to have a compact concentration of urban functions that global players seek, such as housing, hotels, governance, connecting hubs, and lush green nature, all within walking distance from each other.
Convenience is a Factor
The area is close to Kasumigaseki, with a high concentration of embassies and cultural facilities nearby.
Mori Building Co has been developing the neighborhood over several years. Currently, the project consists of the Toranomon Hills Mori Tower (2014), Toranomon Hills Business Tower (2020), Toranomon Hills Residential Tower (2022), and the Toranomon Hills Station Tower. The latter is to be opened in the autumn of 2023.
According to Mori Building, by the time all of these elements are completed, Toranomon Hills will cover an area of 7.5 hectares. It will contain a total developed floor area of 800,000 square meters.
Standing 266 meters high, Toranomon Hills Station Tower will have 49 floors above ground and 4 below ground.
The developer's vision is that the Station Tower will offer world-class offices, as well as retail facilities integrated with the station plaza and a hotel. In addition to the retail section with restaurants and delis, Tokyu Sports Oasis is set to open a new facility comprising a gym, sauna, and more. It's expected to become one of the largest comprehensive wellness centers in Tokyo, says Mori Building in a statement.
Company president Tsuji explained further at the January 24 press briefing. "The pandemic has changed the way people work, and it is important to have a way to facilitate communication, such as sharing ideas with others. It is important for us to ensure that offices are provided with the support and services they need," he said.
Station Tower: What To Expect
According to a written statement, the tower's top three floors will be home to TOKYO NODE, an interactive communication facility. It will include galleries, pools, restaurants, and other facilities aimed at creative thinking and sharing.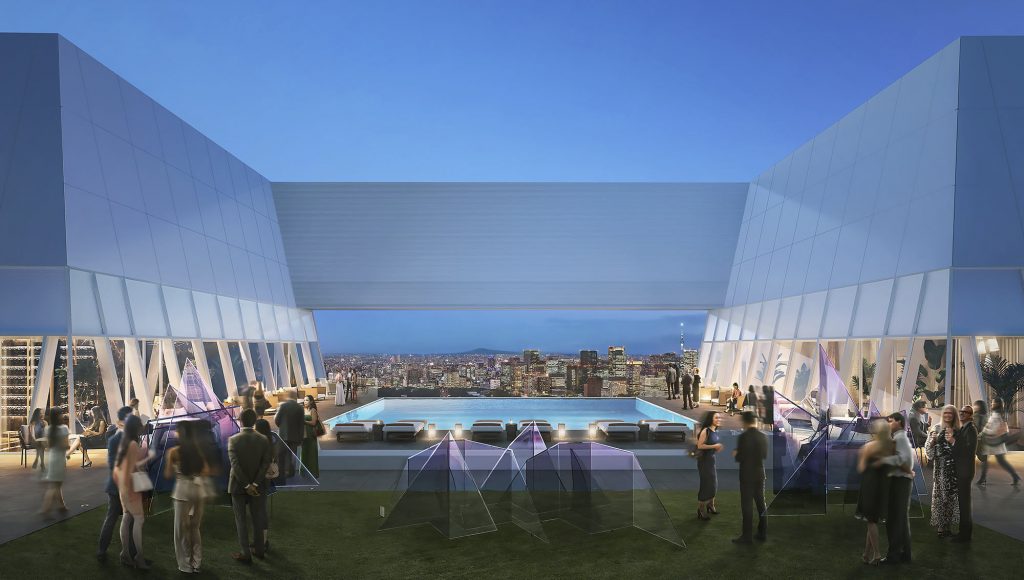 The company explained that Toranomon Hills Station Tower is being developed in conjunction with Tokyo Metro Hibiya Line's Toranomon Hills Station to create an underground metro plaza. It also includes a pedestrian deck (nicknamed T-Deck) that will run over Sakurada-Dori Avenue and connect with Toranomon Hills Oval Square.
Since Japanese subways haven't had station plazas so far, Tsuji elaborated further. Mori Building Co wants to create a space where people can meet, relax, and hold events, he said.
"We took on this challenge because we considered it to be an important part of the city's urban strength, even though it is a very difficult project," he continued, "This underground plaza will also serve as a space to accommodate people who have difficulty returning home in the event of a disaster."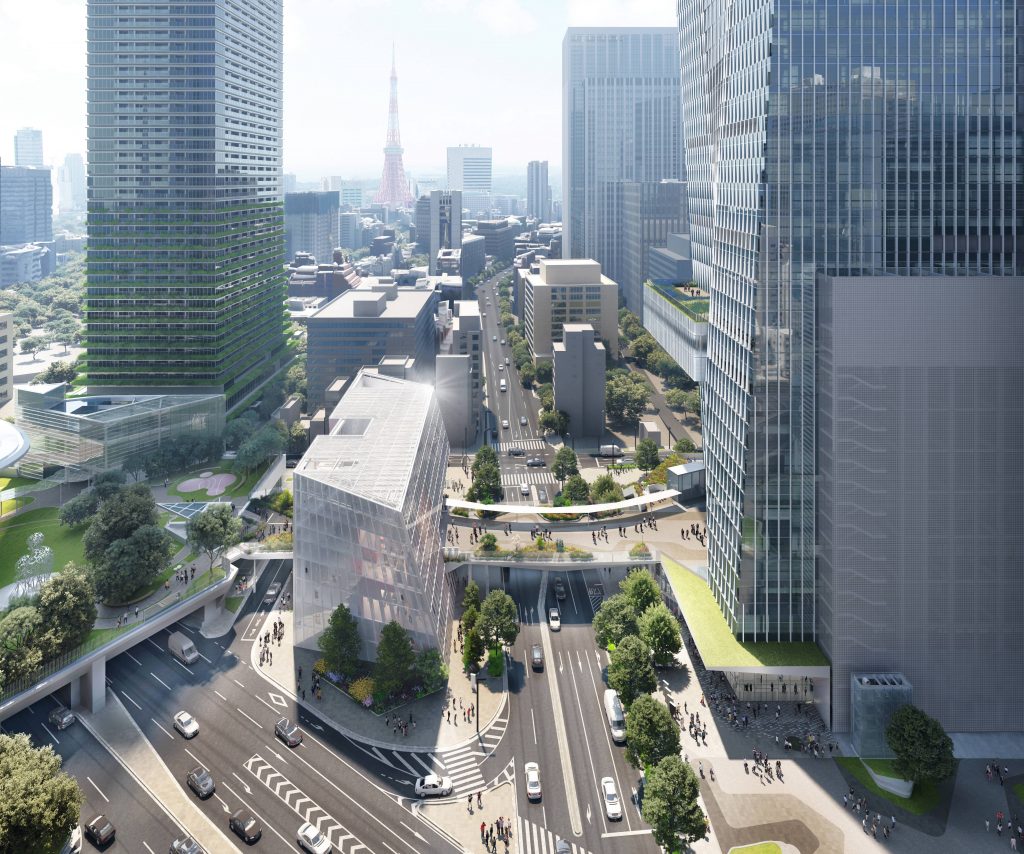 The developer believes that the Station Tower will significantly improve pedestrian flow throughout the entire area. It would expand the local multilevel transportation network underground, on the ground, and on the deck.


Toranomon Hills Greening Initiatives
Landscaping at Toranomon Hills Station Tower is being designed to provide people with multiple spaces where they can interact with nature.
Native plant species will be used on-site to enhance the greenery as part of the company's biodiversity practices.
With its plans to connect the existing greenways at Atagoyama and Atago Green Hills, the developer expects to become a focal point of a newly expanded green network.


Environmental Big Picture at Toranomon Hills
In the Toranomon Hills Mori Tower (2014), there are plenty of green spaces. Notable among them are the Oval Square rooftop garden and Step Garden terraces. Moreover, there are flowing streams within the building.
As a result of the tower's amazing green spaces, it received a top AAA ranking from the Japan Habitat Evaluation and Certification Program operated by the Ecosystem Conservation Society-Japan.
Previously, Mori Building constructed a lush park at Toranomon Hills Business Tower (2020). It later linked the building's lower levels to the Toranomon Hills Residential Tower (2022) with greenery. This created an extended greenway network spanning a contiguous area.
Sustainable Energy Initiatives
Toranomon Energy Network is another future-oriented aspect of the project. It includes a high-efficiency energy center set up in Toranomon Hills to provide the entire community with regional energy supplies.
The first plant opened in the basement of Toranomon Hills Business Tower in 2020. And the second plant is planned for the basement of Toranomon Hills Station Tower in 2023.
Mori Building is clustering various facilities with different usage tendencies. For example, offices, residences, and hotels are within close proximity to one another. In this way, it says, energy use can be equalized and better energy efficiency can be achieved.
A spokesman for the developer says Mori Building plans to introduce an integrated energy management system utilizing Artificial Intelligence (AI) technology at the Energy Center. This will allow it to forecast energy demand using weather forecasts and past demand records, etc.
By using AI, the company says it will optimize the operation of the in-house power generation system and heating system to achieve higher energy efficiency.
Its design to ensure power supply capacity close to that of normal operations during a disaster is another notable feature of the design. This would enable tenants to sustain their businesses and to support the victims in the event of a disaster.
RELATED:

Author: Shaun Fernando