Which Country's Interests Does Nikai's Pro-China Diplomacy Serve?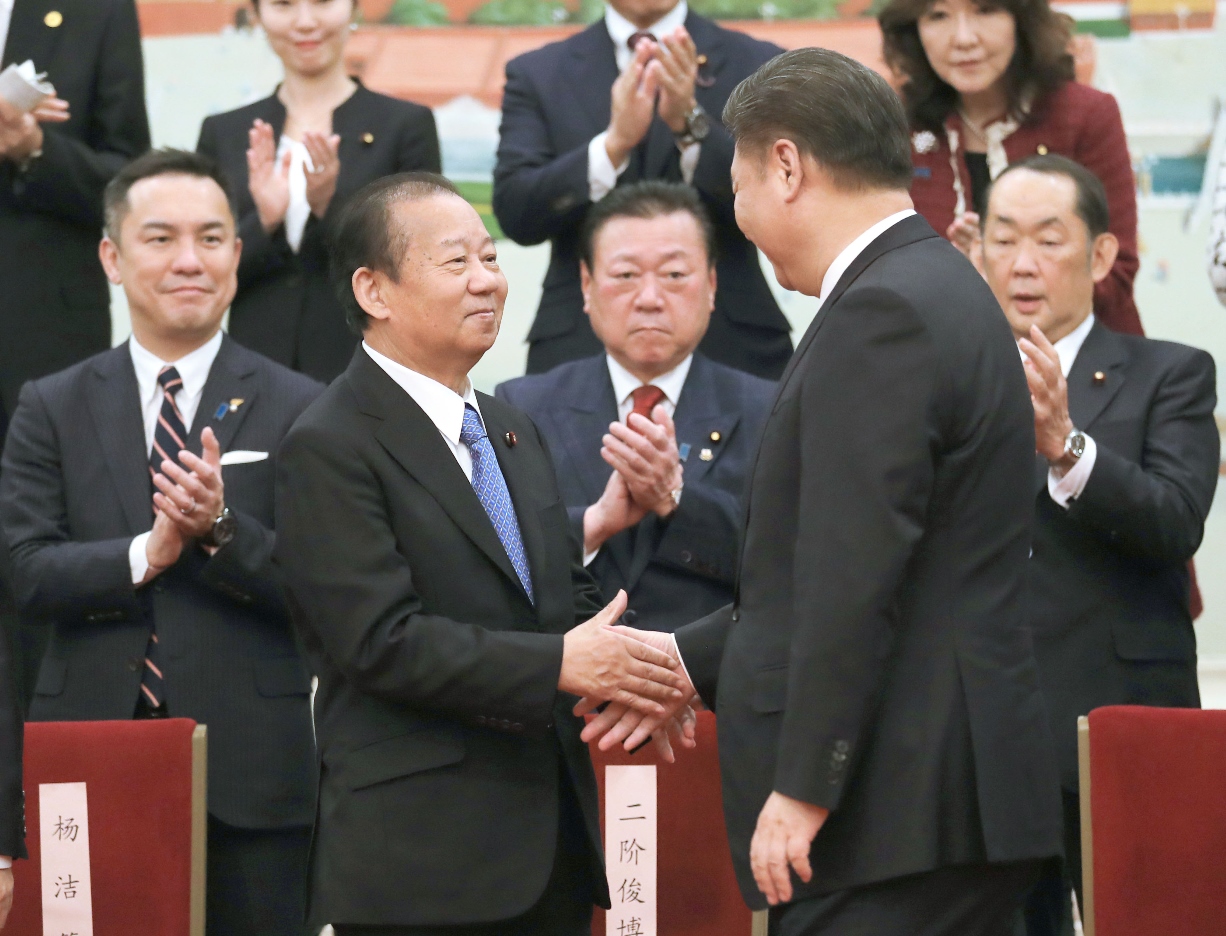 As a foreign correspondent for most of the several decades of my journalism career, following trends in the Japan-United States-China trilateral relationship has been instructive in virtually every post.
One of the interesting observations I have made is that whenever the US-China relationship deteriorates, and the Japan-US alliance becomes stronger, one particular Japanese politician seems to show up in the Chinese capitol, Beijing. Now a senior political leader, his name is Toshihiro Nikai, currently the secretary general of the ruling Liberal Democratic Party (LDP).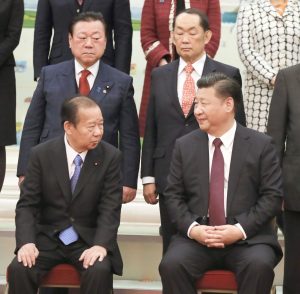 I first noticed his visits to China in the 1990s and assumed the timing must be coincidental. However, it was not long before a closer look at this curious relationship led to the realization that, indeed, there was some logic behind the pattern.
In May 2000, as China bureau chief for the Sankei Shimbun, I covered the delegation visit headed by then-Transport Minister Nikai. He had mobilized an impressive delegation of 5,000 Japanese participants, many of whom represented the travel and tourism industries. Diplomatic relations between the two countries were markedly cool at the time, yet the delegation was warmly welcomed by President Jiang Zemin and Vice President Hu Jintao at a China-sponsored "friendship" ceremony held in the Great Hall of the People.
It was virtually unprecedented for both the head and the vice-head of the Chinese government to appear together at a such a gathering of foreign visitors. Witnessing this event, I was dumbfounded by the sudden about-face in China's attitude and wondered whether it signified an improvement in overall relations with Japan.
However, as I began looking at it in the larger context, I found that the Clinton administration had been taking an increasingly tough stance toward China on account of its military intimidation of Taiwan and its drastic overall increase of military capabilities. At the same time, the Clinton administration was calling on Japan to strengthen the bilateral alliance and build a joint missile defense system.
I found multiple informed sources who were unanimous in their assessment that the Chinese leadership believed it would be disadvantageous to antagonize both the US and Japan at the same time. The Chinese leadership, it seems, decided to smile upon Japan to see if it could adjust the atmosphere in its favor, and for that purpose they found a willing counterpart in their old friend, the Japanese politician Toshihiro Nikai.
Nikai entered politics in 1961 as the assistant to a well-known LDP politician. In 1983, he was elected on his own merit to the national Diet and quickly became known as a fierce advocate for Japan's liberal funding of ODA (Official Development Assistance) to China. Throughout the 1980s and 1990s, over a trillion yen in special loans and hundreds of billions of yen in grants and technical assistance were transferred to China from Japan. Much of it was used for infrastructure development, including dual-use architecture benefitting the Chinese military.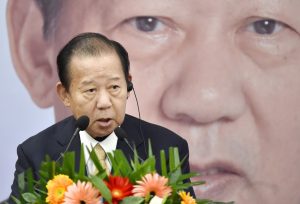 China's appreciation of Nikai's friendship did not go unrecognized. Japan hosts only nine of the extremely popular Chinese giant pandas, and five of them were sent by China directly to Nikai's own electoral district in Wakayama prefecture. (Nikai's own effort to express appreciation—by having a statute of former Chinese president Jian Zemin built in his own district, however, was blocked due to local opposition.)
Therefore, undoubtedly, it has been an easy decision for the Chinese leadership to select Nikai and use his friendship to extend to Japan an olive branch now and then, even though superficial, in what has become by now a familiar pattern.
Nikai was appointed Minister of Economy, Trade and Industry (METI) in 2006. Using his new position, he was even more aggressive in promoting Japan's trade and economic relations with China during these years. Broadly, Nikai's gestures appear to have become the usual tool of choice by one or both governments, used at times of trouble in the US-China relationship and, by China, to soften Japan's opposition to China's policies.
In September 2014, in his first Cabinet reshuffle, Prime Minister Shinzo Abe appointed Nikai to be deputy secretary general of the LDP, undoubtedly knowing that Beijing would recognize the gesture. Beijing responded in May 2015 by again hosting Nikai and a delegation of 3,000 lawmakers, government officials, and tourism and business leaders at a friendship event at the Great Hall of the People in Beijing.
Reports of the meeting emphasize the "warm" relationship of Xi Jinping and Nikai. The timing, again, is interesting. China was then taking a new, outspokenly hardline stance against Japan over the Senkaku Islands and history issues. For this reason, Nikai's visit came as a surprise to many Japanese.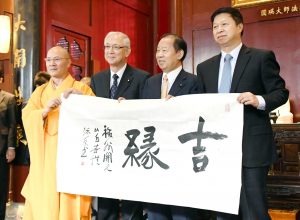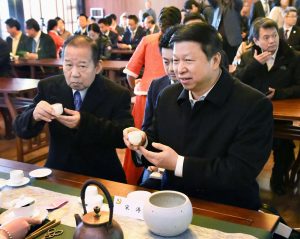 Nikai's 2015 China visit also coincided with the US taking an increasingly tough posture towards China. The initially soft, almost conciliatory, approach to China of the early years of the Obama administration was unsuccessful and therefore dropped. The US instead was speaking out with a harder line against China's lawless military expansion in the South China Sea, the designation of an intimidating air defense identification zone over the East China Sea, and other aggressive Chinese actions. At the same time, Japan and the US had just adopted new Defense Cooperation Guidelines, a landmark event in the Japan-US security alliance. This situation resembled trilateral relationship in US-China relations and the Japan-US alliance in 2000.
Nikai visited China again twice in 2017 as the secretary general of the LDP and was welcomed by Xi Jinping both times, demonstrating unprecedented access to the top levels of the Chinese government. In May, he appeared at a forum promoting Beijing's "One Belt One Road" development project, promoting China-Japan economic relations. In December 2017, he gave what is described as a rare speech by a Japanese lawmaker at the Chinese Communist Party's school in Beijing.
What is noteworthy is that these trips came at a time when the Trump administration was defining its own open but confrontational posture towards China while taking steps to further strengthen the bonds of the Japan-US alliance in its new National Security Strategy. Given the pattern observed since 2000, the conditions were ripe to motivate China to call for "friendship" and "dialogue" in an effort to soften Japan's commitment to collaboration with the US. It is quite natural that, to execute its strategy, they would once again seek out China's reliable good friend, Nikai.
The danger of this "smile diplomacy" lies in the fact that, while some Japanese politicians, including Nikai, may think they are doing something good for the Japan-China relationship, they are only softening the appearance of Japan's concerns while China's aggressive behavior continues unabated.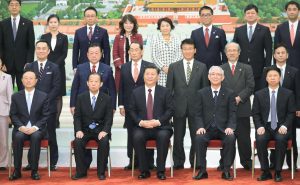 Instead, the visits have provided dangerous cover for China's continued military expansion and incursions into Japanese air and sea territories, and for the lawless incursions by Chinese "fishing" vessels that deplete natural resources and destroy Japan's fragile marine environment. Internationally, China continues to promote and fund anti-Japan activism, including distortion of history to justify its military and economic aggression near the Senkaku Islands in the East China Sea and other parts of Asia.
Perhaps it is time Nikai and other Japanese politicians who encourage his pro-China quasi-diplomacy ask themselves which nation's purposes are served by the "smile" approach. Rather than promote the unsuccessful vision of Nikai the benign messenger, isn't it time to rethink the response to China's hostile behavior and seek a straightforward, mutually-respectful and effective relationship with this powerful neighbor?
Yoshihisa Komori is Sankei Shimbun's Associate Correspondent in Washington, DC and a professor at Reitaku University. He is also a Special Advisor to JAPAN Forward. Mr. Komori began his career as a reporter with the Mainichi Shimbun and served as its Saigon bureau chief and Washington correpondent. Subsequently, he joined Sankei Shimbun, for which he served as bureau chief in London, Washington, and Beijing. He is a recipient of the Japan Newspaper Publishers and Editors Association Award, the Japan National Press Club Award for International Reporting, and the U.P.I. Vaughn Prize for International Reporting.
Mr. Komori is also the author of more than forty books. His past academic experience includes an affiliation with Carnegie Endowment for International Peace as a Senior Associate and Akita International University as a visiting professor.
(Click here to read the article in Japanese.)