Why Do We Let North Korea Go On with Empty Promises of Denuclearization?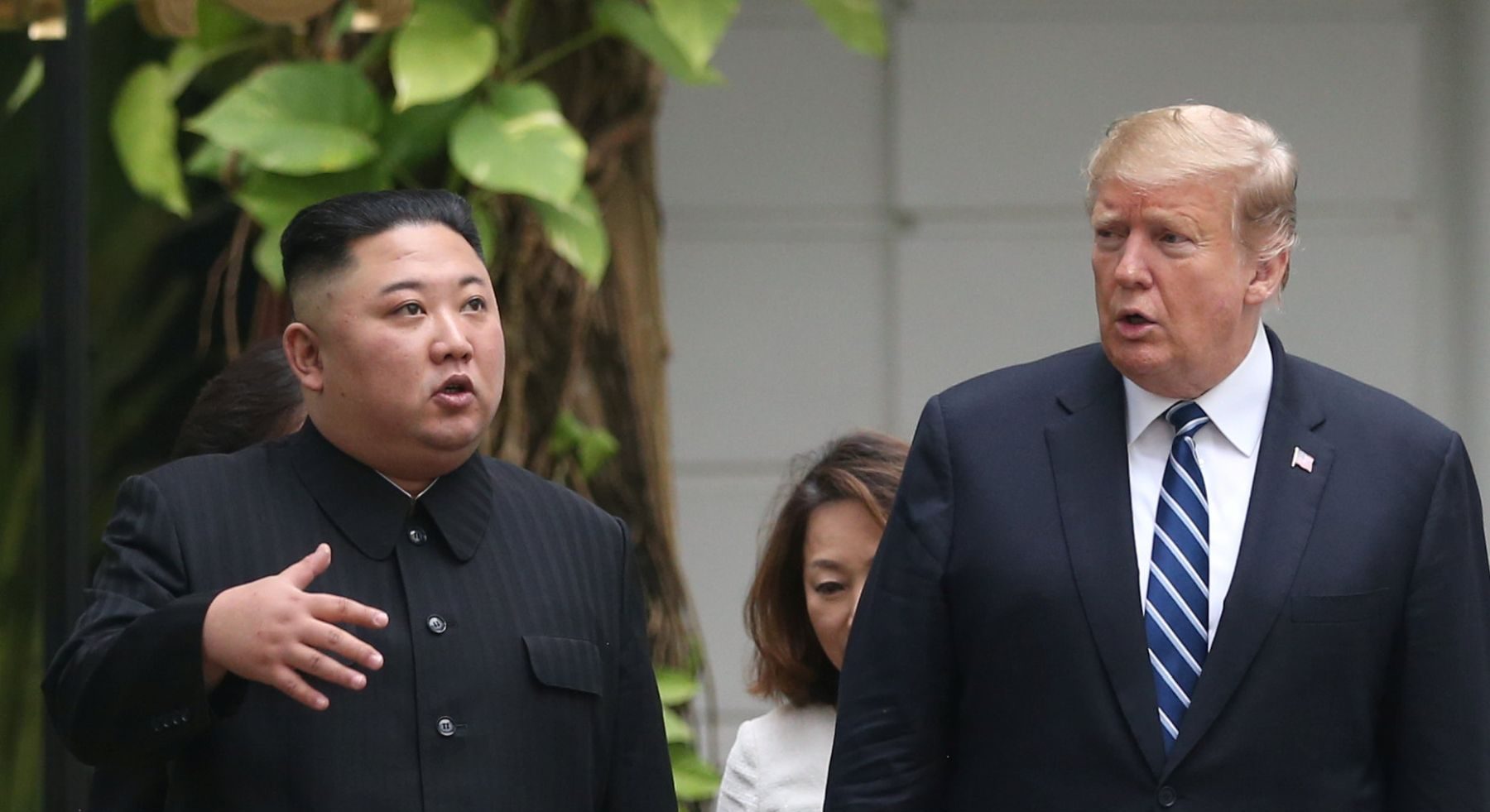 The United States military says there has been a "palpable reduction in tension" on the Korean Peninsula, despite the collapse of talks between North Korea's leader and President Donald Trump in Hanoi. But as Duncan Bartlett explains, Japan's Prime Minister Shinzo Abe is pressing for hard evidence of denuclearization and is tired of promises without action.
There has been deep concern in Japan that the threat of conflict with North Korea could escalate following the breakdown of talks between United States President Donald Trump and Kim Jong Un.
Although President Trump claimed he enjoyed a good personal relationship with Chairman Kim during their summit in Vietnam in February, there was a note of bitterness in his voice when he spoke to reporters afterwards. "Basically they wanted the sanctions lifted in their entirety, and we couldn't do that, so we had to walk away," said Mr. Trump.
Since then, mixed signals have been coming from Washington. The Pentagon's top Asia policy official, Randall Schriver, said there had been no progress on denuclearization since the summit.
"Our door is still open for diplomacy, but to date we have not seen movement on denuclearization," Mr. Schriver told U.S. Congress leaders at a House Armed Services Committee hearing on March 27.
Air of Calm
However the U.S. military's most senior officer in South Korea, General Robert Abrams, had a more upbeat assessment. He told lawmakers in Washington that there is a "palpable air of calm on the peninsula."
General Abrams, who commands U.S. Forces in Korea, said this relative tranquility contrasts with the situation a few years ago, when America and North Korea were exchanging angry threats of war — a terrifying prospect for Japan.
"The tension has reduced significantly," General Abrams told the House Armed Services Committee. "Along the demilitarized zone, on the West Sea, the East Sea, along the Northern Limit Line, inside the Joint Security Area, that for the first time since 1976…is now 100 percent demilitarized," he said.
Lack of Trust
Christopher Hill, the former head of the U.S. delegation to the six-party talks with North Korea, believes President Trump should have used a different tactic. He warned: "You always know what the North Koreans want until they want something else."
"It's discouraging that the President thinks he should be personally leading the discussions when he has the State Department and the Pentagon who know how to do this. He should be using the full force of the U.S. government," said Mr. Hill.
Scott A. Snyder, senior fellow for Korea studies at the Council on Foreign Relations in Washington, also questioned Mr. Trump's strategy. He said: "President Trump has said he has 'fallen in love' with Mr. Kim. Well, to continue that analogy, they can't just elope together — they must bring their families with them."
He advised: "You should not talk to a counterpart like North Korea without sufficient preparation."
"Trump, in his unconventional way, established contact with Kim, the decision-maker. But he needs a system of working-level negotiations to achieve a sustainable outcome," said Mr. Snyder.
Japan's Abductees
Japan's Prime Minister Shinzo Abe has tried to influence the agenda of the Trump-Kim summits. He is eager to have the question raised of Japanese citizens who were abducted by the North Koreans in the 1970s and 1980s — an issue which is often highlighted by JAPAN Forward and its sister publication, the Japanese national newspaper, The Sankei Shimbun.
Mr. Abe also wants to do everything possible to prevent the North Koreans from firing missiles over Japan and targeting its cities with rockets and bombs.
Professor Takako Hikotani from Columbia University said: "Japan has always been the most vulnerable country when it comes to the threat from the missiles and nuclear weapons. However, it is being left out of the loop in the current negotiations because North Korea wants to talk directly to the United States. As a result, Japan's fate rests with how well things go between Trump and Kim."
The stalled outcome to the talks in Hanoi could be regarded as a foreign policy failure for Mr. Trump. But Professor Hikotani said it had actually led to some relief within Japan.
"The fear was that the Hanoi Summit could have led to a deal which focused on North Korea's intercontinental missiles, which target the U.S., but overlooked the medium-range rockets which threaten Japan. In the end, the U.S. showed no compromise on either front," said Professor Hikotani.
Divided Peninsula
In South Korea, the situation is seen differently.
Professor Hyun Bang Shin from the London School of Economics explained: "The Hanoi summit was a failure only if you approach it from the point of view that success means an agreement signed by the two leaders.
"That obviously didn't happen, but I think the meeting will turn out to be one of many stops along the road towards the eventual goal, which is a positive outcome for all the parties involved."
Professor Shin believes the door is open for further talks, with South Korea as the mediator. This would suit President Moon Jae-In, who likes to be seen as a leader who takes risks for peace. But some believe the optimism is misplaced.
Kim Song Min, a former officer in the North Korean military who defected to the South, told the BBC: "Trump, Moon, and the whole world is being deceived by Kim Jong Un. The South Korean government must have known Kim is not going to give up his nuclear weapons, but it went to the United States and falsely told them that Kim is ready to sacrifice his weapons. Trump accepted that and he believed it, at least until the failure of the talks at the Hanoi Summit."
Weakened Triangle
For decades, South Korea, Japan, and the United States have formed a security triangle focused on containing the North Korean threat. However, the U.S. and South Korea recently scaled back their joint military exercises. There is also tension because of a poor diplomatic relationship between South Korea and Japan.
This concerns Professor Hikotani. "Of course, there are often ups and downs in the Japan-Korea relationship, but normally it's possible to separate the political disputes from the issue of military cooperation," she said. In her view, South Korea should set aside grudges based on history and focus on its shared responsibility for security with its allies.
(With thanks to the BBC, IISS, and The World Affairs Council of Pittsburgh for source material.)
Author: Duncan Bartlett
Duncan Bartlett is the editor of Asian Affairs and the founder of the Japan Story news portal. He is a regular contributor to JAPAN Forward.