With Help from Robots, Nursery Teachers Have More Time to Focus on Children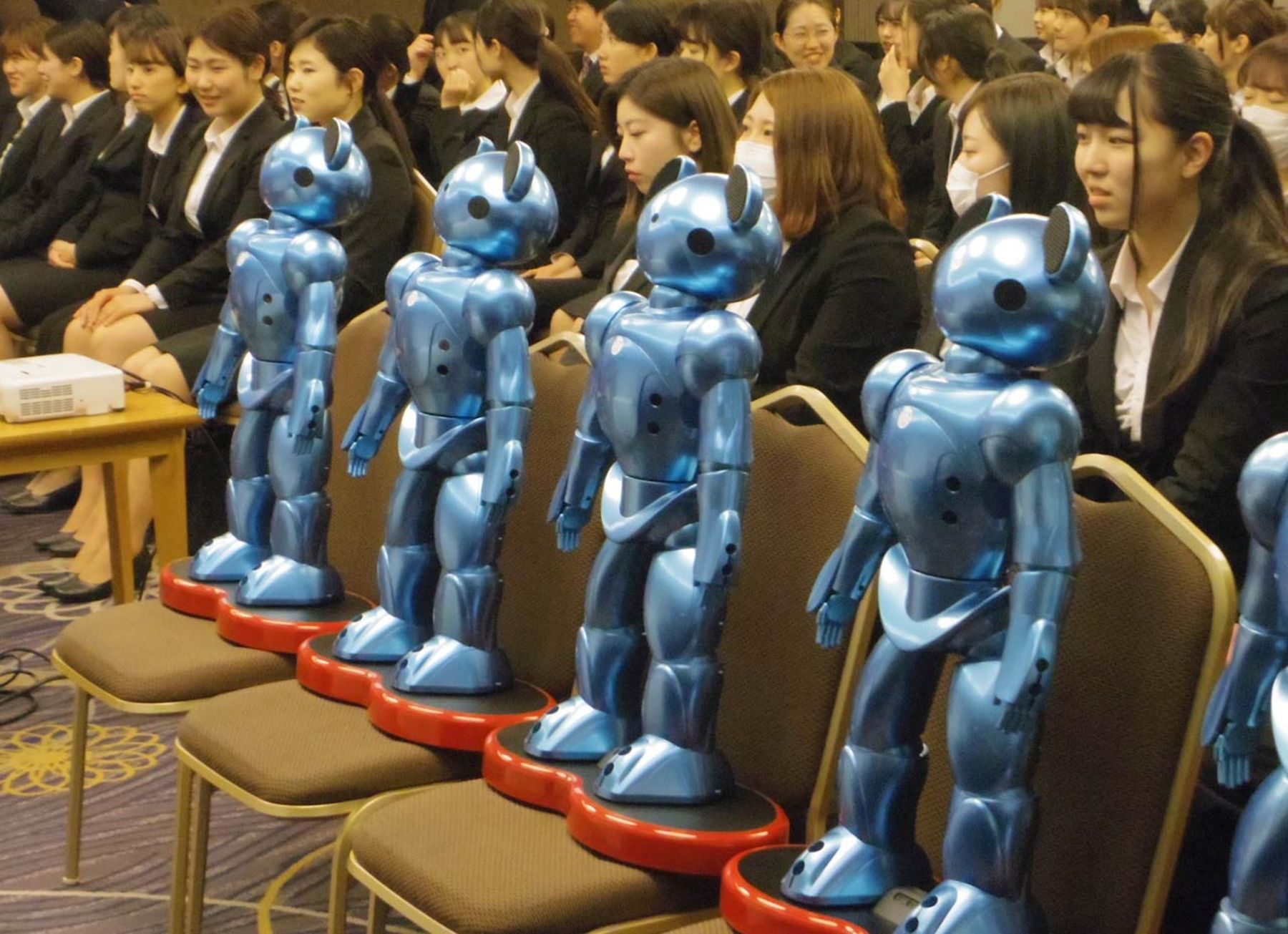 ICT (Information and Communication Technology), including robots, are starting to be utilized in the childcare industry. Increasingly, advanced technology is becoming available that supports various needs, such as providing fun for children and minimizing office work for childcare staff.
We visited Ai-Ai Nursery School Higashi Ikebukuro, an authorized private day care facility that has introduced ICT into their program.
VEVO the Robot Plays a Human Role
"Hello Fuuka-chan. What are we going to play with today?"
"Aika-chan, it's very cold today"
The childcare robot that greeted the 2 sisters is VEVO. The approximately 70 cm tall robot is able to recognize the children's faces, allowing it to change greetings according to the child to whom it speaks. The sisters returned their greetings to VEVO, and entered the facility while nursery school staff waited nearby. Their father, Shingo Mano, 43, a member of Japan's Self Defense Force, explained his first encounter with VEVO, saying he was "surprised to seeing robots have infiltrated the world of children".
VEVO is part of the "Child Care System" (CCS) that supports childcare operations. It was co-developed by Gunma University and Global Bridge Holdings, an affiliated company in the field of childcare and nursing enterprises that specializes in ICT businesses.
During nap times, a separate sensor attached to the children's clothing will allow VEVO to monitor their breathing and movements as they sleep. An alarm is triggered if something unusual is detected. Before VEVO, nursery staff needed to check up on the children every 5 minutes and record their napping conditions on paper.
As a "member" of the nursery staff, VEVO supports childcare facilities and the families of the children. Sometimes, when nursery staff with an early shift finish their day, they leave a message with VEVO to give to the parents. When guardians pick up the children, they are briefed on their child's day. Parents have commented: "After I was informed of the day's lunch menu, our dinner plans were changed" or "My child only napped for a short time, so we went to bed early".
Using VEVO to Help Reduce Administrative Burdens
VEVO also plays a huge role in alleviating the burden on nursery school teachers. The robot is able to automatically calculate extension fees and the length of time a child spends at daycare by recording the time the child arrives and leaves the facility. By analyzing the pattern of the children's time at daycare, the staff's work shifts can also be more efficiently managed.
Kyoko Takayama, 40, head of the Ai-Ai Nursery School, said that by reducing manual labor on administrative tasks, staff are better able to concentrate on the duties of actual childcare. In addition, she reported that they were able to save around ¥3.5 million JPY in annual labor costs.
Global Bridge Holdings CEO Joe Sadamatsu, 37, explains: "Whatever tasks machines can take on, they should cover. The aim is to increase the time nursery teachers spend with the children 'as people.'
He pointed out that the robots' AI (artificial intelligence) judgments are based on the value judgments of the nursery school teachers, adding: "We hope to set up an environment that lets ambitious teachers achieve their goals. In the future, we want to nurture personnel that are able to accumulate and analyze data concerning developments."
Local Governments Using AI for Admissions
The number of local governments using AI for decisions concerning daycare enrollments is increasing. In Tokyo's Minato Ward, the selection process used to take about 500 hours of manual labor by 15 employees working over 3 to 4 days. Now, with the assistance of AI, it can be handled in about five minutes.
According to the Minato Ward's child care division, an experiment demonstrating the technology was conducted using data from last spring for 2,600 children. The first experiment resulted in an 85% work accuracy by the AI robot compared to the work done by employees. However, by the fifth experiment the robot had learned, and the accuracy level reached 100%.
Accommodations were made for special conditions among the applicants, such as those who stated that if their sibling children are assigned to different facilities they don't want to be admitted, or, that they want to return to their jobs even if their child needs to be assigned to a different facility. Also, careful consideration was given to children with special needs and disabilities.
Minato Ward allows each family to choose up to 20 preferred facilities to list in their application forms in the enrollment process. Nursery school index points are calculated according to the guardian/parents' working situation. In situations where families have the same number of index points, they will be placed in order of priority according to 15 other criteria. Ultimately, the applicants will allocated to over 90 different facilities.
Manager Tsuneyoshi Yamakoshi, 48, added: "Children with disabilities receive a priority adjustment. In order to economize manpower, IT is necessary."
According to Fujitsu, the AI system developer, Takamatsu City, Onomichi City in Hiroshima Prefecture and Kusatsu City in Shiga Prefecture have already installed the system, and around 50 local governments are currently trying them out.
(Click here to read the article in its original Japanese.)
Authors: The Sankei Shimbun, Kumi Ushida and Mami Toya contributed to this article