With 'Tokyo Robotics Collection' Japan Pushes Towards Use of Robots in Society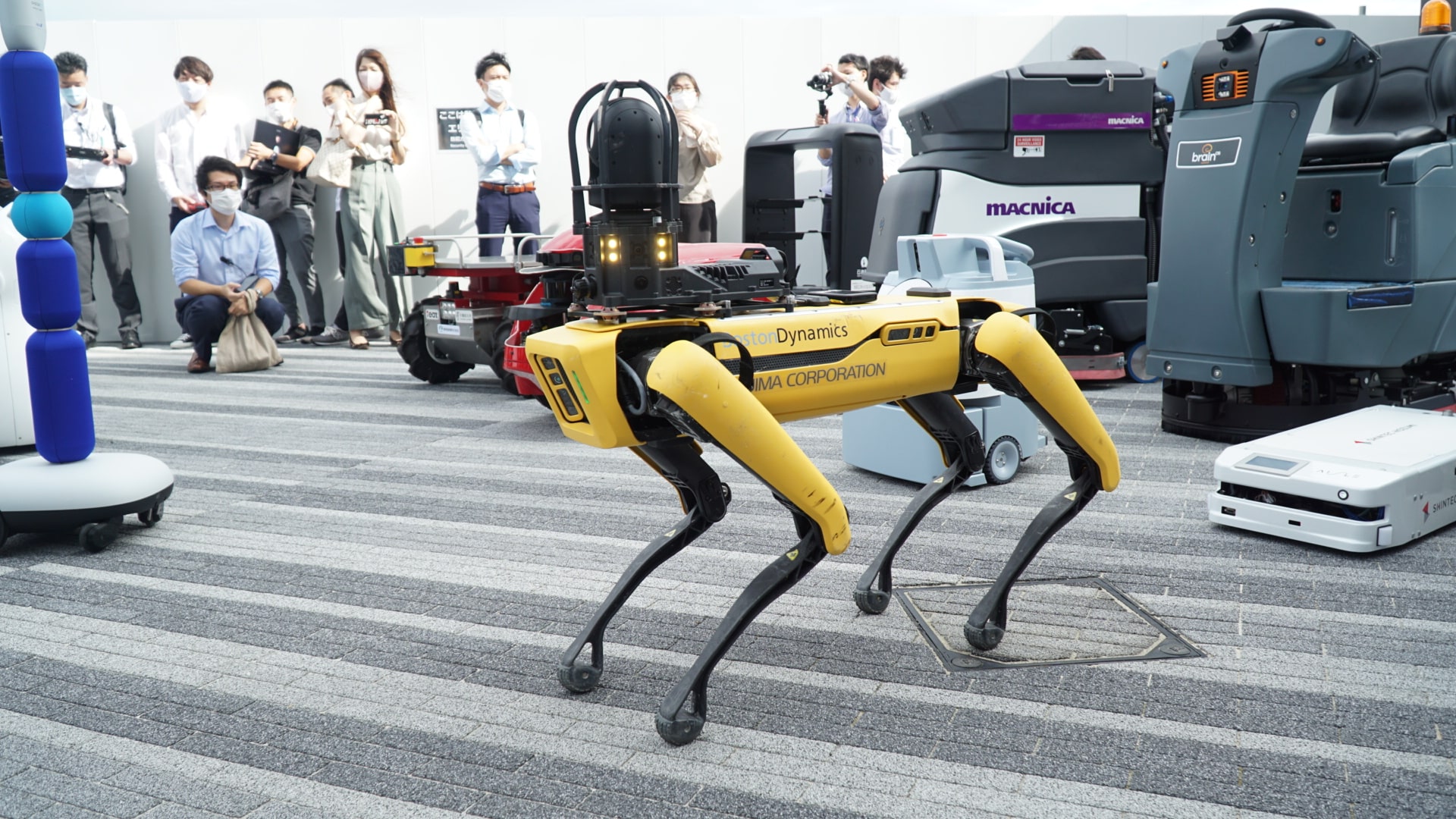 It's no secret that Japan has a strong image of being at the forefront of futuristic robot technology.
Many might be familiar with the dog robot - Aibo - developed by Sony Corporation, which has even found real life applications in eldercare.
More recently, Japan Post's use of robot technology has been well-publicized. The technology for postal delivery, a self-driving robot in central Tokyo Chiyoda's Ward, started testing on October 7. Over a stretch of 700 meters, it can deliver up to 30kgs of mail and packages in about 25 minutes, ducking obstacles and going around lampposts along the way.
These are initiatives that lend credence to the potential of robots in our society. They make us believe that the only limit is our imagination.
RELATED READ: BOOK REVIEW | 'How Human is Human? The View from Robotics Research' by Hiroshi Ishiguro
But the reality is that there is still a gap between the technology available and the effective use in society.
To begin filing this gap, the Tokyo Metropolitan Government organized "Tokyo Robotics Collection," a showcase of some of the best robots in the field, which were on exhibit at Haneda Innovation City over three days beginning September 18.
The venue itself couldn't have been more suggestive: the brand new complex was just unveiled on September 18. It includes features such as space for offices, a shopping mall, eateries, laboratories for research work, event venues and conference halls.
The Robot-escape in Tokyo
Since 2019, the Tokyo Metropolitan Government has been actively pushing companies to develop robot technology. In return, it gives them an outlet to showcase their products, both for commercial businesses and consumers that would like to give them a try.
The head of the Tokyo Robotics Collection project for the Tokyo Metropolitan government explained how the impetus was born out of early visions for the Tokyo 2020 Olympics and Paralympics, and grown since then.
This year, because of the restrictions due to COVID-19, the event was slightly scaled down in size, and fewer representatives of the varied industries that make or use them were able to participate. Nevertheless, there were nine robots demonstrated at the event, all following the theme of "area management" in a venue such as Haneda Innovation City.
However, even though the robot sample size was small, they came in very different shapes and forms. In general, it was explained, the robot shapes were designed so each one could move freely in its anticipated workspace, said Kentaro Fujibayashi, the Director for Innovative Projects at Tokyo Metropolitan Government.
The categories of work for which they were designed included surveillance, communication, janitorial service (cleaning), transportation, and delivery of food and goods, all of which are usefully applied in what is called "area management."
There was an information-sharing robot developed by Indy Associates, which airports could find useful for stranded tourists.
There was SPOT, the famous four-legged-robot produced by Boston Dynamics, that also uses software developed by Japanese company Kajima Corporation. With its flexible movements, the machine resembles something between a dog and a deer. It even managed to pull itself up in front of surprised journalists after being tipped over, much like an animal, as it happens.
Because of its abilities, which include streaming video footage and carrying a load of up to six kilograms, it has the potential to carry out surveillance functions and to access difficult locations in the event of emergencies.
One robot which has already been introduced in China but is still not in common use in Japan, was developed by NEC Networks & System Integration Corporation. Upon saving the layout of the room, hall or building in the software, it is capable of delivering food in eateries, taking the place of waitstaff, for example. This one presented a good opportunity to reflect that, especially in the time of COVID-19 when we are more anxious about human contact, having a robot carrying our food might not be a bad idea.
Different-sized businesses in creative engineering and robotics shared their technology, ranging from start-ups to medium large companies, including some partnering with university research labs. The organizers encourage the participation of anyone who might be interested in showcasing their technology, and urged them to give consideration to further practical application and developments, irrespective of country of origin.
A few of the featured robots are already employed for useful tasks in society, such as the ever-practical cleaning robots. However, notwithstanding their origin, many of the robots showcased at the event are still not being used in Japanese society. The hope is that opportunities like these will help heighten the interest of potential users and businesses.
As Mr. Fujibayashi explained: "Our aim is not just to sell technology which is developed in Japan, we are aiming to get the attention of users. Through the media, we are hoping that more people will become aware that certain robot uses are now possible. The idea is that people will make more use of them in their daily lives, and the industry will continue moving forward."
avatarin Inc.'s Robot for the Era of Smart Work and Long Distance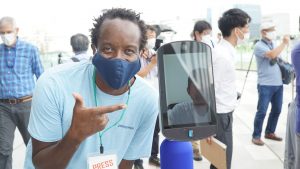 A spin-off company of All Nippon Airways, avatarin Inc. is a start-up which was just established in April 2020.
This company has created a robot which appears a little peculiar when you first see it.
With a rectangular base and four wheels, a long cylindrical neck which stretches upward until about eye level on top of which sits a rectangular screen that could be from an iPad, one might be a little confused if you saw it coming down the street in your direction.
The robot moves autonomously on its wheels, and the screen rotates right, left, up down, much like a human head would while checking its surroundings.
So what is this robot for? Light, and easy to maneuver, it allows a person sitting remotely to use a robot to move around and interact with the space around them.
If that sounds abstract, don't worry, you're not the only one. Imagine, though, that you would like to attend a conference but for any number of reasons you cannot do so in person. If you use the robot, it can be your eyes and ears, and allow you to see, hear, and interact with people at the conference.
The robot is a shape and weight that, even if you bump into it, it is unlikely to cause injury. It moves quite slowly and it won't harm children or others in the vicinity. In addition, it's equipped with sensors to allow safe movement within a space.
For the user, the robot also seems easy to operate. I had a lovely conversation with a young man living in the U.S. state of Georgia, who told me he learned how to use the controls in less than 10 minutes.
And best of all, it's not that expensive.
We've made this robot really lightーand really cheapーbecause we want everyone to be able to use it.
These were the words of Akira Fukabori, the founder and CEO of avatar, Inc. He explained in very simple terms that the price of the robot is akin to the cost of a Macbook Pro (starting about ¥140,000 JPY, about 1,300 USD). This includes a margin for profits, so the actual cost is even lower.
The CEO explained the company's reasoning behind keeping the price low. He envisions the robot being almost as a step towards teleportation:
With this type of robot, it doesn't make sense to have just one. We would like for there to be thousands of these, so that if you want to do so, you could just teleport yourself somewhere. It would be great.
It turns out that in reality this robot was developed in a context which many will identify with in the age of COVID-19. One of the top designers in the company, an American citizen, had the experience of family living far away, and found it difficult to grasp the feeling of being there.
The robot was born from the dream of having a grandchild be able to interact with grandparents, especially when they live in the remote countryside, without creating a burden on the elderly who are often not accustomed to operating technology.
Mr. Fukabori explained further:
We've been running many tests, in assisted living homes for the elderly. [With this machine], a child or grandchild can simply operate the robot and approach the elder person, and the grandfather or grandmother doesn't have to do anything.[...]
Normally, technology needs some degree of knowledge to use it, like downloading an app, or using a smartphone. But with the elderly this can sometimes be very difficult. This robot allows you to avoid that.
There are exciting ideas out there to make life better for all age groups and professions. Make sure to check next year's Tokyo Robot Collection to see the latest in the development of these useful machines. In the meantime, stay tuned to JAPAN Forward for updates in robot technology.
Author: Arielle Busetto