Shigeru Ban's 'Paper Pavilion' Adds Excitement to IE University's Virtual 2020 World Architecture Day
It's called "Paper pavilion" for good reason: the structure is made out of 173 paper tubes. The tubes are held together by timber joints that rest on paper columns. It took only a striking two weeks to build.
First designed by Shigeru Ban in 2013 for IE University's Madrid campus, this digital presentation of the installation brings hope and interest to this year's virtual celebration of the October 5 World Architecture Day.
At the Heart of Modern Architectural Design
IE University, in Madrid, Spain is known to be a major destination for those who want to learn and study architecture.
After all, the dean of the IE University School of Architecture and Design in Madrid, Martha Thorne, has been the executive director of the Pritzker Architecture Prize since 2005.
In a normal year, IE would invite top exponents in their fields to visit the installation. This year, it is difficult to move around internationally due travel restrictions aimed at limiting spread of the coronavirus pandemic. But it doesn't mean we can't appreciate architectural design, even when far away.
So, looking at this year's International Day for Architecture event, what can be said about Japanese architecture as a whole?
We wondered why Japanese design has been considered so important in the field of modern architecture. Its interest to European designers has been evident since the 1930s, when prominent architects such as Bruno Taut visited Japan and became fascinated by it.
Marcela Araguez, a full-time professor at IE University in the School of Architecture and Design, talked more about this history and the direction it has taken architectural design in a video message about the event. Elaborating, she pointed explained:
Architects like Bruno Taut were absolutely fascinated by the apparent simplicity of buildings like Katsura Villa, which in a way resembled some modernist principles of abstraction, but was built in the 17th century.
In addition, in the postwar period architects like Kenzo Tange were frequently in contact with important European architects, such as Alison and Peter Smithson, and Aldo Van Eyck.
Therefore, Japan's prominence as one of the leading countries when it comes to cutting edge architecture is no coincidence. In fact, with eight laureates to date, Japan is the country with most winners of the Pritzker Architecture Prize, which is the equivalent of the Nobel Prize in Architecture. Japanese winners who have received the accolade include top exponents in the field such as Toyo Ito (2013,), Shigeru Ban (2014) , Tadao Ando (1995) and Kenzo Tange (1987).
RELATED READ: [Bookmark] Architect Tadao Ando On Investing in the Future of Children Amid COVID-19
As a Pritzker Architecture Prize recipient and pioneer in his field, IE University chose to ask Shigeru Ban to design the Paper Pavillion. Ms. Araguez explained what they were looking for when the decision was made:
The decision of commissioning Shigeru Ban in particular was motivated by an idea of creating a building that could be temporary, and that was built using highly innovative materials, sustainable materials that require low energy consumption.
To give an example of how the design illustrates sustainability, one of the values promoted by the university, all of the materials are sourced locally, and the paper tubes are made in Zaragoza.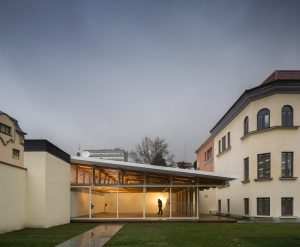 This is consistent with the direction the university has said it wants to go, incorporating sustainable values and principles into the architectural design of today and tomorrow. It is a move that many universities seem to be emulating as they help educate and form the architects of the future.
To read more information on the pavilion, make sure to check the website here.
Author: Arielle Busetto