'Workation' and 'Bleisure': New Working Styles under COVID-19
The 'workation' is thought to help increase productivity, reduce the loss of personnel and offer work style diversity. But there are also merits for the regional destinations.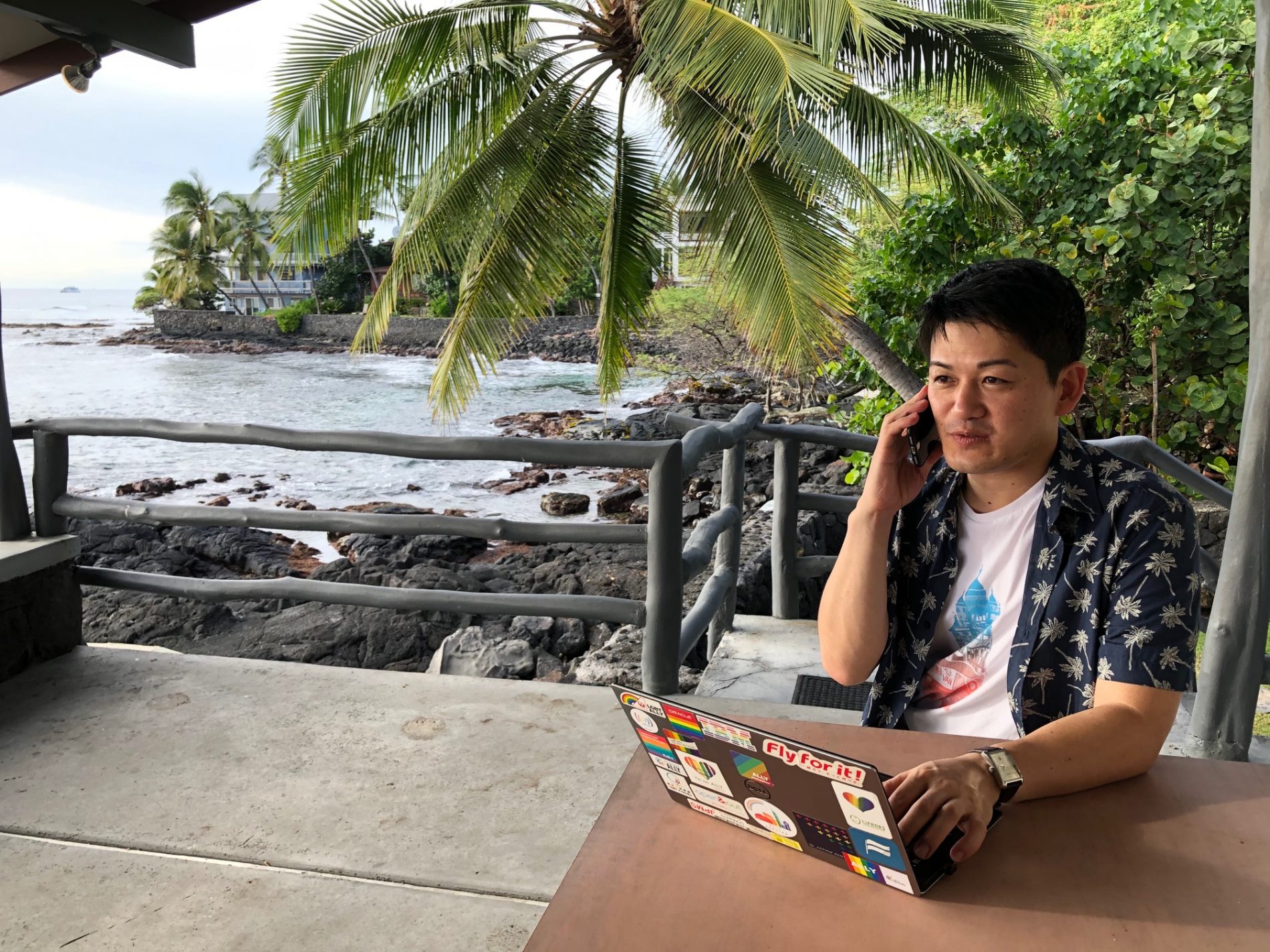 ~~


Company employees are finding new ways to take vacations while they work during the coronavirus pandemic. It's the concept of working vacation, the so-called "workation" in Japanese, which means people work remotely from their laptop at tourist destinations.
Some Japan-based companies are encouraging their employees to try the working vacation, as they otherwise telework from home instead of coming to the office during the pandemic.
However, if the practice of workations is implemented in the form of company initiatives and groups of people take their working vacations at the same time, it could result in crowded places, creating the risk of spreading COVID-19. For this reason, some are proposing the system should be introduced with vigilance.


Complicated National Policy During Pandemic
The Japanese government has recognized the importance of workations and "bleisure" ー a combination of the words business and leisure ー for a wide swath of Japanese business fields. However, related government assistance projects are currently on hold, due to the coronavirus turmoil.
The Japanese government itself currently has called for citizens to refrain from moving around the nation. This has complicated the job of the Japan Tourism Agency (JTA, Kanko-cho) staff in determining how to promote workation and bleisure policies.


Increasing Work Productivity
In Japan, the working vacation originally was thought of as one way to realize a variety of work styles. It has also gathered attention as a means of preventing crowded places by providing employees alternatives to going to the office.
In fact, if the boss suggests that an employee take a working vacation and it has not been tried previously in the company, it could be a struggle for the first employee to figure out the next step.
On the other hand, the bar to utilizing the working vacation will fall if a company provides itinerary and site options that employees can choose from for their workation.
"Employees who have experienced a workation have a strong sense of responsibility to demonstrate increased productivity, because they used the company's funds for their travel," said the head of a small-sized enterprise in Minato-ward, Tokyo.
The company head, talking to JAPAN Forward and The Sankei Shimbun, pointed out the factors his company considered. They chose a Prince Hotel accommodation package for company-related workations, borrowing a cottage in Karuizawa, Nagano Prefecture last year.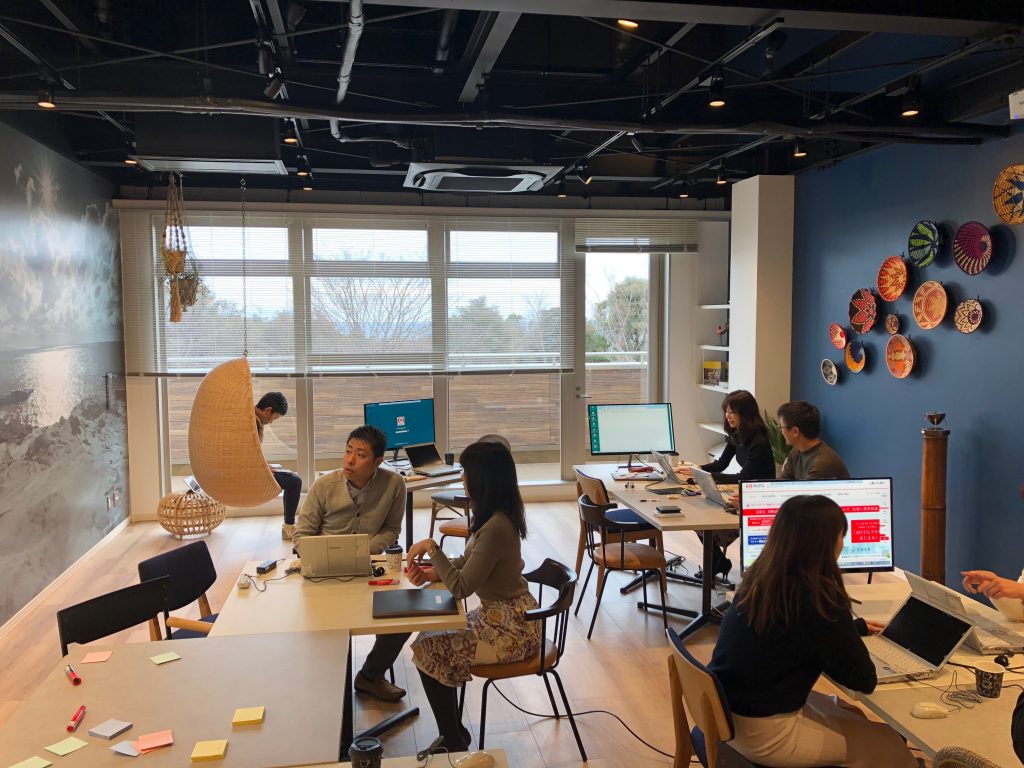 How it Works
One popular accommodation for workations is "WORK×ation Site Nankishirahama". It can be reached by driving 5 minutes by car from the Shirarahama coast, with its white sandy shore and sky blue ocean, in the town of Shirahama, Wakayama prefecture.
Mr. Keisuke Tamaki, the person at Mitsubishi Estate in charge of developing the facility in May 2019, told JAPAN Forward and The Sankei Shimbun that, "The development theme is that the facility assists companies in fostering innovations."
A financial institution and IT company have been among its clientele since its launch. One of the users, an IT enterprise with a head office in Tokyo, hired the accommodation for about a month from July to August 2019.
40 employee participants were divided into 4 groups and each group stayed there for a week, in relays. The 10 participants in the initial group began to work a few hours in the morning from their day of arrival. After that, they enjoyed barbecue for lunch along the neighboring coast. Then they returned to the facility to concentrate on their jobs again.


Along with the Pandemic Risk
The coronavirus pandemic has not ceased yet and the Japanese government has issued the state of emergency, effective since January 7, 2021. Company initiated group working vacations, unfortunately, come with a risk of spreading COVID-19.
For this reason, the workation accommodations offered by Mitsubishi Estate provide infection controls such as sterilization, ventilation, installing acrylic boards and spraying antiviral coatings. However, moving to other prefectures in groups is discouraged in the face of the coronavirus turmoil. Mr. Tamaki expressed the widely held reservations, saying, "I feel that the circumstances are not appropriate for calling upon visitors to come visit the accommodations in such a hard time."
Even if COVID-19 chaos ceases, managers and officers in the human resource divisions of Japanese companies point out risks such as labor management relations and worker injuries.


Then There Are the Benefits
The working vacation is expected to generate favor in other quarters, though, not only because it helps increase productivity and offers diversification of work styles, but also because it encourages employees to take paid holidays and reduces the loss of personnel.
There are also merits for the regional destinations, including an increase in weekday tourism demand and the establishment of relationships with companies.
The Japanese government aims to spread out Japan's tourism, which is inclined to concentrate on specific seasons and locations, and assist companies with getting employees to take paid holidays.
The Japan Tourism Agency's 5-staff members, including a section head, took a working vacation for one night and two days in Toyako-town, Hokkaido, in October 2020.
While there, they did their usual jobs, while having meetings with locally involved parties. They also took time for a canoe trip activity to confirm the advantages of experiencing work at locations other than home and office.
Japan Airlines introduced an in-company system for Bleisure in May 2019. As early as July 2017, the company had begun to set up an internal system for working vacations, as well. Employees for example, do not have to alter week-long paid holiday schedules, even if they have one day for business meetings during their holiday.
The Japan Tourism Agency referred to such examples when it published booklets for companiesーuntil the end of this March.
A JTA-sponsored model project that would involve ten or more Japanese companies allowing their employees to participate in a working vacation on a trial basis is frozen due to COVID-19. The project was originally planned to go from November 2020 to January 2021.
However, there still is one company participant, All Nippon Airways Holdings (ANAHD). 15 employees of ANAHD participated in the test-case working vacation, with one group visiting Hakodate in Hokkaido, and the other visiting the city of Aso, in Kumamoto prefecture.
An officer of the Japan Tourism Agency told JAPAN Forward and The Sankei Shimbun that, "The government calls for citizens not to move around now. We are reconciling how to make the [workation] policy move forward…". She continued, "Promoting tourism and the new style of work, the world is changing right now and, so we are going to proceed steadily with this policy."


RELATED READS:
Author: Mizuki Okada