[Kosei Inoue's Judo Story] The Turning Point for Judo's Revival in Japan
Part 12 of 14 parts
The Sankei Shimbun and JAPAN Forward wanted to know more about what it is that attracts men and women from widely divergent cultural and economic backgrounds to the Japanese modern martial art. We took the opportunity of the one-year delay in the 2020 Games to catch up with Japan's national judo team men's coach, Kosei Inoue, to ask about the role of the sport in his life, and what it takes to live by the principles embodied in the "gentle way."
Excerpts of the interview are being featured daily in a 14-day series (Mondays, Wednesdays and Fridays). In Part 12, Coach Inoue talks about the perspective gained from living and coaching abroad and how the results at the 2012 London Olympics proved to be the turning point for his determination to revive Japan's martial art.
Excerpts of the interview follow.
On May 2, 2008, you held a press conference to announce your retirement. Is that where you declared your intent to pursue coaching, stating, "I am passionate about helping all athletes get gold medals in the future"?
When I was at Tokai University, I'd been given advice by my teachers, including Nobuyuki Sato and Yasuhiro Yamashita. I knew that judo was the path I wanted to travel, even after retirement.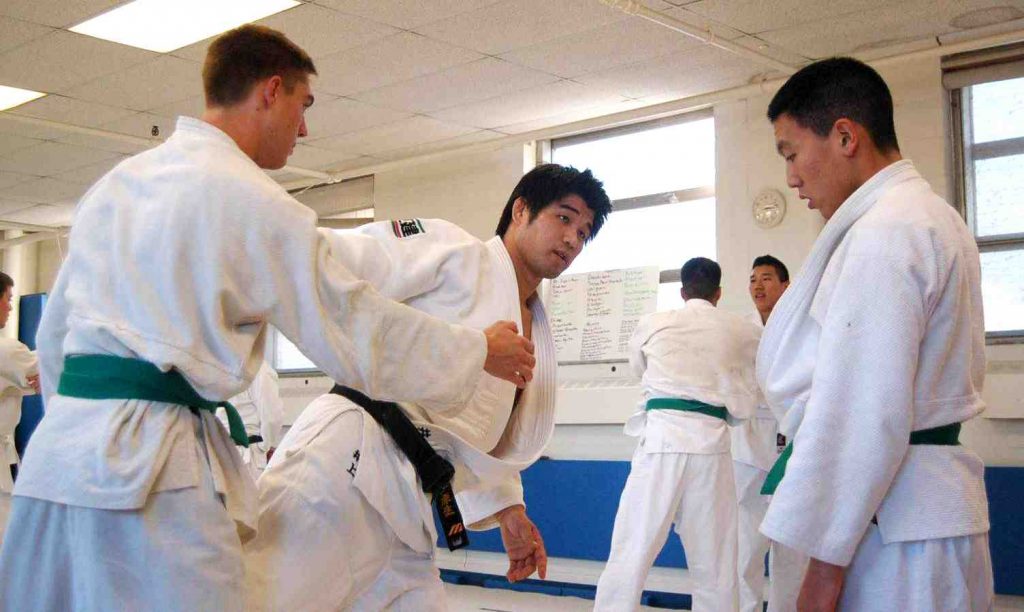 For two years from January 2009, you were sent by the Japanese Olympic Committee (JOC) to a training program in the U.K. for coaches. What was that experience like?
First I lived in Edinburgh, the capital of Scotland. Then I lived for just under a year in London. I couldn't speak much English, aside from "yes" or "no", so I always had my dictionary with me early on.
I was fortunate to have the opportunity to teach at the Edinburgh Judo Club, which had an exchange program with my alma mater, Tokai University, and at The Budokwai in London.
Teaching there made me more aware of efficiency. Not only are practices shorter, but the students asked a lot of questions. For example, a typical Japanese player, when taught to "pull the arm," learns the movement by doing it. But there, players would ask, "Why should we pull the arm?" and, "What should we do to make the pulling more effective?"
Aside from judo, it was a time when I was made keenly aware of my ignorance. But at the same time, I also learned that if I studied harder, I still had the potential to grow. That was a big takeaway for me.
When you returned to Japan in January 2011, you took a position coaching the Japan men's judo team. At the 2012 London Olympics, the team finished without a gold medal for the first time in history.
I was a special coach, even while I was abroad. But I couldn't do much from so far away. After my return, we only had a year and a half until the London Olympics. I did all I could within that time frame. But in the end, we suffered a crushing failure with no gold medals in London.
As a coach, I felt inadequate because I hadn't led my players to [gold medals]. I also had a strong sense of guilt, not only towards the players, but also to those that had built the history of judo, those involved in the judo world and all the fans. I felt like I had dashed their hopes.
I still remember a scene at a thank-you party in London after the games had finished for all those related to the judo team. It was held at a Chinese restaurant, and there were a lot of media cameramen at the entrance. I was so full of regret and guilt that I couldn't stop the tears and had started really crying in earnest. That image of myself in such a pathetic state is burned into my brain.
At the London Olympics, I also came to the acute realization that the judo I learned in Japan, is not the same as the judo played overseas, which is fused with martial arts such as Russia's sambo and Brazilian jiu-jitsu. That became the turning point when I began to think about what must be done to revive Japanese judo.
To be continued
Read Other Segments of the Kosei Inoue Judo Story:
Interview by: Mitsuru Tanaka