A Rose Garden of Lights At the New Tokyo Mega Illumination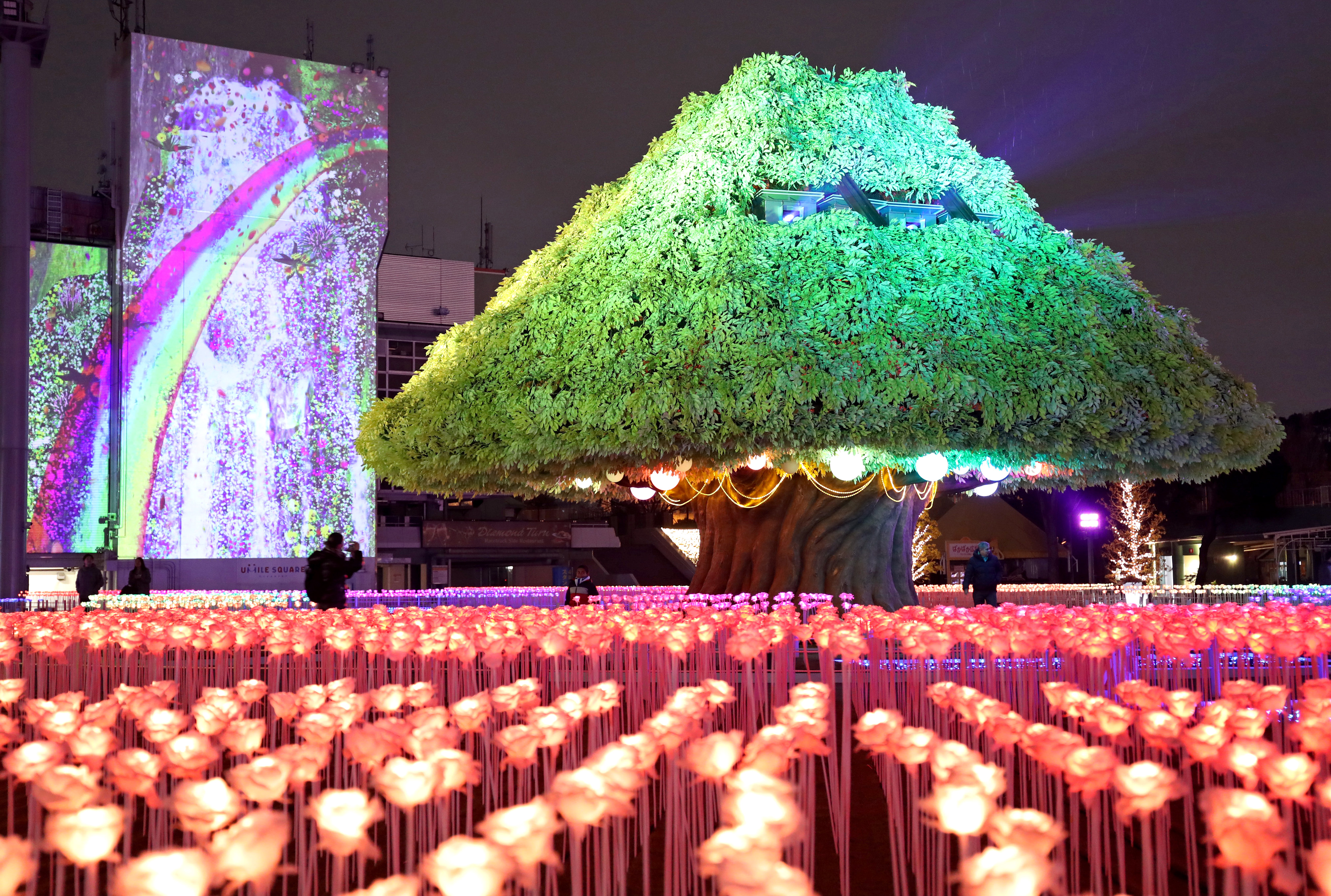 A 10-meter-high light installation in the shape of a large tree sits at the center of the square. As you look around, your senses will be hit by more than 20,000 rose-shaped LED lights, forming a beautiful garden.
The light installation at Oi Racecourse Tokyo Mega Illumination in Shinagawa, Tokyo, was renewed in January, and it is attracting plenty of attention from Japanese and foreign visitors alike. The new section — appropriately called the Mega Tree Garden — is complemented by 3D project mapping on the surrounding buildings. The images projected show the contrast of nature versus the urban city and represent the change of seasons.
Motoo Marumaru, the event's producer who calls himself a "night scenery critic," explained the concept: "I imagined what Tokyo would look like in the future, with the interaction between nature and the city. By putting the projections together — the tree and the roses — I want viewers to enjoy the interaction of objects with different elements to them."
Oi Racecourse is located at the Tokyo Monorail to Haneda Airport. It was a cold, rainy day when this reporter checked out venue, yet it was brimming with tourists travelling from China and the Philippines.
A 38-year -old woman from Slovenia commented on the lights, smiling. "The roses that change to rainbow colors are stunning. Despite the cold, I am really glad I came," she said, as she hit the shutter button on her camera.
Event Information:
Dates: January 12 to March 31, 2019
Opening Times: 6 P.M. until 10 P.M. on weekdays; 5 P.M. to 10 P.M. on weekends and holidays
Adult Tickets (18 years old or above) ¥ 1,800 (Early Ticket ¥ 1,600)
Students Tickets (Below 18 years old) ¥ 1,000 (Early Ticket ¥ 800)
Access: 2-minute walk from Oi Keibajomae Station (Tokyo Monorail) or
12-minute walk from Tachiaigawa Station on the Keikyu Line. On weekends and holidays there is also a free bus going from Shinagawa Station, Konan Exit.
(Click here to read the related article in Japanese.)
Author: Sankei Shimbun