Japan, India, Vietnam: It Takes Three to Tango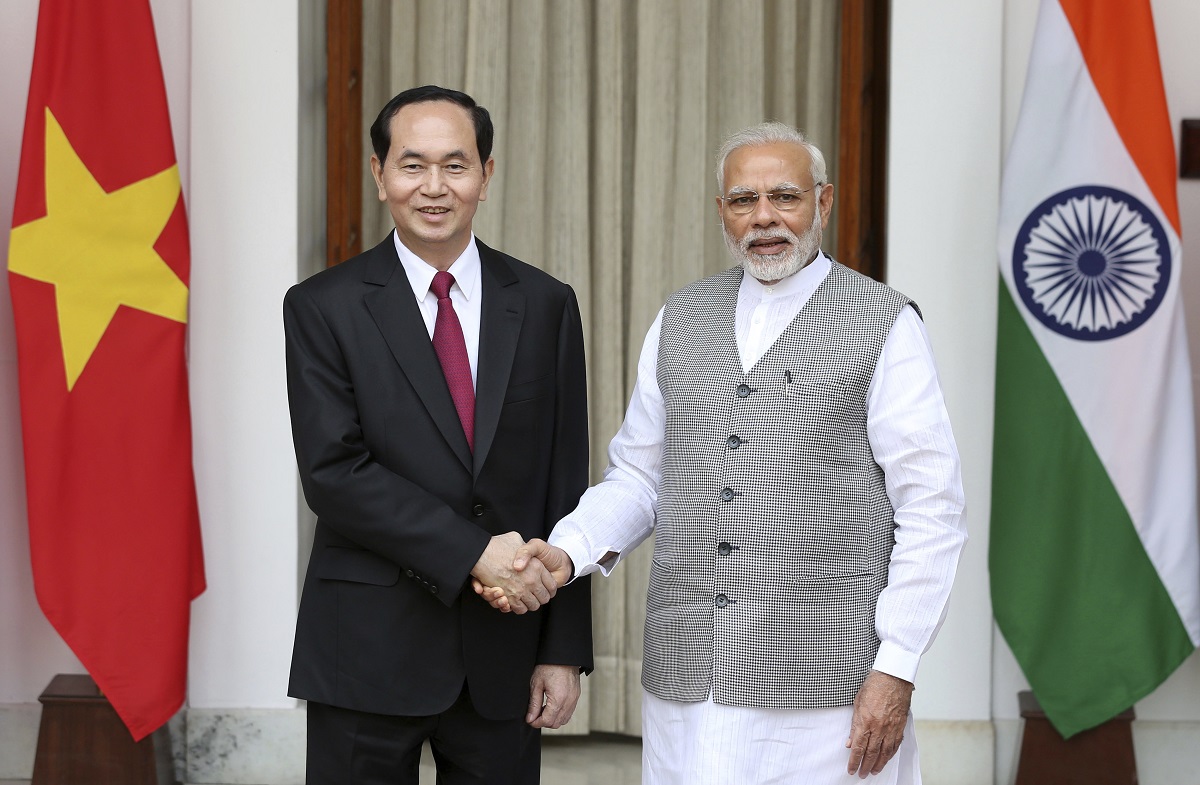 Indian Prime Minister Narendra Modi, right, shakes hands with Vietnamese President Tran Dai Quang in New Delhi, March 3, 2018. (AP)
Vietnam, by virtue of its location close to the South China Sea, occupies a very important place in both India's Act-East Policy and Japan's Free and Open Indo-Pacific Strategy.

It is estimated that about US$5 trillion of ship-borne trade passes through the South China Sea every year, making it crucial for both Japanese imports and exports.
For India, too, Vietnam is an important element of its Act-East Policy, especially because of the connectivity factor. In the future, the India-Myanmar-Thailand trilateral highway, which India is constructing, may be extended all the way to Vietnam.
While New Delhi does not have any claims in the South China Sea region, the sea lanes of communication passing through the region are important for its trade with Southeast Asia, East Asia, and Oceania. In addition, the Indian state-owned oil company ONGC (Oil and Natural Gas Corporation) Videsh Limited has been drilling for oil in the waters off the coast of Vietnam, much to the chagrin of China.
Although Vietnam joined China's Belt and Road Forum in May 2017, it still has reservations about China's strategic motives, especially in the South China Sea region where, along with other countries, it is disputing China's claims.
Meanwhile, New Delhi has been aggressively courting the ASEAN countries and last year celebrated 25 years of its dialogue partnership with ASEAN. Earlier in January this year, the heads of state of all the ASEAN members countries, including Vietnam, attended India's Republic Day celebrations in New Delhi.
Vietnamese President Tran Dai Quang concluded a highly successful visit to India March 2-4. In the Joint Declaration issued during the visit, "both sides agreed to expedite the implementation of the US$100 million Line of Credit for building of high-speed patrol boats for the Vietnam Border Guards and urged for early signing of a framework agreement on the US$500 million Line of Credit [offered by India] for defence industry."
On the South China Sea issue, in a not-too-veiled reference to China's growing aggressive behavior in the region, the two sides, "reiterated the importance of achieving a peaceful and prosperous Indo-Pacific region where sovereignty and international law, freedom of navigation and overflight, sustainable development and free, fair and open trade and investment system are respected."
Challenges
However, not everything is rosy in this burgeoning relationship. In the economic arena, there is much for the two sides to ponder over.
Total trade between New Delhi and Hanoi stood at US$6244.92 million during April-to-November of fiscal year 2016-2017, though the two sides also agreed to "explore substantive and practical measures to achieve the trade target of US $15 billion by 2020." Unfortunately, compared to these modest trade goals, Vietnam's trade with China in 2017 already stood at 93.8 billion U.S. dollars.
While some reports suggest that Vietnam is interested in acquiring the BrahMos missile from India, New Delhi seems to be non-committal about its sale at the moment.
The people-to-people ties between the two countries also remain underdeveloped, and the number of tourists from Vietnam to India and vice versa is nothing much to crow about.
Japan-Vietnam Ties
Meanwhile, Japan's relations with ASEAN date back to 1973. The Fukuda doctrine of 1977 was a major step in Japan's engagement with the region. There are a huge number of Japanese companies operating in ASEAN member countries and ASEAN is the second biggest trading partner of Japan.
While the number of Japanese-affiliated companies in the ASEAN region has leapfrogged from 5,994 in 2005 to 9,658 in 2015, the number of tourists from the ASEAN nations visiting Japan has also been constantly rising, from just over 500,000 in 2006 to over 2.5 million in 2016. Japanese companies are also increasingly eyeing the halal food market in some of the ASEAN nations.
During the visit to Japan of former Vietnamese President Truong Tan Sang in March 2014, Japan and Vietnam upgraded their ties to an "Extensive Strategic Partnership for Peace and Prosperity in Asia." Vietnam is an attractive market for Japanese companies because of its population of 90 million, including a vibrant young population. In 2017, Prime Minister Shinzo Abe offered to provide six patrol vessels to Vietnam, and the Japanese Emperor and Empress also made an official visit to the country.
What the 3 Countries Can Do Together
In the years ahead, Japan, India, and Vietnam can be expected to develop increasingly close ties. Recently, the American aircraft carrier USS Carl Vinson visited the Vietnamese port of Da Nang, thus clearly showing that Hanoi is willing to let go of the past and embrace closer ties with countries like the United States, Japan, and India. Vietnam also has one of the fastest growing economies in the region and that makes it very appealing to both Japanese and Indian companies.
In the future, Vietnam could also be co-opted into the Quad, a group resuscitated by Japan, India, Australia, and the US on the sidelines of the East Asia and ASEAN Summits last November in Manila. This would help ensure that no single country becomes the pre-eminent power in the Indo-Pacific region and that the sea lanes of communication in the region remain free and open. Surely, there is much in common between Japan, India, and Vietnam, which can allow them to waltz together in the wider Indo-Pacific region.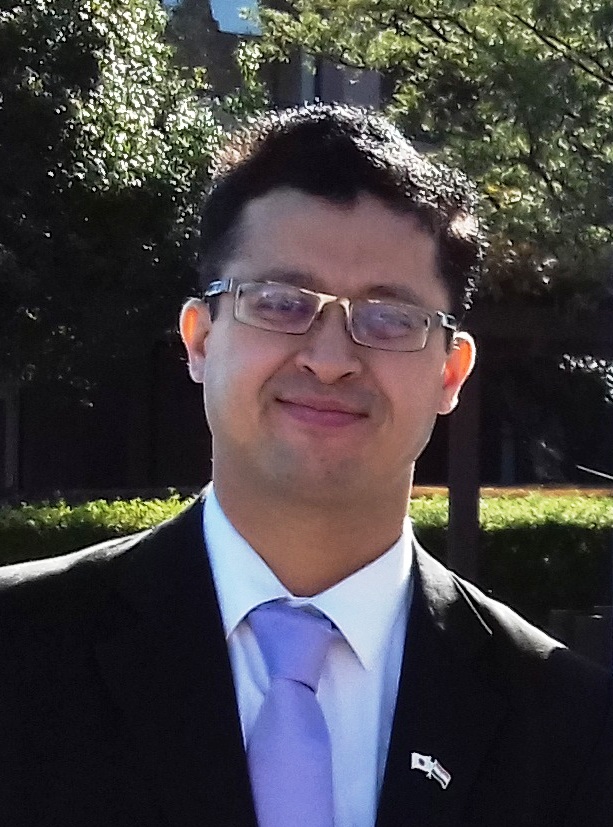 Dr. Rupakjyoti Borah is with the Institute of South Asian Studies at the National University of Singapore. He was earlier an assistant professor of international relations at Pandit Deendayal Petroleum University in India. He has also been a visiting fellow at the University of Cambridge, the Japan Institute of International Affairs (Tokyo), and the Australian National University. His latest book is The Elephant and the Samurai: Why Japan Can Trust India? The views expressed are personal. He can be reached at rupakj@gmail.com or via Twitter @rupakj.