A Kanto Gem: Nippori Fabric Town for a Great Day of Textured Delights
Tokyo has many shopping areas devoted to specific product areas, such as Akihabara and Harajuku. Nippori Fabric Town is less well known but well worth a visit.
During the hot weather my wife and I moved our long exercise walks to the early morning hours. Our most recent walk took us to Nippori Station for breakfast followed by a tour of the nearby Nippori Fabric Town, a collection of nearly 90 shops serving retail and wholesale customers with fabrics and accessories for dressmaking and costume design.


History
Shops that sold surplus and imperfect stock from textile producers began to concentrate along Nippori Chuo Dori in the Taisho Era.
Because their activities did not fit war production needs, many shops closed during the war years beginning in 1937.
In the immediate postwar period, shops selling odds and ends, military surplus, hand me downs from United States occupation forces, and used clothing from the United States concentrated in this area.
In 1989, Arakawa Ward opened a multi-function hall on the main Fabric Town Street as part of a revitalization program, emphasizing fashion rather than left overs.
More recently, there has been an effort to cater to foreign tourists with multi-language materials that cover not only the fabric shops, but also eating and drinking establishments in the area.
And, of course, there is a mascot.
I briefly interviewed Takeo Arai who handles public relations for the wholesalers association. He estimated that perhaps 20-30% of custom had been coming from foreign visitors.
Shops that had focused on foreign customers had suffered a real blow 打撃 from border restrictions. Nonetheless, foreign customers were only a bonus overall. Japan residents are far and away the bulk of the customers and visitors.


The Shops
The quaintly named Tomato is the largest single store. The main shop has five floors of fabrics of every type. Plus there are four stores nearby with a specific focus such as fabric used for interior design and decoration.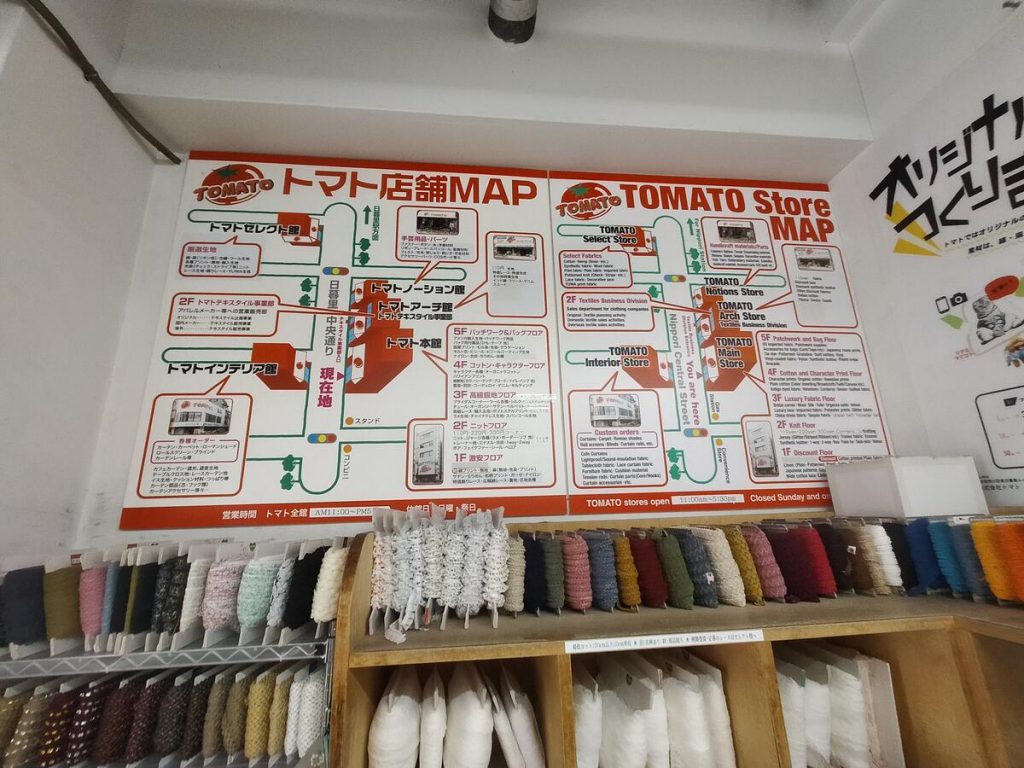 Tomato also has an on-line sales site, as do some of the other shops. Nevertheless, I would urge anyone who can to visit the physical shops for the ambiance and the pleasure that comes from making a chance discovery of something useful or which simply gives visual delight.
Fabrics on display range from classic and subdued to modern and garish.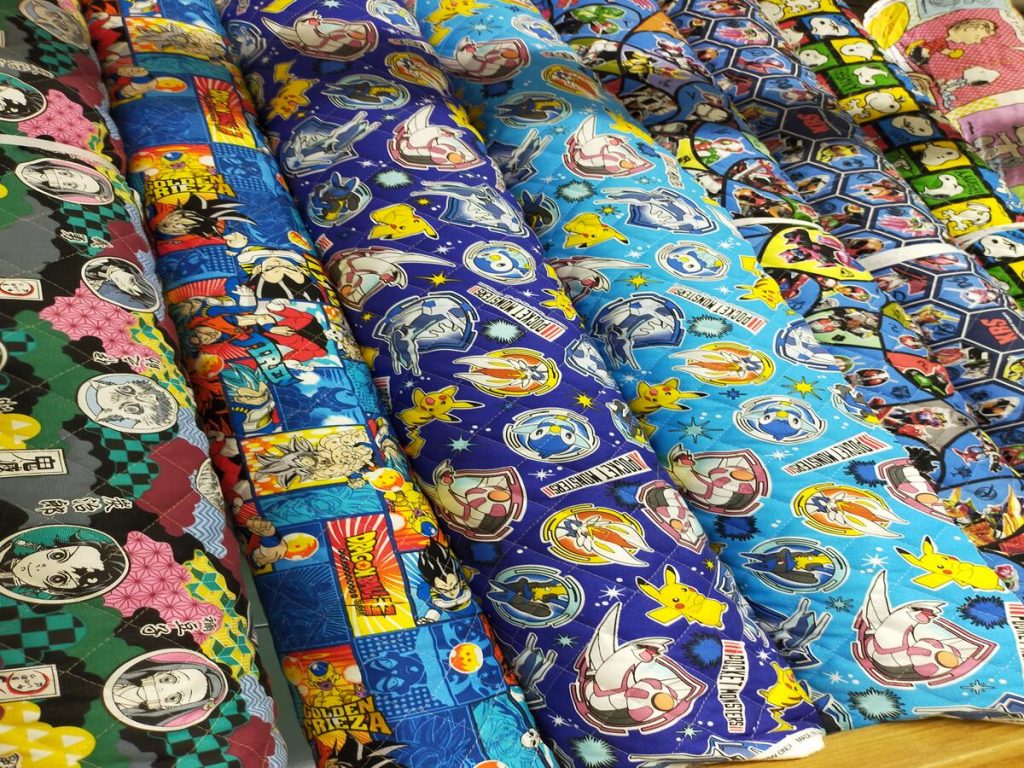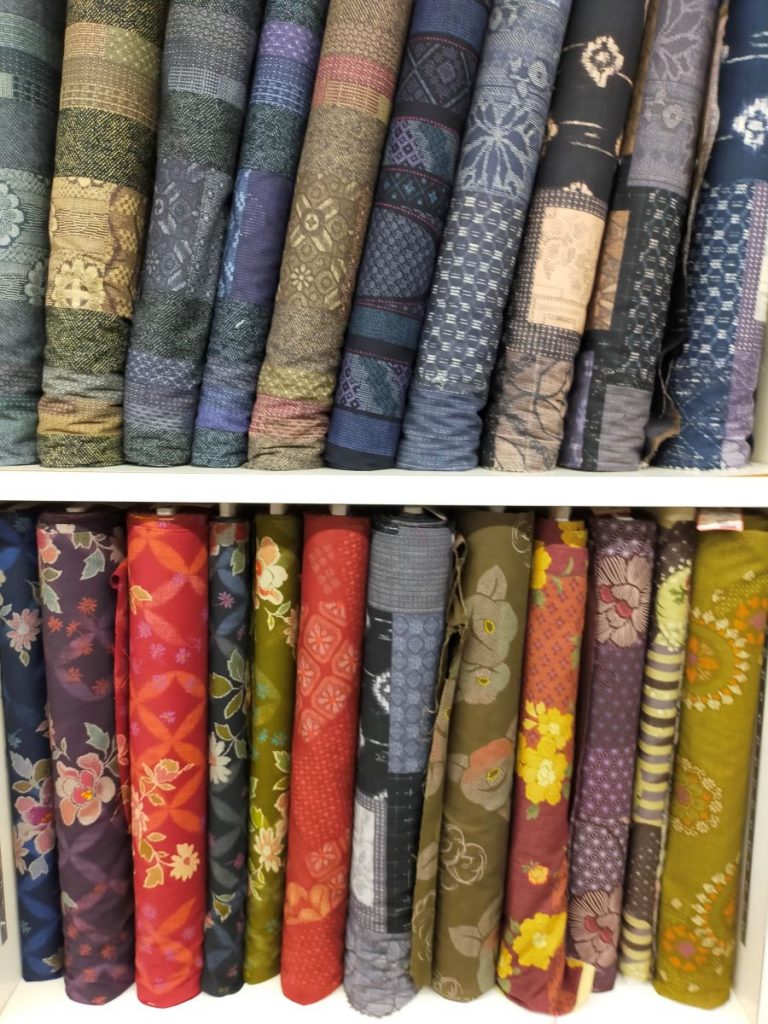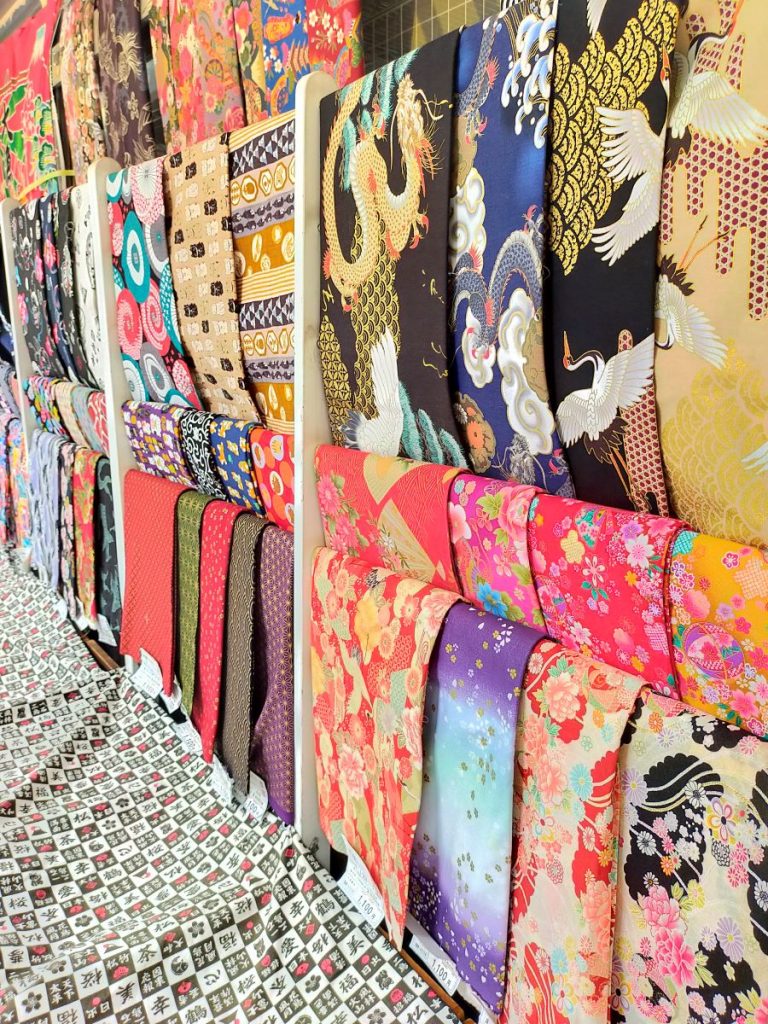 Fabric with classic and traditional designs.
Other shops are so small and so crammed with merchandise that there is barely room for the proprietor and a single customer. In this case it is best to say what you are looking for rather than trying to find it yourself.
In between the tiny cramped shops and the large but crowded Tomato is a range of stores that allow more leisurely viewing.
Street-side displays offer textile odds and ends that also range from classic to contemporary.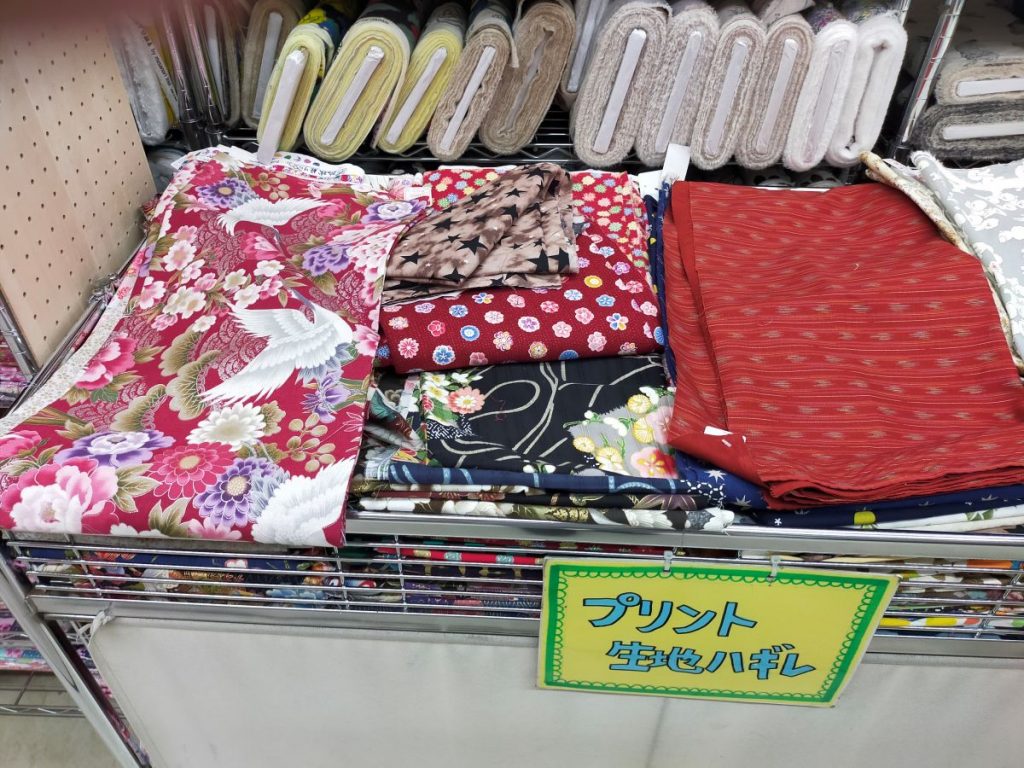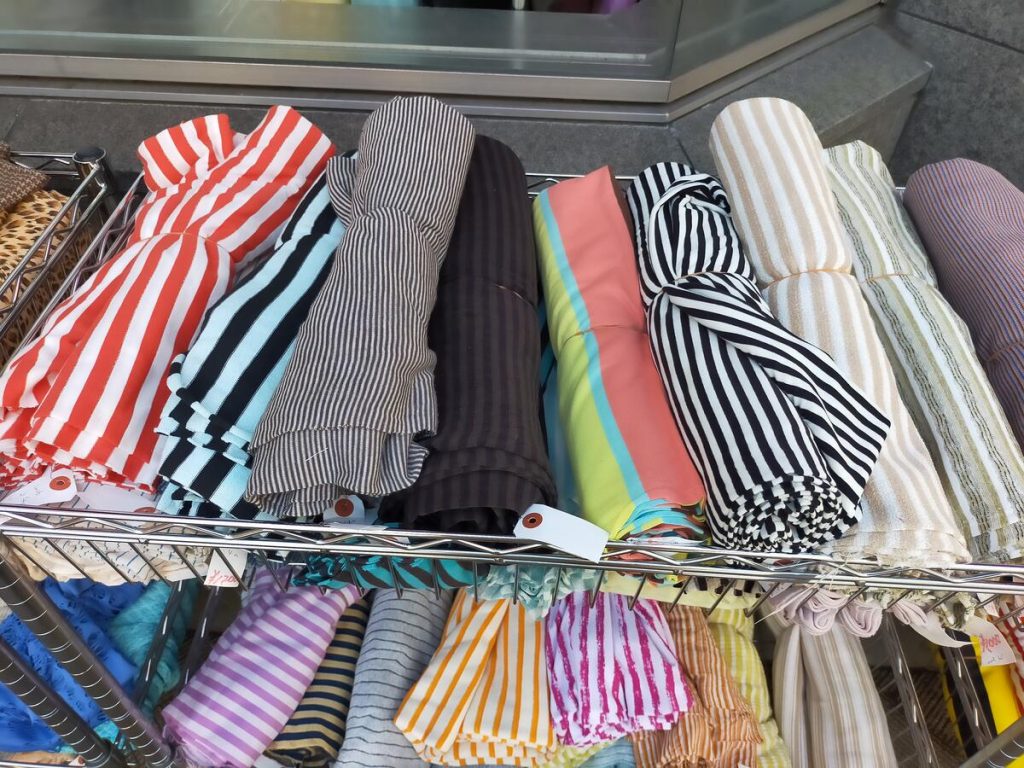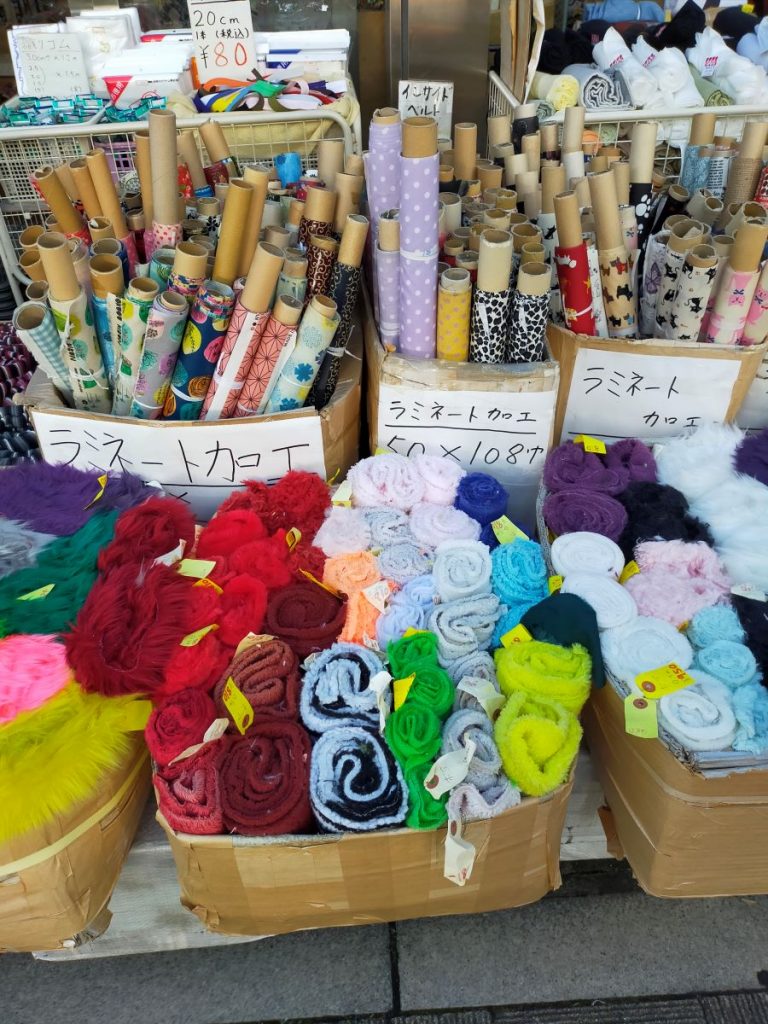 The small and medium size shops are mostly focused. Some concentrate on a particular fabric type, accessories for dress making, or dyed leather stock in colors ranging from brown and black to day glow orange and green.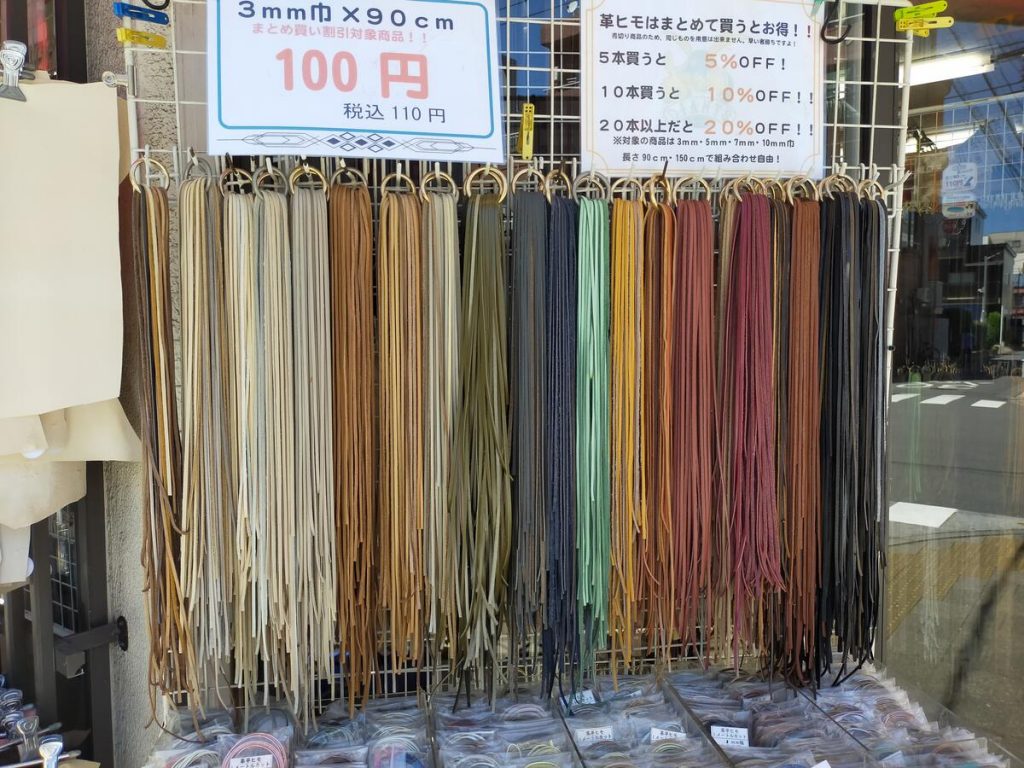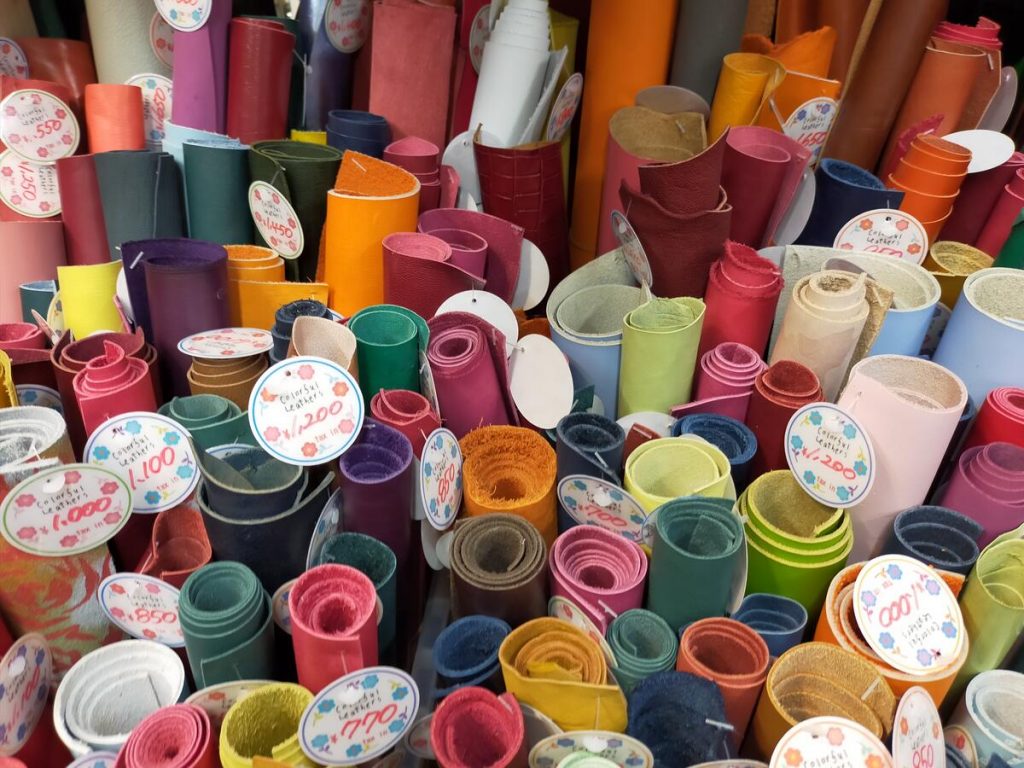 Colorful Odds and Ends
Tassels, buttons and beads, and metallic items such as buckles and clasps also have their own specialty shops.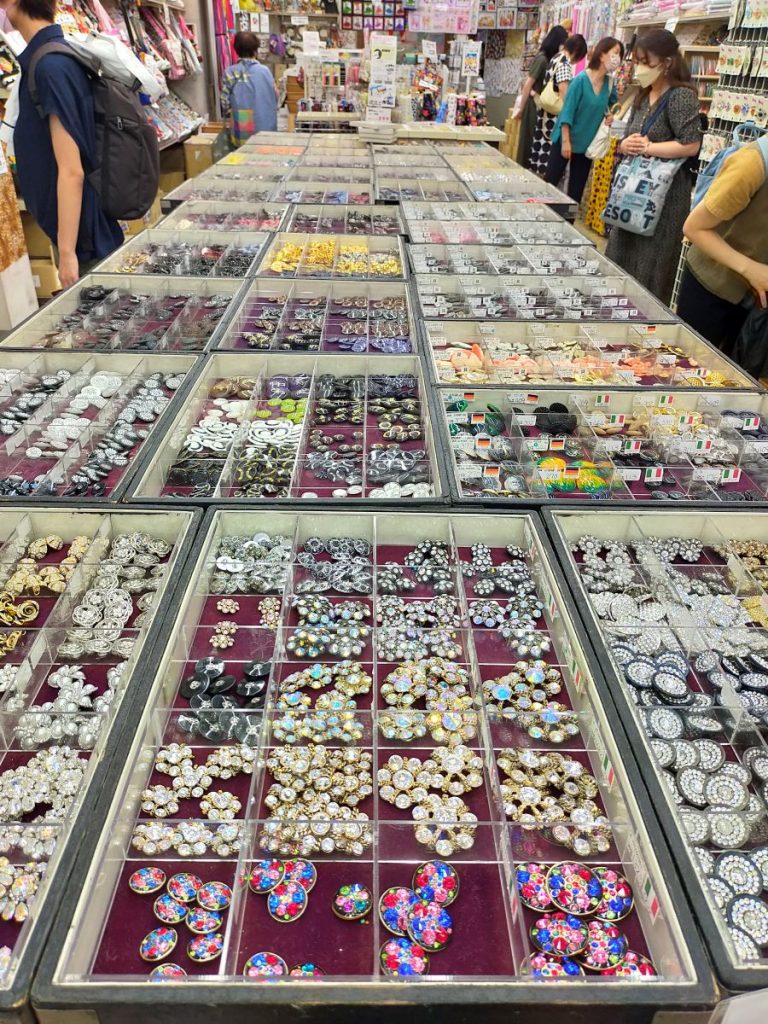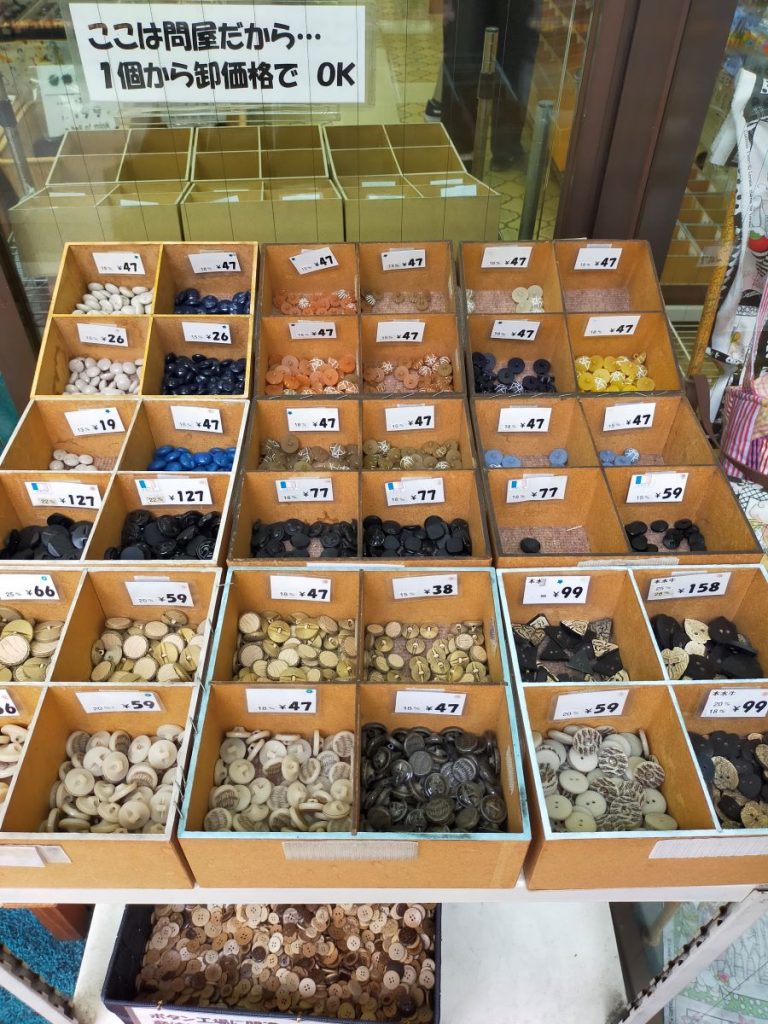 [npt-0009 Street-side display with sign saying because we are a wholesaler you can buy even one at wholesale prices.]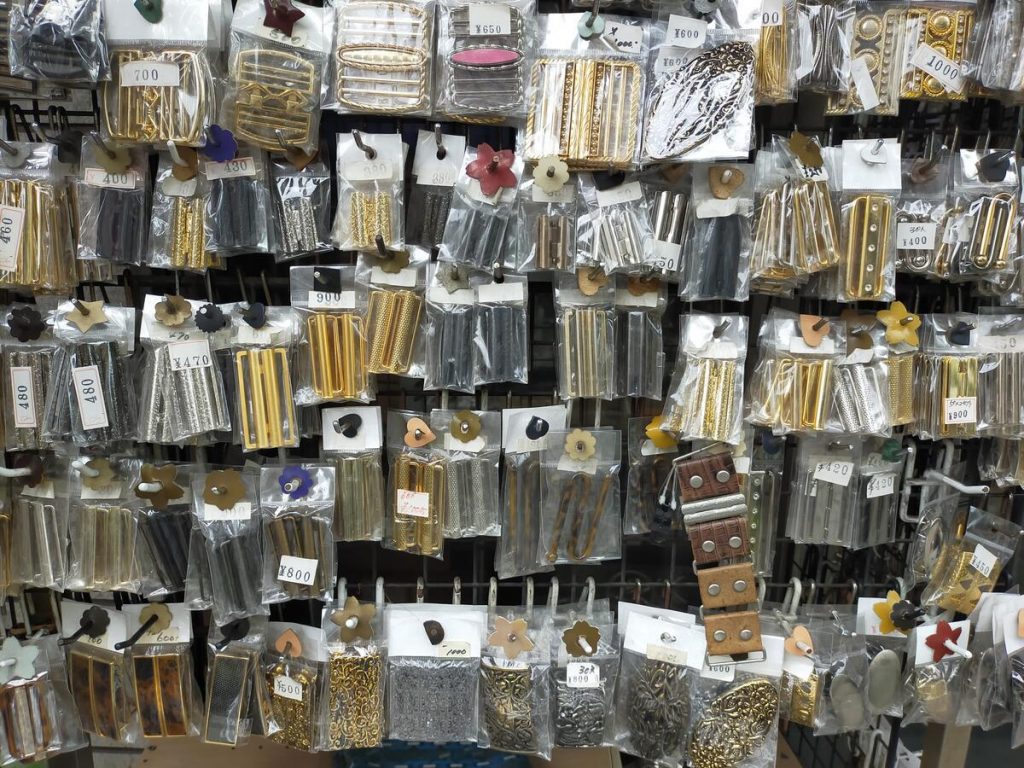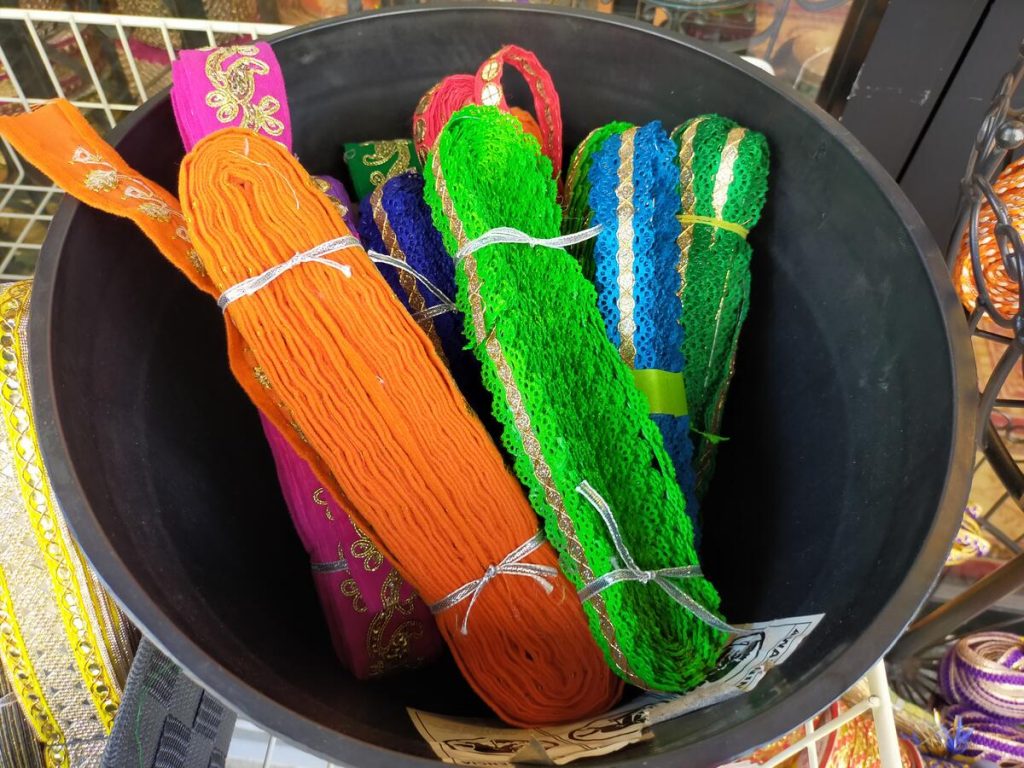 Turning fabric into clothing and costume requires thread. Street-side displays and shops offer it in bulk and as left-overs from commercial production.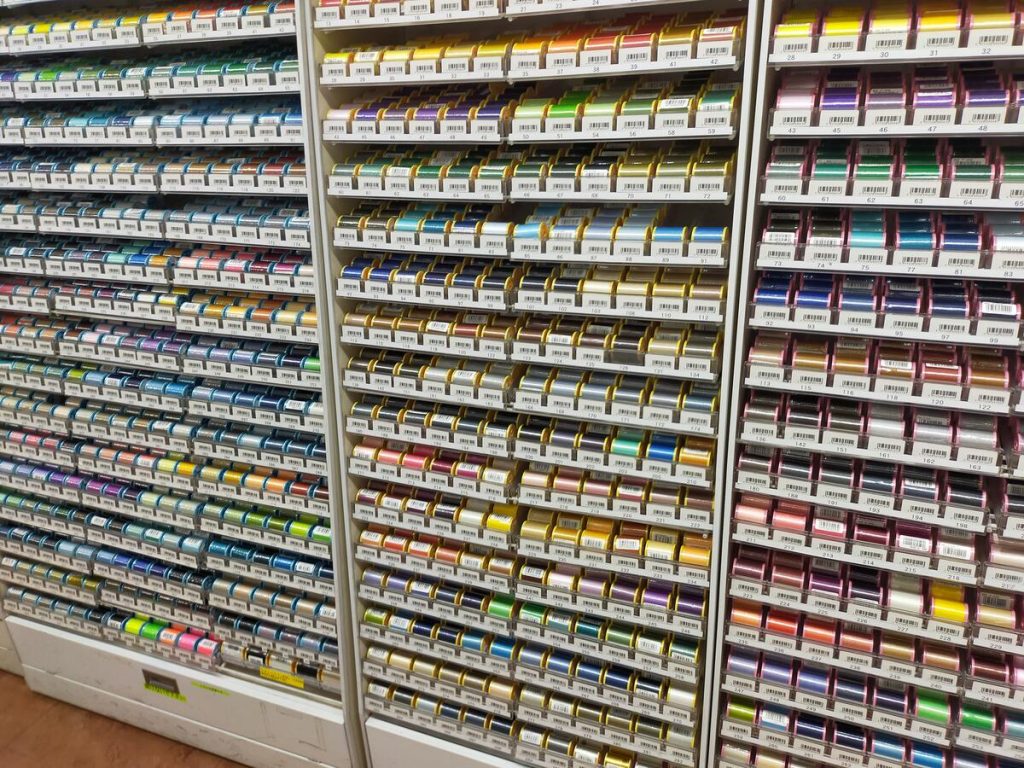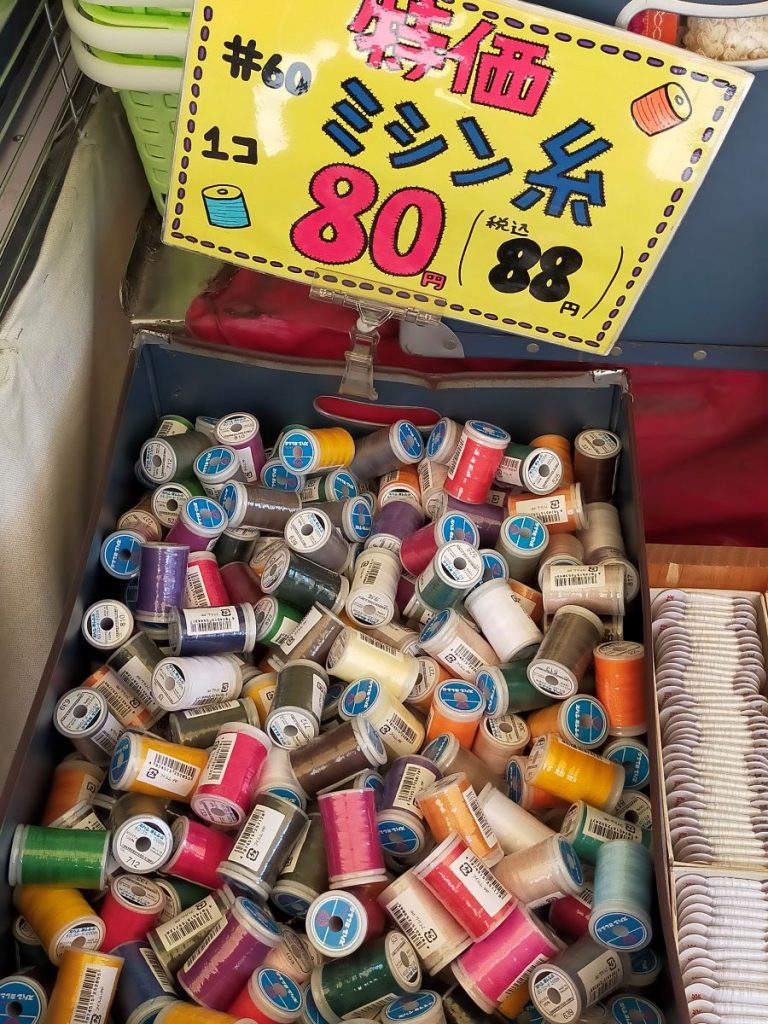 Getting There
Nippori Station is served by the JR Yamanote, Keihin-Tohoku, and Joban Lines, the Toneri Liner, the Keisei Line, and numerous buses from major terminal stations on the east side of Tokyo.
Most of the shops are along Nippori Chuo Dori that runs east from the station, although a few are on side streets. A map in various languages clearly shows shop locations and specialties.


Other Things To Do
Old fashioned coffee shops and a few restaurants are interspersed among the fabric shops. Numerous chain restaurants and coffee shops can be found near the station.
We had a large, surprisingly inexpensive breakfast at a rather funky coffee shop with the name Discussion Room (談話室).
It advertises itself as Showa Retro, but as a sign of the times, our servers were Chinese.
Going through the station and up the hill to the west takes you Yanaka (谷中). This area is popular with both foreign and domestic visitors for its Showa Retro atmosphere, street food, souvenirs, coffee shops, and restaurants.


Conclusion
Tokyo has a number of shopping areas devoted to specific product areas. Akihabara and Harajuku are known worldwide. Kappabashi also attracts foreign visitors, particularly for its plastic restaurant samples.
Nippori Fabric Town is less well known but well worth a visit.
My sewing skills are limited to replacing buttons and applying iron on patches, but I appreciate craftsmanship and design. Both are to be found in abundant measure in the Fabric Town and the fabric and accessory displays make for striking photographs.


RELATED:
Author: Earl H Kinmonth
Photographs by EH Kinmonth. Find other stories about Tokyo and nearby areas by Dr. Kinmonth at this link.