[Asia's Next Page] Tokyo's Power Projection: The NATO Calculus
Recent back-to-back engagements with NATO show Japan's growing strategic alignment with the EU, while Kishida's eye on the US-Japan alliance is strong.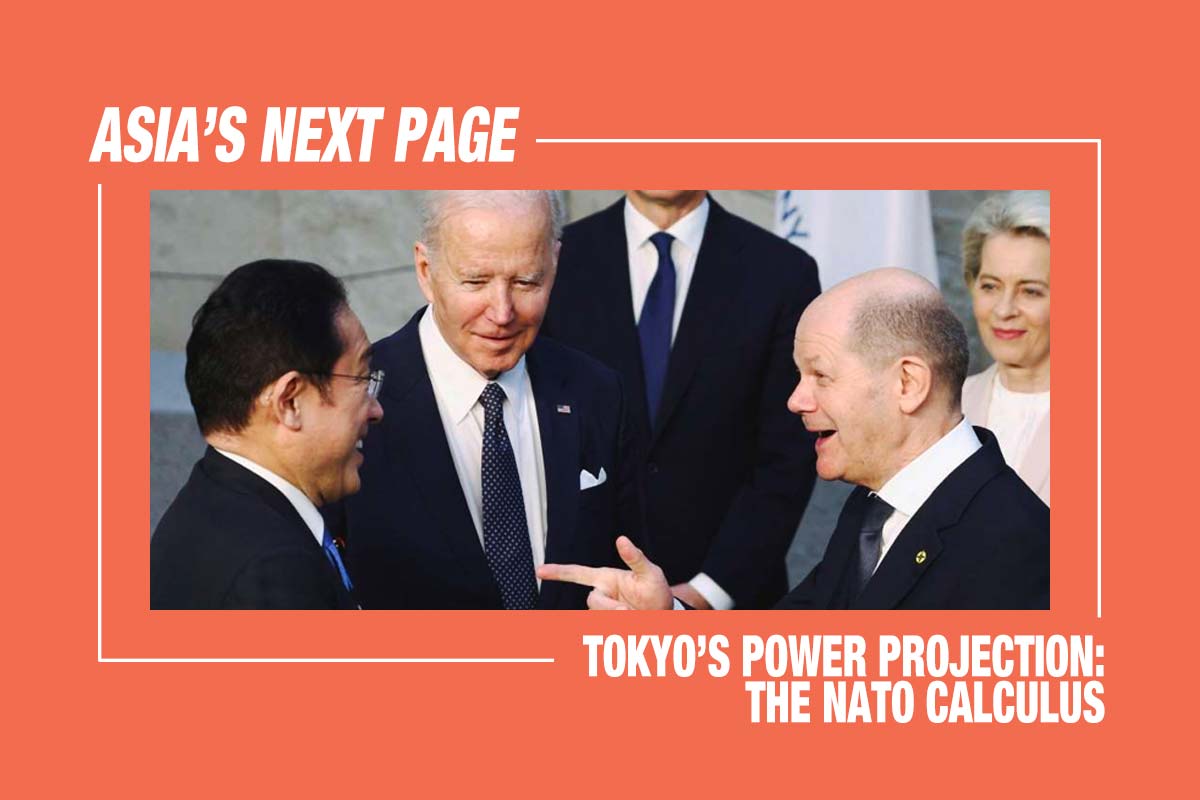 If 2020 was an inflection point with the COVID-19 pandemic forcing the world to readjust its economic overdependence on China, then the year 2022 is colored by the Russian invasion in Ukraine.
This year has been a significant turning point for geopolitical allegiances between state actors and reconfiguration of security mechanisms: The China-Russia "no-limits" friendship forged right before the Ukraine war; transatlantic and European unity; conditional (yet unbitter) support among allies (India vs. the rest of the Quadrilateral Security Dialogue); and the emergence of Japan as a credible partner and potential great power are some of the highlights.
Moreover, the ongoing war has also put the launch of Europe's new Security Compass in perspective, even as it has tested the United States and the North Atlantic Treaty Organization (NATO)'s credibility in ensuring European security.
The changed security landscape in Europe has reverberated in the Indo-Pacific – the world's perpetual theater of tension – too. Asia's response to the war has been unsurprisingly disparate. India and China have not supported the Western sanctions and maintained a strategic silence on their partner Russia. The Association of Southeast Nations (ASEAN) has been likewise divided. South Korea initially hesitated, but ultimately caved into US pressure and sanctioned Russia.
But Japan has "stood up in remarkable ways" to galvanize support for Ukraine. Prime Minister Fumio Kishida's visit to India and Southeast Asia was an appeal not just to solidify stance for Ukraine, but also to coalesce allies in the event of further aggression from China in the Indo-Pacific, primarily South and East China Seas.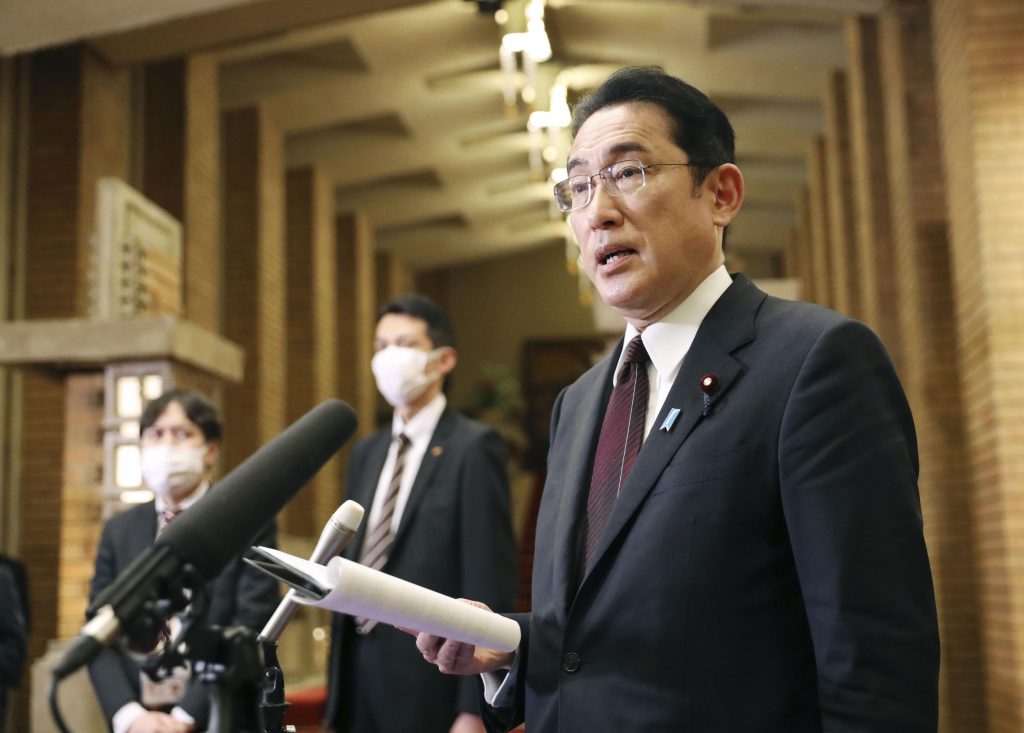 Japan's Power Projection
Japan's consolidated moves – including outreach, sanctions, and humanitarian plus non-combat military assistance – have not only drawn praise from the United States and European countries, but also projected Japan's greater power ambitions. Notably, Japan's response to the war in Ukraine has deepened its strategic relationship with NATO, which is fighting for greater credibility amid Europe's turn to strategic autonomy.
Japan is also a "like-minded" partner in NATO's outreach to the Indo-Pacific in its bid to "no longer be confined by geography."
In this context, how far would Japan's emerging dynamics with NATO influence their geopolitical interests? What does it mean for the existing Indo-Pacific frameworks, including the military pact between Australia, the UK, and the US (AUKUS)?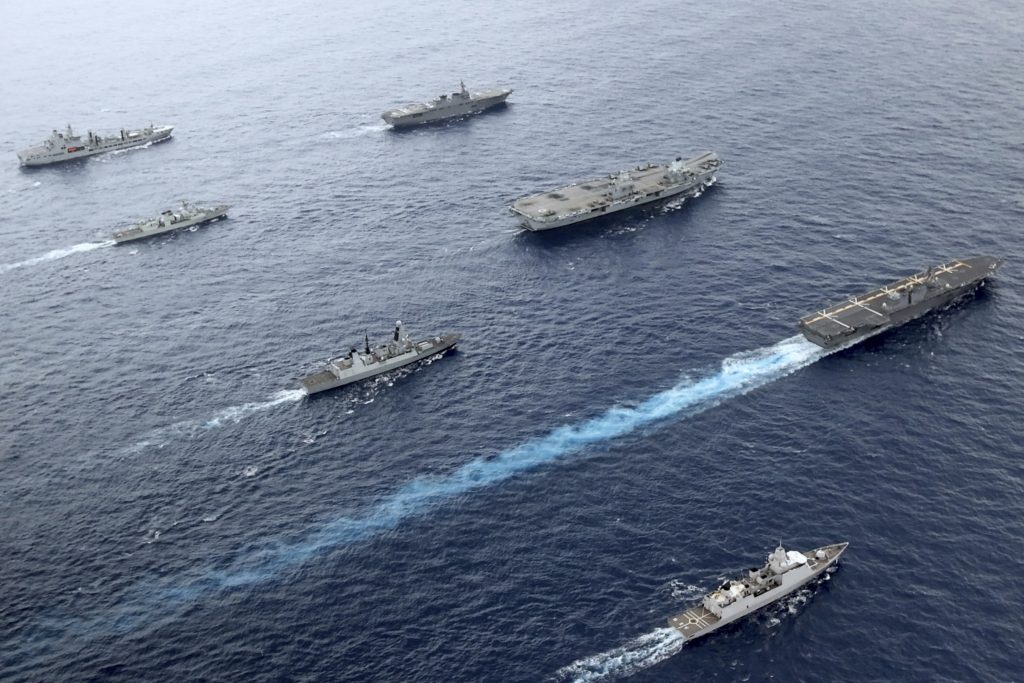 Tokyo-NATO Multifaceted Chemistry
The Ukraine war and the changing global security architecture have renewed the focus on the strength of alliances and their ability to ward off urgent threats. Ahead of its Madrid summit, NATO has been making concerted efforts to reconfigure its deterrence and collective defense capabilities amid fears of growing China-Russia convergence. Given the globalized security threats today, it is not just focusing on the extended European neighborhood, but also developing broader relationships in the Indo-Pacific.
Naturally, the alliance is seeking to strengthen its long-standing multi-sectoral practical and political cooperation with Japan, one of its major "partners across the globe," to address shared challenges. For example, on May 19, as a representative of the Indo-Pacific states (along with Australia, New Zealand, and South Korea), General Koji Yamazaki, Chief of Staff, Joint Staff, of the Japan Self-Defense Forces, attended the NATO Military Committee meeting that included a discussion on regional security developments impacting global security challenges. In turn, the chair of the NATO Military Committee will pay an official visit to the Joint Staff in June.
This military exchange is supplemented by Japan's diplomatic overtures that include Foreign Minister Hayashi's first-time participation in the NATO Foreign Ministers' meeting earlier in April, Prime Minister Kishida's G7 visit in March (hosted by NATO and by Japan next year), and Japan's likely participation in the forthcoming NATO summit in June.
Such focused, back-to-back engagements with NATO highlight the mutual urgency for enhanced collaboration. Hence, a potential China-centered trilateral with the US cannot be ruled out. Moreover, for Japan, such meetings ensure broader outreach with other states in attendance.


Leadership Styles
Under Shinzo Abe, NATO-Japan ties remained largely focused on maritime security, cyberspace, humanitarian assistance and disaster relief, and issues involving women, peace, and security. Now, the addition of cyber defense, new technologies, and countering disinformation have led to accentuated cooperation, driving forward Japan's importance in NATO's Asia-Pacific outlook.
Importantly, a discernible arc is visible, which is shaping Kishida's NATO approach above and beyond that of Abe's. It is further linked to the focus of both leaders on remitting Japan's postwar constitution.
The amendment (or abandonment) of Article 9 is an unfinished goal Abe had sought as a core priority. Kishida took up the mantle upon his election, and has now moved it further up in his domestic and foreign policy agenda, accelerating attempts away from a slow dismantling. Kishida's recent call for revisions to the constitution to "better match the current times" has been accompanied by the submission of a proposed review of Japan's national defense strategy to remove restrictions on striking enemy bases.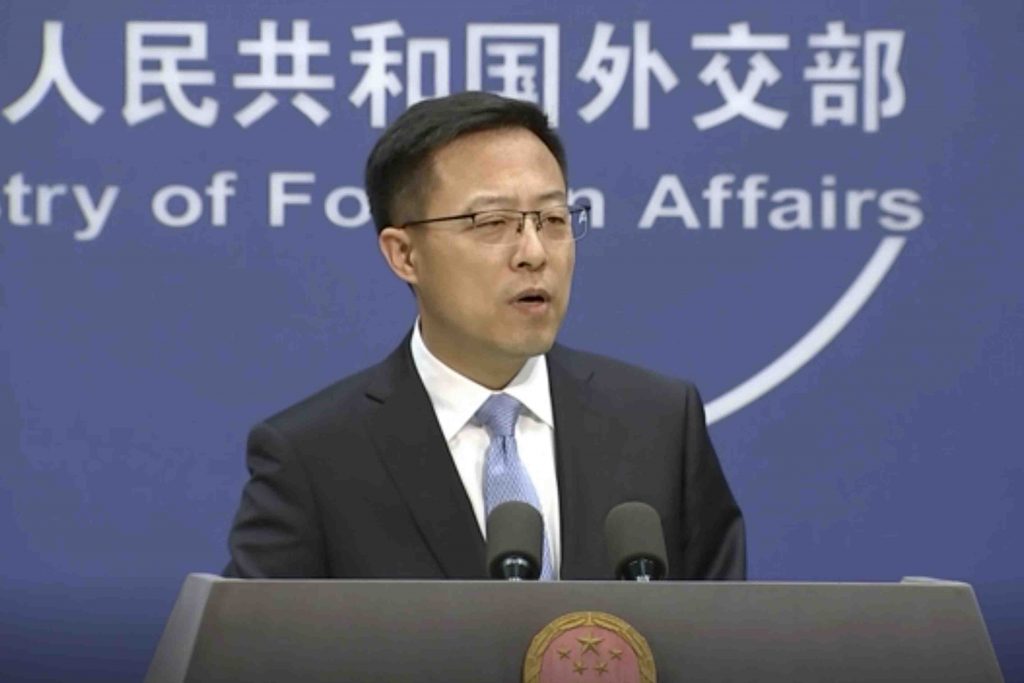 China's Take, Public Perceptions
Amidst such developments, Chinese state media has sought to classify Japan's growing NATO outlook as connected to its remilitarization goals. Calling Japan an "active caterer" of NATO's "Eastward Crossing," China has portrayed Japan's NATO connection as a move away from Asia and toward Europe.
The reality of Japan's NATO pull, however, is a lot more nuanced. Japan's strategic alignment with the EU is growing, while Kishida's eagle-eye on the US-Japan alliance is strong.
Concurrently, Japan's security ties with European countries like France and the UK are on the rise. Renewing cooperation with NATO emerges as a natural progression of Kishida's European vision, while also building a stronger Asian representation in Brussels.
Having been Japan's longest-serving foreign minister, Kishida's diplomatic maneuvering of the Ukraine situation and its cross-continental ramifications show his expertise in action.
At the same time, Kishida has been able to swerve public perception, a vital variable to political success, to his side despite the upsurge in geopolitical volatility (or in hindsight, maybe because of it.)
Support for Kishida's administration exceeded 60 percent, according to a survey in May by the Nikkei and TV Tokyo. Japan's unusual response to Ukraine, as compared to the 2014 Crimean crisis or the 1991 Gulf War when Japan's political status was not as strong as it is today, has reflected in stronger support from its public as well.
A key factor in this change could also be the public perception of the invasion, what Kishida has termed, as a "unilateral change to status quo by force." Constant Chinese incursions into Japanese territory amid the Senkaku Islands sovereignty dispute and the North Korean threat have precipitated the awareness of imminent danger.


A Low-Risk, High Reward Approach?
The forthcoming Madrid NATO summit will likely emerge as a critical summation of Kishida's recent foreign policy overtures at strengthening ties with Brussels. Support of the United States for Japan is at an all-time high and sets the stage for furthering Japan's NATO engagements.
The recent statement by President Joe Biden to defend Taiwan militarily in the case of a Ukraine-like invasion by Russia was lauded as a major policy shift. Having been announced in Tokyo, the statement further renewed Chinese fears that Japan would fully stand with the US with respect to Taiwan, threatening the One-China policy.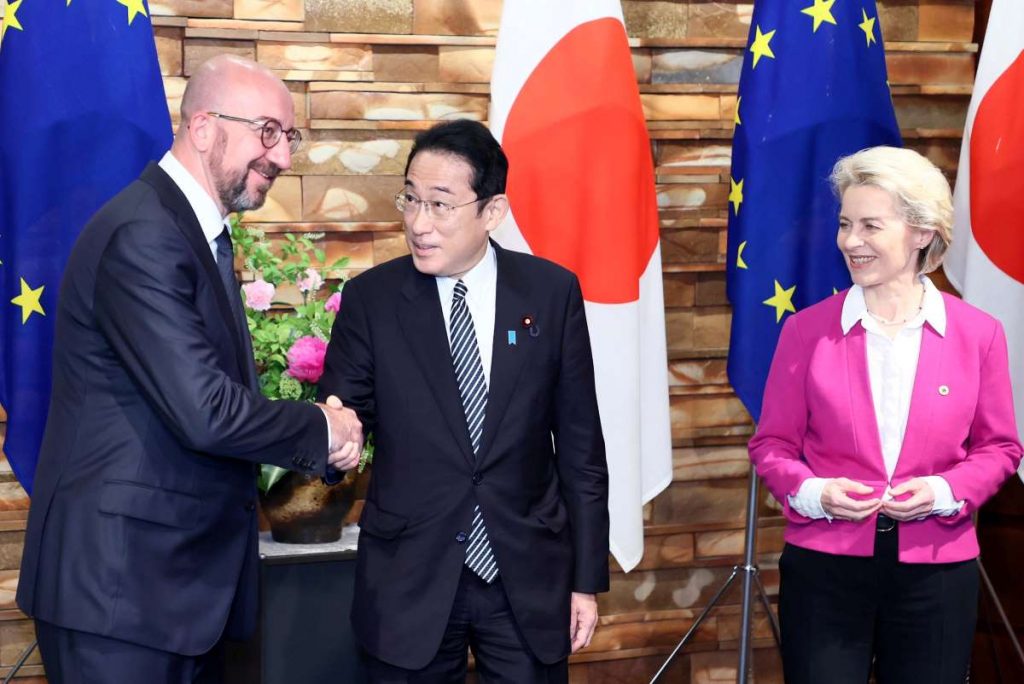 Japan has also long attempted to build European consensus against Chinese continued aggression in the Indo-Pacific region. Hence, recent "pivots" to the region by the European Union (EU) and NATO have been welcomed by Tokyo. But it recognizes the need to advance concrete cooperation.
As multilateralism in multipolar Asia grows, Japan's push is to ensure continued US and European presence in the region as it seeks to stall regional hostilities and assertive actions by Beijing, especially as Tokyo itself remains economically dependent on China. Already, China has labeled Japan a "traitorous guide" for its recent collaboration with NATO.


AUKUS Expansion Yes or No?
Notwithstanding the pressure from China, Japan is also pursuing "multilayered" security cooperation through bilaterals and multilaterals. But none has received as much attention as the speculations around AUKUS and Japan's inclusion in its (as yet non-existent) expansion.
That Japan already has security arrangements with each of the AUKUS partners is fueling the fire. Yet both Japan and the US have denied the media reports, even as the potential for a "JAUKUS" (despite the stranger acronym) does appear to have a "sound strategic logic."
Such dynamics nevertheless highlight Japan's criticality in global politics, and hence NATO's considerable interest in the partnership that goes beyond the China threat.
Moreover, Japan is a democratic trusted regional leader in Asia and the largest official development assistance (ODA) donor, with large scale investments in infrastructure (Expanded Partnership for Quality Infrastructure, EPQI), technology, and multilateral trade pacts.
For Japan, the cooperation with NATO has multifold objectives: neutralizing the threats from China and North Korea, greater presence in European policy, solidifying its role as the foremost leader in regional geopolitics, and above all, achieving its great power ambitions.
So far, Kishida's diplomacy for the "new era" seems to be heading in the planned direction.


Author: Jagannath Panda
Find Dr. Panda's column [Asia's Next Page] on JAPAN Forward .