Let's Enjoy Kabuki! (Language Is Not A Problem)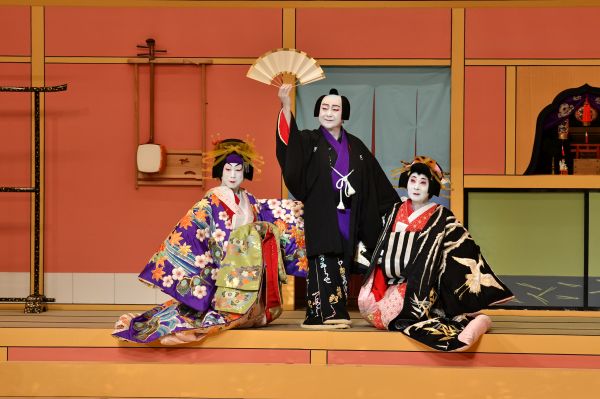 ©Shochiku
"There are so many foreigners!"
So voiced a staff member at the Kabukiza Theatre. The comment was rightfully made — a long line forms at the booth that rents out earphone guides in English, as many people who want to experience the excitement of the performance with their own eyes are here to see the kabuki.
They are probably seeing kabuki for the first time. At Kabukiza, an increase in foreign audiences can be seen clapping loudly to the mysterious allure of the performance art.
The day after Japan boiled over with excitement upon the announcement of the new era name, Reiwa, I went to see the first performance of the April program at the Kabukiza, which will literally be, the last Heisei kabuki performance.
The first program in the matinee was Osamaru Miyo Nagori No Emaki. With the kanji "Heisei" used in it, but with the reading of it altered, the title is very kabuki-esque.
The storyline is something to enjoy when you actually see it, but the program reflects the spirit of the Japanese people — paying farewell to the Heisei era that lasted for 30 years as they look forward to the new era of Reiwa.
The performance was the epitome of kabuki and strikingly beautiful. The other programs were also a lineup of abounding stylistic beauty that could be enjoyed even without understanding the spoken language.
Through coming monthly articles on kabuki programs, I will be introducing the many ways to enjoy this traditional Japanese drama for those who are not familiar with the Japanese language. I hope to deliver a beginner's guide to enjoying the art of kabuki, without making it too complicated.
Readers can look forward to know the program highlights, stage settings, direction, costumes, music, and messages from actors and people involved in the kabuki industry, as I will also do interviews whenever possible.
To wrap up this report, I would like to make one suggestion: please pay attention to the ogi, a folding fan, when watching the play. The ogi is one of the very few items invented by the Japanese. The folding fans are used exquisitely as props in the April program at the Kabukiza
I will give you a more detailed report in the coming days. However, in the interim, I recommend taking a pair of opera glasses when you go, as they will surely further enhance your theater experience.
For more information on Kabukiza and the current kabuki performances, please click here. For additional information on kabuki theater productions and to follow the news on kabuki, please check the link for KABUKI by Shochiku.
Author: Yukihiro Watanabe