Coronavirus' 'Butterfly Effect' Will Have A Major Impact on East Asian and Global Economies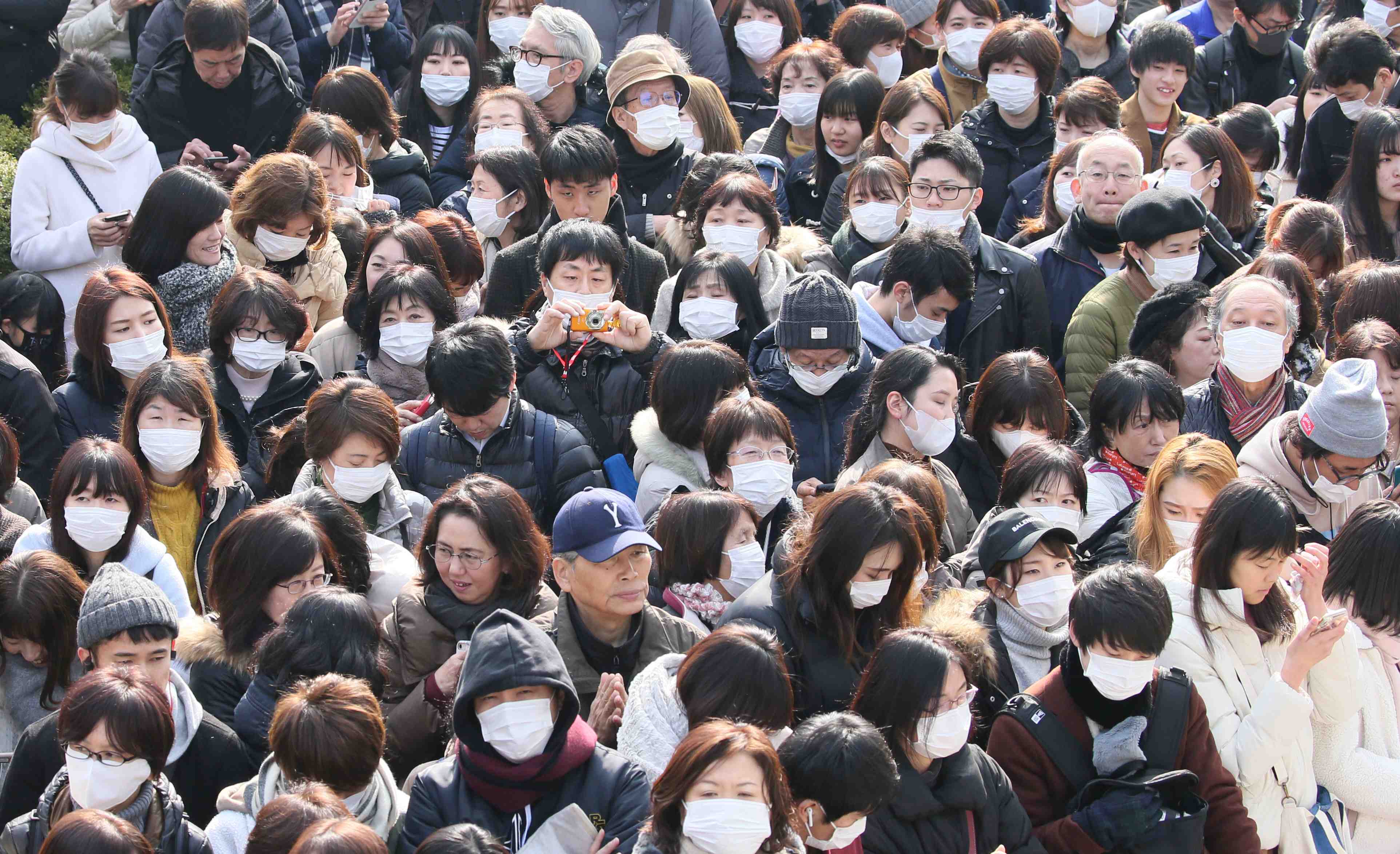 One of the passengers aboard a luxury liner being held in Yokohama Bay says the ship feels like a jail.
David Abel, from the United Kingdom, used a Facebook post to speak of his frustration at being placed in quarantine to prevent the spread of a new strain of coronavirus.
"It's just an extended two-week cruise but it's not going to be a luxury cruise — it's going to be like a floating prison," Mr. Abel told his followers.
"How do we cope with it? What are we going to do? How is our mental outlook going to be?" he asked, before explaining that all the passengers, including him and his wife Sally, have been told to remain in their cabins for days.
Crew members wearing face masks deliver food to the guests' rooms and Japanese medical officials check their temperatures and conduct tests.
Quarantine Rule
The decision to place the Diamond Princess in quarantine was taken after an 80-year-old man who left the ship in Hong Kong in January tested positive for the virus, which has killed more than 600 people in China as of morning of February 7.
Japan's health minister, Katsunobu Kato, said all 3,711 passengers and crew on the ship have now been screened for the virus, with some results coming back positive. (RELATED ARTICLE: Novel Coronavirus: How the Worldwide Emergency Impacts Japan)
Minister Kato expects the quarantine to continue for around 14 days — the estimated maximum incubation period for the virus.
The rest of Japan remains on high alert. Around 40 cases of pneumonia caused by the new virus have been reported.
Inadequate Action
However, one of the world's leading experts on infectious diseases has warned that some of the actions being taken to try control the epidemic may not be effective. Professor David Heymann, a distinguished fellow of the global health program at Chatham House in London, says laws which attempt to prevent people from leaving cities such as Wuhan in China are only "experimental measures."
"Nobody knows whether shutting down international travel has reduced the export of cases," he said.
Dr. Heymann supports the view of the World Health Organization that the outbreak of coronavirus is not a pandemic. He says there is insufficient data to form a reliable risk assessment.
"I don't like to make predictions," he said, but added that he is encouraged that "outside of China, it seems as though there has been great success in controlling the disease."
He explained: "The mortality rate is said to be about two percent, but it's very difficult to know for sure. We have figures of how many people are said to have died from the virus, but we don't know the number of cases."
Estimates of suspected cases inside China vary widely, with some reports putting the figure as high as 40,000. As of February 7, over 31,000 cases had been confirmed inside China.
Sympathy for China
Many Japanese people are sympathetic to China's plight. Some of them have sent boxes of face masks to Wuhan.
This gesture was appreciated by social media users in China, who have been sharing a post showing the masks, alongside a message written in Chinese 山川异域 风月同天 (shan chuan yi yu, feng yue tong tian), which roughly translates as "lands apart, shared sky."
Unfortunately, from a medical perspective, the face masks are of limited value. Dr. Heymann says that, although they may be useful in preventing someone from spreading the virus when they sneeze or cough, they can't stop a person from catching a disease.
He warned that people will be at particular risk of infection if they remove the mask to eat, or if it's not fitted properly, or if it gets wet.
He also said that "there will probably not be a vaccine for coronavirus in time for this outbreak."
Beyond Borders
Dr. Heymann's colleague Rob Yates, who is the head of Chatham House's Centre on Global Health Security, said he is concerned about the potential spread of the disease to Asian countries, such as India, Myanmar, and Bangladesh, which have relatively under-resourced health care systems.
"The population there would be at a higher risk than China," warned Dr. Yates, who was a senior health economist at the World Health Organization (WHO) from 2011 to 2014.
He also said: "Borders cannot stop infectious diseases. You may try to shut down arrivals by preventing air travel from certain countries, but there are other ways in which people and diseases can travel."
China's Shortcomings
In China, the authorities are attempting to restore public confidence after being criticized for not acting sooner. China's top leadership has admitted "shortcomings and deficiencies" in the way the outbreak has been handled.
The central government has attempted to place the blame on the regional government in Hubei province, which includes Wuhan.
Former BBC correspondent Yuwen Wu claims that there has been a "cover-up." She says officials in Hubei knew that the new coronavirus could be transmitted through human contact, long before they told the public.
Several doctors who tried to warn of danger were accused of spreading rumors. Yuwen Wu says: "Rather than being praised for trying to protect people, they were arrested, interrogated, and punished."
Memories of SARS
Many analysts see a parallel with the pattern which emerged during the SARS outbreak in the early 2000s. At that time, Professor Heymann was responsible for the WHO's response. He says the epidemic had a profound impact on the Chinese economy, even though the Chinese authorities attempted to deny it.
"The difference between then and now is the extent to which the Chinese economy has been integrated into the global economy," said Dr Heymann. China now accounts for a much larger proportion of global GDP than it did in 2003, and has become the leading trading partner for many countries, including Japan.
Economic Toll
Independent forecaster Capital Economics believes that the huge disruption to business in China could wipe as much as 3% off GDP growth.
Japan could also be affected, especially the tourist trade, as about 30% percent of international visitors come from China. The Chinese authorities have banned people from booking overseas tours or purchasing international flights. This leaves an uncertain outlook for the summer tourist season in Japan, including the Olympics.
Professor Shirley Yu from the London School of Economics says many international firms will also be impacted by the restrictions on movement in China.
"The epicenter of the outbreak, Wuhan, is home to more than 500 auto manufacturing companies, including GM, Honda, and Renault. The automobile production volume in Wuhan, one city alone, is bigger than that in an entire country of France, or the UK," said Dr. Wu.
She believes the "butterfly effect" of coronavirus will be widespread and will have a major impact on the economy of East Asia and the rest of the world.
Author: Duncan Bartlett
Duncan Bartlett is the editor of Asian Affairs magazine and a regular contributor to JAPAN Forward. He is also the founder of the portal Japan Story.