Celebrating Japan's Festivals on the Banks of the Rhine and Beyond
Trendy pop culture is leading the way but among Japan's festivals, the old and traditional can be just as refreshing and inspiring.
Huge fireworks lit up the waters of the Rhine River in Germany on May 13. They marked the climax of Japan-Tag Düsseldorf/NRW 2023. It's an annual activity, and probably the largest event celebrating Japan's festivals and culture in Europe.
With 18 million people, North Rhine-Westphalia (NRW), including the state capital of Düsseldorf is the most populous part of Germany. The area is the country's industrial powerhouse and an important transport hub well connected with other countries in Europe.
Düsseldorf's long-established Japanese community has always played an active role in the community. This year was the 20th annual event with Japanese participation, and it reflected the steady relationship with Germany built over several decades. The Japanese community put on taiko performances, displayed calligraphy, and organized photo sessions for visitors trying on kimono.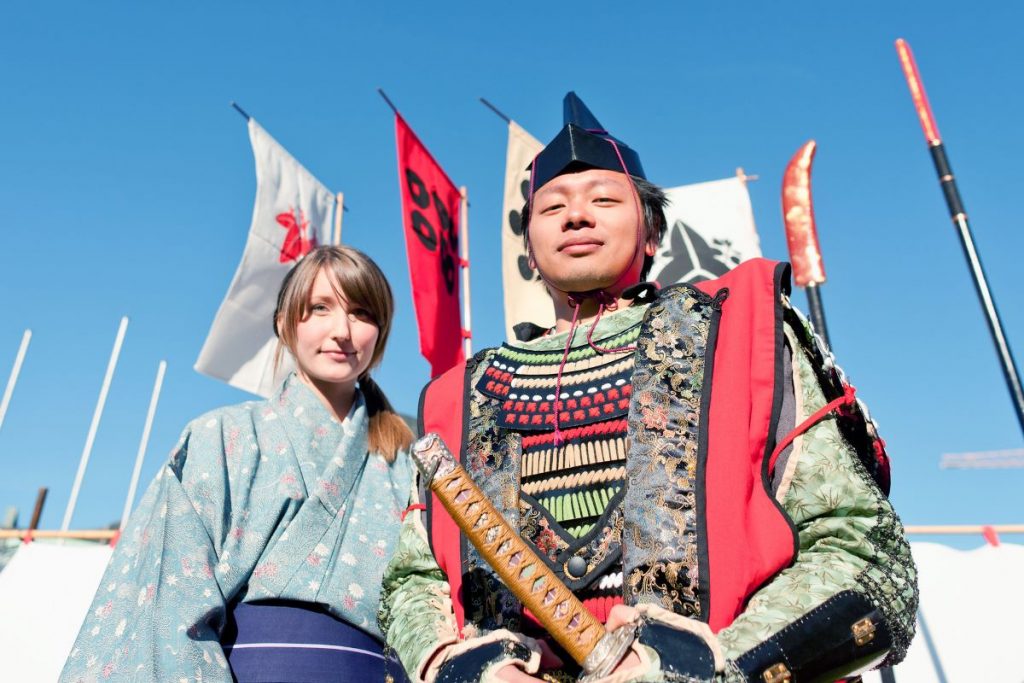 Generally, Germans are seen as rather serious and steadfast. But this event shows they also know how to have fun ー 650,000 visitors cannot be wrong.
Furthermore, the event is a magnet for cosplayers from around Europe. Those taking part in the event must have an eye for detail, too.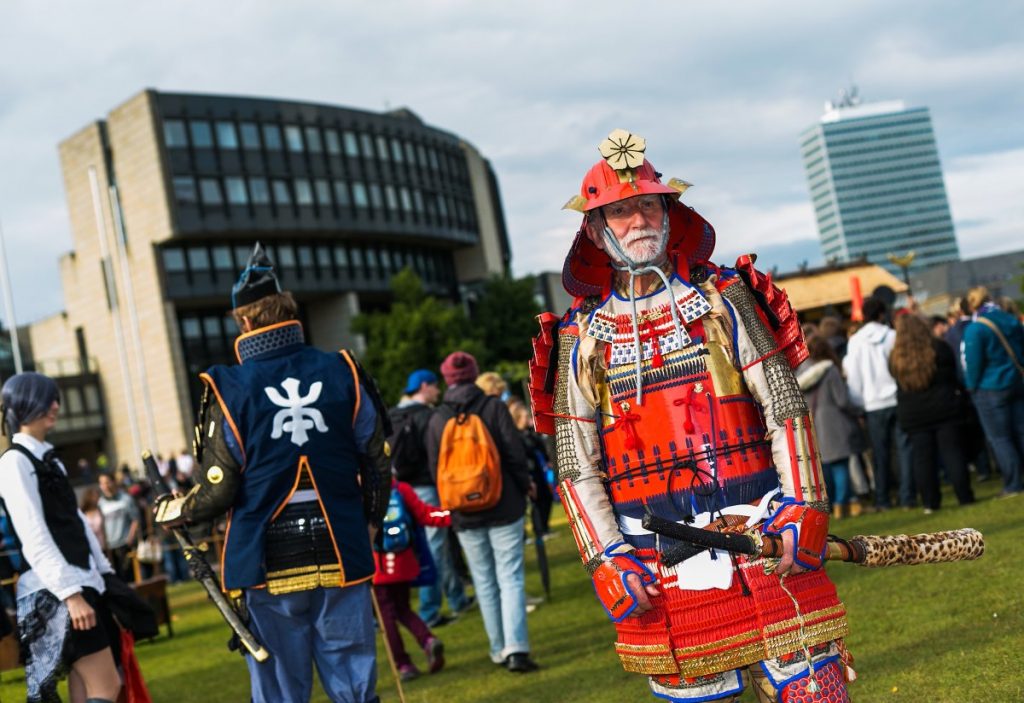 I was astounded to find out that the maple crest on a red samurai helmet is that of 16th-century feudal warlord Akechi Mitsuhide. His character was present, even though the history is very vague. In fact, the reasons for Mitsuhide's sudden coup against Oda Nobunaga are still unknown. But this was in Europe, and it was hardly surprising that others dressing in warrior outfits unmistakably looked more like Vikings.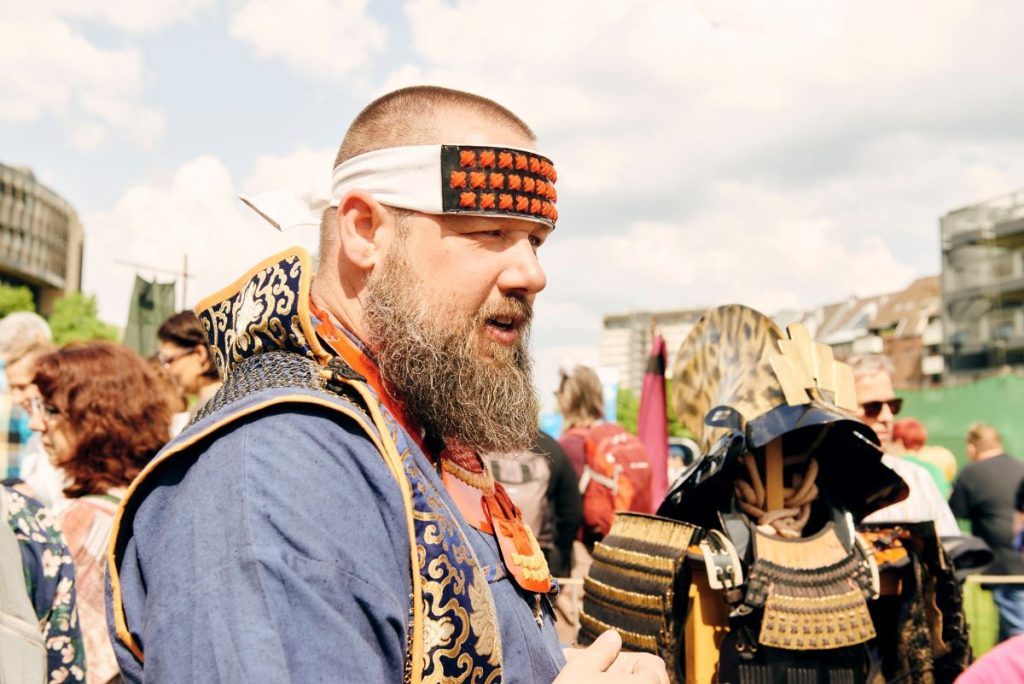 Finding Japanese Culture in Thailand's Remote Valleys
Heading towards Southeast Asia, the city of Chiang Mai in Thailand is sometimes called the Rose of the North. It has a distinct charm and beautiful traditions. Indeed, in a previous article, I briefly mentioned one of their festivals, Loy Krathong.
At the same time the mountainous areas in the north of the country are home to several colorful ethnic minorities, sometimes referred to as "hill tribes."
One such group is the Hmong. They are a branch of the Miao Zu (苗族) in Southwestern China. But as "Miao" sounds like "maew" meaning "cat" in Thai, they prefer to be called Hmong instead. This ethnic group is known for its colorful ethnic costumes and intricate ornaments. But their festivals are rarely advertised as they celebrate for themselves and not for tourists.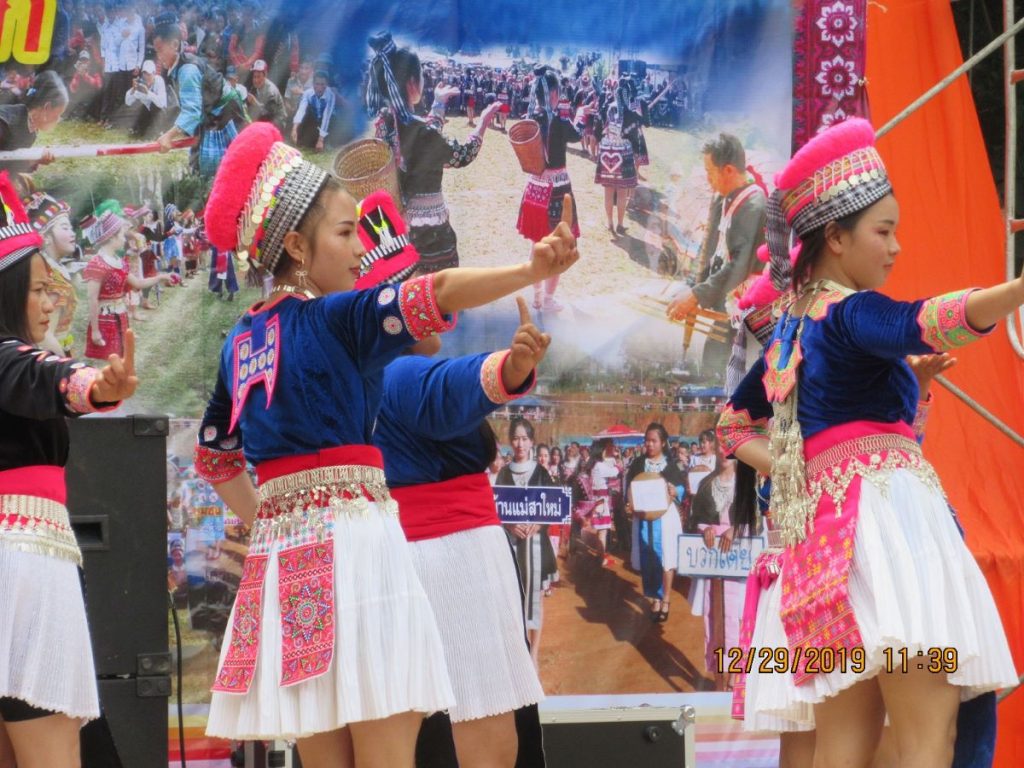 Nevertheless, after some detective work, I found out the dates and venues. When I reached the remote Mae Sa Valley north of Chiang Mai, the girls were dancing onstage to AKB48's 32nd single released in 2013, "Koisuru Fortune Cookie" (the "Fall-in-Love Fortune Cookie") while their younger sisters looked on.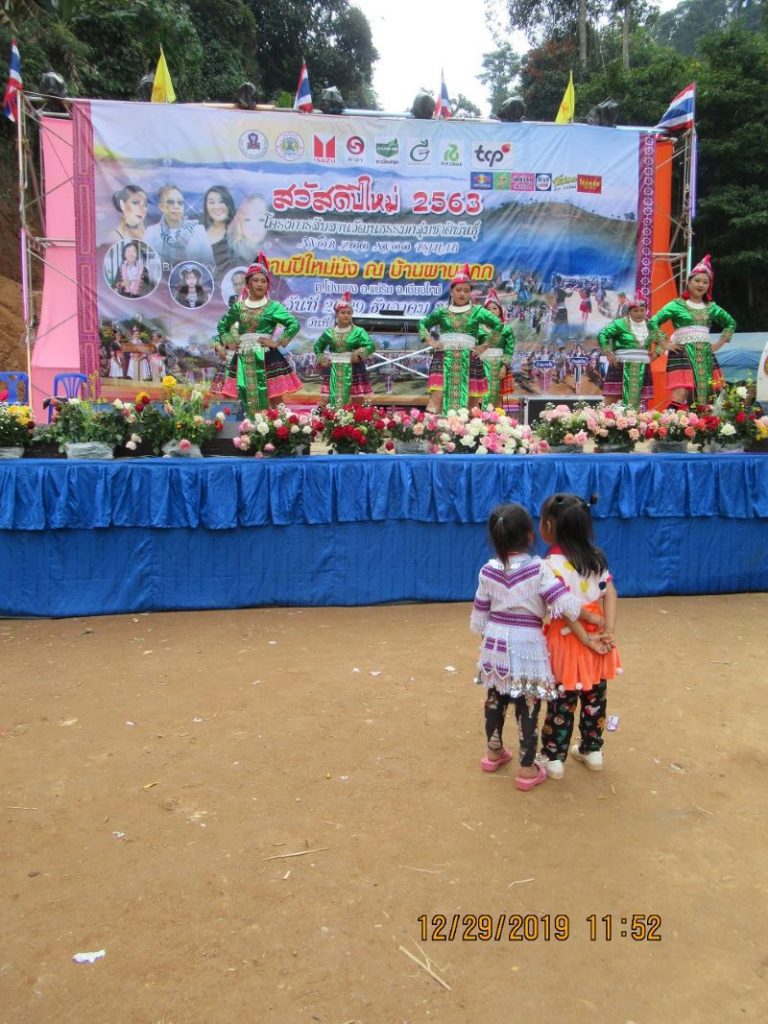 Thailand's Own Girl Idols
Chiang Mai already has its own girl idol group, CGM48, whose style is based on Japan's AKB48. At first, I thought they would be just another Japanese-engineered clone copy of AKB48 and other idol groups. But recently someone in Thailand sent me this video clip and proved me wrong.
This is a Thai version of SKE48's single, "Sansei Kawaii." It was released in 2023 to coincide with Songkran, the water-throwing festival in April, which is the hottest time of the year. Dressed in Lanna (northern) Thai costumes in some scenes, the group looks very much at home in Chiang Mai with their own local character.
In Thailand, there are two important things in life: sanook (having fun) and sabaai (pleasant, smooth, and comfortable.) Clearly, CGM48 lives up to that ideal in life and they are more exuberant and mischievous than their Japanese cousins.
The 'Old School' Feels New and Refreshing
From Düsseldorf to Chiang Mai, Japanese pop culture is now proliferating all over the world. But I would also like to focus on some of the more traditional performing arts which are less well-known abroad. They have been handed down over several generations and their spiritual significance is quite fascinating.
I often send pictures of Japan's festivals to my friends abroad. And every time they ask me about the meaning and significance of these events. Festivals have much visual appeal, but people clearly want to know more. Often the old looks new and refreshing and can be so inspiring.
Count Your Blessings
You may be fortunate to visit a Shinto shrine while miko kagura (shrine maiden dances) are being performed. Their occasional performance is accompanied by graceful moves to tunes of gagaku (imperial court music) to pray for peace and appreciate the blessings we receive in life.
They also mark the changing of the seasons. Note the flowers on the maiden's headdress or crown. Or take a look at the branches they hold during the dance. You may see plum blossoms in early spring, cherry blossoms at the height of spring, wisteria in late spring to early summer, and chrysanthemums from autumn onward.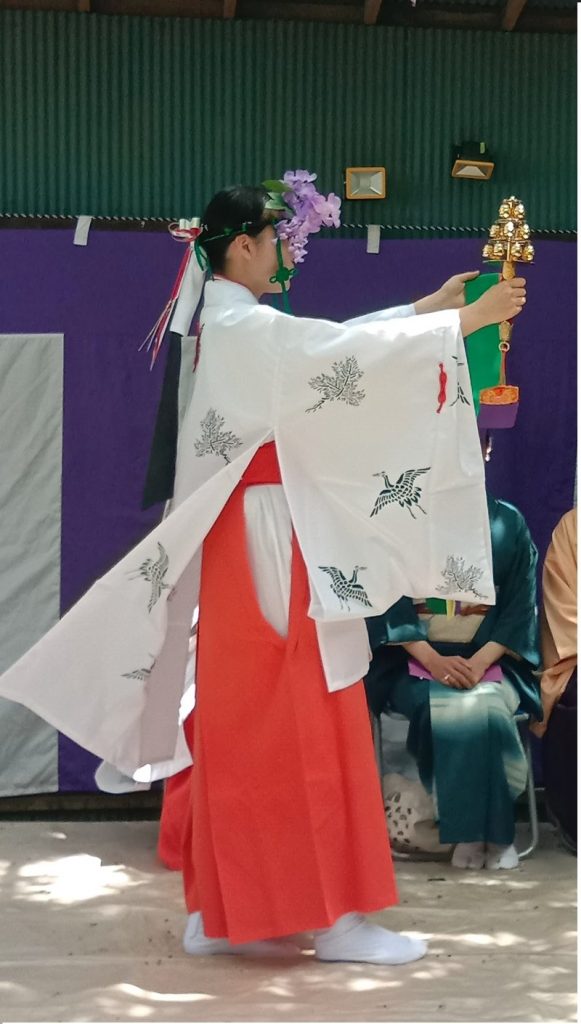 The hand-held charm "kagura-suzu" is fitted with three rings. Its top ring has three bells, the middle ring has five, and the bottom ring has seven bells. These symbolize the bounty of nature like rice or fruit and are meant to pray for an abundant harvest.
Notwithstanding their ancient origins, there have been some updates to miko kagura in the modern era. Although the earliest emperors are legendary, Urayasu no Mai was introduced in 1940 to mark the 2,600th anniversary of imperial rule. Lyrics accompanying it are from a poem composed by Emperor Showa:
I pray to the deity of heaven and earth for the world to be peaceful just like the calm sea at dawn.
Nevertheless, the shrine maiden dances are believed to be as old as Japan's history. Moreover, they continue to have a mystical aura.
Message Not Lost in Translation
On one occasion after a prayer service at a shrine in Nara, the guji (chief priest) explained to me the meaning of a commonly used Japanese expression, "okagesama de." These words are used to express appreciation, rather like "thanks to you" in English. But the meaning runs much deeper.
It is a feeling of appreciation for the blessings in life, both from nature and the support we receive from other people around us. The guji emphasized that this was the message he wanted to deliver to the worshipers.
It may be possible to view shrine maiden dances or religious services from a fairly close distance in small shrines. In larger shrines, they are held in the inner courtyard or hall, and entry is mostly by invitation. Those attending are often regulars who are associated with the shrine, usually from the sukeikai (worshiper members group) or ujiko (parishioners within the community protected by the enshrined deities.)
Reaching Out to Visitors
The shrines rely on support from their regulars and the local community so this arrangement is understandable. But I am sure there are many outsiders who would appreciate the spiritual significance of the events that take place in the precincts.
School trips to the shrines and temples could be timed to coincide with special occasions like tsukinamisai (monthly service) or reisai (seasonal festivals, mostly in the spring and autumn). This serves to remind us of our cultural heritage and to ensure that it is passed on to the next generation.
Or why not set aside just one row of seats at the back for visitors whose native language is NOT Japanese? Perhaps with simultaneous translation accessed by QR code and audible through an earpiece?
Take a step even further: How about going online to live cast a stage performance like Bugaku on the national day of a foreign country, along with a congratulatory message to reaffirm our friendly ties? I am sure the response will be overwhelming.
International Influences on Imperial Court Dance
Bugaku is a well-preserved form of traditional imperial court dance. Its introduction to Japan dates back to 736 CE when monks from the Asian continent arrived in Nara. In 752 CE, it was performed to inaugurate the completion of the great statue of Buddha at Todaiji Temple.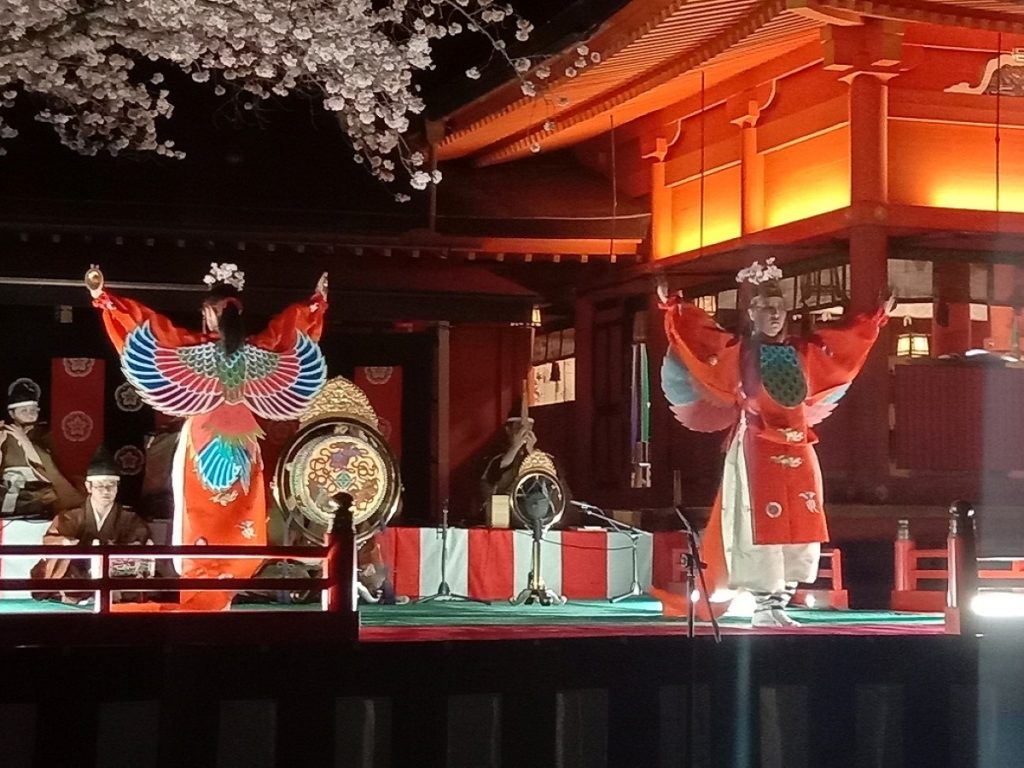 This particular example of Bugaku performed by young women is called "Karyobin." It is derived from the Sanskrit word kalavinka, an auspicious mythical bird of paradise which according to legend starts tweeting before it is hatched, and preaches the Dharma (Buddhist teachings) with its beautiful voice.
If you feel this looks like something out of Southeast Asia, then you are correct. This is one of eight dances from the ancient Kingdom of Champa, which ruled over Indochina and was connected with other parts of Asia by sea. Since those times, numerous power shifts and vast changes have occurred in that region. And the descendants of this once-great seafaring kingdom are now minorities in Vietnam and Cambodia. Still, Bugaku is a piece of evidence of our links with the rest of Asia.
Celebrating Today's Women of Kagura
Fast forward to 2023, and in March 2023. JAPAN Forward featured a story about exceptional women who have made achievements in various fields.
Perhaps in the future, this list could be expanded to add those women involved in traditional performing arts. They now play an important role in preserving our cultural heritage, both on stage and backstage. If these forms of art receive more attention from abroad, there will be an even greater role waiting for them.
Shrines and temples are places of worship so respect for the sacred is paramount and maintaining prestige is obviously important. Simultaneously, the traditional performances often held there offer us opportunities to reflect on our cultural heritage.
If they reach out a little further, they could inspire a much larger audience at home and abroad. Even more so, they could deliver some touching messages in this increasingly volatile and uncertain world.
RELATED:
(Read the article in Japanese.)
Author: Kaoru Kuriyama
Find more essays in English about Japanese culture by Kaoru Kuriyama on JAPAN Forward.