Cherry Blossom Viewing Guide 2020: Western Japan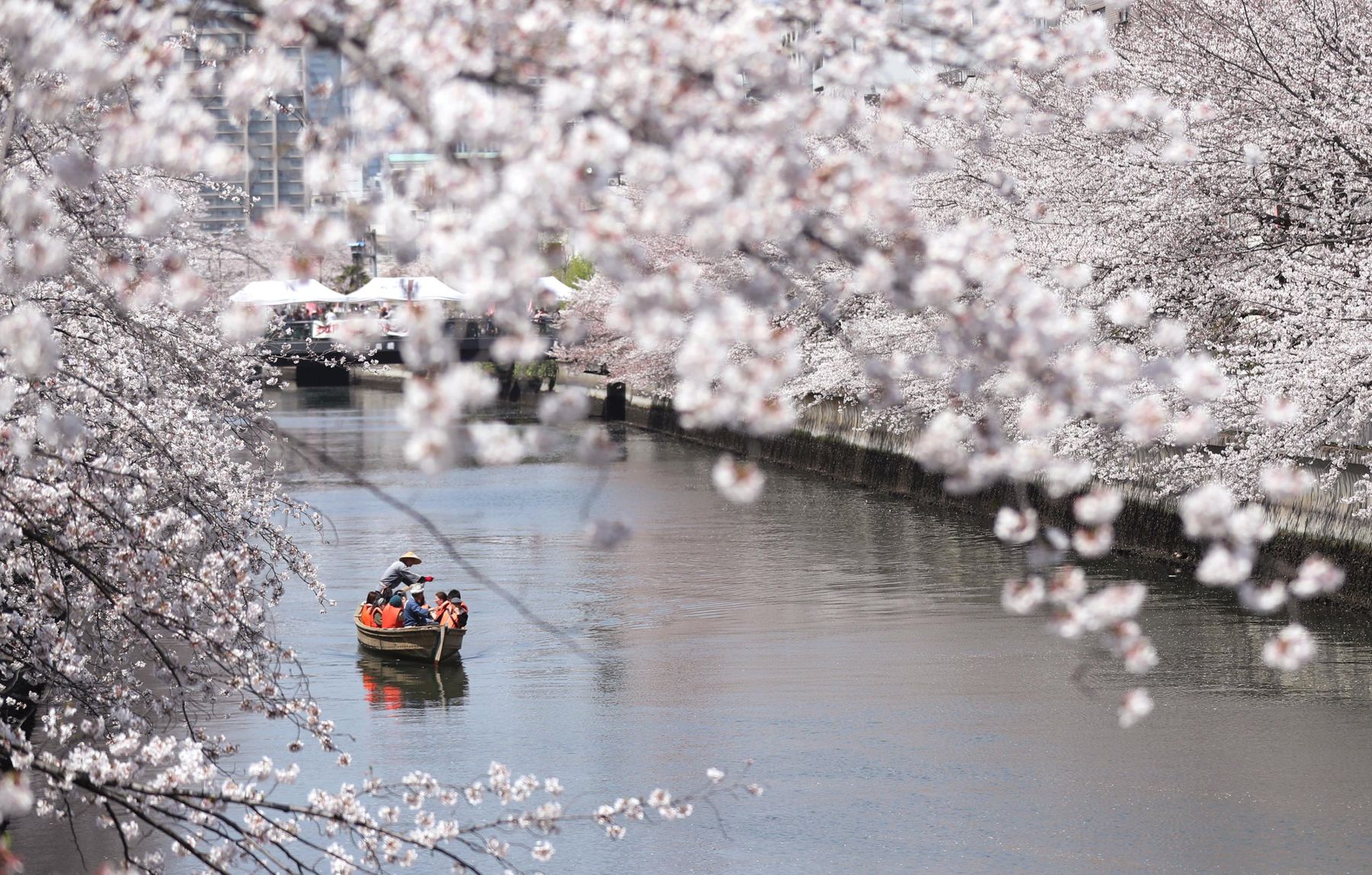 The 2020 sakura season in Japan has begun, and it is time to begin planning your own hanami blossom-viewing excursions. Here is the schedule for Western Japan.
In 2020, other early bird cities include Fukuoka on March 23; Tokyo and Nagoya, and even Kagoshima on March 26; Hiroshima on March 27; Osaka and Kyoto on March 28 for the first blooms.
The islands in Okinawa are blooming now. In the rest of Western Japan, Fukuoka is expected to begin blooming on March 23, Hiroshima on March 27, and the area around Kochi on March 30.
Hanami season, the ritual of admiring the beautiful snow-like quality of sakura flower petals in spring with family and friends, is a period which all Japanese look forward to, and one which many travel around the world to see.
Based on the forecast of the Japan Meteorological Agency (JMA), JAPAN Forward has drawn up a list of places where to enjoy the 2020 cherry blossoms. The viewing guides are divided by region, beginning with Western Japan, then moving north and east to the Kansai region (including Osaka and Kyoto), Kanto region, Central Japan, and finally Hokkaido and Northeast Japan.
These pages are updated as new forecasts are released throughout the cherry blossom season, so please check back here when planning your travels.
Okinawa
The earliest cherry blossom viewing happens in the sub-tropical archipelago of Okinawa. In contrast to Honshu, which often experiences cold weather and snowfall during January, Okinawa has a balmy weather that allows for an early bloom, especially when compared to Japan's national average. As of February 3, the flowers were already in full bloom and delighting visitors and locals alice.
The cherry blossoms of Okinawa are noticeably different from those found on the mainland. They are often dark pink with a reddish hue, blooming continuously along the branches of cherry blossom trees. The flowers are also smaller compared to those of the more well-recognized Somei Yoshino trees, whose pale blossoms appear in March or April. Somei Yoshino trees don't fare well in Okinawa's humid climate. Instead, the Kanhi-Zakura (or Hikan Zakura) variety is perfectly suited to this environment — similar to southern China or Taiwan, where it is native.
The sakura blooms begin in the northern part of Okinawa and advances southward. The most popular viewing sites are Mt. Yaedakein and the nearby Motobu Town, Nakijin-jo site (Nakijin Castle remains) in Nakijin Village, and Nago Central Park in Nago City, with corresponding scheduled festivals to heighten everyone's anticipation.
Unfortunately, as of posting the full bloom period has already passed in Okinawa, but if you are interested in experiencing a different version of sakura season, make sure to save the date for 2021.
Kyushu - Fukuoka
The southwestern island of Kyushu offers unparalleled locations for viewing Japan's cherry blossoms — especially in the port city of Fukuoka. Situated along the island's northern shore, Fukuoka is perhaps best known for Hakata (also called tonkotsu) ramen. This local favorite, with its rich, oily pork broth, can take several hours to prepare. However, aside from satisfying foodies, Fukuoka also boasts popular spots for o-hanami.
The Somei Yoshino trees are more prevalent on Kyushu. The flower of this common tree has five petals, which often appear white — although, a faint pinkish hue can sometimes come through as well. Often blooming suddenly, the Somei Yoshino trees quickly resemble billowing clouds.
Chosen as the only place in Fukuoka among Japan's top 100 places to view cherry blossoms, Nishi Park in Fukuoka has about 1,300 trees and quickly becomes filled with visitors in early April. The park is quite hilly, which allows for beautiful views that includes Hakata Bay, alongside Nokonoshima and Shikanoshima islands.
Also located in Fukuoka's downtown area, Maizuru Park hosts a cherry blossom festival which attracts over 300,000 visitors from late March to early April. Food stalls can be found in the eastern section of the park, and the ruins of Fukuoka Castle are illuminated for everyone's enjoyment in the evening.
For those willing to take a short hike, Atago Shrine is another popular spot for viewing cherry blossoms.
If traveling in Kyushu, you should also consider Nagasaki and Kumamoto.
Chugoku Region - Hiroshima
If you are planning to take tours in Japan, why not combine your visit with some of the famous tourist spots in Japan? That is, a visit to Hiroshima.
Hiroshima being one of the only two places in the world, both in Japan, which suffered the atomic bomb in 1945, one might think there are no places to enjoy cherry blossoms in a place with such a grave history. You might want to think again.
The spectacular location of Miyajima in Hiroshima offers a dramatic spot for viewing cherry blossoms, along the path towards Itsukushima Shrine. With the characteristic red gate in the water, this location is not to be missed.
Hiroshima Peace Memorial Park itself — which is known for the iconic Dome left just as it was after the 1945 bombing when it was damaged by the atomic bomb dropped on the city — boasts many locations around the area to enjoy cherry blossoms. Moreover, clouds of blossoms of the more than 300 Somei Yoshimo trees gracing the park contrast with its history and lend it a unique, optimistic atmosphere. Motoyasu River, which goes through the park, is lined with trees, and can be enjoyed by renting a boat in the daytime and with its characteristic light up after dark.
Next, at Fukuyama Castle in Fukuyama City, there are hundreds of cherry blossom trees surrounding the castle. The trees are said to be a particular type of Somei Yoshino and also lovely to see.
For nighttime sakura viewing, make sure to check Senkoji Park in Onomichi City, and Ueno Park in Shobara.
The viewing point at Senkoji Park in particular is at a higher elevation, so you can enjoy the pale white glow of the cherry blossoms against a backdrop of the lights of the city stretching out below, as ships pass by in the distance.
Author: Arielle Busetto