China Gives United Nations Special Rapporteur $200,000
Instead of acknowledging the Uyghurs' human rights issues, she supported the Chinese propaganda and has been silent on the atrocities of other dictatorships.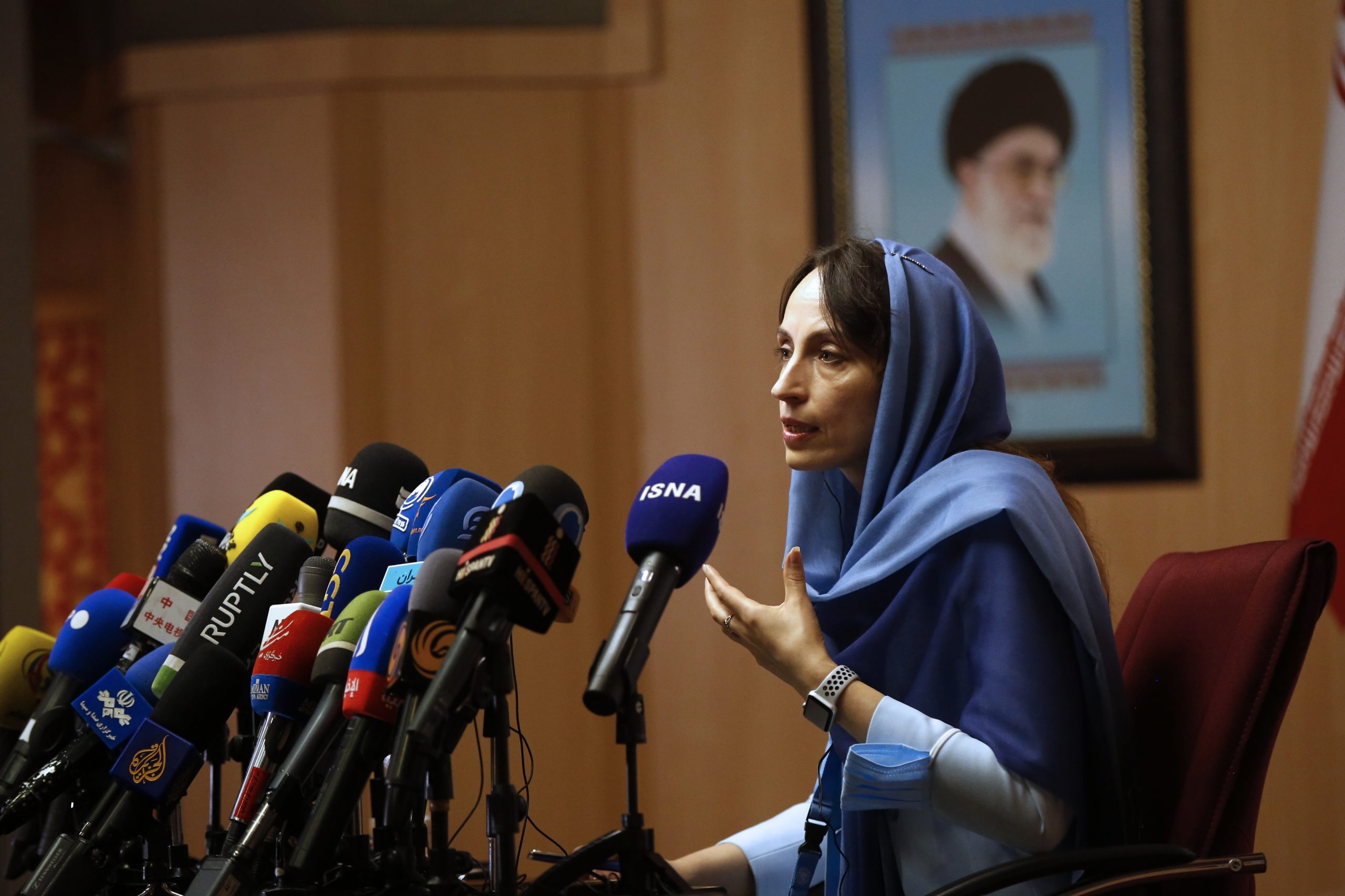 In May of 2022, United Nations Special Rapporteur Alena Douhan, a professor at Belarus National University, who is in charge of fact-finding and reporting under the United Nations Human Rights Council, received money from several dictatorships, including $200,000 from China.
UN Watch, a United Nations monitoring group, reported Douhan's acceptance of money, including the payment from China, pointing out that it raises fundamental ethical questions.

Surprisingly, there is nothing surprising about this case. It stems from the structural collusion deriving from the very nature of the UN organization. Let us take a step-by-step look.
It all started when Iran objected to the sanctions imposed by the United States and other countries over concern for Teheran's alleged nuclear development, claiming they were unfair.
On September 26, 2014, the UN Human Rights Council (UNHRC) by a majority vote adopted a resolution condemning the unilateral sanctions on the basis of human rights violations. In article 22 of the resolution, the UNHRC also decided to establish a special rapporteur to conduct a fact-finding mission.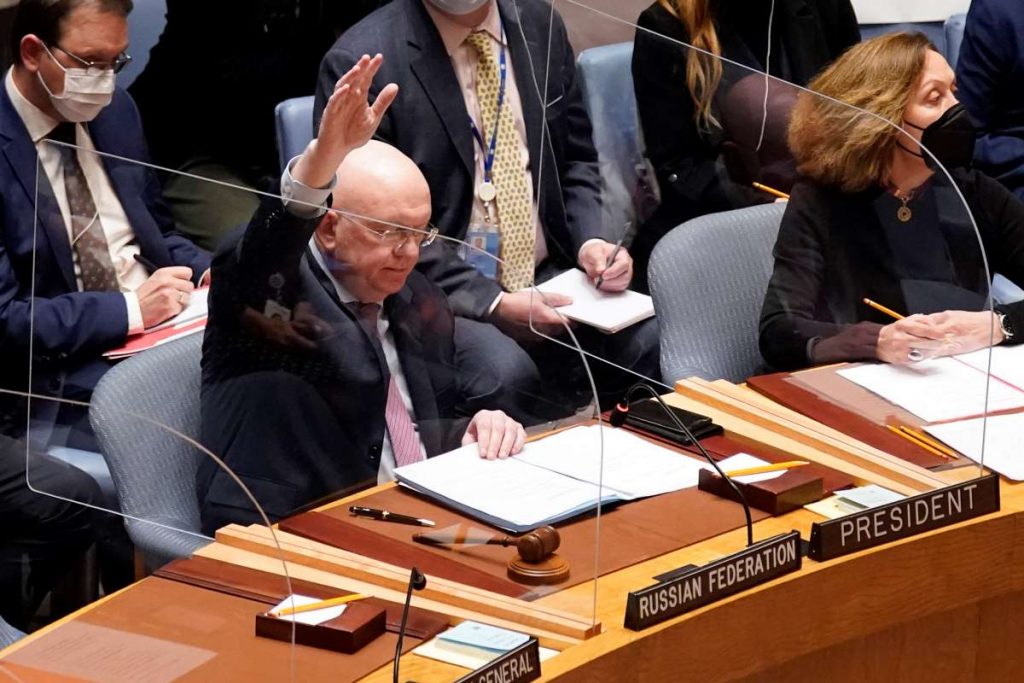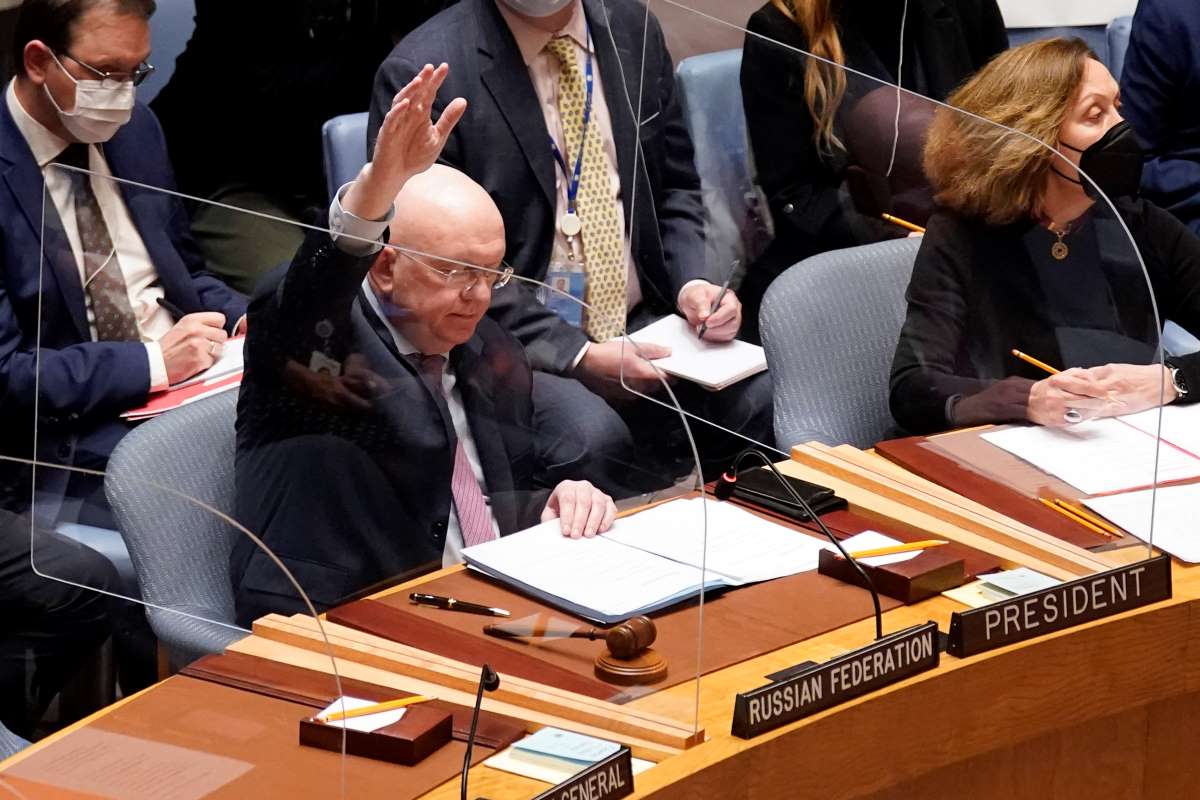 Sanctioning Bad Behavior
The resolution was promoted and supported by 32 countries, including China, Russia, Cuba, and Venezuela. Fourteen countries opposed it, including Japan, the United States, Britain, Germany, France, and Italy. Two countries abstained.

To confirm what some readers may have missed, perhaps because for a moment common sense intervened, what was adopted was not a resolution sanctioning human rights violations, but a resolution condemning those sanctions.

In other words, the Human Rights Council was led by non-democratic countries to adopt a resolution that tries to block human rights sanctions imposed by the United States and other like-minded nations outside the framework of the United Nations. Their resolution was a blatant effort to impose a mechanism requiring that any sanctions a member country tries to impose, such as those against Iran, must be approved by a majority of the Human Rights Council.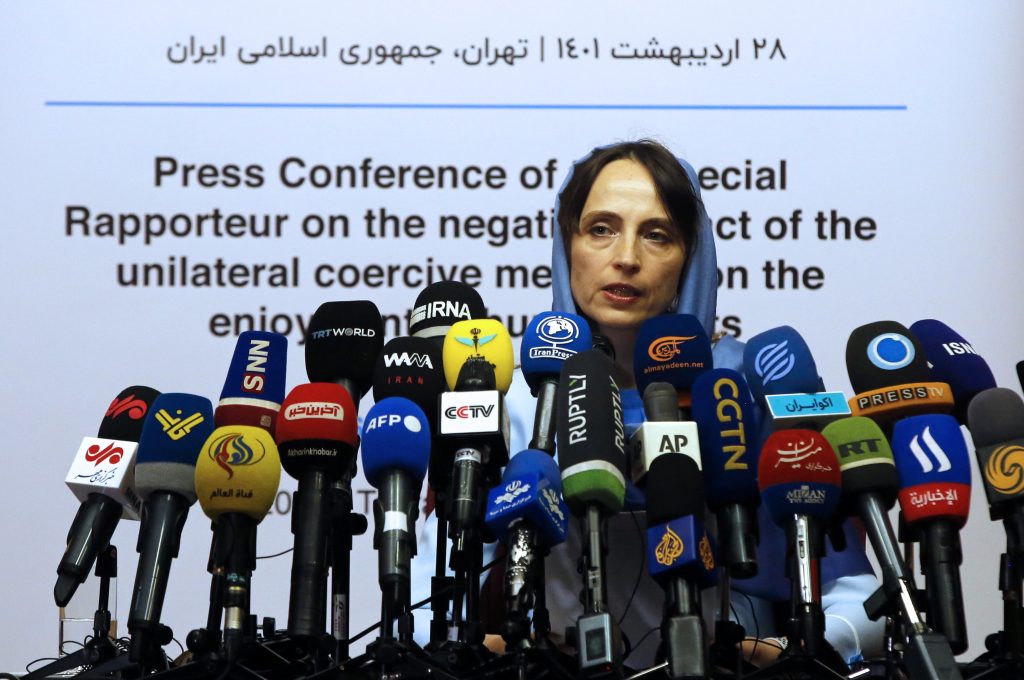 Their Own Special Rapporteur
Douhan, the Special Rapporteur in question, was appointed in March 2020, as a result. She is a paid scholar of Belarusian dictator President Lukashenko, an ally of Vladimir Putin who supported Russia's invasion of Ukraine.
Douhan has been an energetic participant in "field research" in dictatorships, making the most of her United Nations visa. In this capacity, she has been consistently critical of sanctions imposed by liberal countries against Iran, Syria, Venezuela, Cuba, Russia, Zimbabwe, and others, saying that these sanctions only worsen the local economies and cause suffering to their people.

On the other hand, she has been silent on the atrocities of dictatorships. In China, where the forced labor of Uyghurs has been an issue, she has claimed in symposiums that there was no repression of Uyghurs.
Instead of acknowledging the human rights issues, she supported the Chinese propaganda, arguing that what was really occurring was vocational training that contributed to the development of Xinjiang Uyghur Autonomous Region.

In a true perversion, Ms Douhan was deemed "fit and proper" for purposes of the Human Rights Council resolution. The issue of money transfers from China and other countries that came to light this time was considered only incidental misconduct.
Above all, it is the very existence of the UN Human Rights Council, which passed the "Resolution Condemning Human Rights Sanctions" which must be severely questioned, along with that of the United Nations itself, which must be severely questioned.


An 'International Smear Factory' of Injustice
Contrary to its name, the UN Human Rights Council has become an international smear factory, where nations violating human rights collude to keep each other's wrongdoings in the dark. This is not a gradual transformation; it has been so from the beginning.

There is an unwritten rule that the UNHRC, many of whose 47 member countries have serious human rights violations, does not take up issues involving member states.
The seats are allocated by the UN General Assembly based on regional groupings: 13 for Africa, 13 for Asia and the Pacific, 6 for Eastern Europe, 8 for Latin America, 8 for Western Europe, and 7 for the rest of the world. The term of office is 3 years.

If one wonders whether it would be possible to change the allocation or tighten the eligibility requirements, the answer would be no. This is not possible.
The framework is decided by the UN General Assembly, which is dominated by countries that do not want their human rights issues to be touched. In other words, the Human Rights Council is structurally difficult to reform.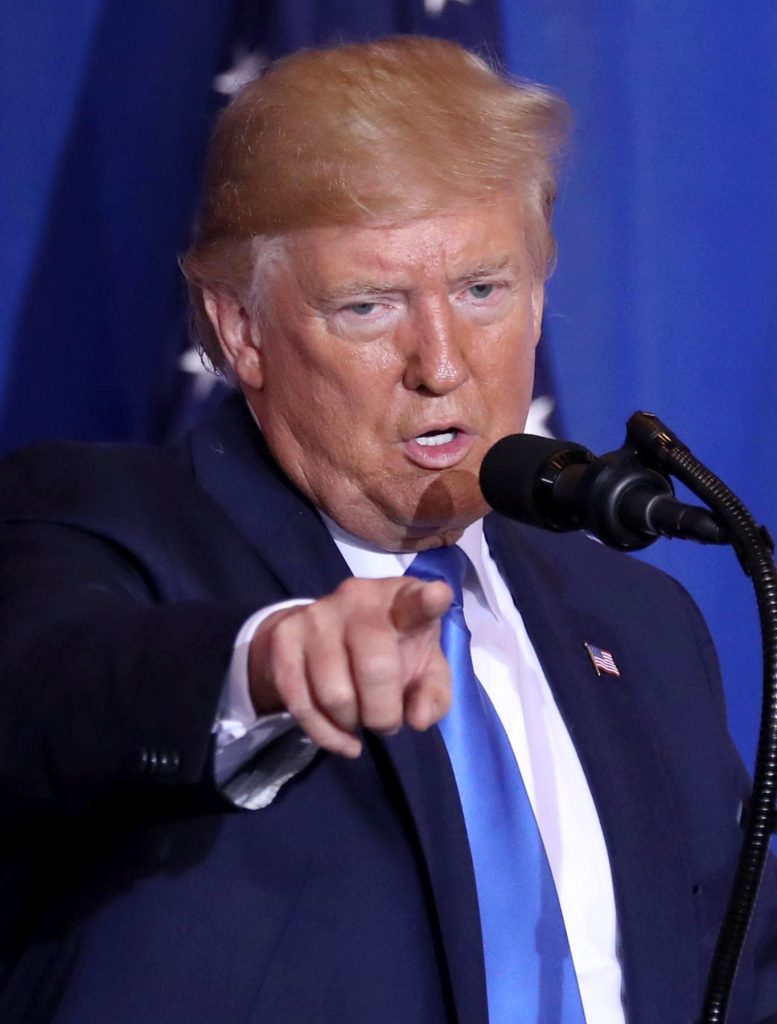 Withdrawing from the 'Hypocrisy and Corruption'
For these reasons, the US administration of President Donald Trump decided to withdraw the United States from the Council and suspend the payment of contributions.

The Asahi Shimbun wrote in an editorial at the time, saying: "The US, which has portrayed itself as an advocate of human rights, continues to take down its own signboard" and "The Human Rights Council is an organization of 47 member states selected by the UN General Assembly to monitor human rights around the world." But the Asahi editorial's assertion is so far removed from reality that it is nothing short of laughable.

At the time, US Ambassador to the United Nations Nikki Haley said that the United States had taken the initiative to withdraw from the UNHRC to refrain from giving it any more legitimacy. It is "full of hypocrisy and corruption" and "a front for countries with horrific records on human rights," she said.
Haley explicitly expressed her disgust that the United Nations is nothing more than "a place where many stand up and applaud the boring speech performances of dictators who condemn the United States and Israel."
Of course, the Human Rights Council also has exceptional achievements, including the establishment of the Commission of Inquiry on Human Rights in North Korea (report submitted in 2014).
However, this effort also received no cooperation from totalitarian China, which borders North Korea. Beijing's lack of cooperation prevented an adequate investigation into the actual situation on the ground, which the report specifically noted was "highly regrettable."


An Honest Look at Dysfunctional UN Programs
There have been many aspects of the United Nations' activities and programs that one could not help but be suspicious of from the beginning. But the situation has worsened.
The greatest authority is held by the UN Security Council, which includes Russia and China among the five permanent members, each of which holds a veto power. The UNSC could not even pass a resolution condemning Russia's invasion of Ukraine: Russia vetoed the resolution and China abstained.

Is it possible to reform the United Nations in any way under the current framework? According to former US Ambassador to the United Nations John Bolton, the only way is to change the system for operating funds from a "quota system" to a "voluntary contribution system."
In other words,currently contributions are allocated according to economic strength (Gross Domestic Product (GDP)). This should be replaced with a system in which each country voluntarily decides to "contribute funds only to functional projects and seek results commensurate with their costs," Bolton says. He calls for countries to be allowed to withdraw from dysfunctional projects at their own discretion.

This means that the UN would also be put to a market test. Member countries could withdraw funds from projects that they deem to be of no value. If they find that an entity other than the UN is more efficient, they could reallocate funds to that entity. There would be no reason to give preferential treatment to the United Nations.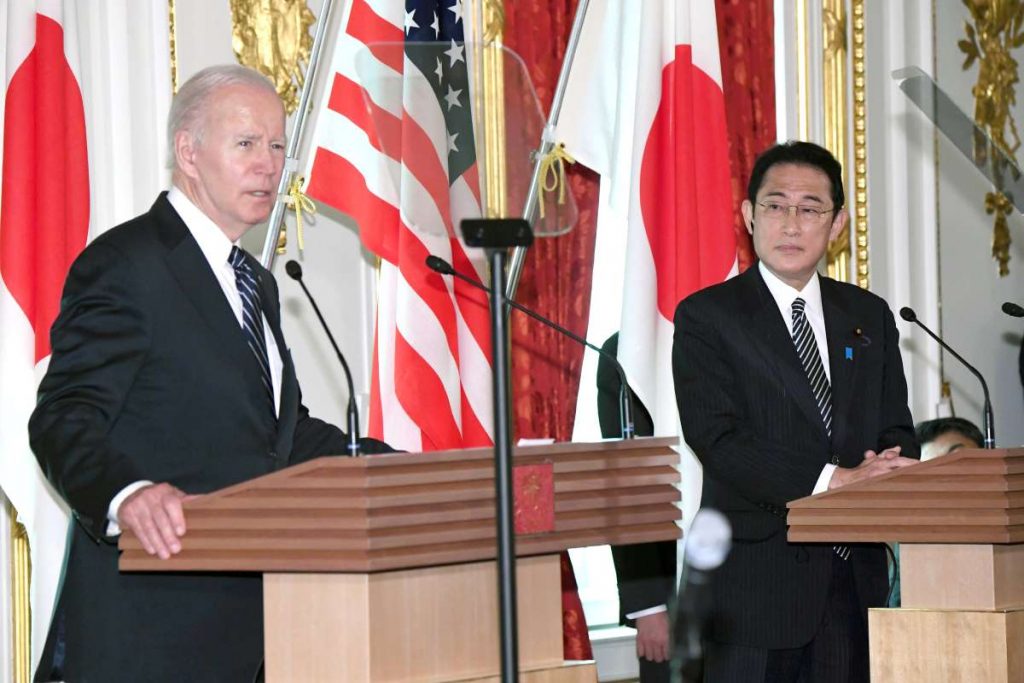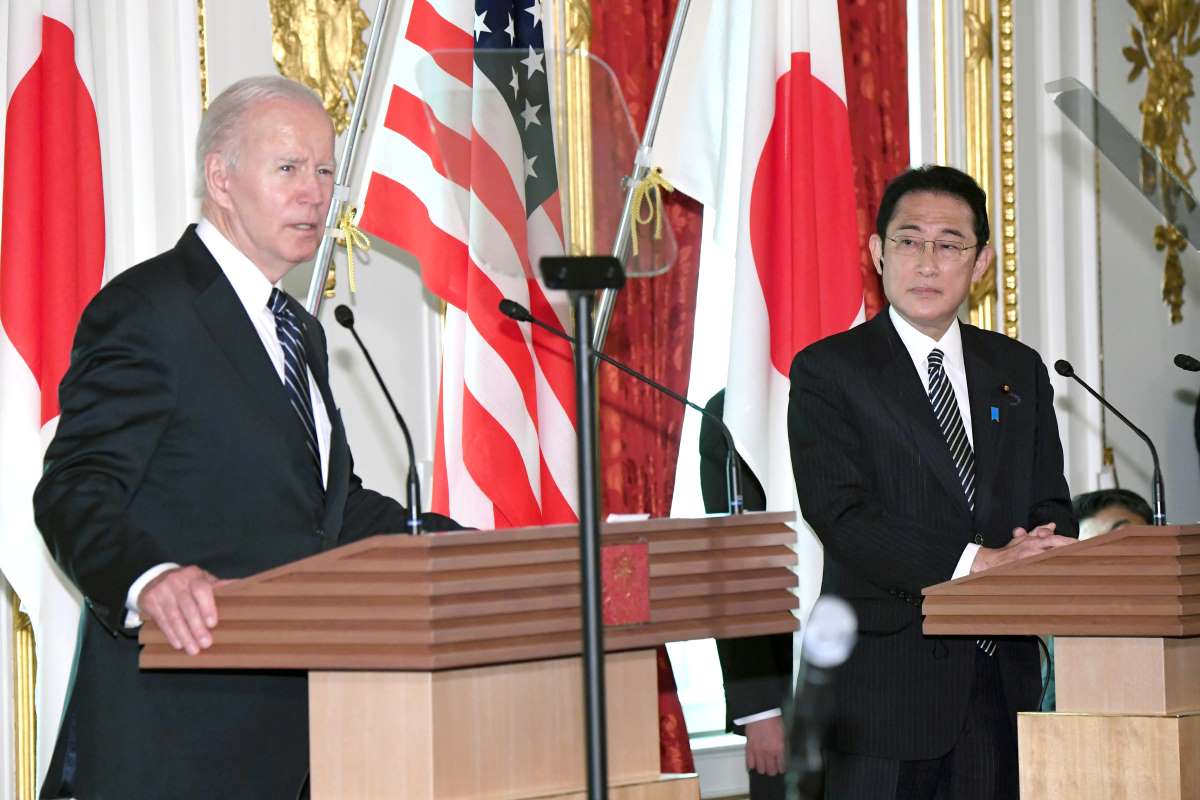 No Chance for a Permanent UNSC Seat
In Japan, there has been a strong "UN-first" mentality that places special emphasis on this abnormal organization over which China and Russia have veto power. But this is nothing but a "United Nations illusion."
The UN is only one of many multilateral forums. Rather, as much weight as possible should be placed on collective organizations composed of advanced liberal democracies, such as the G7 (Group of Seven). Here, China and Russia are not even allowed to participate, let alone veto.
Japan's "UN-firsters" are still hoping for a permanent seat on the UN Security Council. They have wasted considerable taxpayer money on international lobbying. However, common sense suggests that there is no possibility of realizing their goal.
The permanent members of the UN Security Council are listed in the UN Charter. If Japan were to join the Council, the Charter would have to be amended.
Amendments must be "adopted by a two-thirds majority of the members of the General Assembly" and then "ratified by two-thirds of the member states, including all permanent members of the Security Council" (Article 108).


Cruelty of Lip Service
Even if Japan were to break through the first hurdle of a two-thirds majority in the General Assembly, it will never be able to become a permanent member of the Security Council unless China and Russia complete the ratification process domestically.

Even if the United States government was to get down on its knees and beg China and Russia (which in itself is out of the question), it also couldn't be ratified in the United States. That would require a two-thirds majority supporting the measure in the Senate. No matter which way you turn, Japan is stuck in a quagmire.

So when US President Biden visited Japan the other day and reiterated his support for Japan's bid to become a permanent member of the Security Council, it was nothing more than lip service.


RELATED:
(Read the Seiron article in Japanese at this link.)


Author: Yoichi Shimada
Yoichi Shimada
is a professor at Fukui Prefectural University specializing in international relations. He completed his doctorate at the Graduate School of Law, Kyoto University and worked as an assistant professor at Kyoto University before assuming his current position. He is also Vice Chairman of the National Association for the
Rescue of Japanese Kidnapped by North Korea
. His most recent books include
Dissecting the US: The Day the Self-Defense Forces Defend the Senkaku Islands Alone
(published by Business Sha, Inc.).