OBITUARY | Fashion Designer Hanae Mori Pioneered 'East Meets West'
Known for lovely handcrafted creations, the root of her energy goes in part back to a humiliating episode in 1961, when she debuted in New York.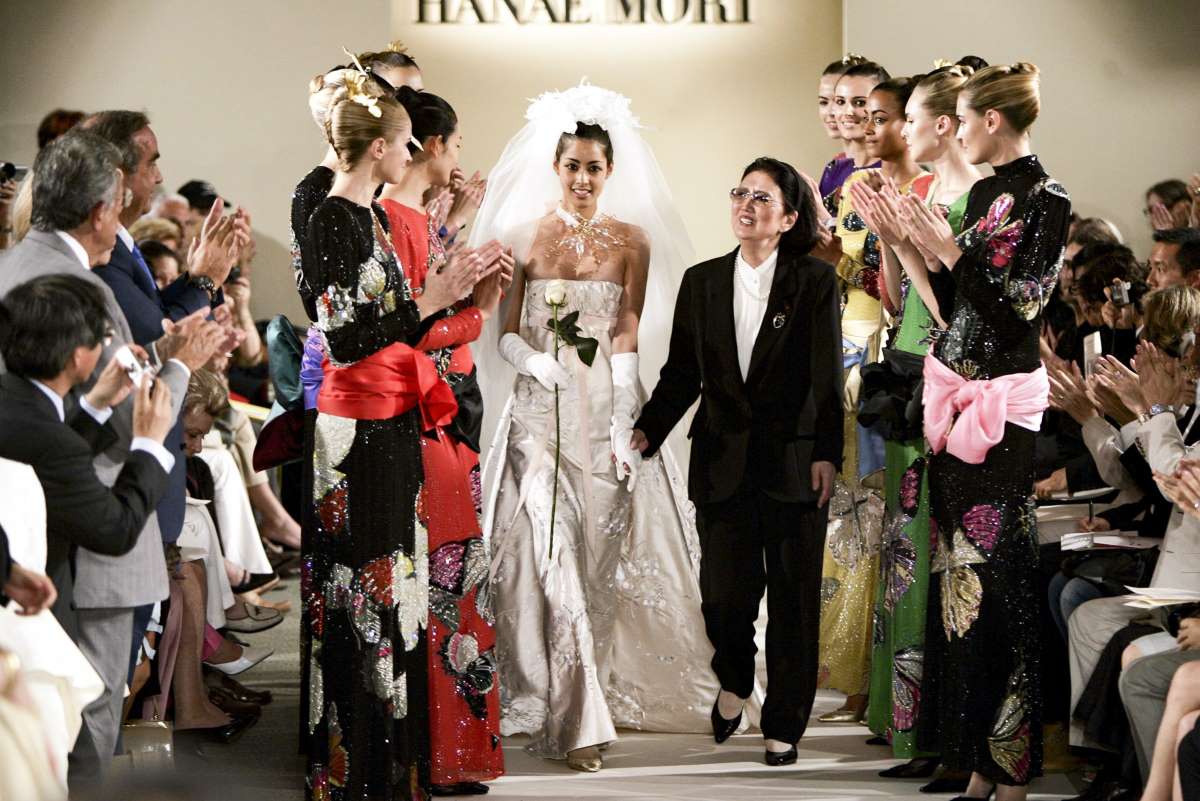 "When we stop making things with our hands, I feel our existence becomes insubstantial."
Hanae Mori was a pioneering Japanese fashion designer and Vice-Chairwoman of the Japan Art Association, which sponsors The Praemium Imperiale international arts awards.
Mori has always emphasized the importance of transmitting the art of handwork to future generations. She was the only Japanese designer to be officially listed as a member in the world of haute couture in Paris — the platform where the ultimate in handcrafted creations come together.
From exquisitely beaded embroideries and feather decorations to elegant drapes, Mori introduced Eastern beauty – like kimono and the butterfly pattern she became known for – to the traditional French fashion culture. And as she said, for 27 years she "blazed on only looking ahead."
Before she knew it, both the haute couture industry and the Japanese handicrafts sector – which supported kimono culture – were faltering. Mori often brought attention to the threat faced by these sectors. Until 2021, she also used her hands to create costumes for the opera.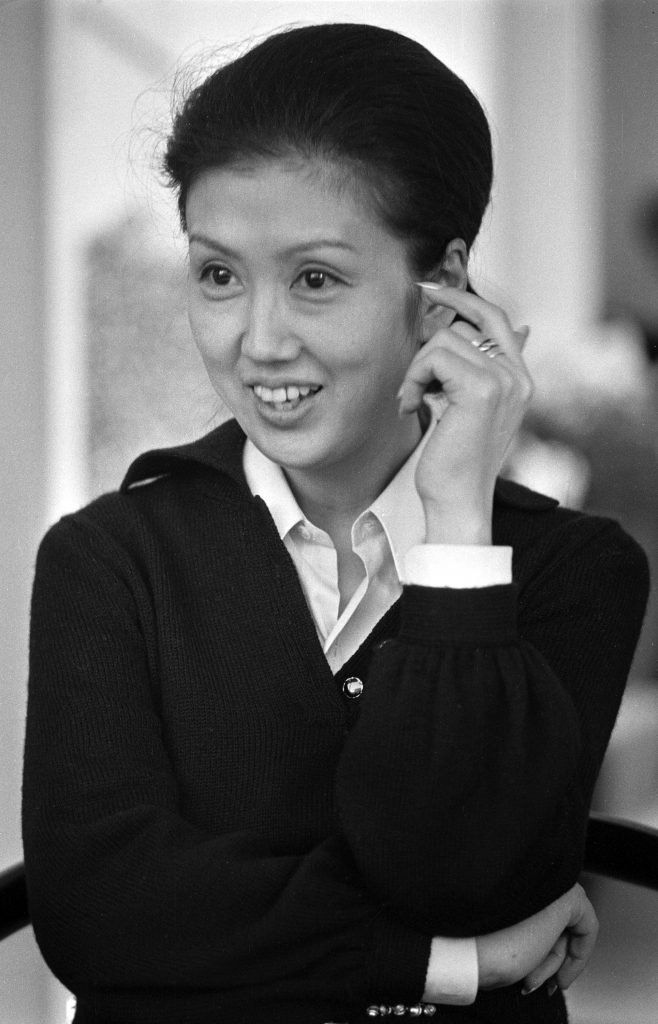 A Rebellious Butterfly
The designer graced the world like a butterfly, but was actually a woman with a rebellious spirit.
Behind Mori's pursuit of beauty were her harrowing experiences during the war. While living in fear of death due to the air raids in Tokyo, she and her college friends doing service as laborers would read a tattered copy of Gone With the Wind. They longed for the elegant ballroom gowns of the story.
"I wanted beautiful clothes to wear, so I used a sewing machine and did my best to be creative." Her taste was inherited from her father, a medical practitioner and lover of art and stylish fashion.
After the war, Mori became bored with being a housewife and started on her path as a designer. From the mid-1950s to the mid-1960s, along with renowned film directors and popular movie stars, Mori's costume creations also played a key role in the golden age of the Japanese film industry.
One time, she had to create a costume for a sexy geisha character. Following the film director's orders, Mori intently observed bar hostesses as they worked on the streets of Ginza. Reflecting on the episode she said, "It was an experience that taught me the importance of people-watching for a designer."
She also explained that it came in handy on occasions when she crossed paths with VIPs from around the world from various cultures, religions, and political backgrounds.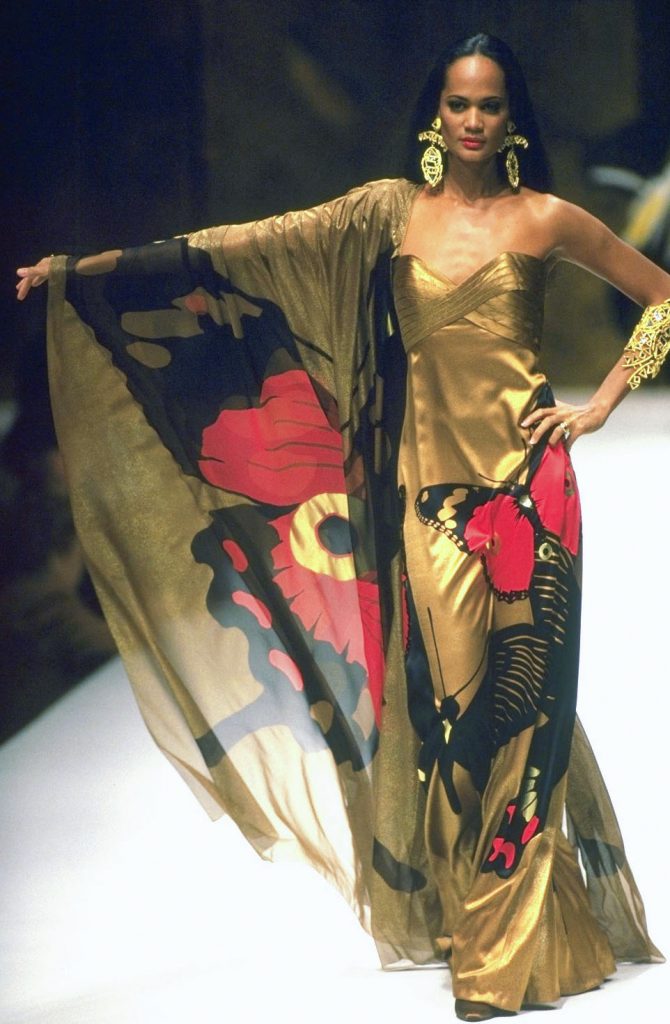 Humiliation in New York
Mori's rebellious streak was further ignited after a humiliating experience during her first trip to New York in 1961. One trigger was the poor-quality made-in-Japan so-called "one-dollar blouses," which were sold in the basement floor of a department store.
Another was a performance of the opera "Madame Butterfly" that she saw while in New York. As she watched the opera star playing Madame Butterfly walk on the tatami mat in sandals, she felt shame and anger. (It is considered uncouth and unclean to wear shoes or sandals on tatami mats in Japan.) Later, she said, her mind was made up:
True to her word, in her first collection that she showed in New York in 1965, Mori used an extensive variety of kimono fabrics, such as Onishibo Chirimen, a Japanese twisted crepe fabric. The "butterfly" became Mori's trademark, as it symbolized nobility and strength, not the unfortunate Madame Butterfly.
Director Keita Asari's rendition of "Madame Butterfly," performed in 1985 at La Scala Theater in Milan, Italy, presented a new image of Giacomo Puccini's lead character – purer and stronger. Hanae Mori created the costumes for the character, and in doing so, was able to exact her revenge.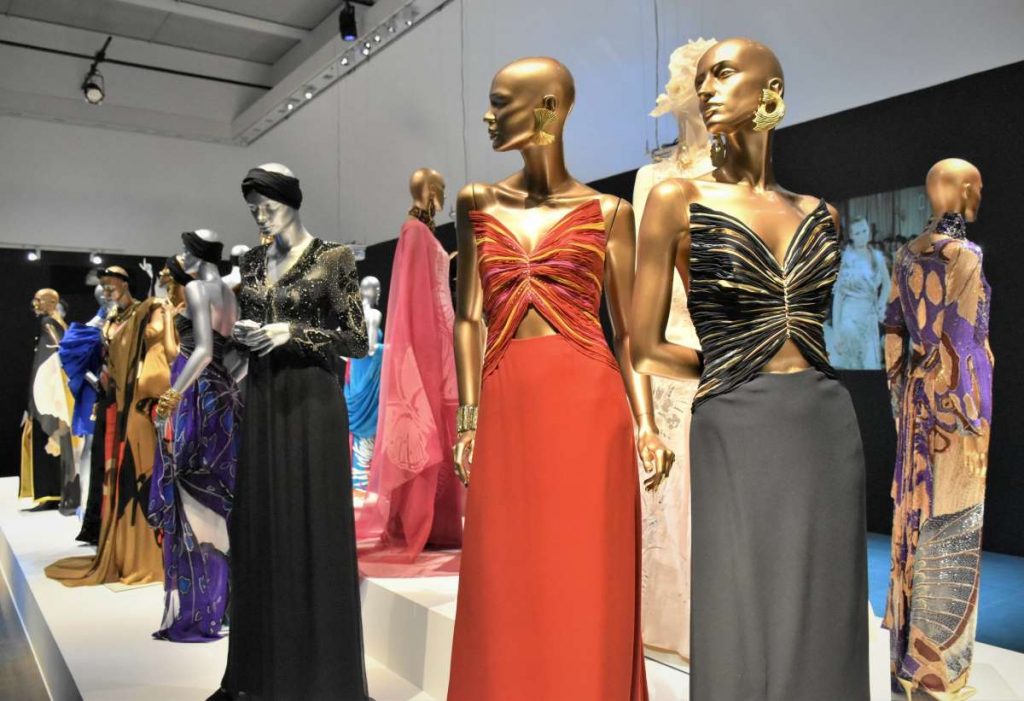 Tackling 'East Meets West'
Mori endured several challenges throughout her long-standing career, such as the collapse of her Hanae Mori fashion business, and the death of her husband, who was her life-long work companion.
However, in 1996, Mori became the first fashion designer to receive the Japanese Government's Order of Culture Award. She said delightedly at the time, "For a long time, fashion had been treated like neglected flowers floating in a stream, so it's like a dream come true."
Her firm belief was that "A piece of clothing is culture nearest to our own body."

Mori's final show in Paris was held in 2004. Titled, "East Meets West". The headline was inspired by an introductory article in a US newspaper at the time of her debut in New York. It became the theme throughout her life as a designer.
Slender and with a perfectly straight posture, Mori had a beautiful figure. Although she designed gorgeous dresses that played to the strengths of those who wore them, her own signature attire was a subtle black pants suit.
The style choice appeared to represent her self-discipline and pride.
RELATED
(Read the article in Japanese at this link.)
Author: Ayako Kurosawa