China's Millionaires Visit Communist Revolution Sanctuary Clad in Military Uniforms of the Era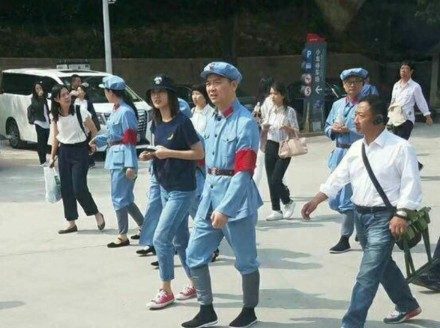 Akio Yaita
A group of Chinese entrepreneurs visited Yan'an in Shaanxi Province in early June, drawing the public's attention because Yan'an considered the sacred sanctuary of the Chinese Communist Revolution.
These tourists included influential CEOs Ma Huateng of Tencent, a leading internet company in China, and Liu Qiangdong of JD.com, a major online shopping company.
Yan'an hosted the Central Committee of the Communist Party during the Second Sino-Japanese War, and is also where President Xi Jinping spent his youth farming. In recent years, the Chinese government has been recommending that civil servants and students visit Yan'an to understand "the brilliant achievements of the Communist Party."
Local media uploaded photos of the entrepreneurs wearing guerrilla uniforms used during the Chinese Communist Revolution and observing the vestiges of Mao Zedong's struggles during the 1930s. "I experienced the revolutionary culture of Yan'an," one of the entrepreneurs explained.
CEO Ma Huateng, 46, became successful during China's post-Mao era of economic reforms. He studied computer science at university and founded Tencent in 1998 with his father, who was an executive of the Chinese Communist Party. He relentlessly developed communication software and games, leading to a steady expansion of his company's market share in China's domestic market. According to the World's Billionaires list published by Forbes in March, Ma Huateng was ranked 17th globally and 1st in Asia, with assets totaling US$45.3 billion.
There was intense trade friction between the United States and China when Ma Huateng visited Yan'an. Chinese Internet companies were accused of infringing intellectual property rights and pressured to review their fundamental management strategies. Visits to tourist spots in Yan'an during such a crucial and chaotic period raised many eyebrows among the business elite. It also would not be a surprise if the image of millionaires in light-blue military attire and red-star caps stirred laughter among many.
A magazine editor in Beijing who is knowledgeable about Internet companies says, "The purpose of Ma Huateng's visit was to express his allegiance to the Communist Party and the Xi Jinping administration. Chinese entrepreneurs are afraid and cautious because they face the risk of losing everything, depending on the leader's mood."
There are several reasons for the businessmen's fear. First, recently there has been an increasing number of arrests of entrepreneurs ordered by Xi Jinping as he tightens his grip on the economy. On May 10, Wu Xiaohui, the former chairman of Anbang Insurance, was handed a harsh 18-year prison sentence for fraud, sending shockwaves through the community.
Wu Xiaohui was accused of financial statement fraud and illegal sales of financial products, although he continues to claim his innocence. He once had powerful connections with Chinese politicians, and had also married the granddaughter of Deng Xiaoping, who used to be the most prominent political leader in China. In this case, it is thought that he had gone too far with his purchases of multiple hotels in the U.S. and behavior which seemed to profess that he represented Chinese politics. Wu's flashy lifestyle is likely to have brought on Xi Jinping's wrath—and his own downfall.
Wu was supposed to be politically the safest person among his peers. The incident has made other major players in the Chinese economy realize that they are skating on thin ice—nobody knows who will be the next to fall.
Since last autumn, official state-run media, such as the Xinhua News Agency, has published a barrage of articles on the negative impact of online gaming on young people, leading many to believe that Tencent has become the next target for the Central Committee of the Communist Party.
Ma Huateng caused quite a stir when he made remarks supporting public ownership of businesses during discussions about a constitutional amendment at the National People's Congress in March, even though he was supposed to be representing private enterprises.
Whether Ma Huateng's professed allegiance to the Communist Party is resonating with Xi Jinping is yet to be seen.