Cosplay Fashion Show, Star Wars Fan Awards Steal the Spotlight at Tokyo Comic Con 2019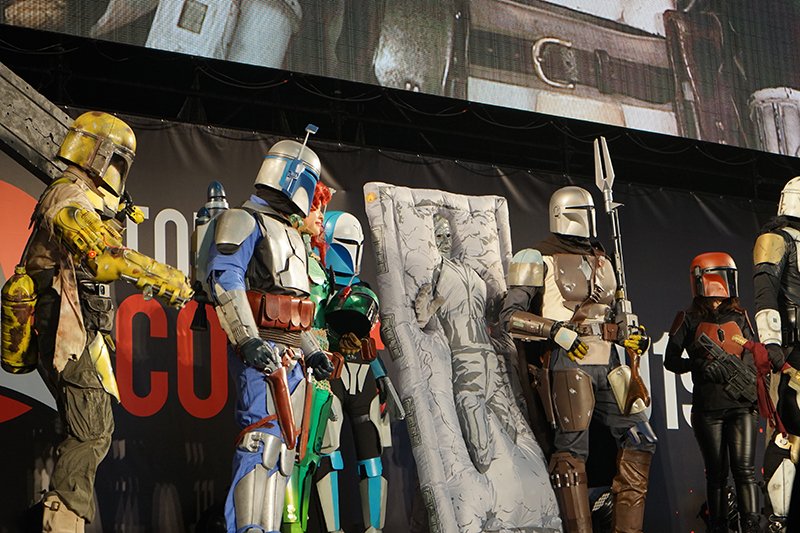 A healthy amount of cosplay was mixed into the three-day Tokyo Comic Con last weekend, alongside featured celebrity guests, artists, exhibitions, and limited-edition merchandise at the Makuhari Messe in Chiba City.
Amid comics, cinema, and all things geek-related, a highlight came on Saturday, November 23, with the onstage Star Wars fan event and a cosplay fashion show in the early evening.
Most cosplay was focused on a few timely and more popular series. Many chose Marvel characters from the Avengers series like Thor — perhaps in honor of star Chris Hemsworth's stage appearance. There were also characters from Deadpool. The character Venom and Spiderman in all varieties were popular choices for groups.
Other costumes inspired by Joker were also seen. There was even a version done by Kinokuniya, a major Japanese manga and hobby store, meant to show the store's support for DC Comics. Several cosplay Harley Quinns made their appearance, too, perhaps in preparation for the 2020 Birds of Prey release.
The level of each cosplay was impressive, from makeup to hair and costume. Cosplayers were happy to pose for or with the gushing non-costumed Comic Con attendees.
The Star Wars Fan Awards event started past noon, with Daniel Logan, who starred as Boba Fett in Star Wars: Episode II–Attack of the Clones, as judge. The event showcased the passion that Japanese fans have for the Star Wars series — from costume entries to cooking and performance. There were even adorable outfits for canines. Prizes included limited-edition collectibles, like figurines and T-shirts.
Logan seemed to be very pleased with the efforts of the 10 entrants. He spoke very positively after showcasing each one, frequently adding the comment, "Kawaii!"
One prize went to the Mandalorian warriors, dressed in creative bounty hunter costumes. Another prize went to the creators of a heart-melting jedi costume for canines. A Rey cosplayer with a realistically-handmade quarterstaff took another award.
A special creativity prize was given to "Dance Maul," a very agile Darth Maul with impressive stage moves. Their performance brought smiles to the audience, and to those in charge of the show.
At the end of the show ended, Daniel thanked the participants and Comic Con attendees for their dedication to Star Wars. Everyone responded with enthusiasm and excitement for the upcoming film, Star Wars: Rise of Skywalker, which is set to show in theaters beginning December 20.
Comic Con is an event full of things to experience and see for all. In 2020, why not try dressing up to enjoy the event even more?
Author: Jasmine Ortlieb