'Tadaima!': Marvel, Pop Culture Celebs at Home at Tokyo Comic Con 2019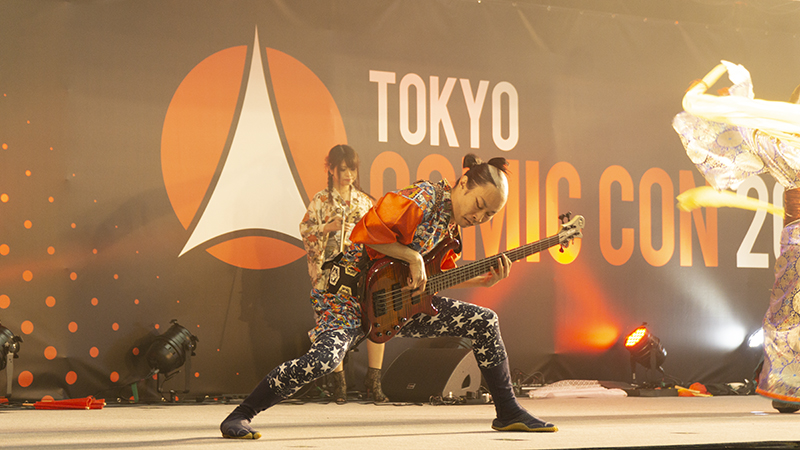 Unfazed by the suddenly cold and damp weather in Japan's capital on Friday, November 22, VIPs and thousands of visitors made their way to the opening day of Tokyo Comic Con 2019 (TCC2019) Makuhari Messe halls 9,10, 11 in Chiba.
A highlight of the comic and pop culture extravaganza, now on its 4th year in Tokyo, is Tadanobu Asano as event ambassador. A very versatile and diverse artist who also dabbles in music (he also plays in his own band Souda!), Asano is much-admired at home and abroad for his appearance in the Marvel series Thor.
Asano greeted the press and the fans shortly after noon and was a major presence at the opening ceremony.
He pleased his fans by explaining that he had come back from filming in Australia for the film Mortal Kombat just for this event. "I told them, 'I don't want to miss this,' so I came back just for that! I had been waiting for this day, there are these crazy amazing people, get excited!" He said.
Later in the event, Asano told the audience that he planned to enjoy the enthusiastic atmosphere, look at the booths, and enjoy all the Marvel-related cosplay.
One after another, Marvel and Harry Potter series and pop culture superstars came onstage, making what sounded like a predominantly female audience swoon.
Perhaps the funniest moment was when Daniel Logan came onstage and said: "Konnichiwa, Tokyo Comic Con! Genki desuka? (Hello, how are you doing)."
Then the star officially melted the hearts of those present with "Tadaima!" — an expression quite close to "I'm home!" The gleeful women shouted back, "Okaeri!" (Welcome home!)
Ian Somerhalder — best known for his roles in the Lost and Smallville series and recently in Vampire Diaries — was also present. He charmed the audience, thanking the Japanese fans for their enthusiasm, and said, "The amount of love I have received, I hope that I can give it right back to you!" He then blew the crowd a kiss, to cries of appreciation from the onlookers.
Marvel series Shazam star Zachary Levy expressed appreciation for the organizers, as he said with infections enthusiasm, "Thank you all for welcoming me and all of us to your wonderful country. It's one of my favorite countries in the entire world. I love you guys so much!"
Ruper Grint and Jude Law, who both participated in the Harry Potter franchise, and Chris Hemsworth, who starred in the Avengers series, received the loudest welcome applause by far. It was the first time for both Law and Hemsworth to be at Tokyo Comic Con.
The event always boasts a stellar cast to meet the Japanese fans. In 2018, for example, there were Tom Hiddleston and Ezra Miller. In 2017, Mads Mikkelsen and Stan Lee himself made special appearances.
The first day of the event produced enough starpower to leave everyone present starstruck. A superstar himself, Tadanobu Asano summarized the feeling when he said, "Just being together with these people, you get the impression of becoming a hero yourself."
Not Just Actors and Brands: Local Art Showcased
At about 3 P.M. the hip-hop artist PUNPEE appeared onstage for a performance of about 30 minutes. He sang some of his most famous songs, but also adapted to the audience. Wearing an X-men t-shirt, he performed a free-style version of "Sunflower," a popular song in the most recent version of Spiderman: Into the Spider-verse, which only came out in 2018.
The artist admitted to the crowd that he had always wanted to perform at Tokyo Comic Con, half-joking: "It finally happened…. Let's end quickly so we can all go and enjoy the event."
PUNPEE, with his catchy tunes and engaging lyrics, has been doing music since 2006. Recently, though, he has received more recognition, with his most recent songs having more than 6 million views on YouTube. His popularity gained him a Space Shower Music Award as Best Hip-hop Artist in 2018.
At the end of his performance, the rapper and performer was joined onstage by none other than CB Cebulski, Marvel Comics editor in chief. Cebulski expressed appreciation for the Japanese version of Comic Con: "It's such a great event that puts together film, comics, and music…. We have a huge presence here, we have a wonderful booth, all kinds of things we are selling. There is a Marvel section in artist alley, with artists from the U.S., Japan, England, I see all of you with Marvel shirts, Marvel cosplay, and every year Marvel gets bigger here in Japan. Thank you all."
Cebulski also took a moment to acknowledge the efforts that illustrators and artists are putting into the event in the section known as Artist Alley: "There is some amazing stuff there, including the Marvel artists. But in addition, there are artists working in all kinds of different mediums, from comics to digital art to sculpture, so please check it out and support local art."
Follow JAPAN Forward's coverage of Tokyo Comic Con 2019 on this page.
Author: Arielle Busetto