Sekisui House Leads Global Environment Awardees 2018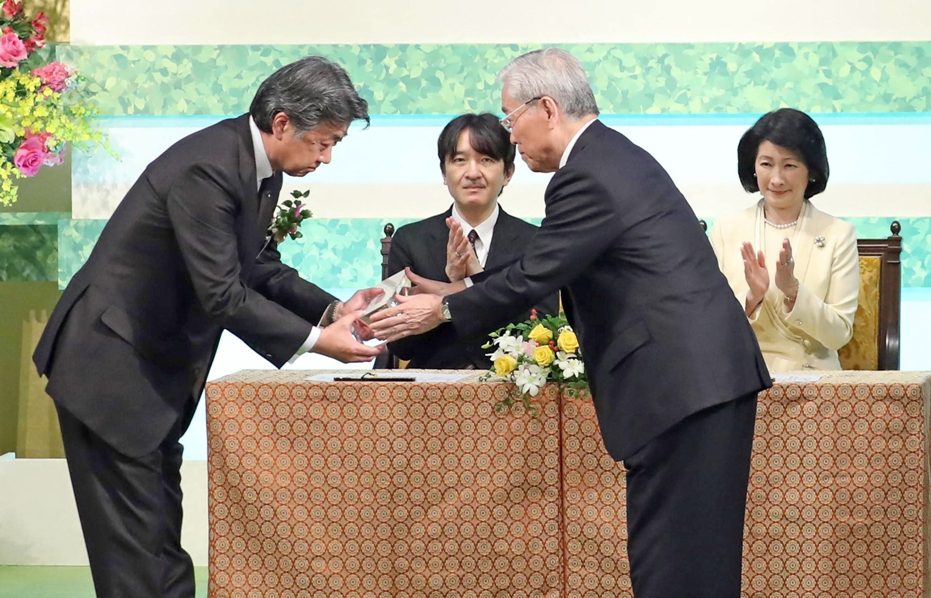 The commendation ceremony of the 27th Annual Grand Prize for the Global Environment Awards, attended by Prince and Princess Akishino (background), was held on April 9 with Fujisankei Communications Group Chairman Hisashi Hieda (right, foreground) awarding the Grand Prize to Sekisui House, Ltd. Chairman Toshinori Abe.
Sekisui House, Ltd.—one of Japan's major high-quality home builders—was conferred the Grand Prize during the 27th Annual Global Environment Awards on April 9 for its eco-friendly, anti-disaster "Smart-Community" Projects.
Four other companies were recognized for their environmental initiatives during the awarding ceremonies at the Meiji Memorial Hall in Moto Akasaka, Tokyo, in the presence of Prince and Princess Akishino. The awardees were given a certificate and trophy each.
The annual awards, sponsored by the Fujisankei Communications Group (FCG), is given with the goal of encouraging industrial development compatible with the planet's environmental protection.
The Global Environment Awards and FCG-sponsored Grand Prize have been presented annually with the goal of recognizing businesses and other organizations for their innovations and activities conducive to curbing global warming and environmental conservation.
Sekisui House won the latest FCG Grand Prize for a range of work, including its role in constructing energy self-sufficient, disaster resilient "smart communities" in 16 locations across the country.
It was also recognized for contributing to town-building design as shown by a project in collaboration with the city government of Higashi-Matsushima in Miyagi prefecture.
In the commendation ceremony, Sekisui House chairman Toshinori Abe said his company was determined to "continue to move ahead, throwing our corporate support behind the nation's regional environmental conservation programs for the sake of contributing to building a sustainable society."
The Sekisui-promoted initiative for the creation of what is known as Higashi-Matsushima City Smart Disaster Prevention Eco Town is Japan's first model for the local production and local consumption of renewable energy. The project provides electricity produced by solar energy to the whole city by making use effectively of smart grids—a next-generation transmission network for solar photovoltaic power generation.
The system in the city of Higashi-Matsushima, which is on the north-east coast of Japan's island of Honshu, has been highly evaluated. It is expected to reduce carbon dioxide emissions as well as show disaster resiliency by continuing to supply electricity for at least three days in the event of an emergency.
Winning the FCG-backed Economy, Trade and Industry Minister Award was Kyushu Electric Power Co., Inc. The company, in cooperation with its utility groups, has been aggressively addressing the development and introduction of such renewable energy sources as geothermal heat and hydraulic power.
The Environment Minister Award was awarded to Toyo Ink SC Holdings Co., Ltd., for launching a lineup of biomass products ahead of any other firm, including an array of ink products for offset printing.
The Land, Infrastructure, Transport and Tourism Minister Award was given to the Railway Systems Business Unit of Hitachi, Ltd., for the development of a next-generation rail car using a cutting-edge type of aluminum alloy material.
The Agriculture, Forestry and Fisheries Minister Award was bestowed on Sapporo Holdings Ltd., which pioneered the technology to produce bioethanol, an eco-friendly energy source, out of residues from the production of cassava tapioca starch.
FCG chairman Hisashi Hieda noted in his opening remarks at the commendation ceremony, "Japan has been called upon to display strong leadership in tackling climate change since preparations went into full swing for formulating rules based on a new framework, effective in and after 2020, to implement the Paris Agreement, which stipulates specific measures for combating global warming."
Hieda also remarked, "We would like to contribute to striking a balance between the world's economic growth and countermeasures against climate change through these commendations."
Fujio Mitarai, CEO and chairman of Canon Inc., and chairman of the screening committee of candidates for the Grand Prize for the Global Environment Awards, said at the ceremony, "We are firmly committed to broadening society's appreciation for these commendations in the cause for helping sustainable development of both society and economy."
Prince Akishino offered words of encouragement at the ceremony. Below are his remarks: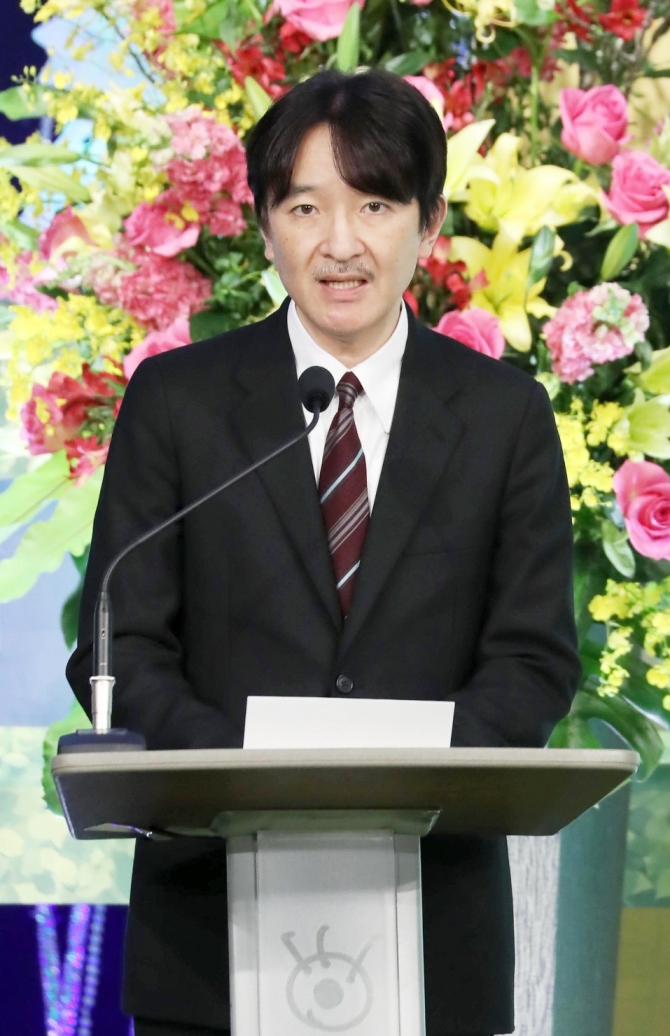 This Grand Prize for the Global Environment Awards marks the 27th year since its inauguration for the purpose of contributing to the benefit of society by commending activities achieving environmental conservation along with industrial growth. It is exemplified by such endeavors as the development of products and technologies that help materialize a sustainable, recycle-oriented society.
This commendation system has recognized a broad range of global environmental preservation tasks and heightened people's awareness of the need for environmental conservation. It has made significant contributions to addressing its goals by broadening the categories of those who are eligible for becoming award recipients—starting with the industrial world and then widening the scope to include municipalities, schools and civic groups. It honors those individuals and organizations who have been ardently engaged in environmental conservation activities.
Attention has been increasingly focused on a new international framework for the prevention of further global warming under the Paris Agreement and the Sustainable Development Goals adopted at the 2015 United Nations-sponsored summit meeting.
In view of the circumstances, this nation, for its part, will likely be called upon to contribute further to the world through the its superb environment-related technologies and knowledge.
The 27th Global Environment Awards Recipients: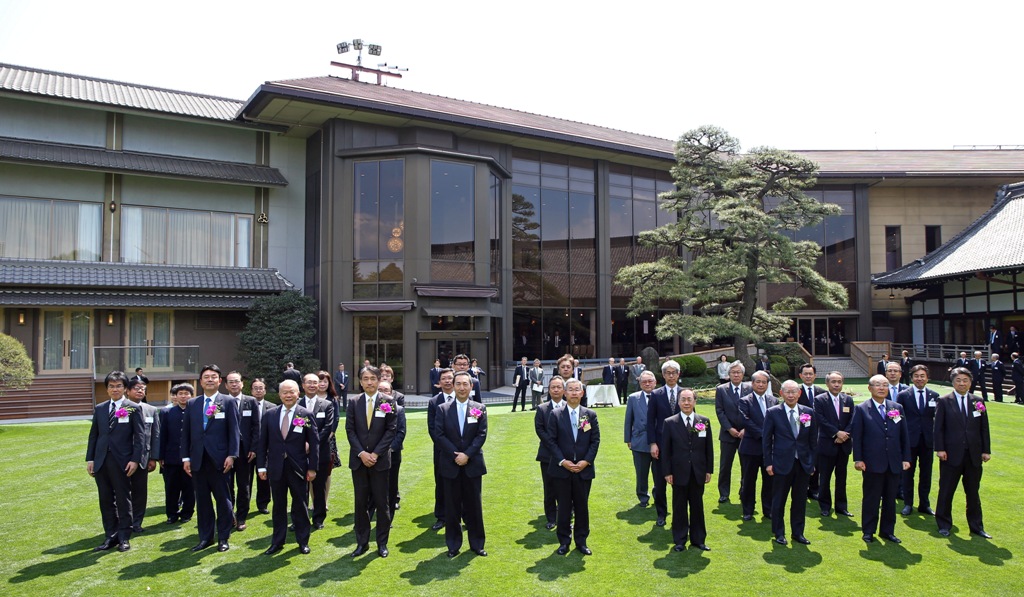 Grand Prize: Sekisui House LTD.
METI Award: Kyushu Electric Power Co., Inc.
Environment Minister Award: Toyo Ink SC Holdings Co., LTD.
MEXT Minister Award: Nogoya University
Land & Transport Minister Award: Railway Systems Business Unit of Hitachi, LTD.
Agriculture Minister Award: Sapporo Holdings LTD.
Keidanren Chairman Award: Nippon Light Metal Holdings Co., Ltd.
Fujisankei Group Prize: YKK Corporation
Honorable Prize: Toshiba Lighting & Technology Corporation
Izumo Nishi High School Interact Club
(Click here, here, here and here to read the articles in Japanese.)
The related story:
The Global Environment Awards in 2017