Editorial | A New Japan-U.K. Trade Pact is Crucial for Bolstering Ties and Spreading 'Freedom'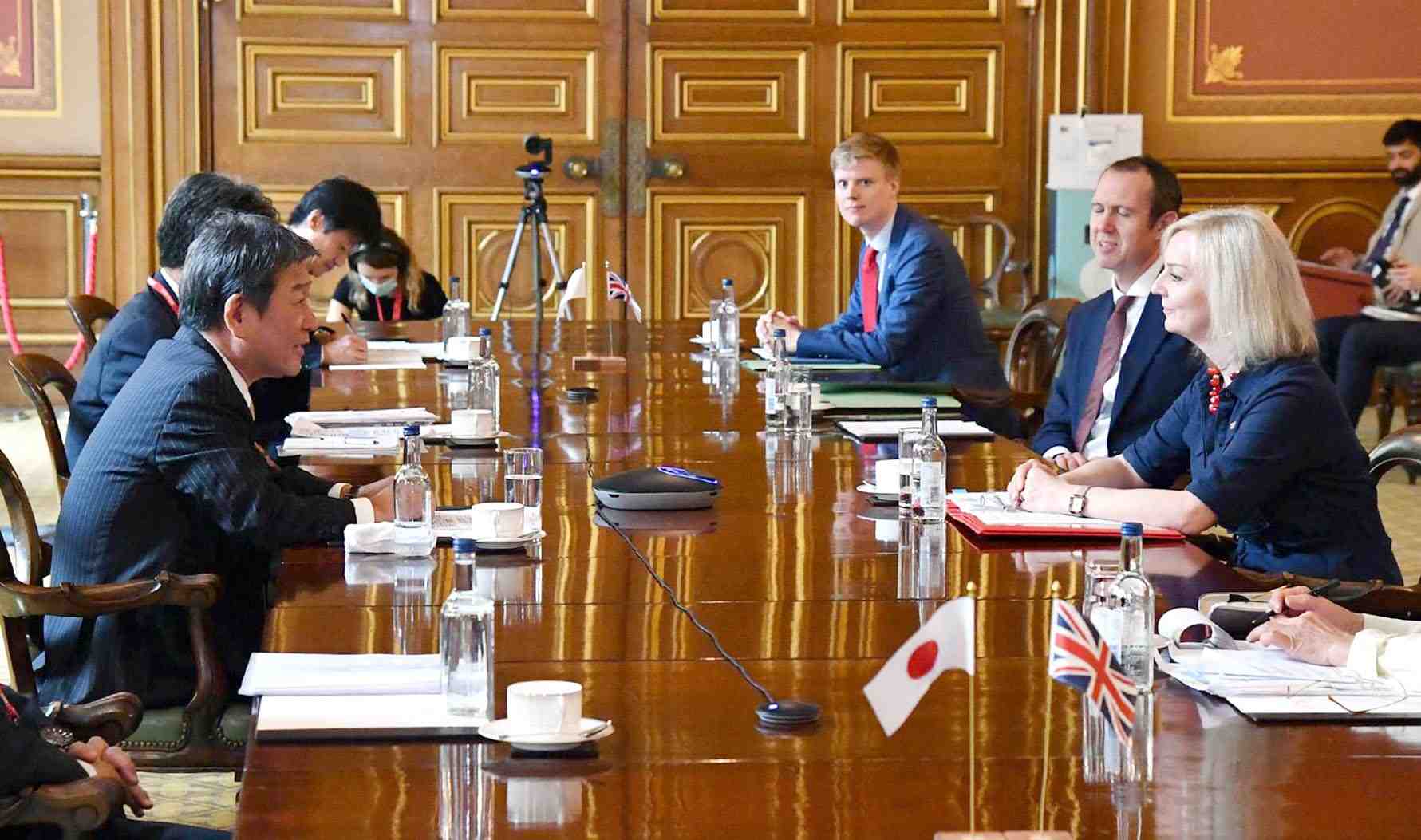 In recent talks on a new bilateral trade agreement, Japanese Foreign Minister Toshimitsu Motegi and British Secretary of State for International Trade Liz Truss reportedly achieved substantial progress regarding most key areas. They are now aiming to hash out the details and reach broad agreement by the end of August, with the new pact to take effect from January 2021.
The novel coronavirus pandemic has brought into stark relief the fragility of the global economy, amidst considerable concern about the rekindling of protectionism. It is therefore highly significant that in these trying circumstances, Japan and the U.K. are both determined to promote free trade by producing a new bilateral agreement.
At the same time, the new agreement will hopefully serve as the cornerstone for enhanced bilateral ties in various areas besides economics, including diplomacy and national security.
Britain's Secretary of State of International Trade Liz Truss in London, Britain, June 9, 2020. Andrew Parsons/10 Downing Street/Handout via REUTERS NO RESALES. NO ARCHIVES
As the U.K. exits the European Union (EU), there are concerns that preferential treatment on things such as tariffs under the Japan-EU Economic Partnership Agreement (EPA) will no longer apply to the U.K. after the end of this calendar year. The sense of urgency is said to be what drove Japanese and British negotiators to proceed with exceptional speed after talks commenced in June.
Many Japanese companies have established operations in the United Kingdom. If the current trade agreement no longer applies, that would result in a precipitous rise in tariffs on both sides. The damage caused by the coronavirus to businesses in both nations is yet an additional huge incentive to avoid such chaos at all costs.
The Japan-EU EPA has served as the basis for the trade negotiations between Tokyo and London. Key issues include how to handle the motor vehicle sector in which Japan is strong, and British farm exports to Japan. Negotiators hope to finalize agreement on agricultural products and other issues by the end of August.
One notable aspect of the emerging agreement is that rules governing the digital sector are more advanced than under the existing EPA. A new clause has been added to prohibit governments from forcing disclosure requirements on companies. This move would appear to be aimed at countering the digital protectionism being pursued by China as it strengthens State intervention and control of this vital sector.
We should view the current talks as an opportunity to enlist the United States and EU in a joint effort in this regard by making this Japan-U.K. rule the international standard.
The British are now considering the possibility of going beyond a bilateral agreement with Japan by joining the Trans-Pacific Partnership Agreement (TPP). Should the U.K. join this free trade arrangement, Japan would be able to avail itself of a geographically expanded market economy zone. This is obviously something that Japan should push for.
The United Kingdom has already reversed its previous conciliatory policy toward China because of distrust towards Beijing caused by the Chinese government's response to the coronavirus outbreak and the Hong Kong issue.
If Japan and the United Kingdom, as advanced countries sharing values such as freedom and democracy, can now strengthen ties so as to check China's demands stemming from its quest for economic and military hegemony, it would be all to the better.
(Read the original editorial here in Japanese.)
Author: Editorial Board, The Sankei Shimbun