EDITORIAL | International Community Wants Russia to Pull Out of Ukraine Immediately, Without Conditions
There cannot be any loopholes in attempts to pressure Russia. The attitude of China and India, which abstained from voting on the UNGA resolution, is therefore concerning.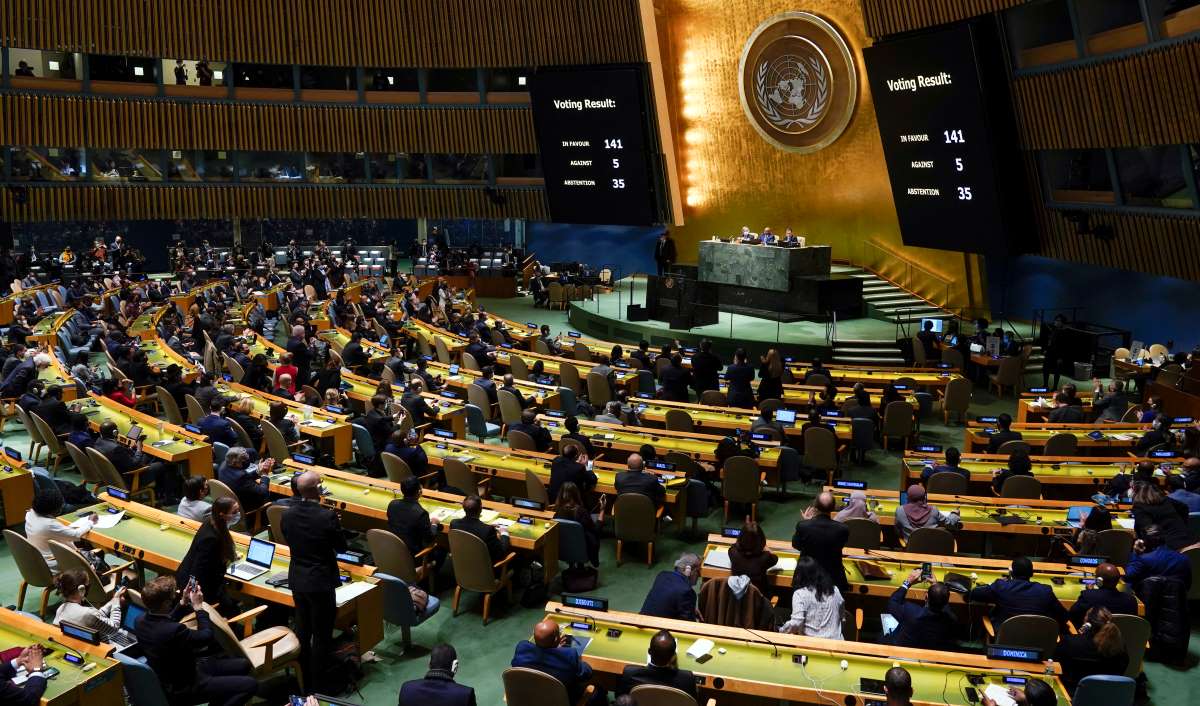 The consensus of the international community is that Russia must pull out of Ukraine. Russian President Vladimir Putin must take this resolution seriously and withdraw his troops immediately.
On March 2, in an emergency special session of the United Nations General Assembly, 141 out of the 193 member states voted overwhelmingly for a resolution deploring Russia. It was co-sponsored by 96 countries, including Japan and the United States.
The "no" votes came from only five countries, including Russia, the party concerned, and North Korea.
The resolution deplores Russia's invasion of Ukraine in the strongest terms — condemning Putin for declaring a "special military operation" and raising Russia's nuclear forces to high alert. It then calls for the immediate and unconditional withdrawal of Russian troops.
It should be noted that before the adoption of the current resolution, Russia had vetoed a draft United Nations Security Council resolution to the same effect.
Of the 15 UN Security Council members, 11 voted in favor of the resolution, while three countries, including China, abstained. But Russia used its veto power as a permanent member of the Council to block the resolution.
In response, an emergency special session was called to vote on the current resolution — a redo of the Security Council vote, this time open to all UN member states. Unlike UN Security Council resolutions, General Assembly resolutions are not legally binding, but that doesn't mean Putin should take them lightly.
At the three-day session that began on February 28, representatives of some 120 nations expressed their views and condemned Russia's invasion of Ukraine in succession.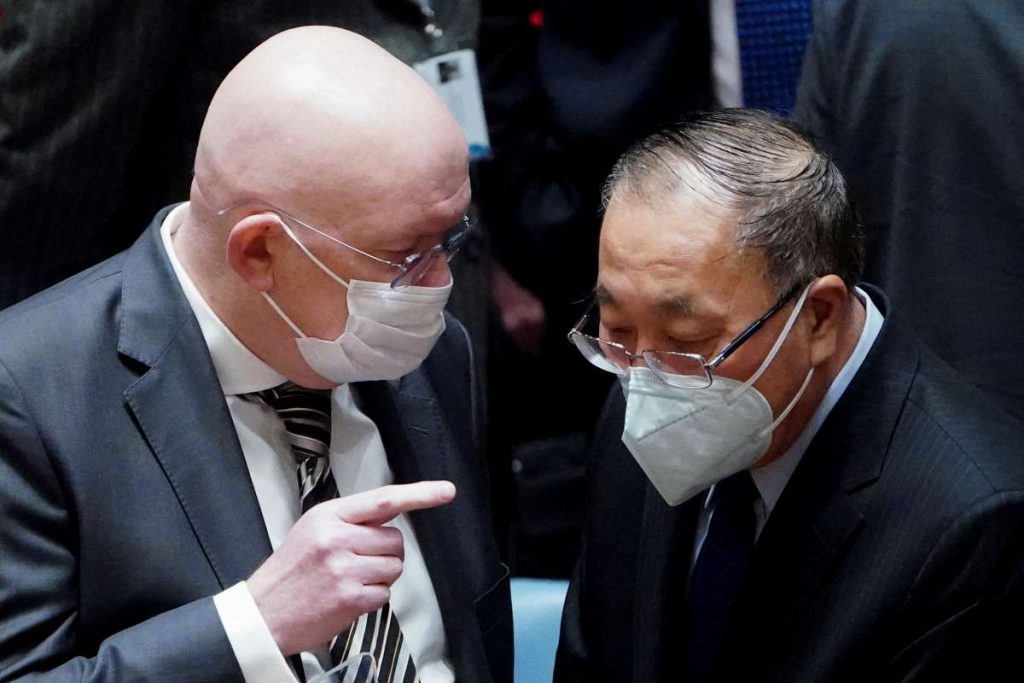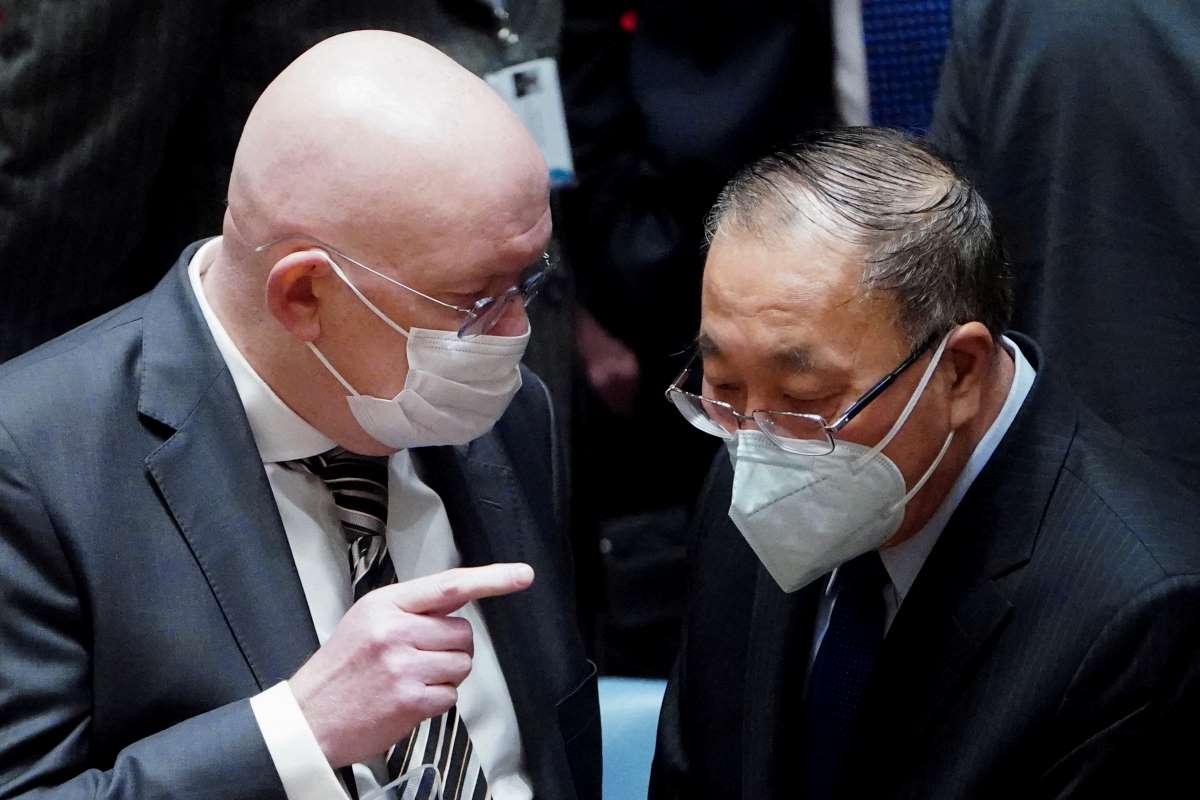 What became clear was the firm commitment of the European countries — including Germany, whose foreign minister addressed the General Assembly — to unite against Russia. Japan should follow suit and ramp up pressure on Moscow.
Russia continues to isolate itself from the international community at an unimaginable pace. More Russians have taken to the street in protest, but Putin still fails to realize his perilous position.
What is concerning is the attitude of China and India, which abstained from voting on the resolution. Sanctions on Russia are imposed by the United States, Europe, and Japan, individually and independently from the UN Security Council.
It has yet to be seen whether China and India will extend a helping hand towards Ukraine. In any event, there cannot be any loopholes in attempts to pressure Russia.
While the United States, Europe, and Japan are seeking to increase pressure on Russia, civilian casualties are rising in Ukraine as Russian forces continue their attack.
First and foremost, the fighting in Ukraine must be stopped as soon as possible. Russian forces must cease their attacks and leave Ukraine immediately.


RELATED:
(Read the editorial in Japanese at this link.)


Author: Editorial Board, The Sankei Shimbun