[EDITORIAL] Without Russia Reverting Northern Territories, Japan Must Reject 'Peace Pact'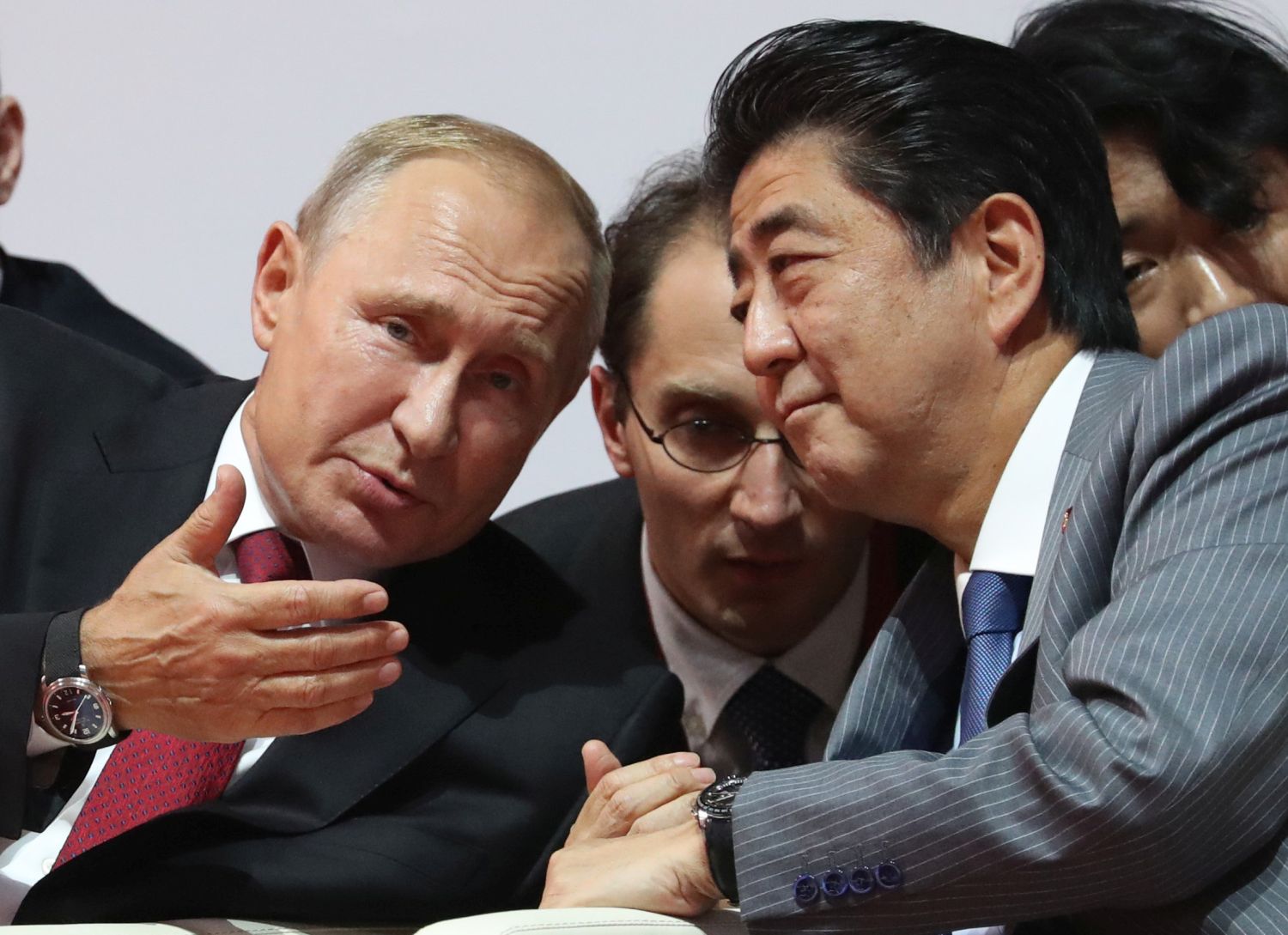 The Sankei Shimbun
Now is the time for Prime Minister Shinzo Abe to restructure Japan's diplomatic stand toward Russia so that the reversion of the Northern Territories off Hokkaido to Japan materializes.
The two leaders attended a plenary session of the annual Eastern Economic Forum held on September 12 in Russia's far eastern city of Vladivostok. Russian President Vladimir Putin abruptly offered a proposal to the Japanese Prime Minister, saying, "Let's conclude a formal [World War II] peace treaty by the year's end without any preconditions."
In addition, Putin remarked, "The peace treaty can include language to the effect that both countries aim to resolve all issues [between Japan and Russia]."
The surprise call by Putin — aimed at effectively shelving the long-standing territorial dispute between Japan and Russia over a group of islands off northeastern Hokkaido seized by Soviet forces in 1945 — should be deemed as nothing but a brazen ploy.
Self-centered Overture
Should the territorial row be shelved, there would be no prospects for demarcating a boundary between Japan and Russia. Any pact that fails to fix the border between the two countries can never be worthy of being called a peace treaty.
Tokyo should never conclude a peace treaty with Moscow without reversion to Japan of the islands: Kunashiri, Etorofu, and Shikotan, and the Habomai group of islets. The Japanese government, for that matter, must come out with a resolute posture against any aspect of Putin's self-serving overture.
The three islands and an islet group, collectively known as the Northern Territories, are without any doubt an integral part of Japan. The former Soviet Union unilaterally breached the Japan-Soviet Neutrality Treaty when it invaded and seized them after Japan surrendered during World War II. The Soviet Union's act was nothing but a classic example of a thief in the night and Russia has been illegally occupying the islands since then.
Putin's proposal of a peace pact will lead to the likely line from Moscow that "issues in bilateral relations" should be construed as "bilateral economic cooperation." Therefore, any provision suggesting the two countries "aim to resolve all issues" between them is simply a trap designed to fend off return of the islands to Japan.
Russia has been in an economic quandary because of sanctions from the United States and European nations over such issues as its 2014 annexation of the Crimean region in Ukraine. The intention behind Putin's remark this time is crystal-clear: gain economic cooperation from Japan without reverting the Northern Territories to Japanese rule.
This year, Putin scheduled the Eastern Economic Forum to deliberately coincide with "Vostok 2018" — the biggest post-Soviet war games in which Chinese troops took part for the first time.
Moreover, with his display of military might in the background, he had the nerve to make the pompous overture to Japan over the long-running territorial row. Putin simply mocks Japan with the suggestion Tokyo would fall for his ploy.
Putin's proposal is akin to the situation of North Korea calling for normalization of bilateral diplomatic ties with Japan, without resolving the issue of Japanese citizens abducted in the 1970s and 1980s, or its nuclear weapons and ballistic missile programs.
Shaming Abe
It is noteworthy that Putin's peace treaty remark was made just moments after Prime Minister Abe, speaking before other leaders at the economic forum, referred to Japan's readiness to expedite economic cooperation in the Russian-seized Japanese territories. It was calculated to shame Prime Minister Abe — not an idea that "has just come into my head" — despite Putin's words to the contrary.
What is clear is that Putin has not bought into Prime Minister Abe's "new approach" of nurturing mutual trust through economic cooperation and leveraging it to bring about a breakthrough in the territorial dispute. Abe and Putin have talked as many as 22 times so far. It is deplorable that there are no better results than this.
It seems that Abe's "new approach" to bilateral ties based on expansion of joint Japanese-Russian economic activities may have run counter to Japan's expectations. Worrisome in this connection is the Japanese government's opaque response to Putin's offer, which negates the very basis of Japan's approach.
Tokyo Should Take A Clear Position
Although it is a foregone conclusion that Tokyo would never accept Putin's latest offer, it is nevertheless the right time for Tokyo to scrutinize the effectiveness of its current diplomacy toward Moscow on the resolution of the territorial dispute.
Prime Minister Abe should have clearly rebutted Putin's statement immediately, making it clear that there can never be a peace treaty without settlement of the territorial issue.
Prime Minister Abe, returning home from Vladivostok, met with coalition partner Komeito's head, Natsuo Yamaguchi. Abe told him, "Japan's position of concluding a peace treaty only after resolving the issue of sovereignty over the four disputed islands remains unchanged."
Although the Prime Minister's statement demonstrates his intentions to not take up Moscow's offer, comments describing Putin's remark as a "manifestation of his willingness to conclude a peace treaty" can hardly be called adequate.
For that matter, Foreign Minister Taro Kono, now visiting Vietnam, was quoted as saying Putin's remark "is nothing to complain about."
What were they thinking? Both the Prime Minister and the foreign minister should be insisting on resolution of the territorial issue while refuting Moscow's utterly unreasonable ideas.
Other Dangers Lurk Nearby
It should be noted that both China and South Korea have been carefully watching Japan's effort to seek reversion of the four dispute islands off Hokkaido for any lessons that might be learned. China is seeking an opportunity to usurp the Senkaku Islands in the East China Sea, and South Korea has been illegally occupying the island of Takeshima in the Sea of Japan.
Among those who are keenly interested is Chinese President Xi Jinping, who was sat between Abe and Putin at the Eastern Economic Forum. Brushing an issue under the carpet involving the nation's sovereignty over the Northern Territories is no different from asking for future trouble, elsewhere.
There is no good reason for the Japanese government to stick to joint economic programs with Russia. Japan should ask itself whether the ongoing Japanese-Russian economic cooperation projects are truly necessary. Moreover, a review of the wisdom of continuing the joint projects should be undertaken promptly.
It is a matter of top priority to point out the illegality of Russia's seizure of the islands off Hokkaido and seek their return to the Japanese rule. Any conclusion of a peace pact should be preceded by resolution of this dispute.
It is time to let the Russians know that they will not benefit unless the issue is resolved. As long as reversion of the Northern Territories is left unsettled, full-fledged economic cooperation with Russia is contrary to Japan's national interest.
Click here to read the editorial in Japanese.