Emperor Emeritus Akihito: The Second Trip to India in 2013
In 1960, Crown Prince Akihito planted a sapling in New Delhi. By 2013, it had grown into a majestic tree, symbolizing the flourishing of Japan-India relations.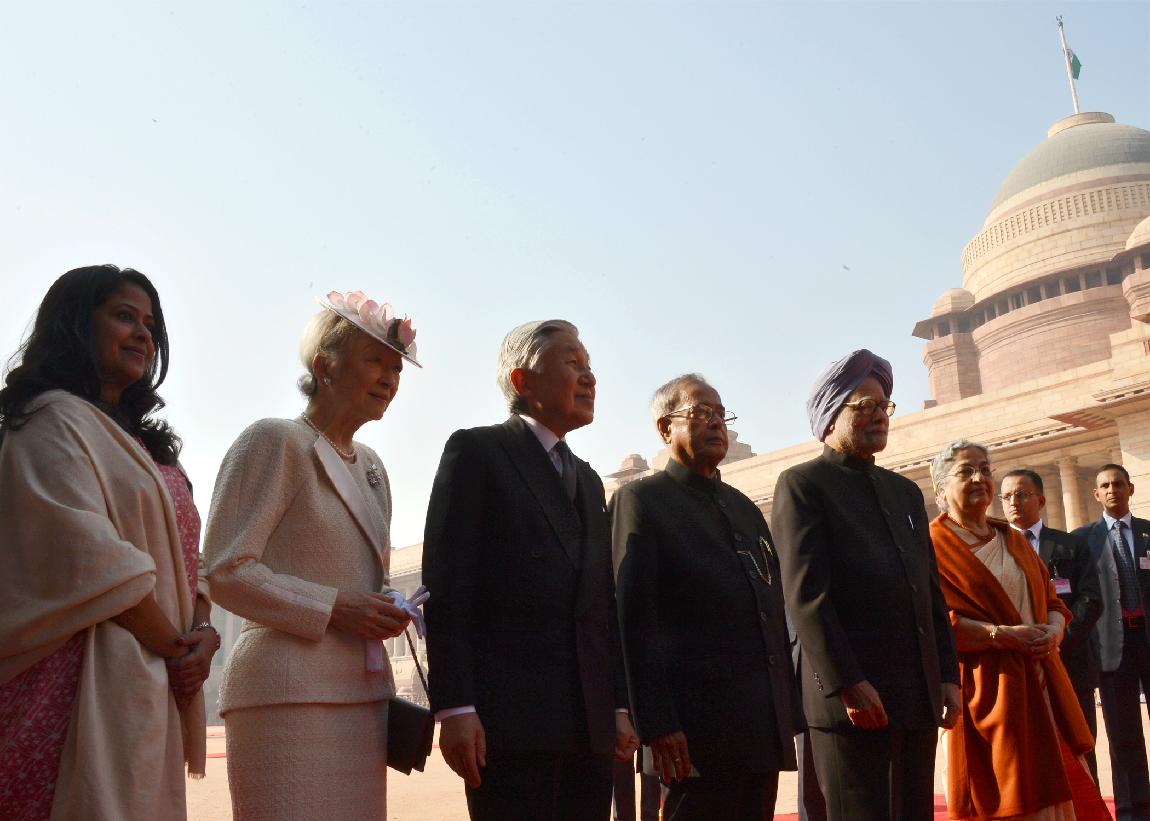 On April 30, 2019, Emperor Emeritus Akihito stepped back from reigning as sovereign to live a more quiet life. This approaching fourth anniversary of his abdication provides a good opportunity to consider some of His Imperial Highness's enduring accomplishments.
Japan's imperial institution has survived for nearly 2000 years. Throughout its history, it would only be apposite to state that Japan's imperial throne has done far more than merely surviving modernization. It has played a positive role in the country's political modernization and evolution and in the effective stability of its governments.
Lesser known is Emperor Emeritus Akihito's longstanding influence in the strong postwar relations built with India. This three-part series looks at Emperor Emeritus Akihito's distinct India connections.
Second of 3 parts
Read the first part: Emperor Emeritus Akihito: Celebrating Connections Built With India in 1960
60th Anniversary of Indo-Japan Relations
Former Emperor Akihito was the first Japanese monarch-in-waiting to visit India. That visit came in 1960 when he was Crown Prince. And then came a 53-year gap until his second visit in 2013, this time as Japan's emperor.
The span could be dubbed as an elongated interlude vis-à-vis power configurations and foreign policy refurbishments in global geopolitics. India of 1960 was a far cry from the India of 2013. More importantly, by 2013 Japan's centrality to Western geopolitical strategies in Asia was no longer a deterrent. Building a true "strategic partnership" between New Delhi and Tokyo became possible.
The Emperor and Empress's visit to India happened in December 2013. It took place on the heels of the 60th anniversary of Indo-Japan diplomatic relations (1952–2012). Intriguingly, this visit happened 53 years after but close to the same dates as the previous visit.
In 2013, the importance and symbolism attached to the India visit were very high. It was the first such visit by a Japanese emperor to India, and to South Asia for that matter. For India too, the occasion was special. It was the first time for New Delhi to host a state visit of dignitaries who had previously visited 50 years ago.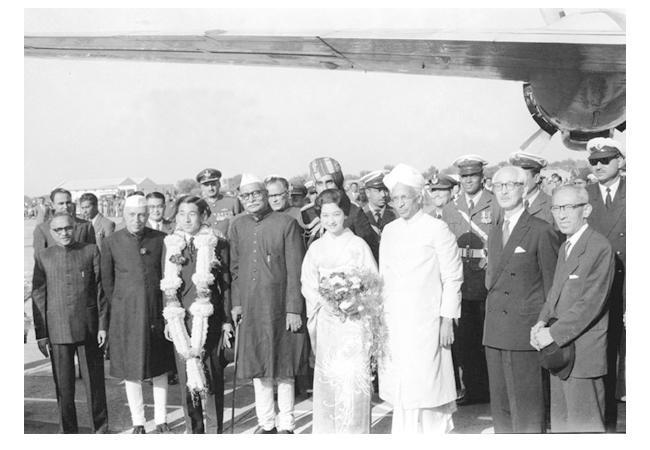 A Watershed Moment
According to a contemporary message by Tamaki Tsukada, then Minister-Economic at the Japanese Embassy in New Delhi, "India is the only country they are visiting on this trip as well as in the year." Tsukada further remarked that the Japanese royal couple receives 40-50 invitations a year, on average. He also explained that each invite is carefully considered by the Japanese government and prioritized thereafter.
According to some, Emperor Akihito and Empress Michiko's visit upgraded the status of India as perceived by the Japanese public. This further provided a positive impetus to the growth of overall Indo-Japanese relations.
This visit was covered widely and described as a "defining moment" and watershed event in the history of Indo-Japan bilateral relations. As the Japanese Government stated, India had long been eager to invite the imperial dignitaries. In fact, the joint statement signed by then-Prime Ministers Manmohan Singh and Shinzo Abe in May 2013 made a specific reference to it.
From a Sapling to a Majestic Tree
The Imperial Household Agency of Japan recorded that while visiting the Japanese Embassy in New Delhi, Emperor Akihito took time out in the garden. During this break, he saw a Ficus religiosa, also known as a Bodhi tree. This was the same tree Emperor Akihito had planted as a sapling 53 years earlier in 1960 during his visit to India as the Crown Prince.
The sapling had grown into a majestic tree. It was symbolic of the similar growth witnessed in Indo-Japan relations, the emperor reflected after seeing the blossoming tree.
Later, there was a welcome banquet on December 2, 2013, at the Rashtrapati Bhawan (President's House). Emperor Akihito addressed the august gathering in attendance. He underscored the importance of the occasion of the 60th anniversary of diplomatic relations between Japan and India, saying: "I visited [India] for the first time 53 years ago as a representative of Emperor Showa, with the then Crown Princess, to reciprocate the visit to Japan by His Excellency President Rajendra Prasad […]"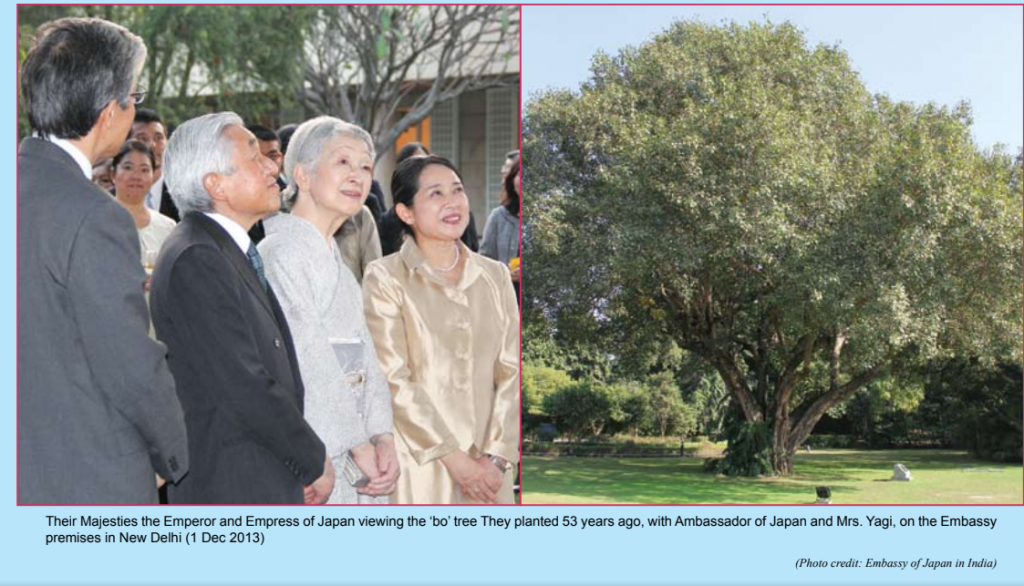 Stories of Shared History
Emperor Akihito also highlighted the growing proximity of Indo-Japan relations, despite the vast geographical distance between the two countries. He reflected:
Given the geographical distance between our two countries, it is thought that there was little interaction between Japan and India in ancient times. But by the sixth century, Buddhism, which had originated in India, was introduced to Japan … and by the eighth century, the city of Nara, the capital of Japan at the time, was home to many Buddhist temples […]
In the eighth century, it is known that an Indian monk by the name of Bodhisena traveled to Japan all the way from India, and presided as the officiating priest at the eye-opening ceremony of the statue of the Great Buddha in Nara, in the presence of Empress Koken, Ex-Emperor Shomu, and Empress Dowager Komyo. The brush which was used in the ceremony to paint in the eyes of the Great Buddha is preserved to this day as a treasure at the Shosoin Repository […]
The Indian poet Rabindranath Tagore, who visited Japan before World War II, was welcomed with deep respect by the Japanese people. On our previous tour of India in 1960, we visited the Tagore House in Kolkata. There I remember listening to the Indian national anthem, whose words and music were written by Tagore, being beautifully sung to the accompaniment of Indian musical instruments.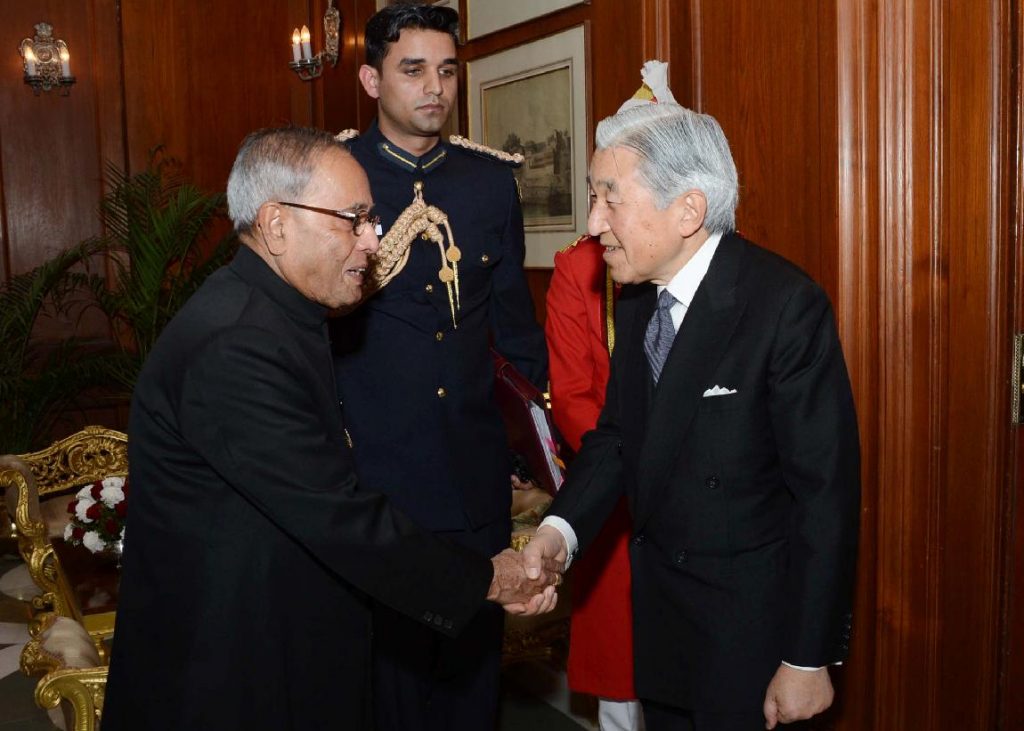 A Strong and Lasting Impression
The Emperor underlined the time gap of 53 years between his 2013 visit and the previous visit in 1960. Furthermore, he acknowledged the past times and their evolution into the contemporary context of Indo-Japan ties.
He remembered how young the Empress and he were at the time to fully understand the depth and diversity of India. Their youth notwithstanding, he recalled learning about India's past and its high aspirations for nation-building. And he learned about India's ideals of democracy, internationalism, and pacifism directly affiliated with Mahatma Gandhi's principle of non-violent resistance.
Emperor Akihito reflected that the experience of his travels to India, and India's multiplicity, left a strong and lasting impression. His return to India with Empress Michiko in 2013, after 1960, was read as a distinct indication from Tokyo of how central India had become in Tokyo's grand strategy for Asia.
It was a perceptive reminder of Japan's Chrysanthemum Throne diplomacy, which will continue to play a key role in enhancing interest among Indians in Japan's society, unique value systems, and exclusive cultural identity.

RELATED:

Author: Dr Monika Chansoria

Dr Monika Chansoria is a Senior Fellow at The Japan Institute of International Affairs in Tokyo and the author of five books on Asian security. The views expressed here are those of the author and do not reflect the views of any organization with which the author is affiliated. Follow her column, "All Politics is Global" on JAPAN Forward, and on Twitter @MonikaChansoria.