First Talks: Suga and Moon Signal Desire to Improve Ties but Cloud of Seoul Court's Wartime Labor Decision Looms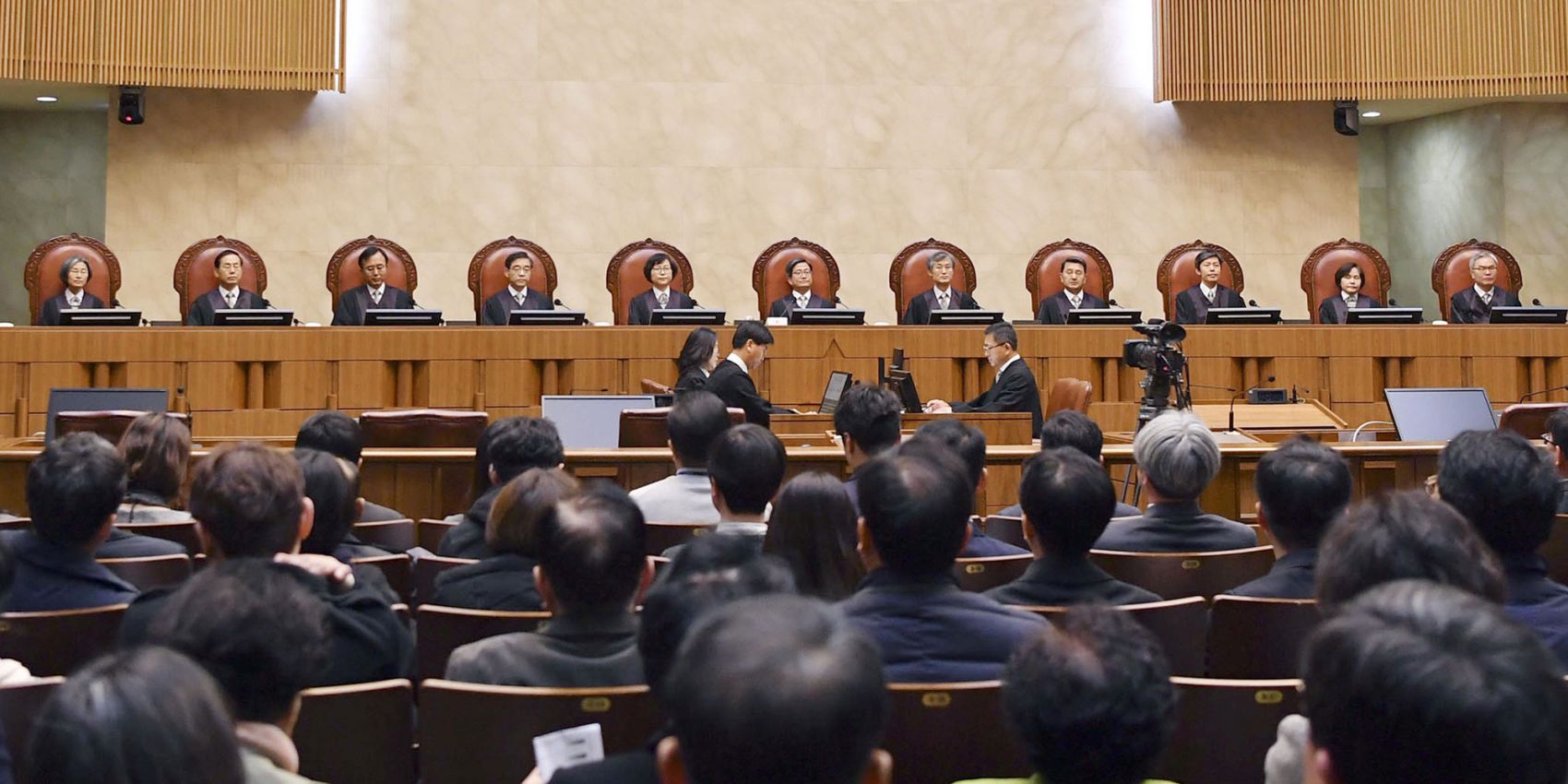 South Korea's Supreme Court: Relations were exacerbated when the court ordered Japanese companies to pay additional wartime reparations, rejecting the 1965 bilateral treaty that resolved issues and established relations between Tokyo and Seoul.
Prime Minister Yoshihide Suga and Korean President Moon Jae In held their first talks via telephone on September 24, leaving the door open for ties to improve. Prime Minister Yoshihide Suga raised the serious deterioration of relations between the two neighbors, following a decision against Japanese companies by South Korea's Supreme Court on the issue of so-called Korean wartime laborers.  
Stressing, "We cannot afford to leave bilateral ties in the current bitter state," Suga indicated Japan will be looking for a signal that could "help restore relations to a healthy state," with a measures such as blocking the court's seizure of the assets of Nippon Steel (formerly Nippon Steel and Sumitomo Metal) in mind. [Japan regards all issues raised in the court case to have been resolved under the 1964 Treaty on Basic Relations and its related documents.]
In a press conference following the 20 minute telephone conference, the Prime Minister emphasized to reporters at the official residence, "I will continue to urge South Korea to respond appropriately based on Japan's consistent position on various issues."
On the other hand, he added, "Japan and South Korea are extremely important neighbors to each other, and it is important to have cooperation between Japan and South Korea, and [trilaterally] among Japan, the United States, and South Korea, including on the North Korean issues." 
Immigration and the Coronavirus 
The prime minister also proposed strengthening overall cooperation on coronavirus measures during the telephone discussion. 
The two leaders agreed to accelerate discussions on immigration restrictions that had been implemented to prevent the spread of the novel coronavirus, with the aim of easing some of the restrictions on travel by business people. 
North Korea and the Abductions
The prime minister requested the cooperation of the South Korean government to resolve the issue of North Korea's abductions of Japanese citizens, and President Moon expressed his support for the Japanese position. 
The two leaders also affirmed the importance of Japan-South Korea and Japan-U.S.-South Korea cooperation in dealing with North Korea. President Moon also called for a summit meeting between Japan, China and South Korea. 
The Suga-Moon call, which lasted about 20 minutes, held at Seoul's suggestion. It was the first direct communication between the leaders of the two countries since a summit meeting between President Moon and former prime minister Shinzo Abe in Chengdu, China in December 2019.
Views on How Well the Call Went
Chief Cabinet Officer Naoki Okada, who sat in on the meeting, characterized the talks as "carried out in a matter-of-fact, dispassionate atmosphere." Okada's comment is significant since such interplay between national leaders is usually described in more glowing terms, such as having taken place in a "congenial" or "unreserved" atmosphere. 
That might be a reflection of relations between the two countries in the Abe era, when bilateral relations declined precipitously. 
One of the factors that caused this rift in Seoul-Tokyo relations was a ruling by South Korea's Supreme Court that, regardless of South Korea's relinquishment of additional claims under the terms of the 1965 Treaty on Basic Relations between Japan and the Republic of Korea which laid the foundation for diplomatic relations and other facts, Nippon Steel assets were ordered to be seized to pay more restitution to workers who claimed they were forced to work for the company's forerunner. The Japanese side in turn has threatened retaliatory measures should such confiscation actually take place. 
A high government official in Japan said: "If their side (South Korea) wants to hold a telephone meeting, we were ready to respond. But the ball is now in their court."
Prime Minister Suga himself took a strong stance on the South Korean government's actions during his eight years as chief cabinet secretary. In July 2020, when South Koreans installed a "comfort woman" statue that showed a Japanese said to resemble Prime Minister Shinzo Abe on his knees appearing to plead for forgiveness from a young Korean woman, Suga directly criticized the act, saying: "This could have a decisive impact on relations between Japan and South Korea." 
Nevertheless, at his November 24 press conference, Suga called South Korea "an extremely important neighbor." Although Japan's annual Diplomatic Blue Book issued in May revived the term "important neighbor" for the first time in three years in reference to South Korea, Suga's addition of the term "extremely" showed his consideration for South Korean sensibilities.
Seoul's cooperation is important to the resolution of North Korea-related issues. Suga also believes that a certain degree of stability in Japan-South Korea relations is necessary if his plans for increasing the number of inbound (foreign) visitors to Japan is to succeed. 
At the same time, a foreign ministry official commenting on the use of the phrase "extremely important neighbor" says, "I wonder if that's how the prime minister really feels…"
The fact remains that for Japan there is no room for concessions on the wartime labor issue. The topic of improving Seoul-Tokyo relations hardly came up in the Liberal Democratic Party general election. And there is a consensus within LDP ranks supporting the firm stance taken by the Abe administration towards South Korea. 
Tokyo may find it just needs to wait out the Moon administration. This was evident in the September 24 comment of a top Japanese official, that: "Talking with that person (Moon) for any length of time won't help".
(Read the related articles in Japanese here, here and here.)
Authors: Yoshiko Kodama and Takao Harakawa
Yoshiko Kodama and Takao Harakawa are staff writers in Tokyo for The Sankei Shimbun.