Flower Blossom Hunting: A New Way to Enjoy Spring in Japan
Try a walk or hike for another way to experience spring in Japan. Cherry blossoms are only the beginning of the beauty you'll find along the way.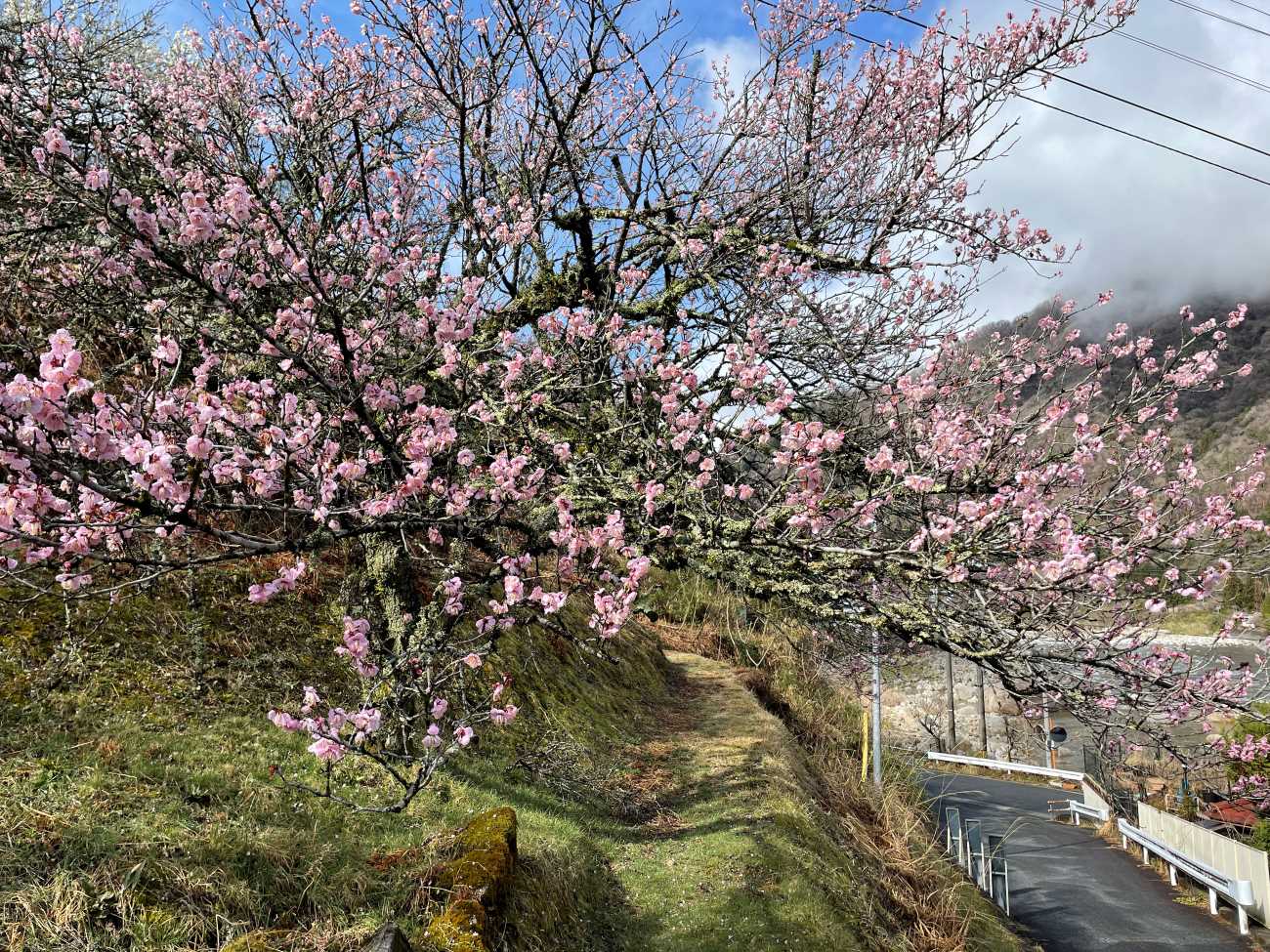 Every spring, swarms of Japanese form parties of two or more to imbibe under the sakura or cherry trees, and tourists flock to famous spots, hoping to time their trips perfectly with the short cherry blossom season. Indeed, cherry blossom forecasts appear daily on national news, highlighting areas entering mankai (full bloom) and describing the budding percentage in others.
Japan's national sakura obsession is justified because a temple, shrine, castle, or entire mountainside covered in flowers is genuinely spectacular. Cherry blossom viewing, or hanami as it is called, also offers the chance to finally go outside and enjoy the warming weather.
The traditional mankai preoccupation is just for one specific variety of cherry blossom, though — the Somei Yoshino cherry blossom trees. Although hundreds of cultivars exist in Japan, Somei Yoshino now dominates. First, it is easy to domesticate. The pinkish-white flowers bloom together before the green leaves as well, making for a predictable and aesthetically pleasing flower.
Another, more ominous reason is that Somei Yoshino trees bloom and scatter their petals together, a metaphor for the Japanese people used by the military government during World War II. The book Cherry Ingram, the Englishman who Saved Japan's Blossoms (Vintage Books, 2020) is a fascinating read for more information.


Searching for Blossoms
Spring in Japan provides a wealth of bursting buds that change daily, so you are virtually guaranteed to see something beautiful.
There is another way to experience spring in Japan, however. It involves actively looking for cherry blossoms — and many other flowers — while hiking or walking. Blossom hunting is a great way to get out in nature, ramble through the Japanese countryside, and snap some scenic photos.
This spring, I walked a 20-kilometer span of the Nakasendo Road across the section known as Kiso Valley. The Nakasendo was a historic road connecting the imperial capital of Kyoto to the Shogunate in Edo (today's Tokyo). Daimyo Lords and their Samurai vassals spent half of their time in Edo to demonstrate loyalty to the Shogun, traveling back and forth on roads like the Nakasendo and Tokaido Roads.
Because of the remoteness of the Kiso Valley, many of the post towns and traditional buildings used during the Edo Period are preserved near their original state or still in use today. Staying at an onsen ryokan (hot springs inn) in this area is another quintessential Japanese experience that I highly recommend.
I alighted at Nagiso Station, a railway station on the Chuo Main Line in Nagano Prefecture. Most visitors only walk the section from Magome to Tsumago because they are the best-preserved and most famous post towns on the road. But I like the extension from Nagiso Station to Nakatsugawa Station on the railway because I can usually have the beginning or end train car to myself.
There are also original stone paths, rural farmland, and tiny hamlets worth seeing. I must warn you: there are hills.

Unexpected Finds
I realized I had been optimistic about the timing of this year's cherry blooms from the start. It was a long winter, and while some buds were peeking out, the sakura trees were primarily barren. I would have gone home disappointed if I had been visiting a tourist spot exclusively known for cherries. However, I find that Mother Nature often provides me with exactly what I need. The ume, or plum blossoms, happened to be in full bloom, and I was not disappointed.
The path from Nagiso Station to Tsumago post town is around four kilometers long, and it winds through suburbs and farmland. Houses are spaced far apart, with each unique Japanese garden visible from the path. While the road is mostly pavement, there are some short sections of the trail I took to explore and a sightseeing excursion to the ruins of Tsumago Castle. This section is a nice warmup before arriving in Tsumago post town.
Arriving in Tsumago post town before the crowds is one of the benefits of walking in this direction. Tsumago is the most picturesque post town along the Nakasendo, and it is my personal favorite. Different ume (plum) and sakura (cherry) trees have been planted next to historic buildings, creating a lovely Japanese effect. The blossoms on shidare ume (or weeping flowering plum trees) looked edible, like cotton candy.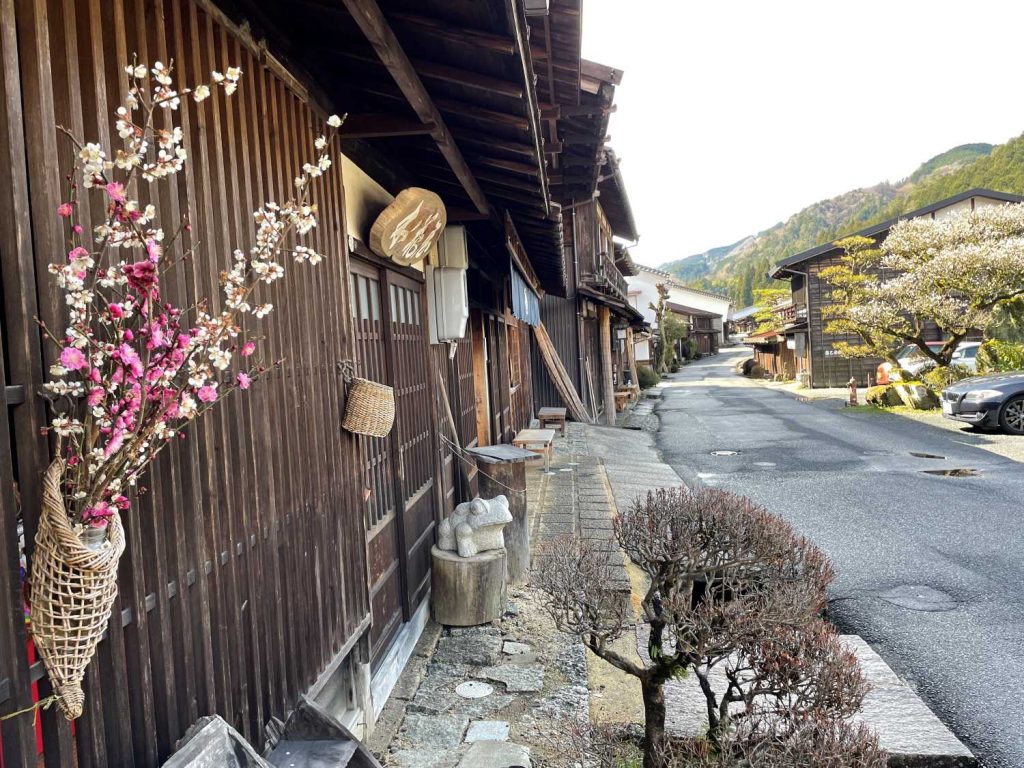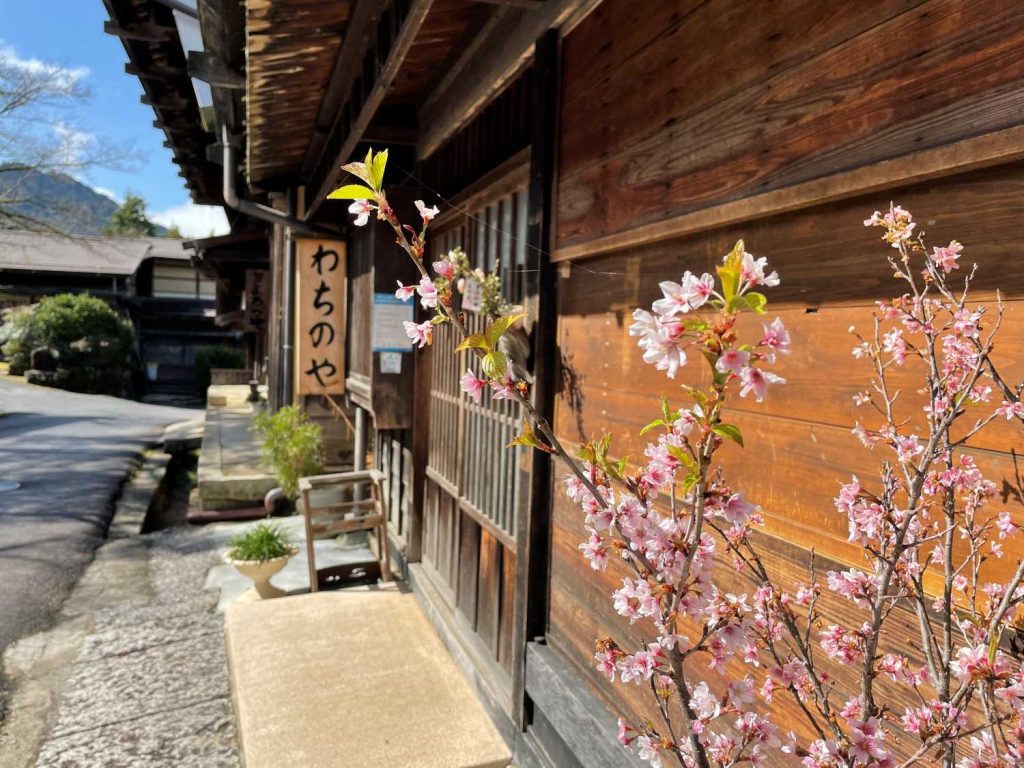 Other people have placed Ikebana (Japanese-style flower arrangement) displays of cherry branches outside, celebrating the bright scenery with more splashes of color. By cutting cherry branches and placing them in a warm place, locals get them to bloom earlier and accelerate the onset of the viewing season.
Yet others display different seasonal flowers next to a traditional well. In my experience, this flower arrangement changes daily according to the season. Every time I visit, my love of Tsumago is renewed because there is always something new to see.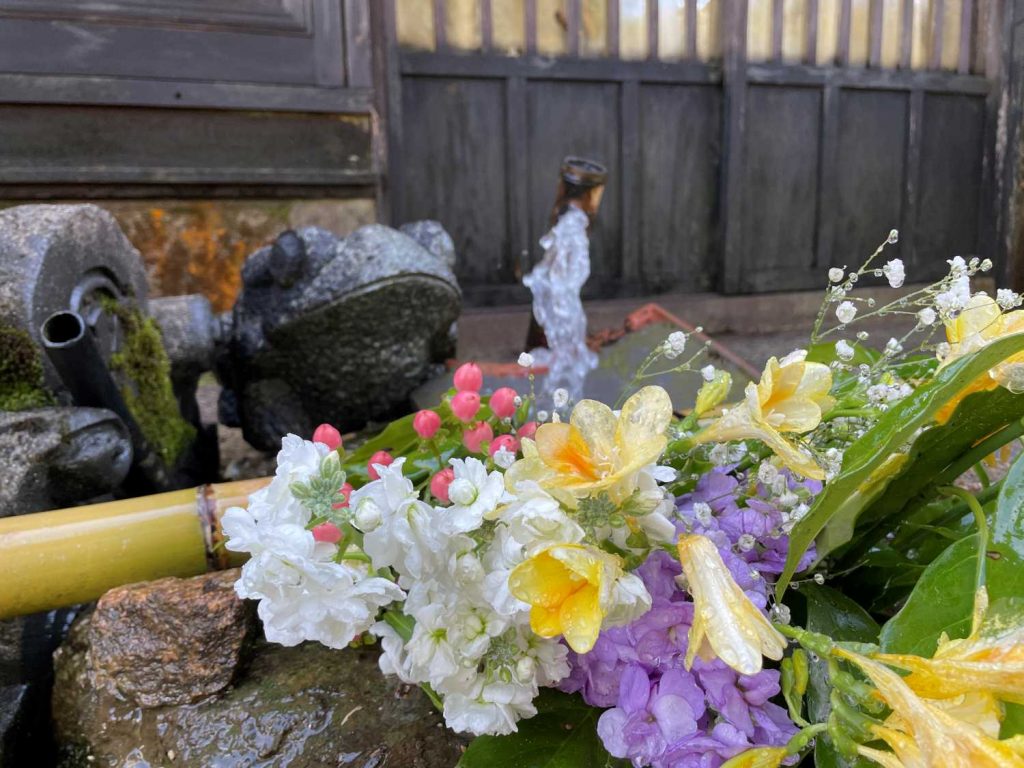 After passing through Tsumago post town, I continued onto the 7.5-kilometer section towards Magome post town. This is one of the most iconic and frequented areas of the Nakasendo, and for a good reason. There is a variety of scenery, including rice paddies, forests, wide-open vistas, waterfalls, rivers, and villages. Visit the Tateba Chaya teahouse for a free cup of green tea along the path and both Otaki and Metaki waterfalls for the views.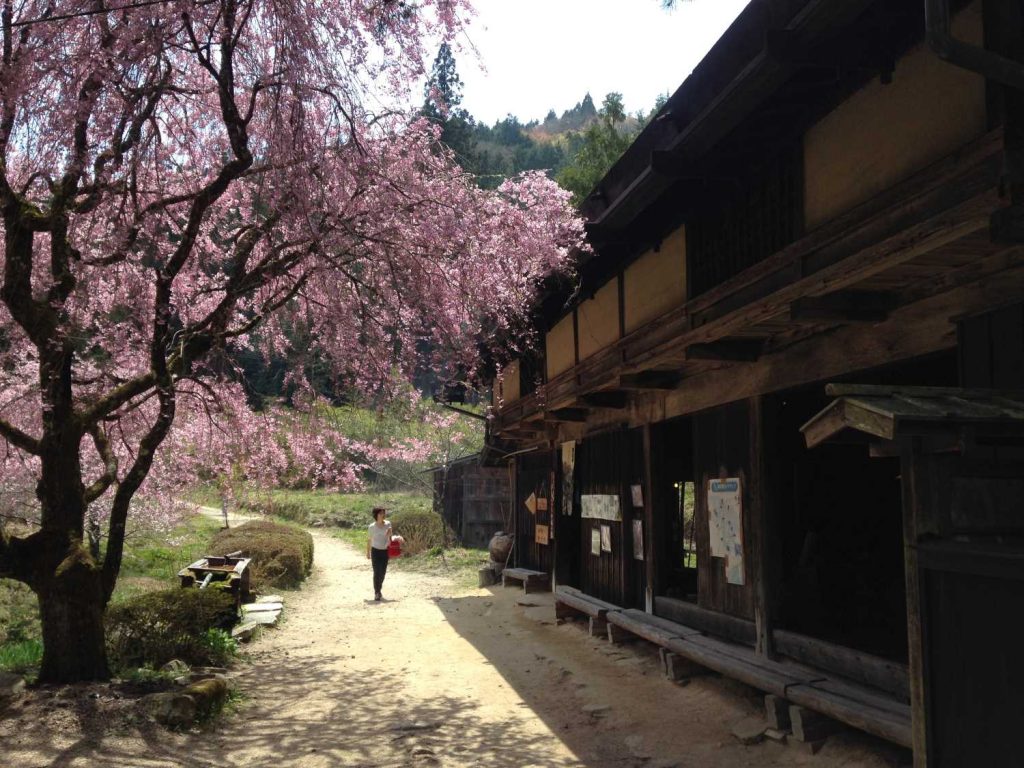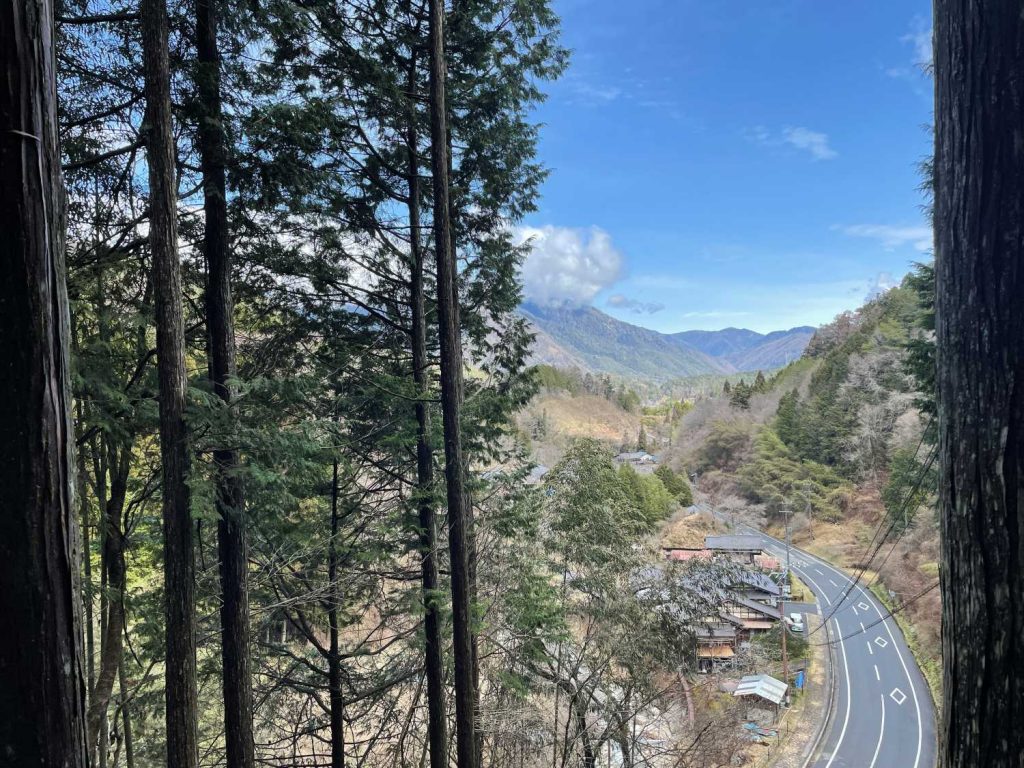 I eventually arrived in Magome, another beautiful post town preserved near its original state. There are many cafes and restaurant options if you find yourself in Magome around lunchtime. Visit Hillbilly Coffee for a particularly delicious cup of coffee.
In the spring, snow-capped Mount Ena, one of the 100 famous mountains of Japan, is visible from the viewing platform above the town.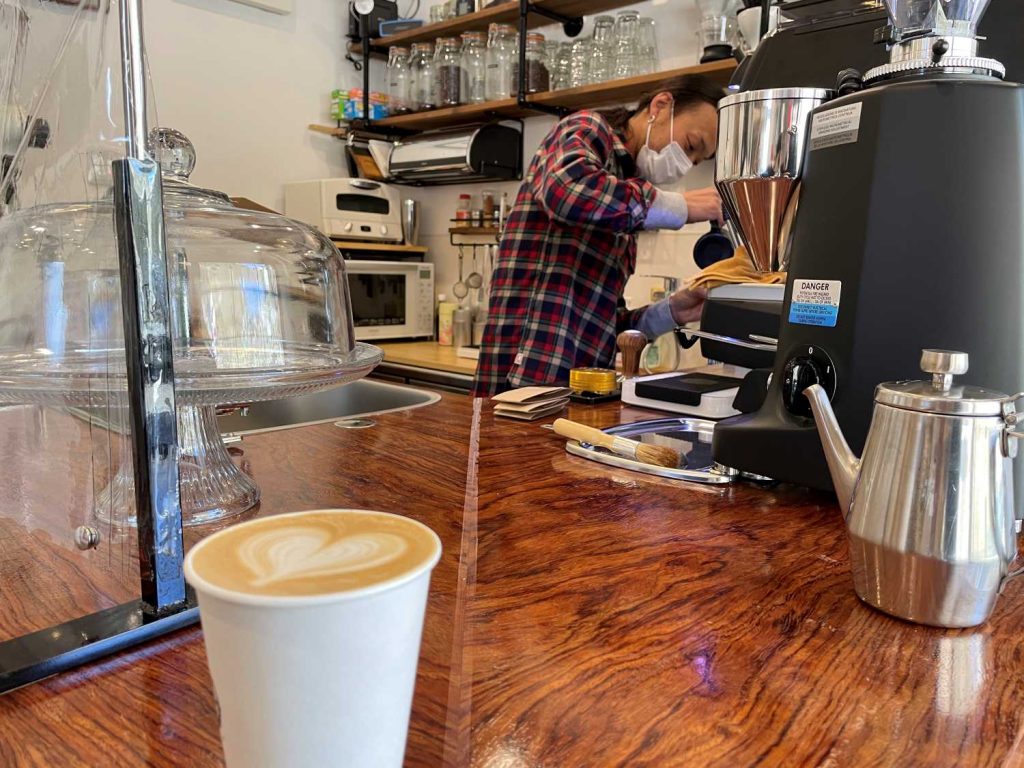 I walked the last eight kilometers of my trek from Magome post town to Nakatsugawa Station. Technically outside the Kiso Valley, the views opened up onto the Mino Plain.
The short but historic original stone section of Nakasendo below Magome also makes this section worth visiting. There were also some ume blossoms, and I stopped to snap a few photos.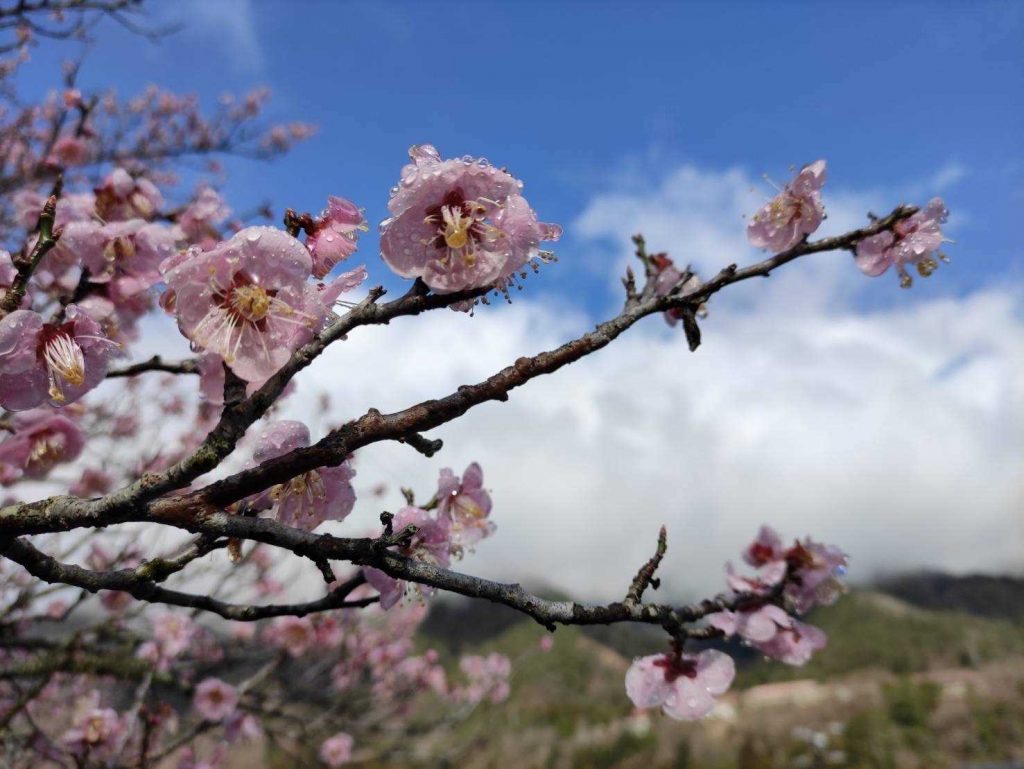 Finally, I arrived at Nakatsugawa Station, exhausted but content after my 20-kilometer walk. Although the cherry blossoms weren't precisely what I was after, I saw other flowers I didn't expect to see. I can't wait to come back during sakura season and different times of the year to see how the scenery changes.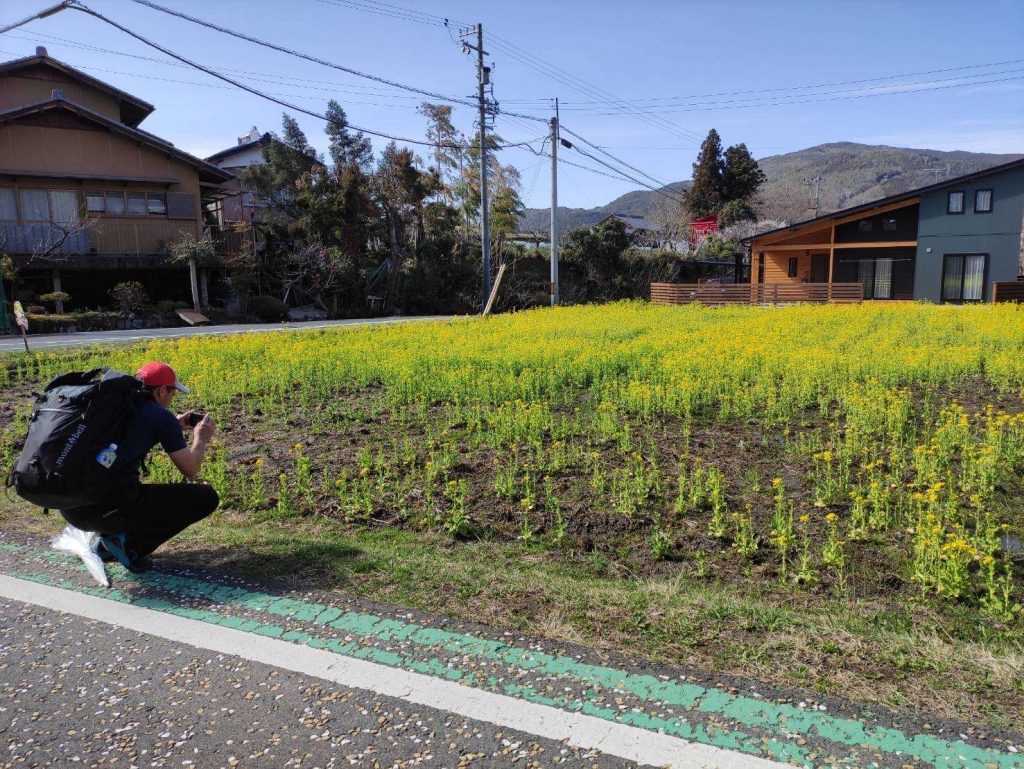 Discoveries with the Seasons
Observing the continuous natural change is my source of joy during regular walks in Japan. Every day offers a discovery in nature.
The weather and plants associated with the seasons change so much that Japan used to observe more than winter, spring, summer, and fall. Traditionally, there were expected to be 72 micro seasons to note in a year! Each season was connected to natural phenomena, such as the first peach blossoms, swallows returning, and peonies blooming.
If you ever find yourself in Japan during springtime, I encourage you to go for a walk in nature. It's hard not to find something beautiful.


You may also like:
Author: Daniel Moore
Active Travel Japan