How an American Became A Ramen Expert: The Start of Ramen Adventures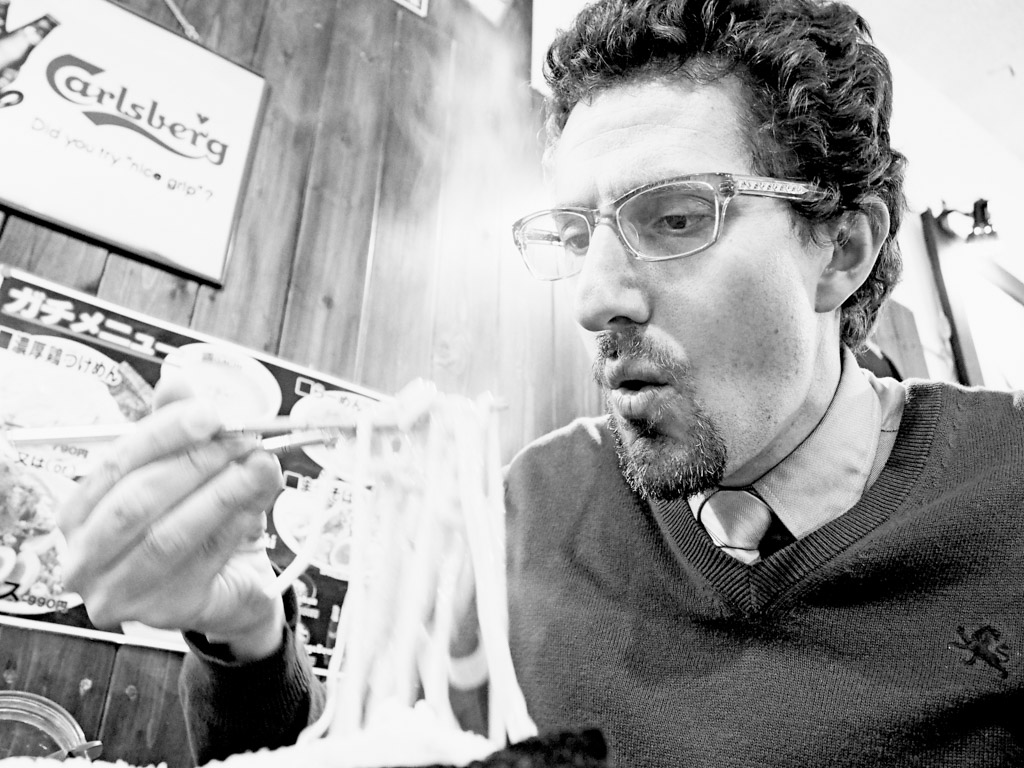 Ramen is rapidly becoming a global phenomenon. Even when JAPAN Forward visited the Ramen Show in October 2018, our reporters met chefs who were conducting research for a pop-up store in New Orleans.
Opinions differ, but with between 40,000 and 50,000 ramen shops around Japan, where does one even start? How do you avoid the popular chains and find the authentic experience?
To understand more about this phenomenon, at JAPAN Forward we sat down with Brian MacDuckston, a published author and expert in Ramen. Brian initially came to Japan to teach English. Ten years later, however, he travels around the country to eat ramen as his full time job. Look for his blog section on our website in the coming weeks.
How it All Began
With a blogger and vlogger extensive experience, it's always interesting to meet the real personality behind the public persona. Right from the outset, it's clear he is not your average American in Japan. Even his business card makes this point. It reads the eloquent description: "Brian MacDuckston, I eat a lot of ramen." Tall in stature, but soft spoken in countenance, the writer shared with us how in 2008 his journey began.
"I came to Japan to teach English, and I had loads of time. So I had the time to go to all these ramen places that had queues, and line up."
Strikingly, MacDuckston wasn't afraid of the language barrier. "Many just end up at Ichiran or Rokurinsha. These places are good, but there are also other places. There is information out there. You can look it up in Japanese, and as long as you have the characters written down, you can do something with it."
So where does a ramen expert find his information? To quote a couple of examples, he first names Tabelog, the popular Japanese website which is based on customer reviews. At the same time, he also goes to the Ramen Data Bank, a ramen database website started by Hiroshi Osaki, who calls himself the "the man who has eaten most ramen in Japan."
For someone who has come to Japan only recently, it's intriguing that a website like Tabelog can provide such accurate information. After all, in Europe and the U.S. we might use websites like TripAdvisor or Yelp, but they are not always foolproof.
Brian MacDuckston has an explanation for this as well: "In America, it's only recently that people have started identifying themselves as "foodies" - people liking good food. So now when people come to Japan, if they want the foodie experience, they will eat ramen. On the other hand, in Japan it's normal to be a foodie" he explains smiling.
Michelin Stars, Weird Ingredients and Changing Trends
So it began that MacDuckston started his blog, Ramen Adventures, more than 10 years ago. Since then he has also done a YouTube channel.
Truth be told, many of us have probably accidentally ended up watching him while searching for ramen on YouTube. Notably, his video on Tsuta Ramen, the first ramen restaurant in Japan to receive a Michelin star in 2016, has had more than 700,000 views.
When I mention this, it brings us nicely to a discussion of the effect Michelin stars are having on the industry. MacDuckston explains how Ramen making an appearance on the Michelin guide did a lot for the popularity of the noodle dish. Tsuta Ramen received press for introducing unusual ingredients such as black truffle to an elegant soy sauce-based broth (shoyu). However, interestingly he also points out that it feels a bit "disconnected" as a decision.
He explains, telling us: "For people who regularly go and eat ramen, it kind of came out of nowhere as a choice."
Apart from award winning shops, it's very tempting to ask what are the most unusual ingredients that this ramen expert has ever eaten. He names many, including pheasant meat, soft shell turtle, shark fin and even whale meat. Just by looking at his YouTube page, one can see pineapple ramen, which MacDuckston admits craving "about once a year."
Beyond the use of unusual ingredients, there are of course the big trends in the ramen world. "The trends change very quickly. For a while, there was a duck meat trend," MacDuckston says. He continues by saying "a noticeable trend is what I like to call "shoyu nerds.""
By this, he means ramen chefs who take shoyu ramen to a whole new level, by sourcing the soy sauce from small companies who only produce a set quantity, with a particular flavor, and using this in their ramen. With high quality soy sauce of course, comes pork, soup stock and so on.
The Future of Ramen Adventures
These days, MacDuckston occupies himself with various activities spreading the word abroad about ramen. He stresses that the information in English is very much lacking, so he is working in different directions to spread increase awareness.
Since the start of his Ramen Adventures journey he has become a published author. His first book (in Japanese, K&B Publishers, 2015) is an introduction to 50 ramen restaurants in both Japanese and English.
His second book, a cookbook called Ramen at Home (Rockridge Press, 2017) is a cookbook aimed at the American audience. MacDuckston explains the concept: "I was asked to write a book that someone living in, say Ohio, who had never eaten Japanese food would be able to follow."
He explains to us how he sacrificed some ingredients that perhaps ramen chefs would use to make the recipes doable in a place where nothing but the bare ingredients could be purchased. "I drew the line when they asked me whether it was ok to use spaghetti instead of noodles, though," he says laughing.
MacDuckston also conducts food tours and has recently started organizing exchanges between restaurants in Japan and abroad. "Last year, we took a ramen chef to Copenhagen and served Japanese ramen there for a week."
A success story all around, it appears that this seemingly calm and soft spoken blogger has managed to find his passion and make it his job.
The author told us: "Ramen is Japan's ultimate comfort food. People from all walks of life, young and old, rich and poor, slurp noodles across the country with a passion that is hard to find with other food. I've spent the last ten years hunting out not only the best bowls in Japan, but the stories behind why this is such a popular phenomenon. With over 40,000 shops across the country, I have my work cut out for me!"
Make sure to keep an eye out for Brian's blog, Ramen Adventures. Where will they take us?
Author: Arielle Busetto