INTERVIEW | Architect Kengo Kuma Weaves Nature Into New National Stadium's Design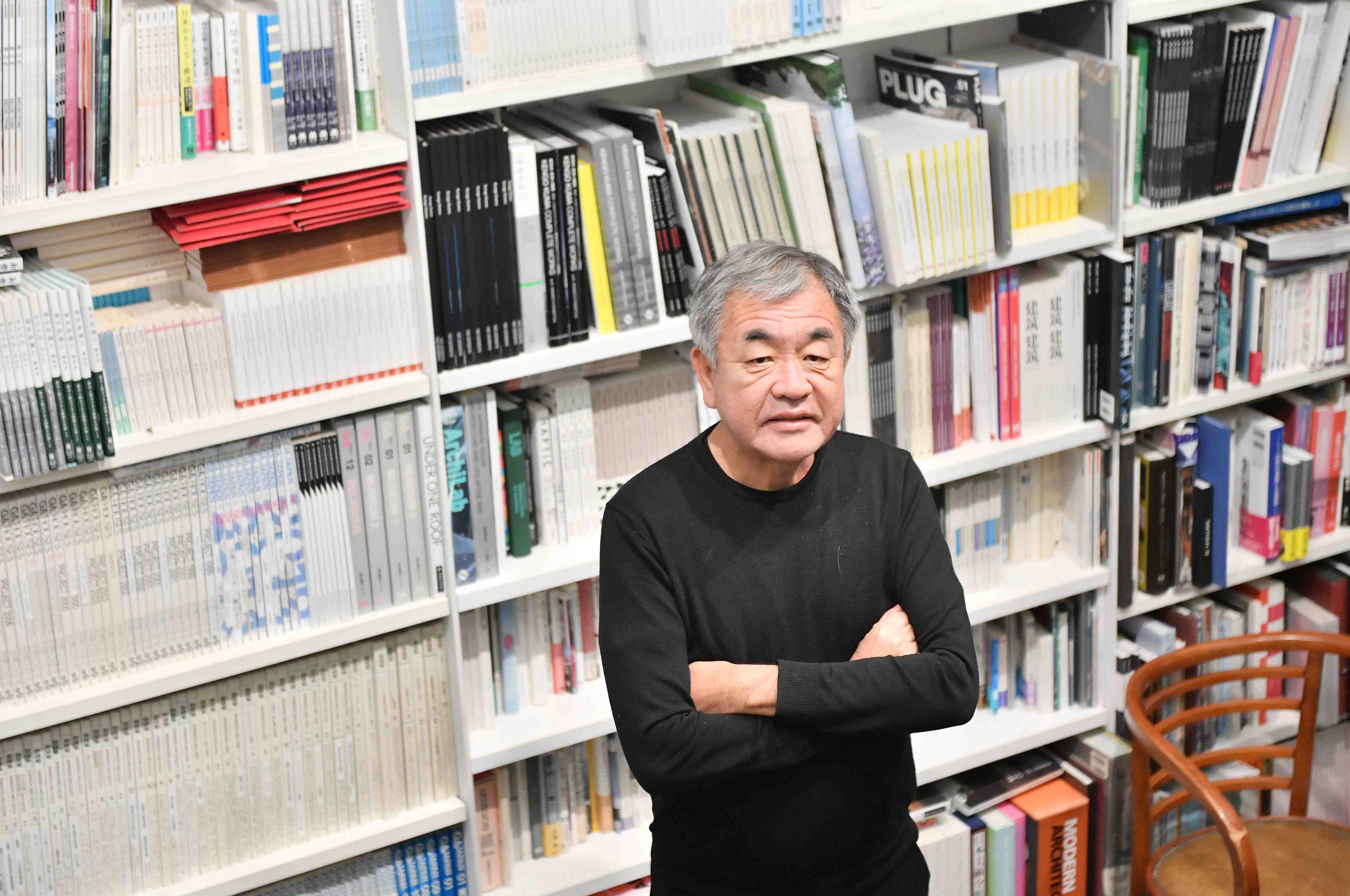 The December 15 opening ceremony for the New National Stadium in Tokyo inaugurated what is to be a major venue for the Tokyo 2020 Olympics and Paralympics. It also represents a personal triumph for architect Kengo Kuma, 65, who was brought in after design and budget problems caused the initial design to be scrapped.
Kuma's design incorporates wood and greenery to create a truly "Japanese" sports venue with a warm, natural atmosphere. In an exclusive interview with Sankei Shimbun staff writers Kensaku Amano and Masaaki Sasaki, Kuma reflects on the twists and turns of a "drama in which I have had no control."
How do you feel now that the New National Stadium project is finished?
I feel relieved that it is like I imagined it should be, with lots of green.
Would you go over again for our readers what makes the design special?
I was lucky enough to experience personally the 1964 Tokyo Olympics. That was also the era that saw the completion of the Tokaido Shinkansen and the Metropolitan Expressway (Shuto Kosoku Doro). Concrete buildings were going up one after another, and to a child's eyes they looked really impressive.
So how should the spirit of 2020 be expressed? I feel it should be the complete opposite of the 1964 image. With our towns having become full of concrete, we need to bring back wood. That is the message I would like to express to the world.
I would also like to let Japan's children feel that wood is returning to their communities.
Is society recognizing the value of wood?
Yes, there's tremendous demand for its use. That has been especially true over the past few years. What with the stress from IT and the tsunami of AI (artificial intelligence), people are increasingly feeling that the human factor is being marginalized. So, they are yearning for a return to communities in which wood holds a prominent place.
What was the motif for the New National Stadium design?
The inspiration was the five-story pagoda at the Horyuji temple near Nara. The eaves on the outer periphery of the stadium have multiple overlaps. If you look up at that five-story pagoda, the first thing your eye will notice is that, next to the eaves, there are decorative features. Because they are located beneath the eaves, they are not affected by rain and the sun. That's a reason why, even though the building was built in the 7th century, Horyuji is still standing — even after 1,400 years.
In coming up with my design, I learned a lot from Horyuji, and its design provided various hints.
What provisions did you make in your design to cope with the summer heat?
I realized that the opening ceremony for the Summer Olympics was to take place during the punishing July heat. Although there is roofing in the part of the building where the spectator seating is located, it will not be closed at that time. So instead of relying on air conditioning, I designed the building to rely primarily on natural wind.
That's because one distinctive feature of Japanese architecture is to allow natural breezes to flow out below the eaves. We consulted experts on wind and also conducted computer simulations. We also had to consider wind direction data for the nearby Gaien gardens.
We had to determine from which directions the wind comes during summertime, and then designed the eaves angled so that the breeze would be channeled to where the spectators will be seated. We wanted to take advantage of comfortable feeling air, without having to rely on air conditioning equipment or the use of petroleum. You might think of this as a model project.
Were there hurdles to using wood?
Well, you see, tremendous strides have been made in the area of wood technologies. For example, cutting-edge processing technologies or coating technologies. But they are recent advances. I think what we did would have been impossible a decade ago.
We used mostly steel frames for the main structural parts of the building. Wood was primarily used for the truss portions of the main roof, which is what most catches the eye when a person looks up. I don't believe wood has been used in this fashion in any other stadium worldwide.
In Europe or North America, they look at things from a bird's-eye perspective, and build everything with a huge frame, not really thinking about how things look to the human eye. We Japanese choose our materials based on how we see things from ground level.
While walking about, we discover all kinds of things by looking up. That is one of the distinguishing features of Japanese architecture.
The original design for the New National Stadium was done by the celebrated architect, the late Dame Zaha Hadid. However, that design had to be thrown out because of ballooning costs and other issues.
As a matter of fact, I've lost out to Ms. Hadid a number of times in architectural competitions. Looking at her proposals, they are impressive when viewed as a model, and so on. But I think mine would be better in terms of the actual experience. That way of looking at a professional rival is only natural.
In one sense, Ms. Hadid's architectural achievements are symbolic of an era in which form won out. My architecture is for an age in which the experience is foremost. I was aiming to create architecture appropriate for the period after the age in which form won out. Ms. Hadid was determined to see her own vision truthfully rendered in form. I am grateful to her being there, since it ended up confirming my own position.
What was your motivation for getting into design?
When I was 10 years old, it really seemed that everyday life in Japan was being completely transformed. The Olympics served as a stark dividing line between what had come before and what was to come after. The huge role that the Olympics played in society could be acutely felt.
I felt that if you took on a challenge, you would end up being rewarded. That feeling was born thanks to the [1964] Olympics. Although time in everyday life still seemed to flow differently, I felt that challenging new things would bring happiness to everyone.
What was your starting point as an architect?
It was during the 1964 Tokyo Summer Olympics. I decided to become an architect after being very moved upon seeing the Yoyogi National Gymnasium, designed by Kenzo Tange. It gave me tremendous confidence to think that a Japanese could design a building that surpassed those in every other country.
In that magical time, time flowed in a special way, and I experienced that time as something special. So, I decided to accept the challenge. In one sense, I chose to use wood because it presented a challenge to me. I felt that [the 2020] Olympics offered the ideal opportunity, and that if I offered this vision of the future, it would be properly evaluated.
What message do you think the New National Stadium has for the world?
Even without the Olympics, Japan is receiving a lot of attention. In this age where environmental protection looms so large, the special Japanese sensibility to nature has much to offer. If the National Stadium has a message for the world, it is that even more attention is going to be paid to Japan than has been the case in the past.
This represents a tremendous chance for Japan. Even people who normally pay no attention to architecture are sure to have their interest piqued when they see how in Japan wood was used in constructing such a building. I want people around the world to realize that Japan has a nature-friendly culture. It really is a great opportunity.
How will the National Stadium be used after the Olympics?
What happens after the cheering stops is very important. The building will continue to stand for decades after the Olympics have wound up.
But the more time passes, the greater will become the allure of the wood. It will become ever more inviting in feeling.
Since the location of the stadium is within the grounds of the chinju no mori sacred grove of the Meiji Shrine, having a building where people can enjoy themselves is a real plus for Tokyo as a whole.
What changes will the National Stadium cause?
I truly expect that it will cause changes in the city. By serving as a symbol, Mr. Tange's building brought about changes in Tokyo. His building has the feeling of a beautiful sculpture.
In contrast, I would propose my National Stadium instead as a kind of "corridor."
I would like to see it transform the surrounding area into a place to enjoy in countless ways. Although it is difficult to extend or structurally alter a concrete structure, it is easy to rework sections in which wood is used. Therefore, I hope that fuller use will be made of it.
A building can be reworked in order for it to be made better use of. So, actually, that is something that should be welcomed. If a use is found for a building that the designer hadn't even imagined, he can't help but be happy about it.
How would you say your life has been entangled with your design for the stadium?
Many elements of chance have been at work. There was the time way back in 1964 when I became determined to become an architect. There was the selection of Tokyo for the second time as host for the Olympics and Paralympics.
Then there is the fact that the National Stadium site is quite near my home. Since fate was at work here, I feel that I have been part of a drama over which I have had no control."
(Click here to read the interview in its original Japanese.)
Authors: Kensaku Amano and Masaaki Sasaki, staff writers, The Sankei Shimbun