Japan-Russia Rapprochement Is Not A Kids' Game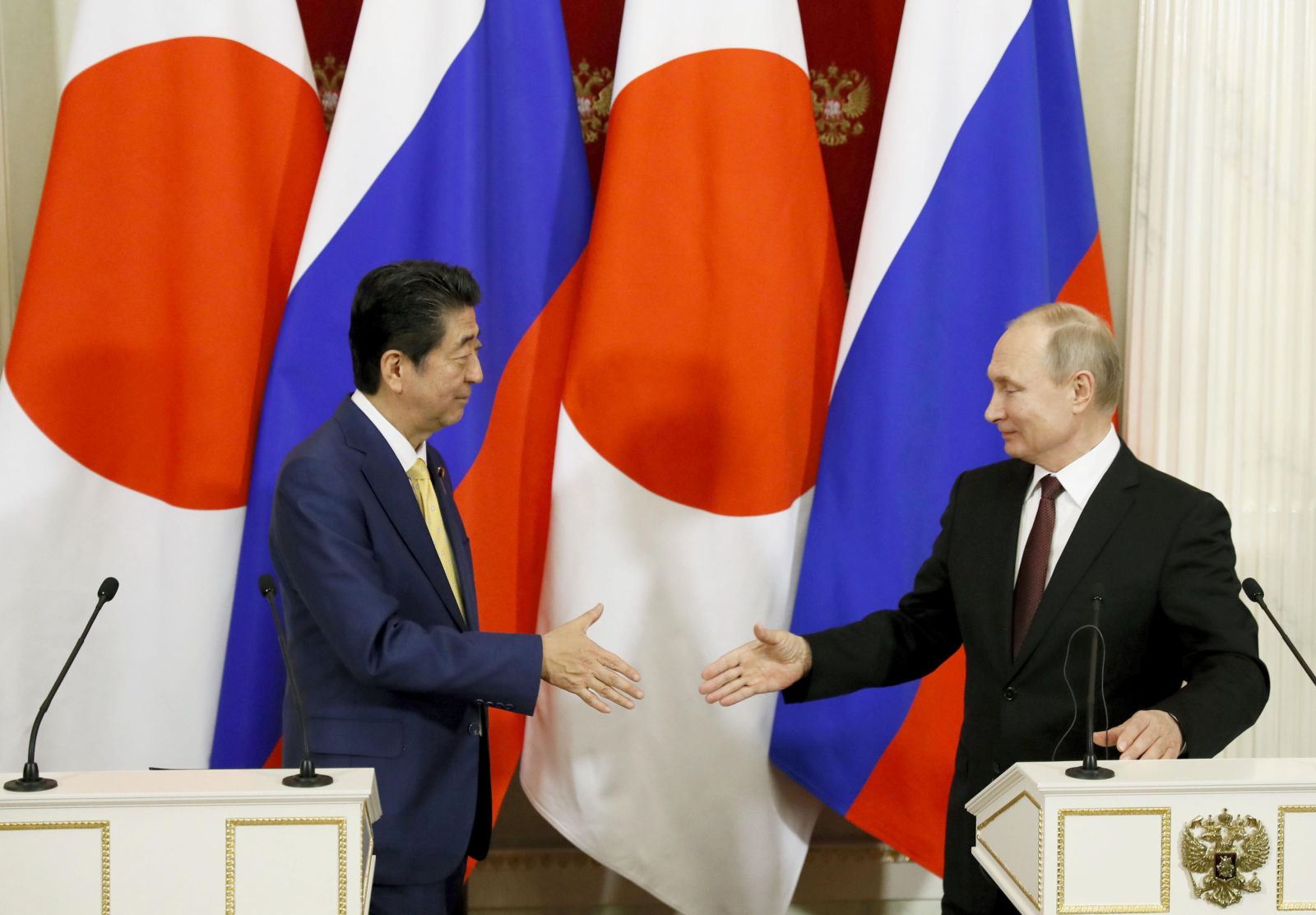 The Japan-Russia peace treaty negotiations promoted by Prime Minister Shinzo Abe are reportedly based on an unprecedented strategic vision.
In a recent speech at a think tank in Washington, a politician who serves as special foreign policy adviser to Abe as president of the ruling Liberal Democratic Party (LDP) said a Japan-Russia peace treaty would be required for Japan to counter China, according to a report by The Sankei Shimbun newspaper on January 9.
Whether this is true or not, I deeply grieve over the fact that the ruling LDP includes a politician who easily speaks of a national strategy.
Can Japan Prevent China-Russia Collusion
?
What matters here is how to think of a national strategy. Japanese have been too naive to discuss it.
The July 1971 Nixon shock first prompted Japanese politicians, business leaders, and bureaucrats to consider the significance of strategies. The United States then decided on President Richard Nixon's visit to China without consulting with Japan — and notified Japan of the decision just before its announcement. Shocked by the notification, then Japanese Prime Minister Eisaku Sato was annoyed and at a loss for words.
At the time when everyone was reluctant to speak of a diplomatic strategy, I advocated the creation of an institute of strategic studies in an article in a monthly magazine. At the time, a University of Tokyo professor criticized me harshly in a newspaper article comment for having done so. It was taboo to consider the idea that President Nixon might have attempted to normalize relations with China to terminate the Vietnam War and configure a confrontation between a newly friendly U.S.-China block against the Soviet Union.
The Prime Minister's special adviser was right in advocating that Japan should refrain from alienating China and Russia simultaneously. However, the question is, how is this related to the improvement of Japan-Russia relations?
It may be too simplistic to expect that if Japan tolerates Russia's return of only two of the four northern islands Japan claims, Russia may thank and cooperate with Japan in countering China.
Folly of Speaking of A Strategy in Public
Russian Foreign Minister Sergey Lavrov reportedly blasted the Japanese adviser's remark as egregious. This may be a natural response. We should not underestimate other countries. Lavrov may take full advantage of the remark in a diplomatic maneuver.
How will China view the remark? Chinese may be laughing, beyond getting angry, at such a responsible person speaking of a strategy in the manner of playing a game of chess.
To go ahead with a strategy, any country must have enough power to resist the risks. A conducive environment also has to be created.
The Nixon diplomacy worked well because then-Chinese Chairman Mao Zedong and Premier Zhou Enlai were plagued with Soviet threats and attempting to team up with the U.S. They were practicing a "policy of making friends of distant countries while trying to conquer those nearby." Nixon's interest was identical to Mao's.
Sandwiched between big powers, Japan must work out careful strategies to survive. If a country without even a decent Constitution confuses reality with games, it may destroy itself.
(A version of this article was first published by the Japan Institute for National Fundamentals, Speaking Out #569, on January 29, 2019.)
Author: Tadae Takubo, PhD