[JAPAN SPORTS NOTEBOOK] After Missing Season-Opening Race, Takuma Sato Gears up for GMR Grand Prix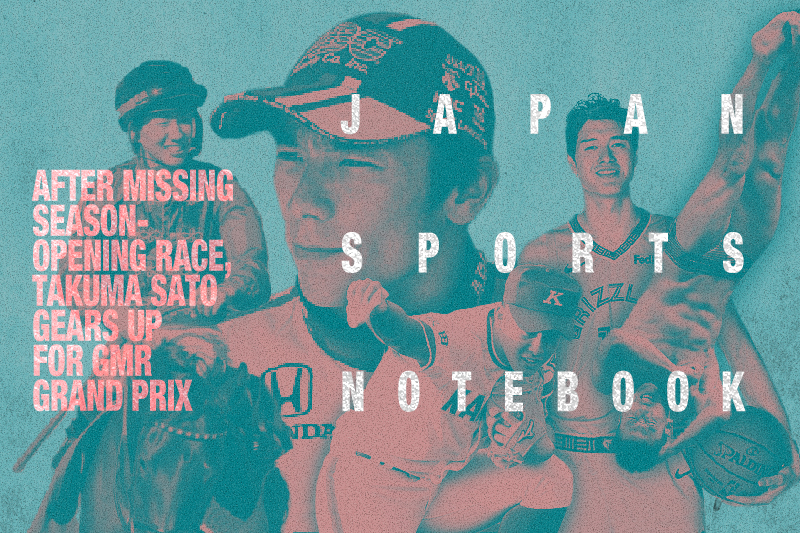 It's back to the drawing board for veteran driver Takuma Sato after a disappointing start to his 2020 IndyCar season.
Sato's No. 30 Honda car crashed during warm-ups for the Genesys 300 at Texas Motor Speedway on June 6, and the Rahal Letterman Lanigan Racing team crew didn't have enough time to repair the car for the race on the same day.
The crash occurred during qualifying, which ended at around 6:15 p.m. The race started at 8 p.m.
The Associated Press described the crash this way: "Sato got high into Turn 1 on the high-banked Texas Motor Speedway on the start of his qualifying run, and slammed hard into the wall about 2 1/2 hours before the race started."
Speaking to American TV network NBC, the 43-year-old Sato said: "Well, I wanted to see the replay. First of all, yeah, it was a big moment. It was only the warm-up lap and I just lost the back end. Immediately, I turned it. Usually, it didn't happen that way, so it caught me by a big surprise. I feel sorry for the boys, obviously who prepared everything. Hopefully we can fix it in time for the race. It's quite tight."
For the Tokyo native and former Formula One driver (2002-08), there's now a long wait until the second IndyCar race of the season, which was delayed due to COVID-19 pandemic.
Up next: the GMR Grand Prix on July 4 at the Indianapolis Motor Speedway, where he became the first Asian to win the Indy 500 in 2017.
Due to the COVID-19 pandemic, the 2020 season's opening date was pushed back to June 6. It was originally scheduled to start March 15.
In a news conference four days before the Genesys 300, Sato commented on the overall challenges of his job, telling reporters:
Well, nobody wants to see bad things happening, so for sure everybody is going to be cautious, I think, more than usual I would say. Naturally we will, because I think everybody gets nervous, too. There's no one that has got confidence in the entire thing, so they have to go feel it and then move to the next.
I think bringing the car home is the number one thing. Safety is the number one thing, particularly for -- it's great to have such a good start to the season. Let's have a fun, great show, but ultimately, as we repeatedly say, this is such a competitive series. At the end of the day, for the last 10 laps, going for the win, I'm sure is going to be -- there's a huge battle for sure, but other than that, I just hope everybody really respects each other. That's our only hope.
He also addressed the issue of returning to a sense of normalcy with the return of sporting events during the COVID-19 outbreak.
"Everybody is stressed, everybody has struggled, no matter who you are, no matter where you are, with this situation," Sato said.
It's just hurting our entire life. [People need] to be able to see something exciting, a sport, you just name it. I think it's good that one of those is us, and that INDYCAR is one of the first international sports to open the world, making people get back an energy and an excitement.
That is why, just back to a couple questions ago, we wanted to make a really good show. Obviously it's never fixed, so we will be competing seriously, but all we want is just a happy moment, and that's making it worldwide at least something energetic, something positive about it, shall we say.
Horse Racing
Kimura Collects Victory in Opening Weekend
Hokkaido native Kazushi Kimura earned his first victory of the season at Woodbine Racetrack in Toronto, Canada, on June 7.
On the fifth race of the 2020 campaign's second day, Kimura, 20, guided Chuck Willis to a 5 3/4-length win over Crafty Conquest. Compatriot Daisuke Fukumoto guided Afleet Connection to a win in the third race.
Racing Post journalist Tom Collins tweeted this congratulatory message to Kimura a few days later: "Great ride @kazushi0096, glad to see you back in the winner's circle"
Kimura, who completed his jockey apprenticeship last October, is recognized as one of the top up-and-coming riders in North America. He received the 2019 Eclipse Award, presented to North America's top apprentice.
This week marked the first full slate of racing for Woodbine, with competition from Thursday through Sunday. (Related Article: Horse Racing | Youthful Jockey Kazushi Kimura has Lofty Goals as Seaso(n Starts in Toronto)
Baseball
32 High Schools to Play at Koshien Stadium in August
Although this year's National High School Baseball Championship was canceled in May, a plan was announced on Wednesday to give 32 teams a chance to each play one game at Koshien Stadium in August.
It's a consolation prize of sorts for the teams to compete in a year without the 102nd edition of the Summer Koshien.
Those 32 high schools were originally selected for the Spring Koshien, an invitational tournament, but it was also called off due to the coronavirus outbreak.
The Japan High School Baseball Federation will hold a lottery to determine the pairings for games (on August 10, 11, 12, 15, 16, 17, and later if games are postponed because of rain) at the ballpark in Nishinomiya, Hyogo Prefecture. Games will be held without spectators in the stands.
High School Seniors to Receive Koshien Dirt as Memento
High school senior ballplayers will be given dirt from Koshien Stadium as a parting gift, after the Spring Koshien and Summer Koshien were both canceled this year.
The NPB's Hanshin Tigers, who play their home games at Koshien Stadium, announced that they will make key chains holding dirt from the iconic ballpark.
As a summer tradition, high school players take dirt from the Kansai-area park home with them, carrying it in little bags.
"I think all of the (high school) players are very disappointed that they weren't even given the chance. We decided to do this because we wanted to give them some encouragement," Tigers manager Akihiro Yano said, according to Kyodo News.
Basketball
Yuta Watanabe, Grizzlies Shooting for Playoff Berth
Versatile second-year pro Yuta Watanabe has split his time competing for the Memphis Grizzlies and their NBA G League club, the Memphis Hustle, for two seasons. Primarily, the Kagawa Prefecture native has played for the Hustle.
With the NBA G League season canceled in the spring, the 206-cm former George Washington University player was left to wait for the NBA to determine what it would do next. Now he knows.
The plan announced last week will send 22 of 30 teams to Walt Disney World to wrap up the season and hold all four rounds of the NBA playoffs.
Watanabe will prepare for the season's relaunch on July 31. He had a solid season in the NBA G League, averaging 17.7 points, 5.7 rebounds, 2.2 assists, 1.0 blocks and 0.9 steals in 22 games.
The Grizzlies (32-33) sit in eighth place, the final playoff position, in the Western Conference standings.
Other Disney-bound teams hoping to overtake the Grizzlies and make the playoffs include the Portland Trail Blazers (29-37), New Orleans Pelicans (28-36), Sacramento Kings (28-36), San Antonio Spurs (27-36) and Phoenix Suns (26-39).
See Watanabe's overall career statistics for the NBA here, and for the NBA G League here.
Diving
Four Divers Keep Spots for Tokyo Olympics
Ken Terauchi, Sho Sakai, Sayaka Mikami and Matsuri Arai, all of whom qualified for the Tokyo Games during the FINA World Aquatics Championships in Gwangju, South Korea last year, have retained their spots as Japan's diving representatives for the Olympics next year.
The Japan Swimming Federation revealed this decision on Tuesday.
Terauchi and Sakai compete in synchronized diving. The former is set to compete in his sixth Olympiad, starting with the 1996 Atlanta Games.
Mikami is a 3-meter springboard diver, while Arai performs her skills off a 10-meter platform.
Track and Field
Ichinoseki Half Marathon Canceled
Race organizers have canceled September's Ichinoseki International Half Marathon because of the COVID-19 pandemic, it was announced on Monday.
The Iwate Prefecture race has been held on an annual basis since 1982.
The race was set for September 27.
Editor's note: Interested in submitting a news item for possible inclusion in the Japan Sports Notebook? Send an email with relevant information to odevened@gmail.com, or JAPAN Forward's comment's page or Facebook page and look for future editions of Japan Sports Notebook on our website.
Author: Ed Odeven
Follow Ed on JAPAN Forward's [Japan Sports Notebook] here on Sundays, in [Odds and Evens] here during the week, and Twitter @itsjapanforward.