[JAPAN SPORTS NOTEBOOK] Tennis Calendar Hit Hard by COVID-19 Pandemic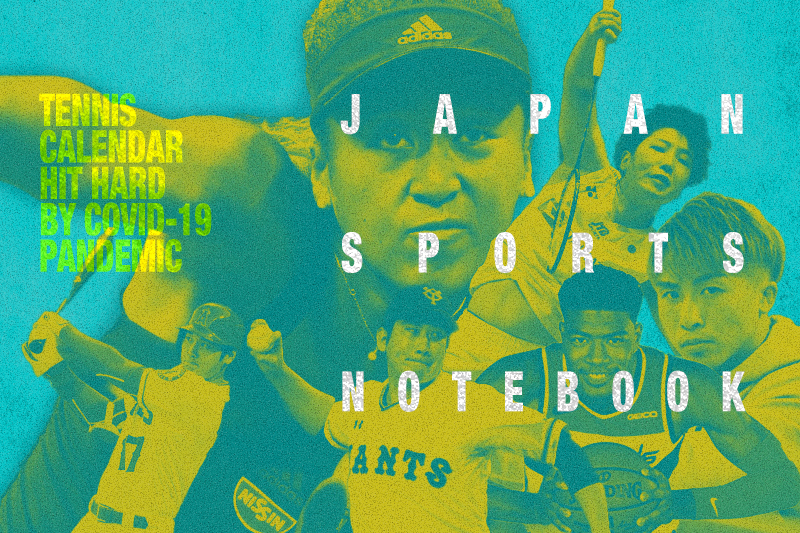 The Rakuten Japan Open, a men's ATP Tour event, was canceled in June, and the Hana-Cupid Japan Women's Open was called off as well.
The fear of spreading the coronavirus has now caused Toray Pan Pacific Open organizers to pull the plug on this November's tournament at Ariake Tennis Park in Tokyo.
The announcement, which was made on Tuesday, July 28, means that all three of Japan's international tennis events this year have been canceled.
Popular star Naomi Osaka claimed the 2019 Toray Pan Pacific Open title by defeating Russia's Anastasia in Osaka on September 22, 2019. She was the first Japanese winner of the event since Kimiko Date in 1995.
"The Executive Committee looked at every possible way to make this tournament happen, including the idea of holding matches without audiences or restricting admissions in order to prioritize the health and safety of everyone involved," read a statement from tourney organizers.
"However, after a series of deliberations, the Executive Committee made a heartrending decision to rule out the postponement, and concluded that the cancellation of the tournament was the best decision in the interest of public health, especially in light of the concern about the second wave of infection spreading in Japan."
The Pan Pacific Open made its debut in 1984.
Osaka to Play in U.S. Open
While Osaka will not return to Japan for the Pan Pacific Open, she is set to play in the upcoming U.S. Open in New York, Reuters reported earlier this week, citing an email from Osaka's management team.
Osaka won the title in 2018, her first Grand Slam triumph.
The U.S. Open begins on August 31.
RELATED STORY: [Japan Sports Notebook] COVID-19 Hiatus: For Naomi Osaka, An Opportunity For Personal Growth
Badminton

Japan Open Called Off
Badminton fans and players were looking forward to the possibility of this year's Japan Open being held at Musashino Forest Sport Plaza in Tokyo.
But the reality of the COVID-19 pandemic prompted organizers to cancel the event, the Nippon Badminton Association announced on Wednesday, July 29.
The annual tournament was scheduled to be held from September 22-27.
The NBA cited the safety of participants and tournament officials as a factor in its decision to cancel the event. In addition, foreign passport holders face temporary entry restrictions to Japan due to the coronavirus.
In July 2019, men's world No. 1, Kento Momota, captured his second consecutive Japan Open title.
On the women's side, Akane Yamaguchi took home the title.
The Badminton World Federation season has been suspended since mid-March due to the global pandemic.
Judo
Spotlight on 'Judo Missionary' Tsuneo Sengoku
A former policeman, Tsuneo Sengoku relocated to Bali in 2007.
He's kept busy teaching the sport he loves, though it's nothing new for the man described as a "judo missionary" in a recent Agence France-Presse article.
While traveling to more than 20 countries to teach the martial art, the 75-year-old Japanese man has instructed more than 100,000 people in Europe, Africa, North America, and Asia since the late 1970s, according to the article.
"I'm just an ordinary old man without judo," Sengoku told AFP.
Since his move to Bali, he's given free lessons, with students making up the bulk of his instructional activities. He was coaching four days a week, but the training locale was shuttered due to the global pandemic.
Sengoku is determined to give lessons again.
"I won't quit teaching. On the contrary, because of the coronavirus, my motivation to train children has grown," he told AFP. "I will never let the coronavirus break my dream that I spent my life on.
"I want to share the wonderful world of judo with more and more people."
Baseball
Giants' Sugano Off to a Great Start
As expected, Yomiuri Giants ace Tomoyuki Sugano has set the tone for the Nippon Professional Baseball club's pitching staff at the outset of the delayed 2020 season.
So far, so good.
Sugano improved to 5-0 on July 28, leading the title-chasing Giants past Yokohama BayStars 4-2 at Tokyo Dome. It was also Yomiuri's first game with spectators inside the dome since the season started. Other teams had previously begun allowing up to 5,000 fans into their home venues, per NPB-imposed restrictions this season due to COVID-19.
Sugano scattered seven hits over seven innings without allowing a run, walked two and struck out seven. In 42 2/3 innings through his latest start, he has a sparkling 1.69 ERA, while yielding 28 hits and nine base on balls and striking out 46 batters.
In the Pacific League, Hideaki Wakui of the Tohoku Rakuten Golden Eagles has also flourished on the mound, going 5-0 with a 2.89 ERA to open the season. In 37 1/3 innings, Wakui has given up 27 hits and 10 walks and fanned 41 batters.
Slugfest at Jingu
The Hanshin Tigers obliterated the Tokyo Yakult Swallows 20-5 on Tuesday, July 28, pounding out 18 hits at Jingu Stadium.
The Swallows trailed 19-3 after six innings.
In the second inning of the clash between Central League rivals, Hanshin's Justin Bour slugged a grand slam. Bour and teammate Jerry Sands, who went 4-for-5, each had five RBIs.
Ohtani Showcases Power-hitting Ability
Los Angeles Angels designated hitter Shohei Ohtani slugged a three-run home run in the ninth inning off Dan Altavilla on Thursday, July 30 against the Seattle Mariners at Angel Stadium. The Angels lost 8-5.
The third-year MLB player also had his first stolen base of the season.
It was the second straight day in which Ohtani belted a homer. His July 29 round-tripper was also of the three-run variety. In the fourth inning, batting in the cleanup spot, Ohtani connected on a 0-2 curveball from Seattle's Justin Dunn, sending the ball over the right-field fence. But the Angels fell 10-7 to the Mariners.
"I was aware I might see that kind of pitch. The main thing is I wasn't fixated on one thing," Ohtani told reporters later. "I'm not one of those who think it's a good idea to swing at pitches out of the zone. Ideally, I want to pass on those and put good swings on fat pitches."
Angels manager Joe Maddon said of Ohtani's first homer of the season, "The home run he hit was kind of a funky swing from us. He went down on a low and inside pitch and kind of flipped it out. And it was good to see him be able to maintain his balance and use his hands."
On Sunday, July 26, Ohtani had a rough start in his first MLB pitching appearance since September 2018. He didn't record an out in the first inning against the Oakland Athletics, but gave up three hits, five runs and three walks.
Mikolas Sidelined
Veteran pitcher Miles Mikolas, who starred for the Yomiuri Giants from 2015-17, is sidelined due to a strained right forearm. Mikolas' current club, MLB's St. Louis Cardinals, made the announcement on July 28.
Mikolas had been penciled in to make his first start of the season a day later.
He went 18-4 in 2019. Last season, Mikolas had an NL-high 14 losses. He signed a four-year contract extension with St. Louis in February 2019.
In three seasons with the Giants, Mikolas excelled, posting a 31-13 record with a 2.18 ERA in 62 starts.
Boxing
Inoue Seeks Big Opportunities
In 2019, Naoya Inoue cemented his reputation as one of the biggest names in boxing.
Fighting in the World Boxing Super Series, Inoue earned the Muhammad Ali Trophy. Previously, he had recorded victories over Juan Carlos Pavano and Emmanuel Rodriguez in October 2018 and May 2019, then defeated Nonito Donaire in November 2019 to claim the trophy.
Japan's boxing "Monster," Inoue overpowered Pavano and Rodriguez in rapid fashion leading up to the WBSS final showdown. The two fights took a combined 5 minutes and 29 seconds.
Inoue, 27, went the distance against Donaire in the WBSS final in November 2019 at Saitama Super Arena, winning by unanimous decision.
Reflecting on 2019's appropriately named "Fight of the Year" in Saitama, Inoue spoke to boxingscene.com for a July 29 article.
"The most impressive experience at the WBSS is all the stage production, such as lighting and so on. And I still remember the weight of the (Ali) trophy I was given after the final," he told the website.
After conquering Donaire and winning the WBSS title, Inoue (19-0), who possesses WBA and IBF bantamweight title belts, is weighing his options.
"I guess I got a number of choices right now … The unification bout with WBO and going up a weight division, etc.," he told Boxing Scene. "I will discuss it with my team and make my decision."
RELATED COVERAGE: INTERVIEW | Naoya Inoue Pursues the 'American Dream' to Make Boxing Popular in Japan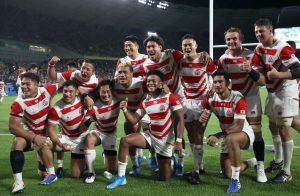 Rugby
Brave Blossoms Have Opportunity to Compete in Europe
Due to a modified international calendar, the Japan national rugby team is expected to face Six Nations sides in Europe in the fall.
According to published reports, World Rugby on July 30 gave the OK for the Brave Blossoms to take part in matches, starting on November 14.
The revamped schedule is in play because of called-off matches in March as the COVID-19 outbreak forced organizers to halt play.
In addition to Italy, Scotland, France, England, Wales, and Ireland, Japan and Fiji are set to participate in an eight-nation event.
Japan will be grouped with Italy, Scotland and France in pool play, The Guardian reported. More details here.
Basketball
Wizards Drop First Official Game of NBA Restart
Rookie forward Rui Hachimura had a team-high 21 points, eight rebounds, one assist and one steal in the Washington Wizards' 125-112 loss to the Phoenix Suns on Friday, July 30 at Walt Disney World.
The NBA restart tipped off on July 29 with a pair of games at the spacious complex in Florida after weeks of preparation, with 22 teams living and practicing inside the bubble. The season had been suspended since March 11.
"I've got to be more aggressive," Hachimura said after the game. "This is the time, actually, that I can get better."
Editor's note: Interested in submitting a news item for possible inclusion in the Japan Sports Notebook? Send an email with relevant information to e.odeven@japan-forward.com, or JAPAN Forward's comment's page or Facebook page and look for future editions of Japan Sports Notebook on our website.
Author: Ed Odeven
Follow Ed on JAPAN Forward's [Japan Sports Notebook] here on Sundays, in [Odds and Evens] here during the week, and Twitter @itsjapanforward.