[JAPAN SPORTS NOTEBOOK] Top League to Open 2021 Season at New National Stadium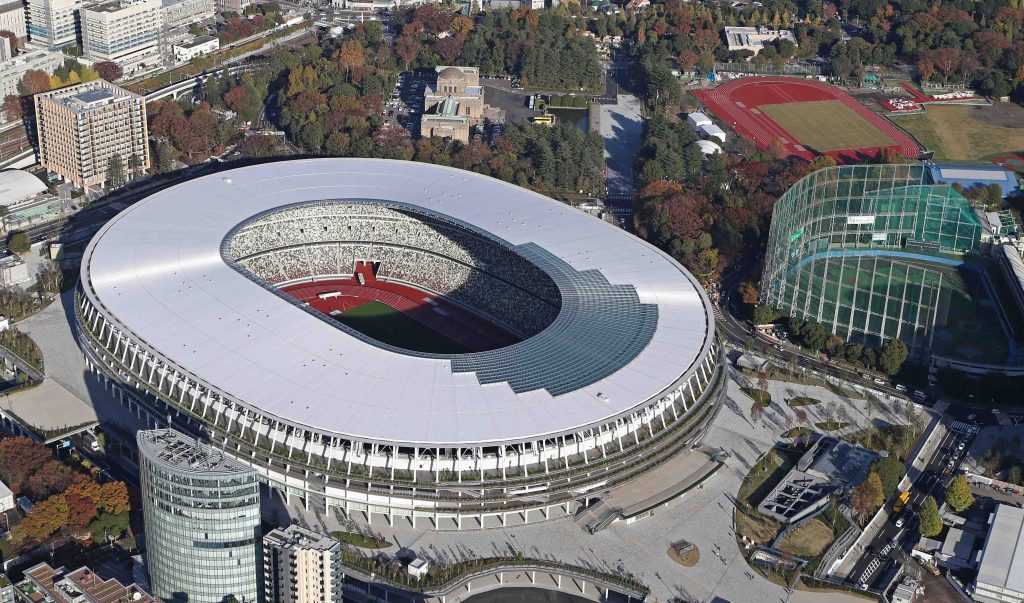 The 2021 Japan Rugby Top League season will open at the new National Stadium on January 16, giving Tokyo a marquee event early in the year.
The torn-down National Stadium, which was replaced by the new state-of-the-art-facility built for the Tokyo Olympics, hosted its last Top League match during the 2006-07 campaign.
The Top League unveiled its updated season schedule plans on Monday, November 9.
The big announcement was the move of the season opener between the Toshiba Brave Lupus and NTT Communications Shining Arcs from Prince Chichibu Memorial Rugby Ground to the new National Stadium, which is slated to host track and field events and the opening and closing ceremonies at the rescheduled 2020 Olympics next July.
Former Scotland captain Greig Laidlaw is a newcomer for NTT Communications, signing a contract in July.
Brave Blossoms captain Michael Leitch competes for Toshiba.
Baseball
Giants' Sakamoto Reaches 2,000-Hit Milestone
Before the Yomiuri Giants begin their pursuit of a Japan Series crown later this month, shortstop Hayato Sakamoto achieved individual glory by getting the 2,000-hit of his career on November 8 against the Tokyo Yakult Swallows.
Sakamoto, whose pro career with the Giants began in 2008, is the 53rd player with 2,000 hits in NPB history.
The 31-year-old smacked a first-inning double for the milestone hit in the Giants' 5-3 loss.
Hayato Sakamoto gets hit No. 2,000 against the Tokyo Yakult Swallows in the first inning on November 8.
"I wasn't in a rush but I did want to get a hit soon, so it's a good thing I got one in my first at-bat," Sakamoto was quoted as saying by Kyodo News.
Eagles Appoint Kazuhisa Ishii as New Manager
The Tohoku Rakuten Golden Eagles look to their front office for their next skipper, naming general manager Kazuhisa Ishii the team's new manager on Thursday, November 12.
The Eagles placed fourth in the six-team Pacific League this season with a 55-57-8 record. Hajime Miki lasted just one season as manager.
Ishii, a former MLB pitcher for the Los Angeles Dodgers (2002-04) and New York Mets (2005), became GM in September 2018.
Now, he faces greater responsibility to build a successful club.
"My mission has been to make this a winning team since I became the GM," Ishii said at a news conference, according to Kyodo News. "I've always thought it's important to build a solid team. That stance won't change even after becoming manager."
A Look at the Pacific League Climax Series
The second-place Chiba Lotte Marines (60-57-3 regular-season record) earned a showdown with the three-time defending Japan Series champion Fukuoka SoftBank Hawks (73-42-5) in the Pacific League Climax Series, which got underway on Saturday, November 14.
Technically, it's a best-of-five series, but the Hawks received an automatic one-win advantage by virtue of finishing atop the PL standings.
In the series opener, the Hawks defeated the Marines 4-3 at PayPay Dome in Fukuoka.
The Giants await the winner of the Hawks-Marines series. The Japan Series is slated to begin on November 21 at Kyocera Dome in Osaka, because Tokyo Dome is unavailable on November 21 and 22.
Basketball
Alvark Coach Pavicevic Angry After Team's Lackluster Performance
The Niigata Albirex BB outworked and outplayed the Alvark Tokyo at Arena Tachikawa Tachihi on Wednesday, November 11, exploiting the hosts' uncharacteristically poor defensive effort.
The result? Niigata 84, Tokyo 76.
"It was a really bad game for the Alvark," Tokyo coach Luka Pavicevic declared afterward.
Citing the fact that his team squandered double-digit leads in its two previous games against the Shiga Lakestars on November 7 and 8 (the Alvark won the first of the two matches), Pavicevic said he's seeing a disturbing situation for his club at this stage of the season.
"We are experiencing a certain kind of crisis," Pavicevic said of the team that won back-to-back B. League titles in 2018 and 2019 and had the best overall record (32-9) last season, which was canceled in March due to the COVID-19 pandemic.
The midweek loss dropped the Alvark record to 9-4 before a weekend series against the San-en NeoPhoenix.
Stanford University alum Rosco Allen and newcomer Jason Washburn scored 24 and 20 points, respectively, for the Albirex (4-9 through this game), teaming up effectively on pick-and-roll plays throughout the game against the Alvark's porous defense.
Comparing the Alvark's play in this game and against the Lakestars with past stretches of great success, Pavicevic said his club fell far short of its high standards, especially on defense.
"We did not play with the same intensity and focus and hunger," he told reporters. "We did not show the ability to stop our opponent, even for one moment in time," he added, reacting to the loss to Niigata.
NBA Season to Open on November 22
NBA teams will return to the hardwood for the delayed start to the 2020-21 season on December 22.
This past season was on hiatus for several months due to the global pandemic, then relaunched in a bubble at Walt Disney World in Florida.
Now, after league officials mulled over several scenarios, the pre-Christmas launch date was unveiled on Monday, November 9. Teams will play 72 games, 10 less than in a normal season.
NBA training camps will open on December 1.
Washington Wizards forward Rui Hachimura is getting ready for his second pro season.
Meanwhile, guard/forward Yuta Watanabe has become a free agent after splitting time with the Memphis Grizzlies and their NBA G League affiliate (Memphis Hustle) over the past two seasons. Teams can begin negotiation with free agents on November 20 and sign players to new contracts on November 22.
Sharpshooter Tominaga Signs Letter of Intent With Nebraska
Sophomore guard Keisei Tominaga, who's currently attending Ranger (Texas College), will transfer to the University of Nebraska for the 2021-22 season.
Tominaga signed a letter of intent to play for Nebraska, Cornhuskers coach Fred Hoiberg formally announced on November 11.
As a freshman at Ranger College, a two-year school, in the 2019-20 season, Tominaga averaged 16.8 points per game and sank 47.9% from 3-point range.
"Keisei is one of the more unique signees in program history, and we are excited to add him to our team," Hoiberg, a former NBA player and head coach, said in a statement about the first Japanese player to sign with the Nebraska men's basketball program. "He's nicknamed 'the Japanese Steph Curry' and is truly an elite 3-point shooter with unlimited range and a quick release. Keisei will make an immediate impact not only with his shooting, but also in floor spacing, as it will help us create driving lanes for others."
More details about the Aichi Prefecture native's college career are compiled here.
Ice Hockey
Insights on Japan's Asia League Squads
Tochigi Nikko Icebucks coach Ari-Pekka Siekkinen brings an international perspective to his role as the Asia League Ice Hockey team's coach.
The Finnish mentor sees the game through the eyes of a long-time goaltender in Scandinavian leagues. He then served for many years as a goaltending coach before an opportunity to lead the Icebucks materialized in 2017.
Speaking to reporters after the Icebucks' 6-4 victory over the expansion Yokohama Grits on November 8, Siekkinen said he's grateful that this nation's Asia League teams are able to compete in a revised format (an ongoing tourney called the Japan Cup) during the pandemic. He noted that "the situation in Europe and everywhere is really bad," so he's pleased to have the opportunity right now to keep working.
Overall speed on the ice and strong skating are trademarks of Japan's teams, Siekkinen said.
Elaborating on the strengths of the Asia League's Japan-based teams, he said good teamwork stands out. "There are some really good players here and they could play in Europe or some other [overseas] league," he added.
He said developing the youth programs more and instilling strong habits in players at a young age are keys to growing the sport in Japan.
As for elevating the pro game, Siekkinen pointed out that the team's slogan ("hard work every day") is its mission.
"We have really good individual players," he stated, "but how we focus on getting five guys to play together all the time [is the key]."
Soccer
Japan Tops Panama on Minamino's 61st-Minute Tally
One play determined the final outcome in the Japan men's national team's friendly against Panama on Friday, November 13 in Graz, Austria.
Takumi Minamino, employed as a striker by English Premier League squad Liverpool, scored on a 61st-minute penalty at Merkur Arena in Japan's 1-0 triumph.
For Minamino, making his 25th appearance for the Samurai Blue, it was his 12th goal.
"It wasn't a perfect shot but I'm glad it went in," Minamino commented after the game, according to published reports.
Japan now shifts its focus to a November 17 friendly against Mexico at the same venue.
RELATED COVERAGE:
[JAPAN SPORTS NOTEBOOK] Recent Friendlies Give Moriyasu, Japan Players Chance to Forge Ahead After Long Layoff
Sendai Snaps Epic Winless Streak
Vegalta Sendai's Shun Nagasawa notched a hat trick against Gamba Osaka in a 4-0 away victory on Saturday, November 14.
Nagasawa's three-goal effort led the way for Vegalta to slam the door on a 17-match winless streak in the J. League.
Hideki Matsuyama shot a 7-under par 63 in the final round of the Houston Open on November 8.
Golf
Matsuyama Finishes Tied for Second At Houston Open
Hideki Matsuyama completed a strong performance at the Houston Open with a 7-under par 63 in the final round of the tournament on Sunday, November 8 and finished tied for second with American Dustin Johnson.
Mexican Carlos Ortiz won the event with a 13-under 267. He became the first Mexican golfer to win a PGA tournament since Victor Regalado at the Quad Cities Open in 1978.
Matsuyama and Johnson completed the four-round tourney with identical 11-under 269s.
For Matsuyama, he started off with an even-par 70 in each of the first two rounds, then shot 66 and 63 in the third and fourth round, respectively. His final-round effort included seven birdies as he ascended toward the top of the leaderboard.
"I think I was able to play well but it was a waste to miss the chances I had in the first half of the tournament," Matsuyama told reporters. "That's where I didn't do enough. But I did learn some things. I think I produced some pretty good results while being able to play at this level."
Sumo
Shodai Pulls Out of November Basho
Ozeki Shodai withdrew from the November Grand Sumo Tournament due to an ankle injury, becoming the latest high-profile wrestler to pull out. The announcement was made on Thursday, November 12.
Wrestling as the East Sekiwake No. 1, the Kumamoto Prefecture native won the Autumn Grand Sumo Tournament in September before earning promotion to ozeki, the sport's second-highest rank.
Earlier, yokozuna rivals Hakuho and Kakuryu, both of whom have been coping injuries announced before the 15-day tournament that they would skip the year's final basho at Ryogoku Kokugikan in Tokyo.
Ozeki Asanoyama pulled out of the tourney on Tuesday November 10 with a deltoid muscle injury to his right shoulder.
Horse Racing
Almond Eye to Close Out Career in Japan Cup
Almond Eye's future is now clear. The ultra-successful horse will be in the spotlight at the prestigious Japan Cup on November 29 at Tokyo Racecourse And then, the 2018 Japanese Horse of the Year will retire, according to trainer Sakae Kunieda.
Before the November 12 announcement, there was speculation that the Japan Cup would be Almond Eye's final hurrah.
On November 1, Almond Eye completed the filly Triple Crown sweep by earning a Japanese thoroughbred record eighth Grade I victory in the Tenno Sho (Autumn) race.
Ski Jumping
Events Canceled Early Next Year in Hokkaido
The domestic winter sports calendar now has two empty weekends for ski jumping, it was announced on November 12.
Organizers confirmed that the International Ski Federation-sanctioned events on January 9 and 10 for women and a pair of men's World Cup meets on February 6 and 7 at Okurayama Ski Jump Stadium in Sapporo will not happen because of the global pandemic. They cited a rise in positive COVID-19 cases in Hokkaido.
Editor's note: Interested in submitting a news item for possible inclusion in the Japan Sports Notebook? Send an email with relevant information to e.odeven@japan-forward.com, or JAPAN Forward's comment's page or Facebook page and look for future editions of Japan Sports Notebook on our website.
Follow Ed on JAPAN Forward's [Japan Sports Notebook] here on Sundays, in [Odds and Evens] here during the week, and Twitter @itsjapanforward.