Japan's Firsts at PyeongChang Olympics make for a Promising 2020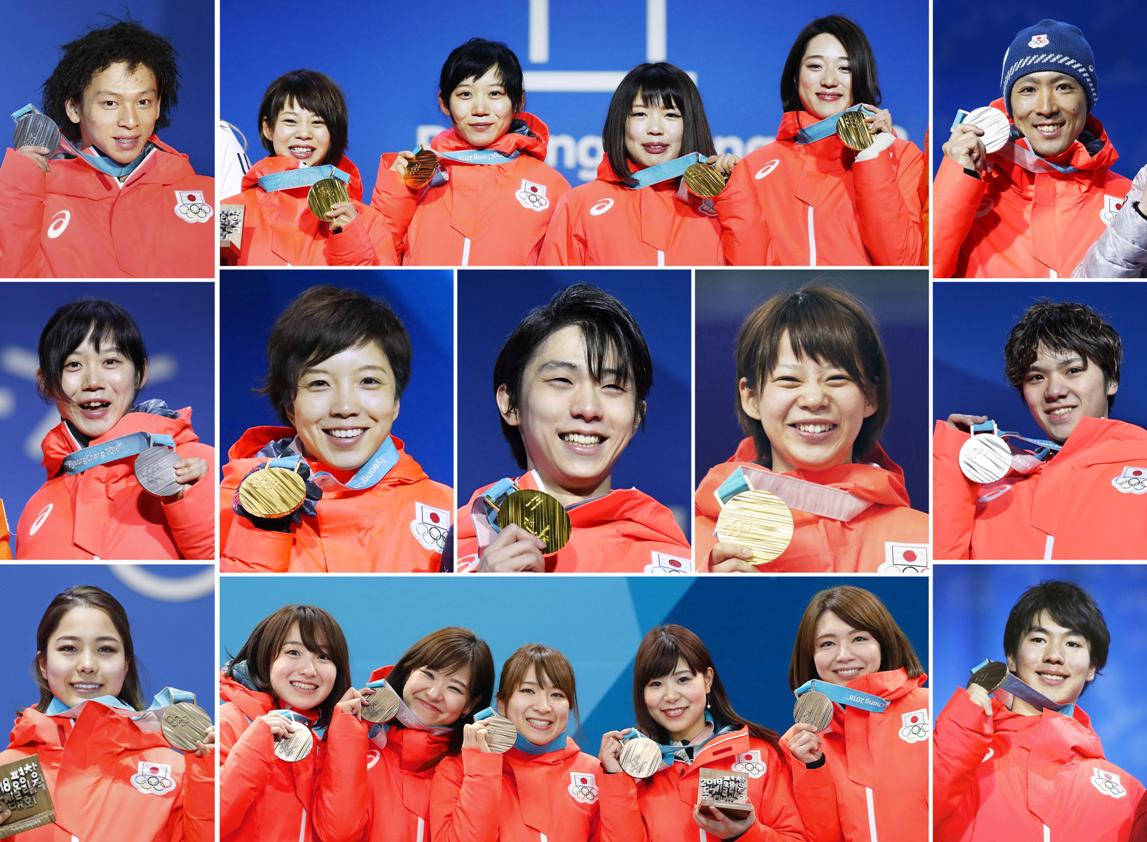 Galileo Ferrari - Tokyo
Team Japan performed remarkably well, and rewrote pages of history, during the 2018 PyeongChang Winter Olympic Games, despite the distractions posed by North Korea.
While the 2018 Winter Olympics drew to a close on February 25, its impact continues to be felt. Japan, as a nation, was united throughout different moments of the games; family, friends, coworkers, and fans cheering on athletes they admire bonded during the entire 18-day period.
The athletes, in turn, carried in them the hopes and wishes of their nation as they put years of hard work and training to the test on the international stage while competing for coveted medals. Japanese athletes made a successful showing, giving us a taste of what to expect when Japan hosts the 2020 Tokyo Summer Olympics Games.
Related Articles:
Editorial: Nao Kodaira's Gold Medal Reminds Us of Olympic Values
Yuzuru Hanyu's Gold, Shoma Uno's Silver Make Olympic History for Japan
Editorial: On to Tokyo Olympics!
Don't Let North Korea Steal Olympics Spotlight from the Athletes
Why Teach Kids About Other Countries' Flags and National Anthems Before the 2020 Tokyo Olympics?
1. Yuzuru Hanyu breaks a 66-year-old record, sets two new records, claims 1,000th gold Medal
Every jump, turn, and spin Hanyu makes, is executed with the highest degree of precision, and even casual figure skating fans know Hanyu is a unique athlete.
In claiming his second consecutive Olympics gold in PyeongChang, he was compared to the American, Dick Button, who was 18-years-old in 1952 when he became the first figure skater to win back-to-back Olympic gold medals in men's figure skating.
Hanyu sets two new records
Hanyu is 23 and still in the prime of his career, his scores 111.68 for the short program, and 317.85 for his combined total, are the highest ever scored at a Winter Olympics.
Hanyu claims 1,000th gold medal
Not only did Hanyu set those records, his gold medal was the 1,000th to be awarded in Winter Olympics history. Will we see him set a new record and win the third consecutive Olympic gold at the 2022 Beijing Winter Olympics? It's still early, but we know the weather forecast is a heavy rain of Winnie the Pooh.
2. Men's gold-silver finish is a Japanese first
20-year old Shoma Uno won the silver medal competing in the same event in his very first Winter Olympics. With Hanyu taking the gold medal, it is the first time ever Japan took both gold and silver in the men's figure skating event.
3. Nana Takagi wins world first-ever Olympic mass start speed skating gold
This Olympics saw the introduction of a new event, women's mass start speed skating. Nana Takagi won the race by a mere 0.12 seconds in the final turn of the sprint, coming in just ahead of home town hero, Kim Bo-reum.
4. Nao Kodaira wins Japan's first gold in women's speed skating
After multiple unsuccessful Winter Olympic campaigns, Nao Kodaira finally won gold, the first-ever in Japanese women's speed skating. It wasn't an easy feat, as Kodaira had to outperform the current world record holder, two-time Olympic gold medalist and home town representative, Lee Sang-hwa. In doing so, she set a new Olympic record for her time in the women's 500 meter event.
5. Miho Takagi collects all three
Speed skater Miho Takagi first represented Japan at the age of 15 in the 2010 Vancouver Winter Olympics. Eight years later, she won all three medals in a single Olympic games: bronze for the 1,000 meters, silver for the 1,500 meters, and gold for the women's team pursuit event.
6. Women's team pursuit gold is a Japanese first
The world-record-holding team of Miho Takagi, Nana Takagi, and Ayano Sato was a favorite to win the women's team pursuit speed skating event. The team put on a wonderful performance by convincingly beating the previous Olympic champion, the Netherlands, and setting a new Olympic race, and track, time record.
7. Women's curling medal is a Japanese first
With three-time Winter Olympics veteran Mari Motohashi bringing experience and a contagious smile to the women's curling team, Satsuki Fujisawa, as skip, led the team to a come-from-behind win to capture Japan's first-ever women's curling medal.
8. Daichi Hara's moguls medal is a Japanese first
Freestyle skier Daichi Hara's move, the "D-Grab," in the last run of the finals did enough to impress the judges and win the bronze. The basic form of the technique is that the skier holds his left ski with his right hand to make a "D" shape in the air. Hara combined the grab with a Cork-720 to increase the degree of difficulty. It is his own original technique.
9. Sara Takanashi's women's ski jumping bronze is a Japanese first
Noted as the world's most successful female ski jumper, and one of the most successful athletes in the history of the sport, Sara Takanashi won her first Olympic medal, and Japan's first women's ski jumping medal.
10. Thirteen-medal count is best showing for Japan
Four gold, 5 silver, and 4 bronze medals: this was Japan's best-ever showing at a Winter Olympics, and far superior to the Nagano Olympics in 1998.
Japan's next superstar
Snowboarder Ayumu Hirano, back-to-back silver medalist, is going to be Japan's next superstar. He was 14 years old when he won his first silver medal in the 2014 Vancouver Winter Olympics men's halfpipe snowboarding event, and the youngest medalist ever to compete in the event. Hirano has received high praise from top athletes in the sport from around the world as they recognized his raw talent.
If Japan keeps up, its Olympics future certainly looks bright.