Keyhole-Shaped Burial Mound Strikes a Chord for Today's Families
Inspired by the historic Yame Kofun burial mounds, this new keyhole-shaped burial mound is designed with today's population dynamics and lifestyles in mind.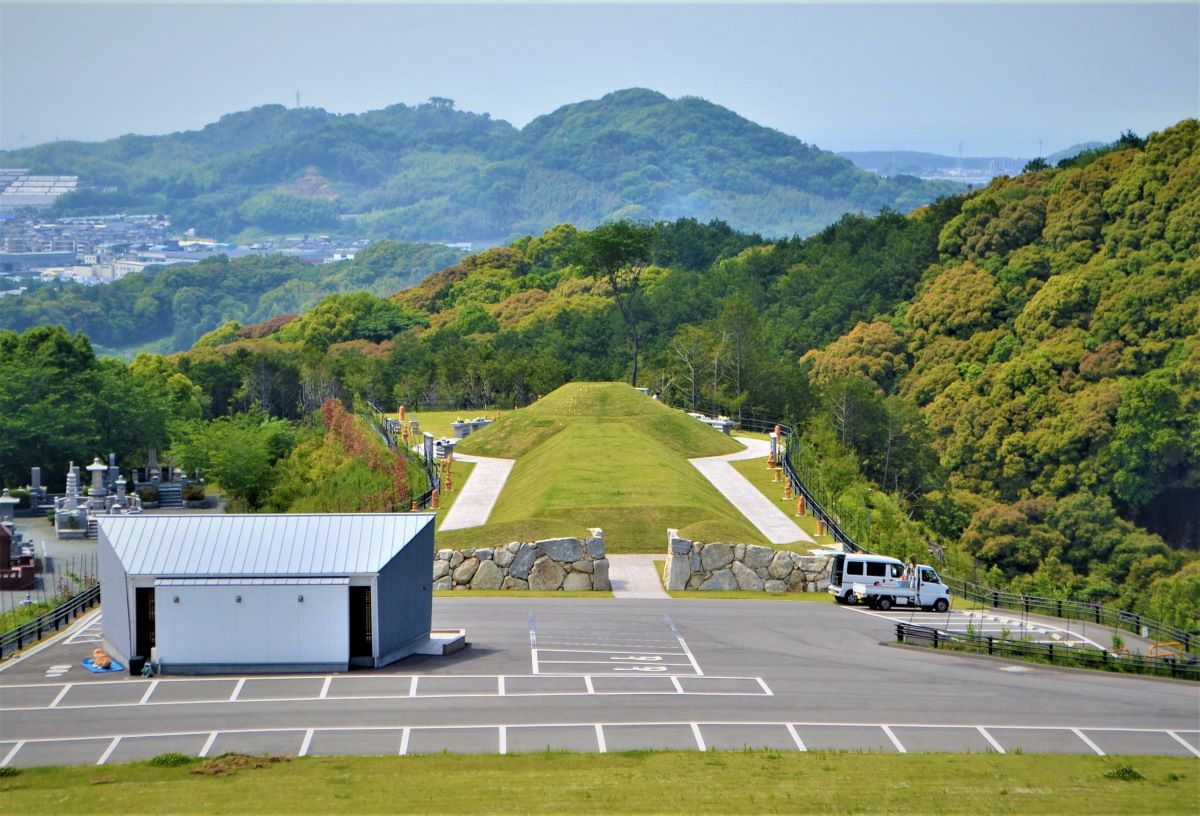 A new cemetery modeled after a colossal keyhole-shaped burial mound (zenpokoenfun) is surging in popularity.
Shingu Cemetery introduced the "first authentic ancient tomb-style permanent grave in Japan" in April 2022. Surpassing their sales targets, approximately 900 plots were sold within just one year. This success can be attributed to the visually striking ancient tomb design. But it is also due to the underlying challenge of passing down family graves given the demographic changes such as declining births and an aging population.

Located on a hill in Shingu Town, Fukuoka Prefecture, overlooking the distant Genkai Sea, the keyhole-shaped burial mound stands out. Adorned with lush grass, the mound is 53 meters long, 3.5 meters high, and has a circular diameter of 16.3 meters. Surrounding it are about 40 haniwa clay figurines, providing solace to the departed souls.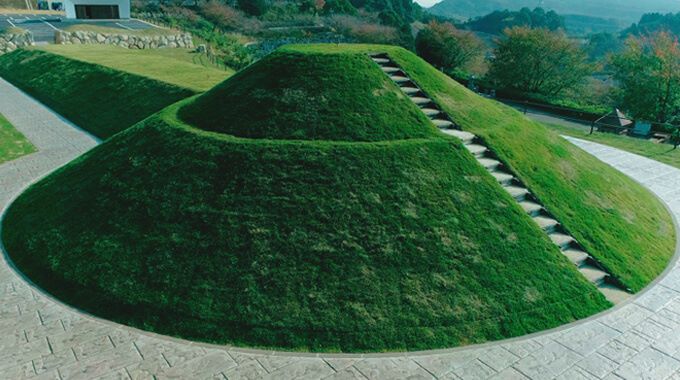 What Is a Keyhole-Shaped Burial Mound?
This burial mound has the capacity to accommodate up to 3,100 remains.

Individual plots measure 30 cm square and are also marked with numbered stone plaques on the lawn. Each one features a stone tablet engraved with the name of the deceased.
During the burial process, the cremation urn is placed in a resin-based ossuary located approximately 15 centimeters below the surface. Then it is covered with soil. Alternatively, biodegradable cotton bags can be used, allowing for a true "return to the earth." In this case, the cotton decomposes with the help of soil microorganisms.
The cemetery holds a joint memorial service once a month.

A single plot costs ¥280,000 JPY (about $2,000 USD). There is an additional perpetual maintenance fee of ¥77,000 JPY ($550 USD). Initially, the cemetery sales target was 300 plots per year. But following the introduction of 1,200 plots in April 2022, 900 contracts were signed within a little over a year.
Moreover, due to the significant number of inquiries, the cemetery is making an additional 500 plots available for purchase.
Why Are They Keyhole-Shaped?
What prompted the town to develop graves resembling keyhole-shaped burial mounds?

Daisuke Matsuda, the Public Relations Manager of Shingu Cemetery, explained the background of the development. "We received numerous requests for natural burials," he said. Elaborating, he added, "People were expressing their desire to return to the earth after passing away."
He also mentioned that the inspiration for the ancient tomb-style graves was influenced by the Sacred Island of Okinoshima's 2017 listing as a World Heritage Site, along with associated sites in the Munakata region.

To prepare for the development, a site visit was conducted to the Yame Kofun Cluster of burial mounds. These are located in Okinoshima, Yame City, Fukuoka Prefecture. The site comprises approximately 300 burial mounds, including circular and keyhole-shaped mounds dating back to the fourth to seventh centuries. They laid the foundation for their concept by conducting a comprehensive on-site survey of these ancient tombs.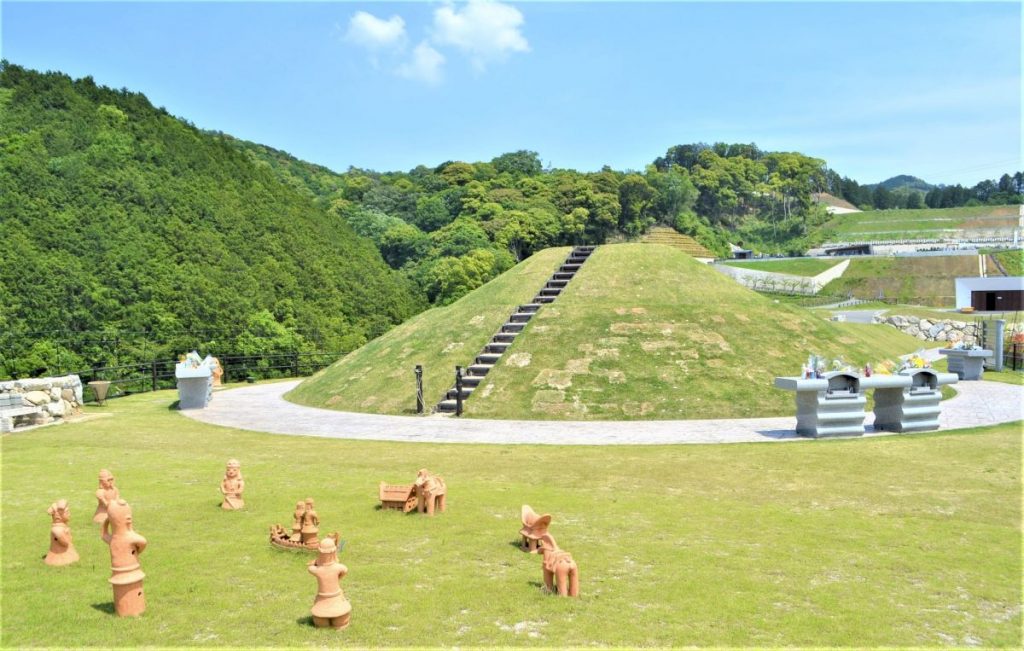 Building the New Mound
Construction on the Shingu Cemetery mound commenced in 2017. Initially, a prototype circular mound was built on the cemetery grounds. However, Mr Matsuda noted that it merely looked like a heap of soil. Clearly, it lacked the desired visual impact.
Additionally, the design of the burial site posed a challenge due to the narrow, elongated piece of land available. As a result, the cemetery opted for a vertically elongated keyhole-shaped burial mound, which created a visually striking effect.
Building for Changing Population Dynamics
The construction of the entire burial site commenced in 2019 and was successfully completed by September 2021. Sales of the burial plots began in April of the following year, allowing time for the grass covering the mound to settle.

Visitors to the ancient tomb-style grave site are mostly individuals between their 40s and 70s. And it is not uncommon to see families with children or individuals on the waiting list stopping by the site. According to Mr Matsuda, "Many individuals who purchase these graves do not have successors for their family graves or do not want to burden their descendants with the responsibility of maintaining them. The changing dynamics and perspectives within families are reflected in the choice of grave design."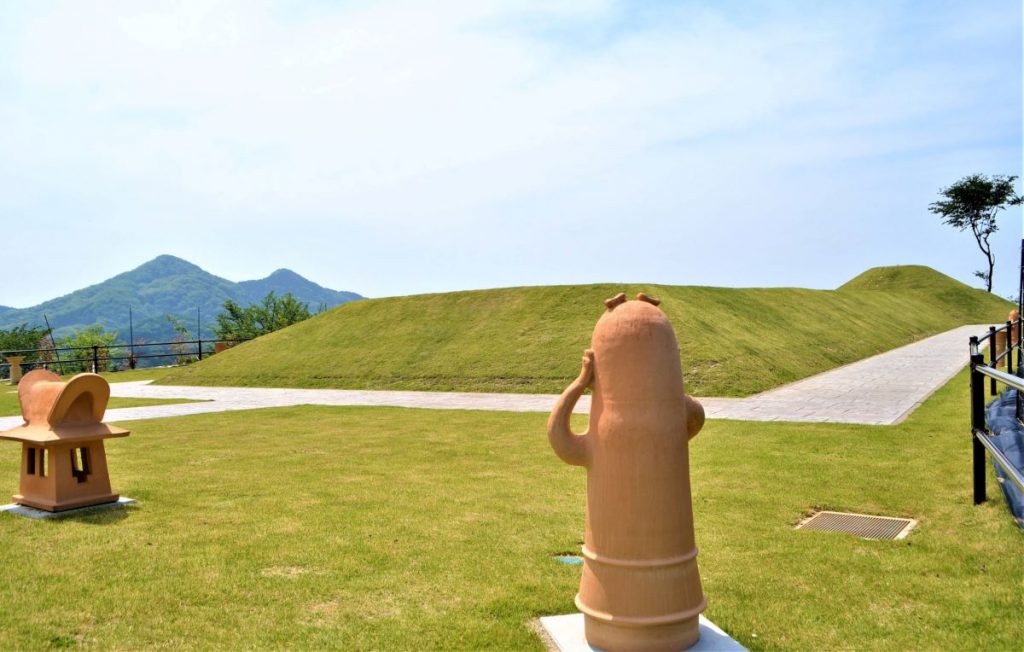 Recent Trends
This trend further aligns with the findings of a survey conducted by Kamakura Shinsho, a company based in Tokyo's Chuo Ward. They offer services supporting end-of-life planning, including graves, funerals, and inheritance.

According to the Nationwide Survey on Grave Consumers conducted in 2023, non-traditional options are becoming more prevalent, compared to conventional graves. There is interest in tree burials, for example, where trees and flowers are planted instead of gravestones. Conventional graves with gravestones, on the other hand, require caretakers.
According to the company's survey of those who purchased graves through their website in 2022, tree burials accounted for 51.8%. Clearly, it is a popular alternative to conventional graves. The second most popular was columbariums at 20.2%. Conventional graves remained the choice of 19.1%, however.

Following World War II, the General Headquarters of the Occupation Forces (GHQ) set about to dismantle feudal customs. Japan's patriarchal family system that concentrated authority in the head of household was one of these customs. Revival of ancient burial mounds in contemporary times. in some ways, is a tangible manifestation of the individualistic values embraced by post-war democracy.
RELATED:
(Read the report in Japanese.)

Author: Koya Chida