[Kimono Style] Best Looks From the 2023 Tokyo Kimono Collection
Kimono brands Aono Koubou, Tonami Orimono, and Jotaro Saito showcased their latest designs, with creative incorporations of retro elements particularly notable.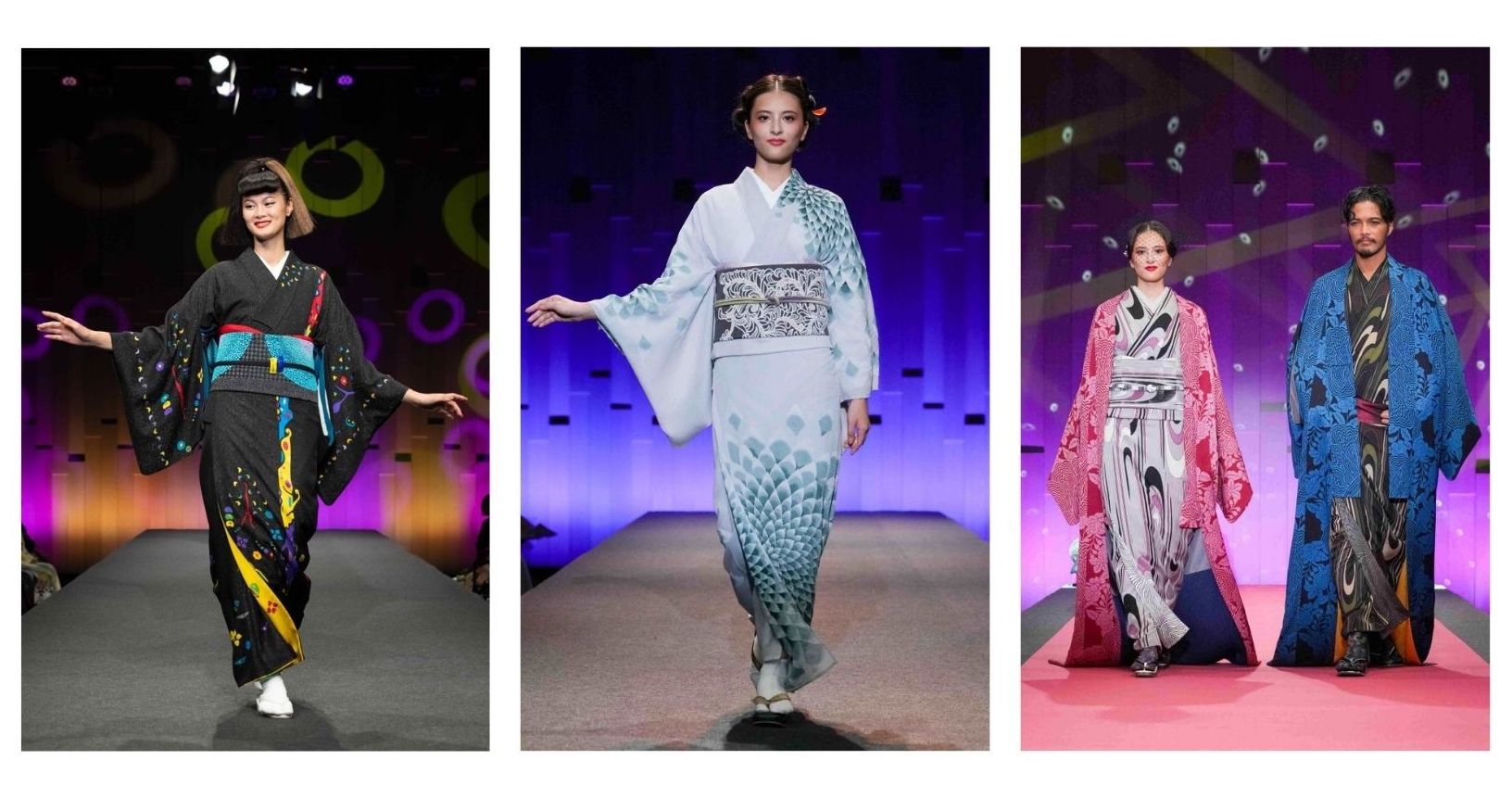 On September 30 at Muromachi Mitsui Hall, three kimono brands presented their new collections to an audience of almost 300 excited people.
Aono Koubou (Yasuo Aono) was the first brand to show. The workshop was opened in 1980 and he has been showing his collections since 2000. His technique is centered on using a wax resist and the journey has gone from using muted browns and greens to a palette of bright pure yellows, blues, and reds.
Splashes of Color and Music
Aono is also an active musician, and the Beetles music that was chosen was a perfect fit with the collection, which reminded me of 60s and 70s pop culture. Aono sees kimono as fashion, so it was very interesting to see his choice of colors. They were so bright and completely different from the kinds of shades usually associated with kimono.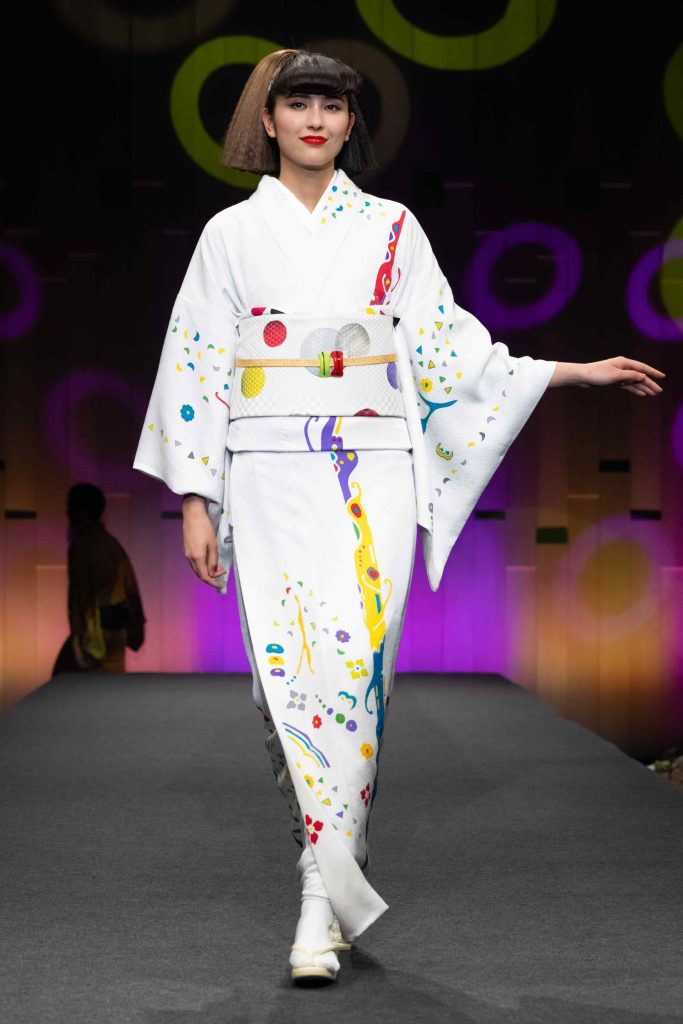 His designs are often simple and small, a stylized flower on a bright yellow ground, for example. It is impossible to imagine what the garment would look like when worn if you only see it folded up. He often lines the kimono with a contrasting lining, which gives a great splash of color down the front when one walks.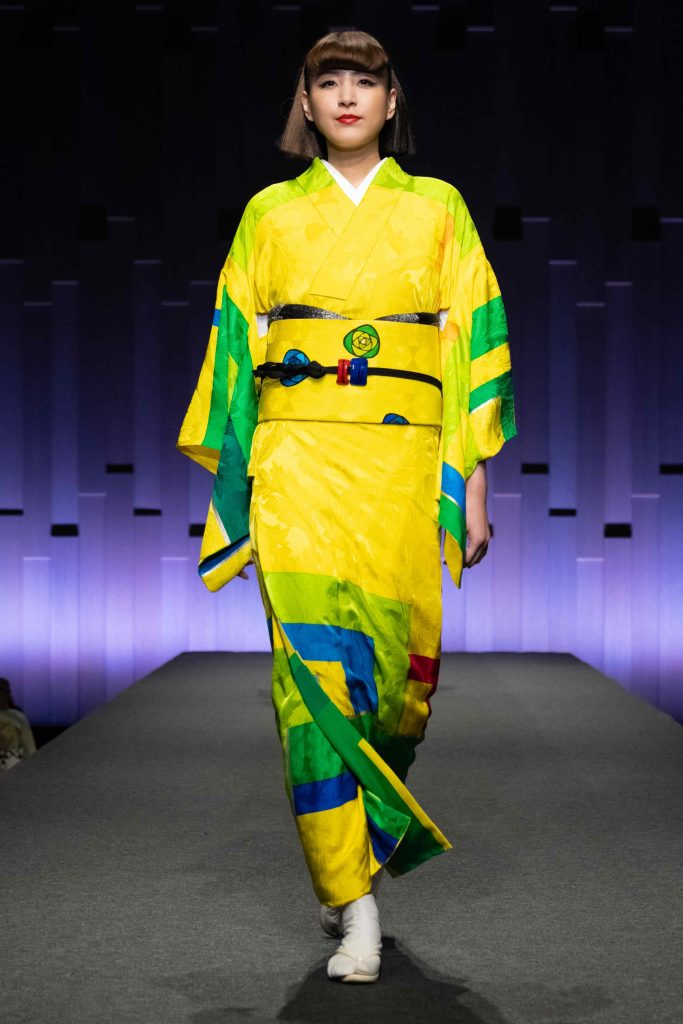 Bold Colors and Patterns
Aono also does a kind of snake skin or crazy pavement pattern, usually in black and white, or black and silver, which is a great texture when juxtaposed with the bright-colored sections. The circles, triangles, and squares can almost look like architecture.
Another important aspect that makes his kimono more interesting is the choice of fabrics. The jacquard patterns woven into the ground are often large and as bold as the way that he uses color. The ground pattern means that even the plain areas of the kimono shine in interesting ways as the wearer moves, and adds a lot of interest to the look.
The obi that were paired with the kimono were also nicely chosen. They were mostly black, but occasionally white, red, or turquoise with abstract designs like mosaic, stained glass, or dots. The obi also made a colorful statement. Anyone going out in an Aono kimono is sure to be noticed.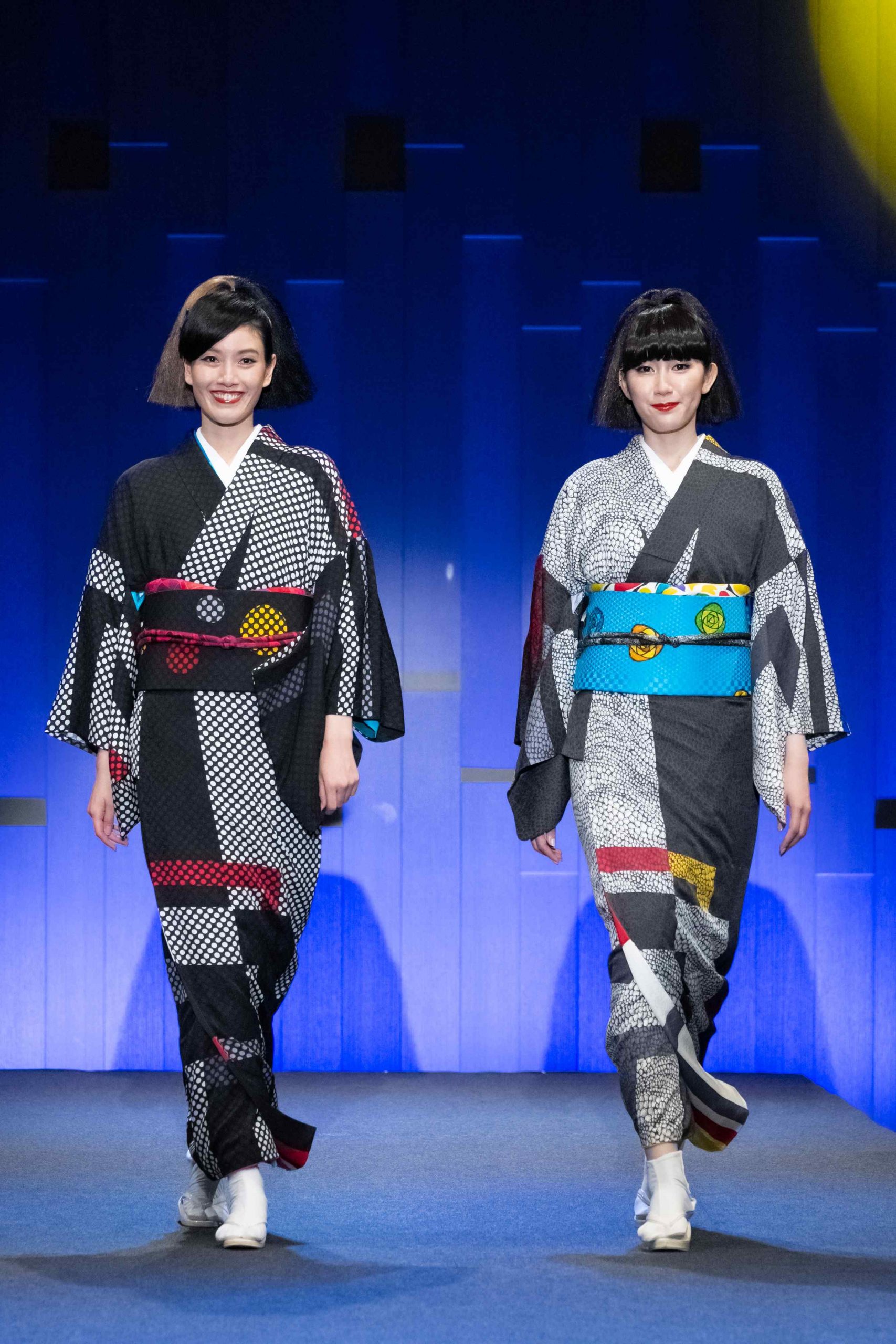 Obi from Tonami Orimono
The second brand to hit the stage was Tonami Orimono, an obi weaving brand originally started in 1850 in Toyama. It is one of the few obi weaving workshops still operating out of Nishijin, in Kyoto. After the in-your-face power of Aono's pure colors, it was a little more difficult to pin down an image for Tonami Orimono. Partly, I realized, this is because there is an inherent difficulty an obi weaving brand faces when showcasing on a runway.
The models must wear a kimono and that often makes more impact than the obi. Although I set out to look at the obi, I found that a lot of my notes are actually about the kimono that I saw.
Colorwise, we were clearly back in a more conventional kimono palette. Elegant shades of pale greens, browns, beige, plum, and charcoal kimono with overall patterns or homongi (visiting wear) with large patterns on the lower front area were chosen. Many of them seemed to have a shibori or tie-dyed pattern. Plant forms were the main patterns on the kimono.
Elegance With a Modern Twist
The obi were mainly formal elegant obi but rather than classical designs they had a bit of a modern twist. The first one was a soft yellow with an art nouveau-inspired design in silver thread. This certainly raised the formality of the leaf design kimono that it was paired with. This was followed by an obi with a large flower-like pattern just on the back of the obi and one on the front. The flower-like pattern was woven in such a way as to make it look shaded and three-dimensional, which I imagine takes a lot of skill.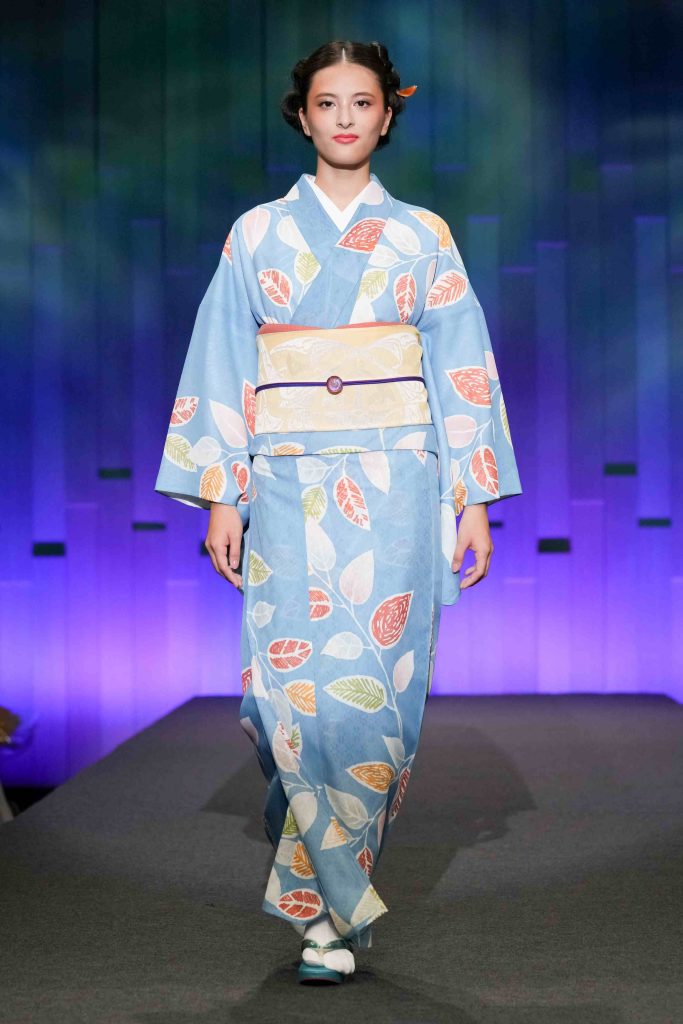 Sometimes the "one-point" pattern can have more impact than a pattern that covers the whole obi. The following obi was a stunning turquoise green one with silver threads which seemed to make us stare right inside the flower to the pistils at the center. It was paired with a kimono that had a matching diagonal stripe in it, but it would also look stunning against a black kimono.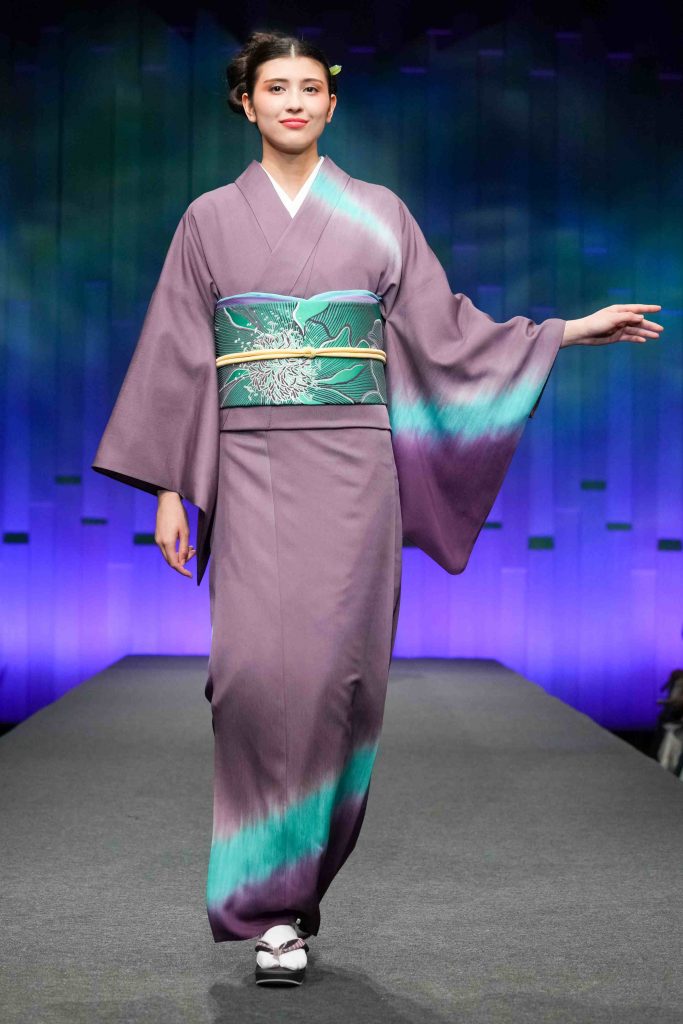 Lace for a Retro Look
Another obi that was really interesting was one that had a greyish ground and then a pattern that appeared like a magnified version of lace on it. While lace is usually cute because it is so fine, it was also surprisingly cute when magnified and put onto an obi. It gives a contemporary but retro look that is far from the Japanese classical look. It could be paired with a wide variety of plain kimono or kimono with more abstract designs.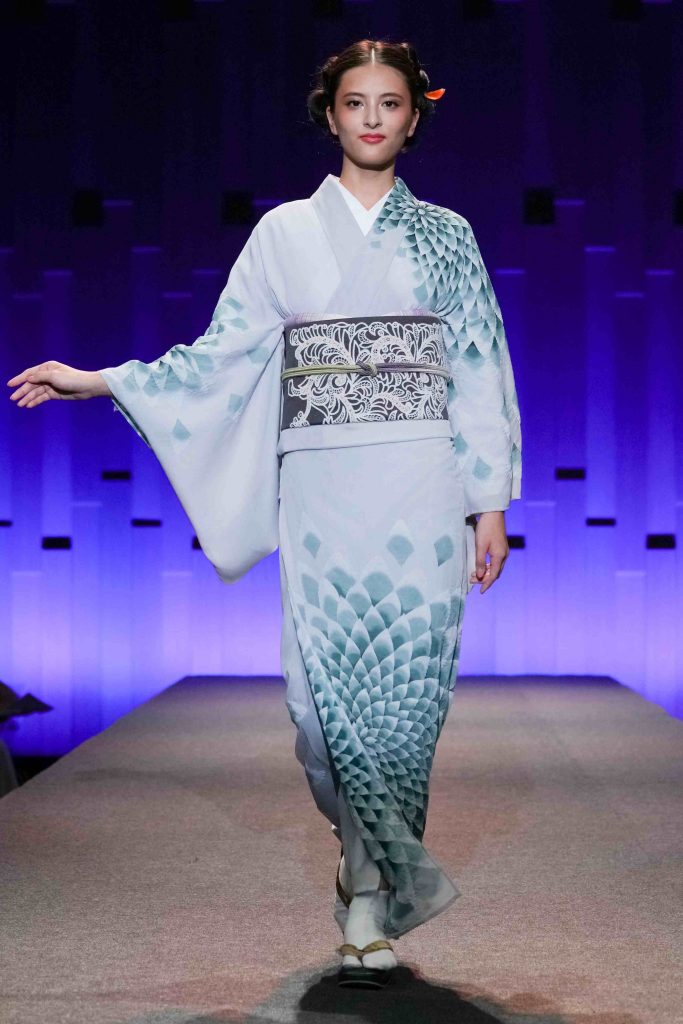 1950s Vibes from Jotaro Saito
The last show was Jotaro Saito. With collections shown at Tokyo Fashion Week and his flagship store in Ginza 6, he needs no introduction. Probably over 90 percent of the audience were wearing Jotaro kimono, including a significant proportion of men.
Jotaro has an established formula that works, and this show included several kimono with his signature striped peony pattern. The show was titled "Party" and the music was provided by Tony Bennet with Lady Gaga on the lyrics. The show had a wonderful 1950s vibe with the women having small red lips and wearing veils over their faces. The models not only wore one kimono but also had another one draped over the top, meaning that twice the number of kimono were on display.

Jotaro has consistently kept in mind the fact that women come to kimono from a world of largely plain and not very colorful Western clothing, and therefore he tends to use a lot of greys and browns in the base colors. This time he used brighter highlight colors than he has in recent collections, which made it more satisfying for a color addict like myself.
Abstract Patterns and Attention to Linings
Abstracted cloud or sand patterns juxtaposed turquoise, olive-green, and orange, and a bright red striped peony men's haori stood out for me. A draped kimono featuring a turquoise flower design had a stunning yellow lining with a shadowed wisteria pattern. It was my favorite for the unusual choice of contrasting colors.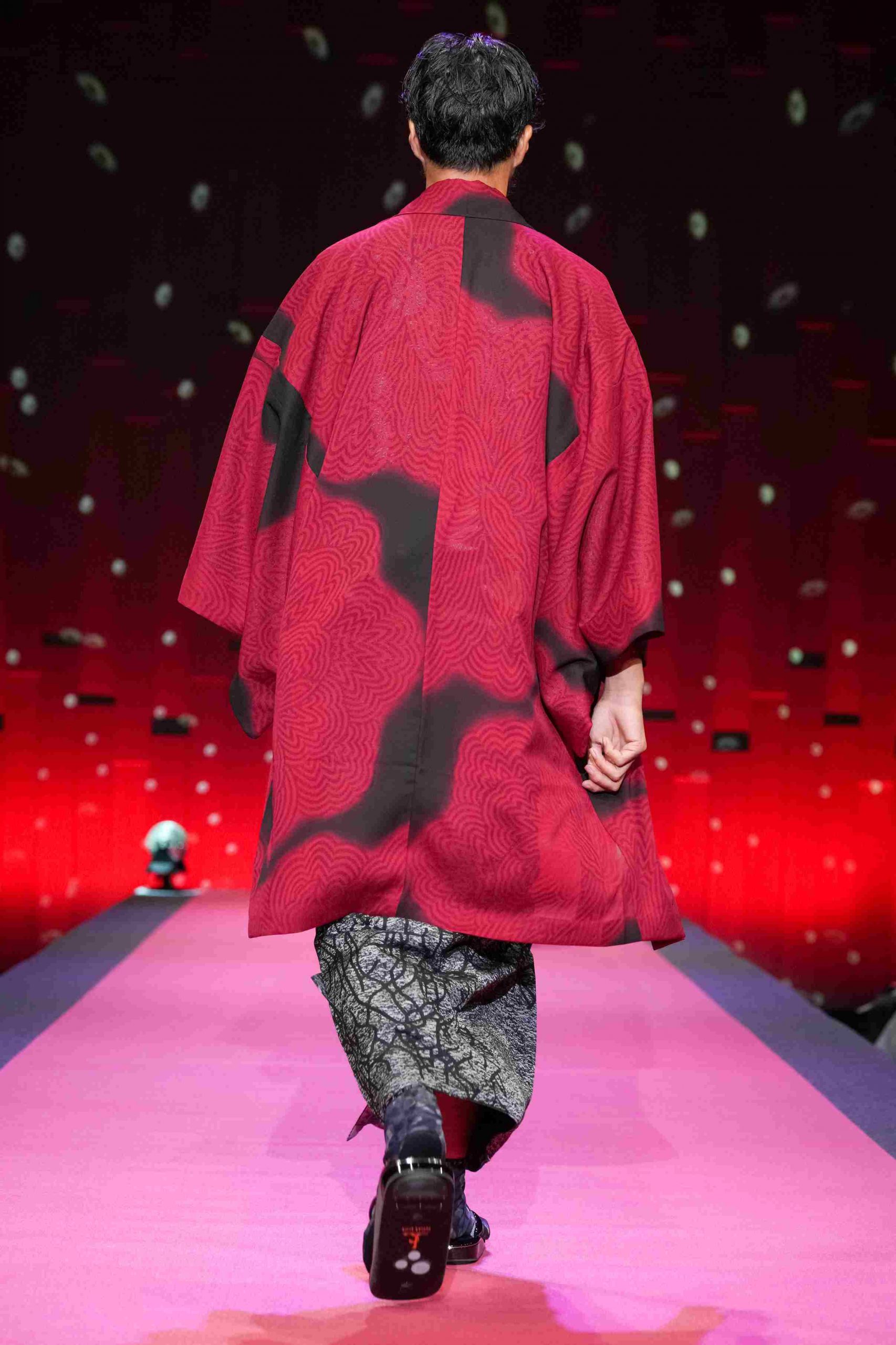 Sometimes the linings have a bigger, bolder pattern than the outside of the kimono which is a lovely touch. The interest in the lining is a very special aspect of kimono fashion and Jotaro makes the most of this extra space.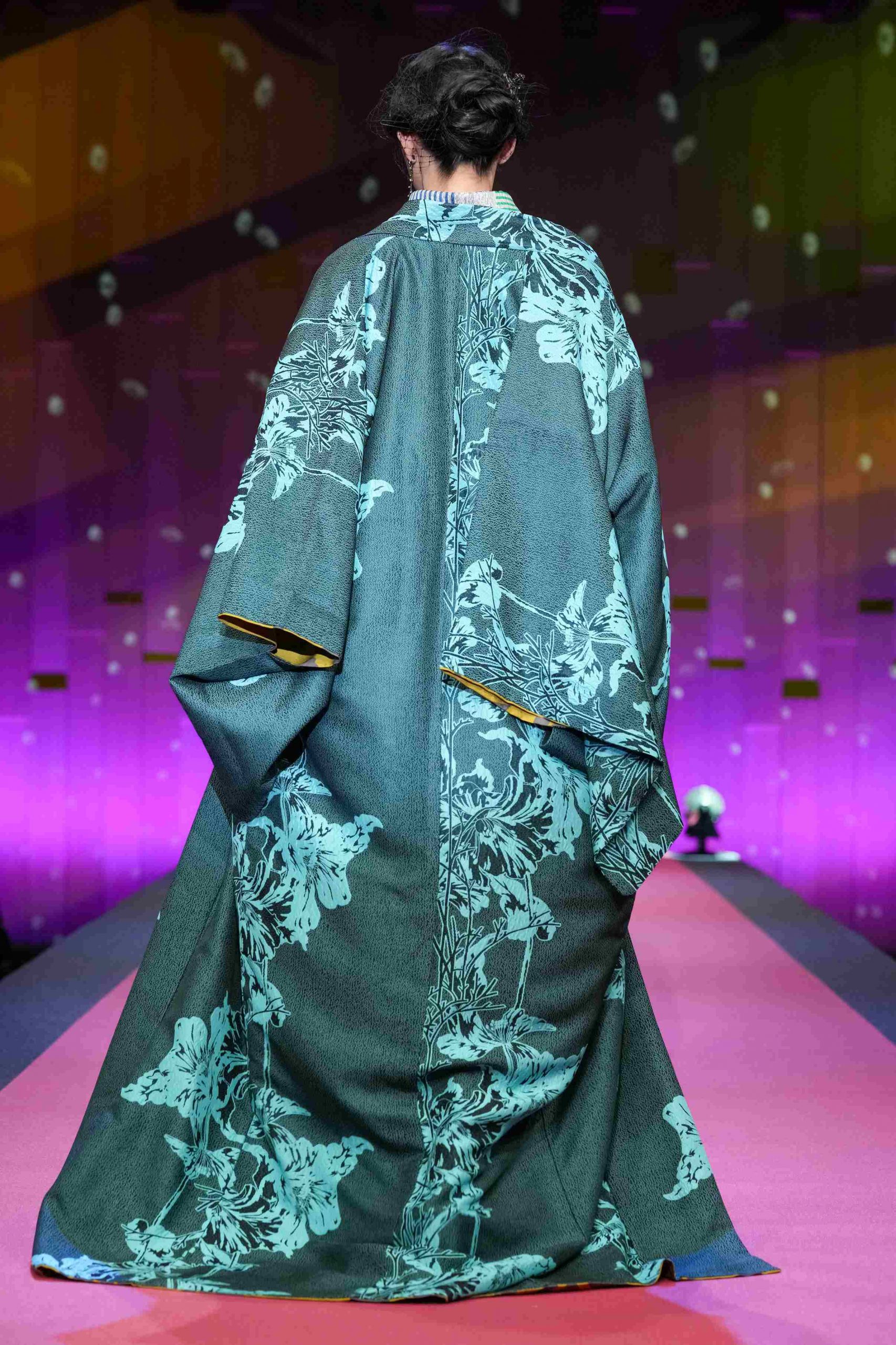 For Jotaro, the kimono and obi are a unit and the striped peony and a checkerboard motif are his standard obi designs. Sometimes an abstract with wide, shaded bands of color is also used. They fit well with the abstracted plant designs on his kimono. This collection will not disappoint the Jotaro fans and could well get him a few more.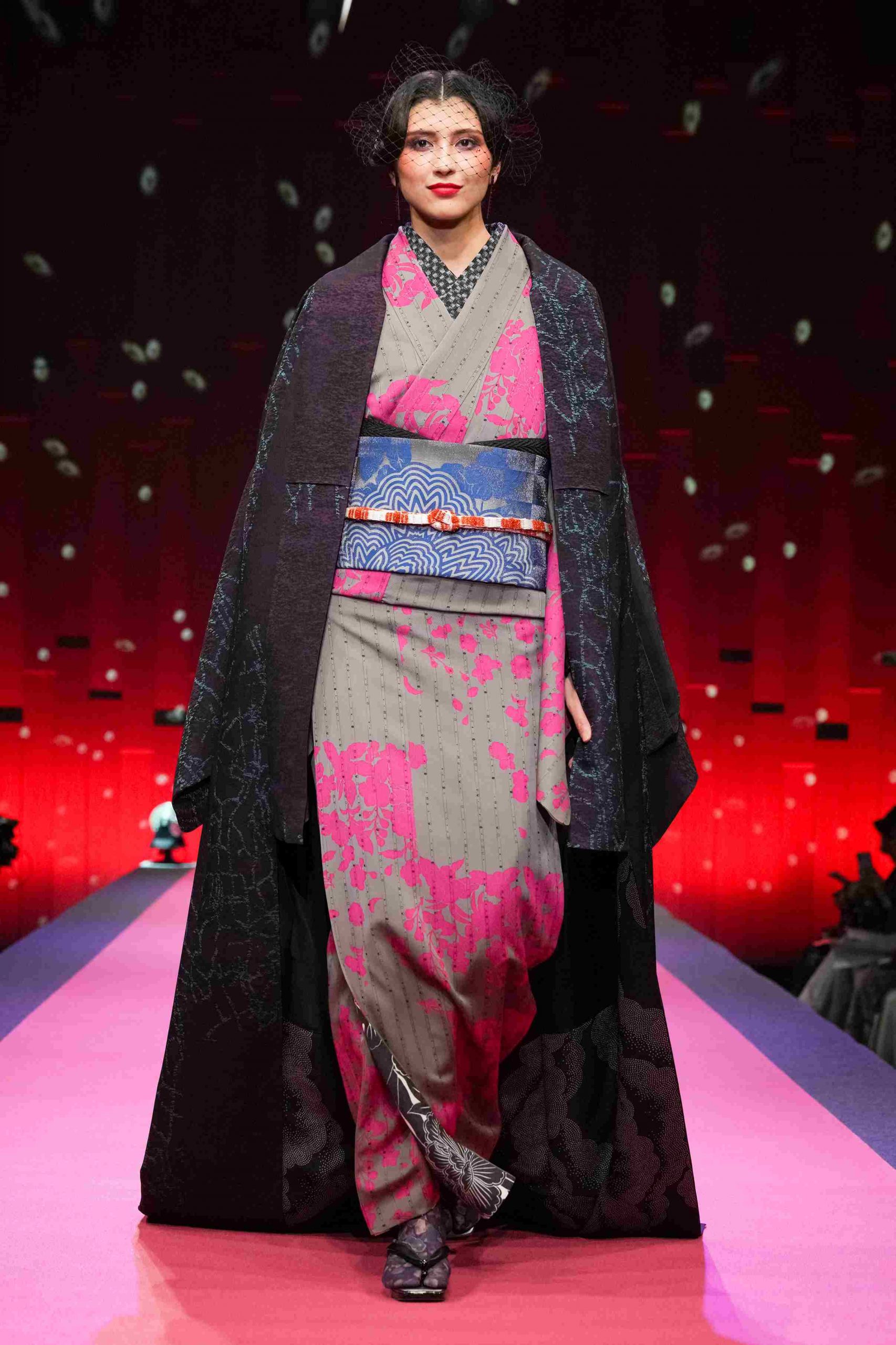 Blending Eras and Cultures
Kimono style is always drawing influence from other times and places. For quite a considerable time the Taisho period, 20s and 30s fashion has been a huge influence on kimono. It is really interesting to see references to other periods and the influence of late Showa popular culture in kimono. I am eager to see if and how this is developed in the future. It may be possible to see more at the 2023 Kimono Salone event, which will be held on the first weekend of November at the Tokyo Kokusai Forum in Yurakucho. Be sure to get your ticket.
RELATED:

Author: Sheila Cliffe
Read other columns on kimono by the author.