[Kimono Style] Winter Seasonal Kimono for Your End-of-Year Wardrobe
There is a surprising amount of western influence in seasonal kimono. Read below to find out the fashion tips of our kimono expert, Sheila Cliffe.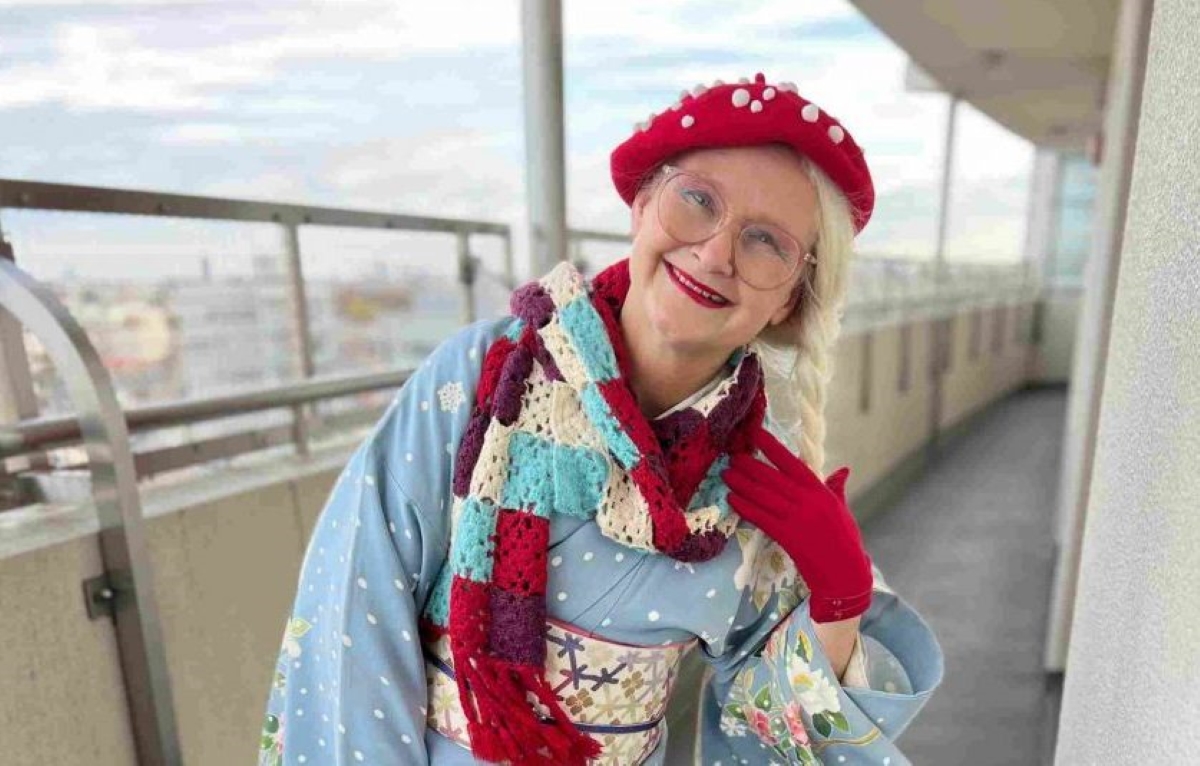 I like to finish off the year by looking for some seasonal outfits that show how kimono incorporates the seasons in new and interesting ways. The seasons have always been important in kimono design, but the motifs do not have to be limited to Japanese ones. And there are some very creative artisans bringing Christmas into their kimono.
A group of Tokyo Yuzen dyers held an exhibition in the Keio Plaza Hotel lobby, and I went to see their take on Christmas and New Year themes. There was much more than snowflakes and Christmas trees, but some of those as well.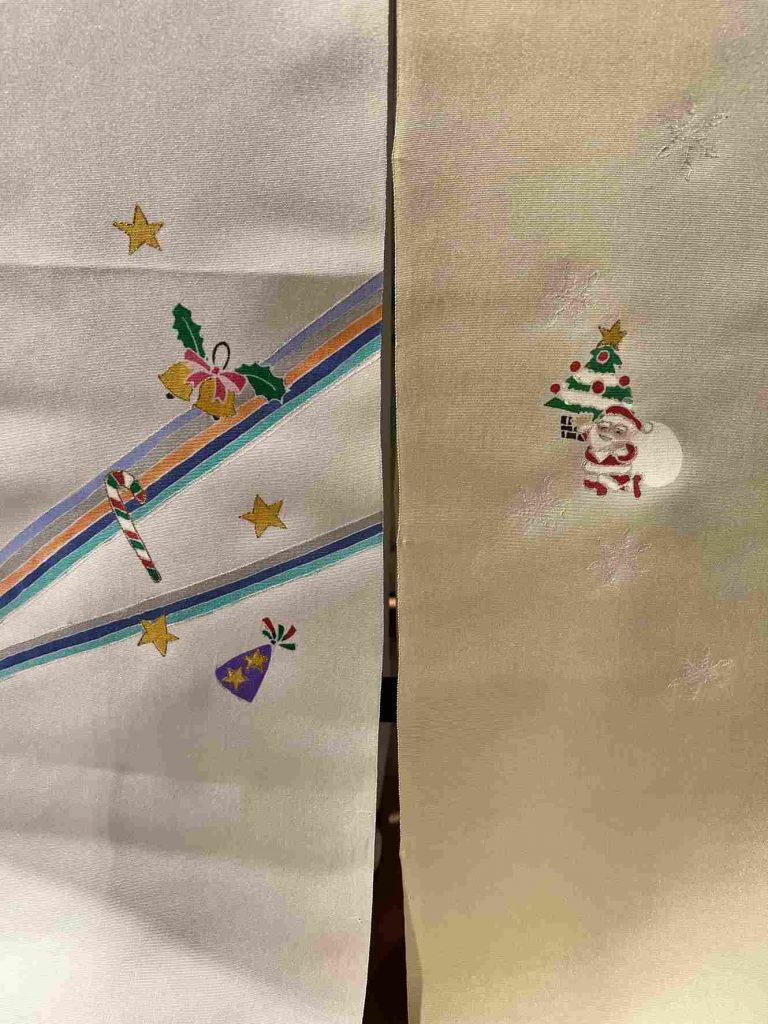 Hiroshi Someya's kimono cloth entitled "The Zodiac" depicts a starry sky, and the ground weave of the fabric resembles snowflakes. Sanae Honda's "Holy Night" obi shows Santa Claus arriving at a snowy Christmas tree.

Someya also used a very interesting weave that resembles church windows for his design of silver snowflakes. It is paired with an obi by Keiko Tanabe showing colorful Christmas presents wrapped up with long flowing ribbons. Tanabe also made Christmas kimono collars with small Christmas designs on them, which appear at the neck under a kimono.
Designs can be literal, such as Santa Claus and Christmas trees, the stars and snowflakes. But the church window weave of the fabric also brings us a sense of Christmas in an elegant and understated way.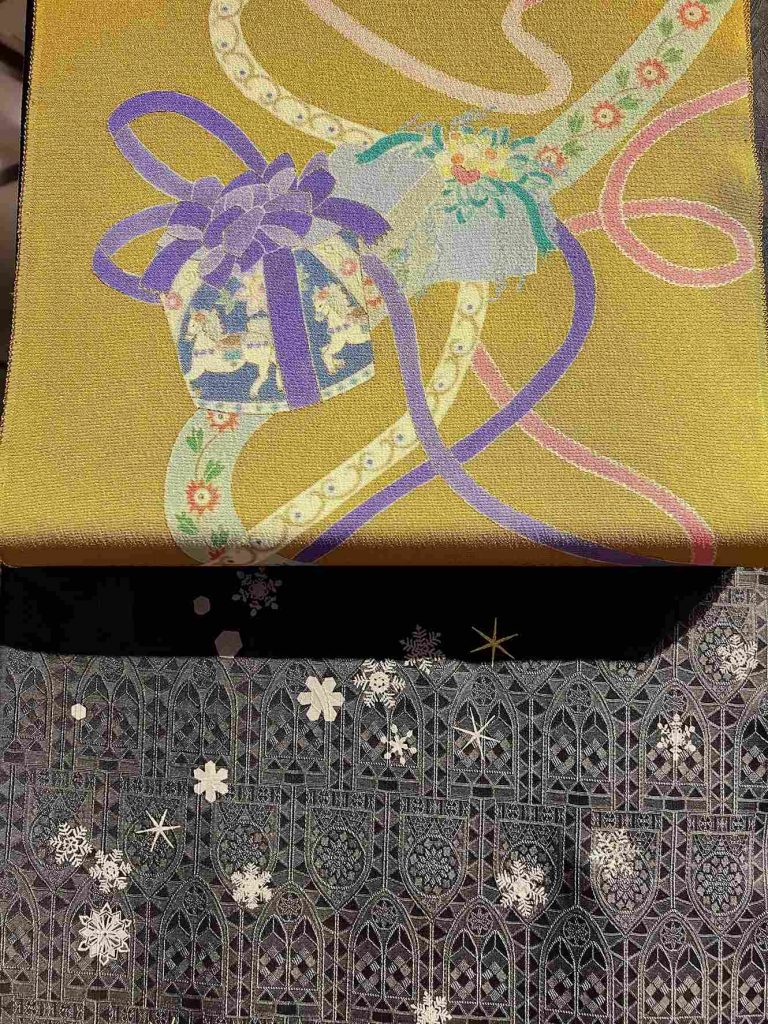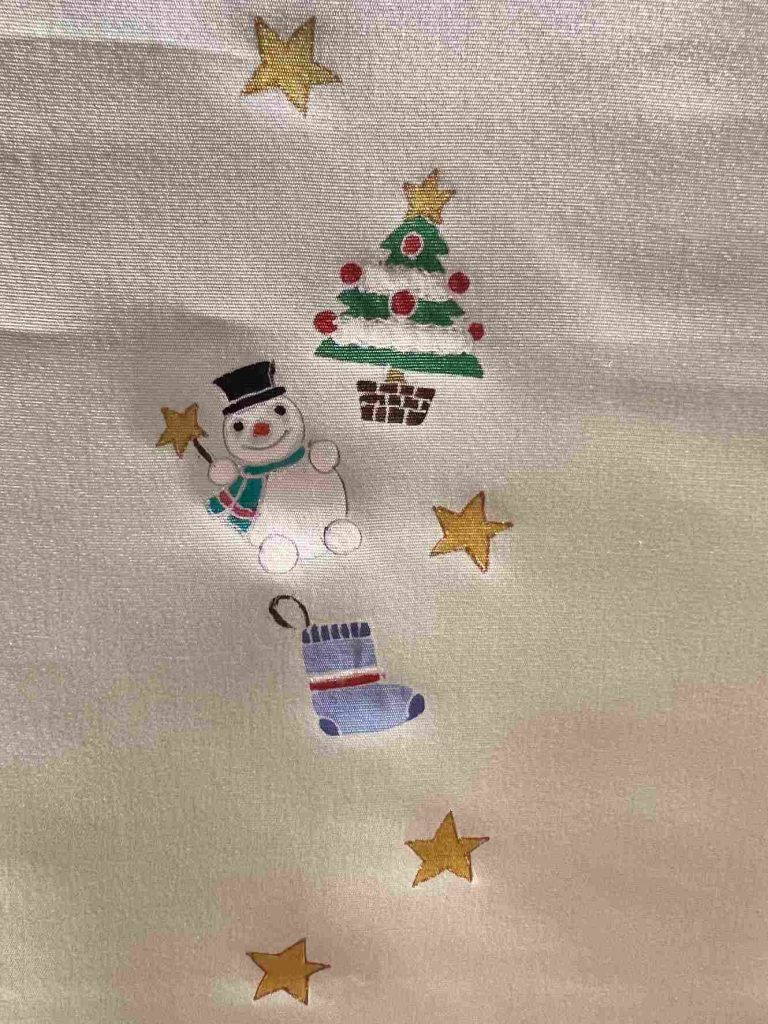 Auspicious Kimono Designs to Enter the New Year
New Year is, of course, a time for feasting, and what better to feast than on a lobster? Prawn-like and symbolic of long life, the lobster is a special celebratory food in Japan. Tanabe's lobsters appear against a fine white mesh. And the abstract quality contrasts in a very modern way with the detailed drawing of the lobsters. This would be a very smart obi for New Year.
Laughing plum blossoms obi by Kumiko Machida is also a modern and minimalist take on the plum blossom motif that is often seen at New Year.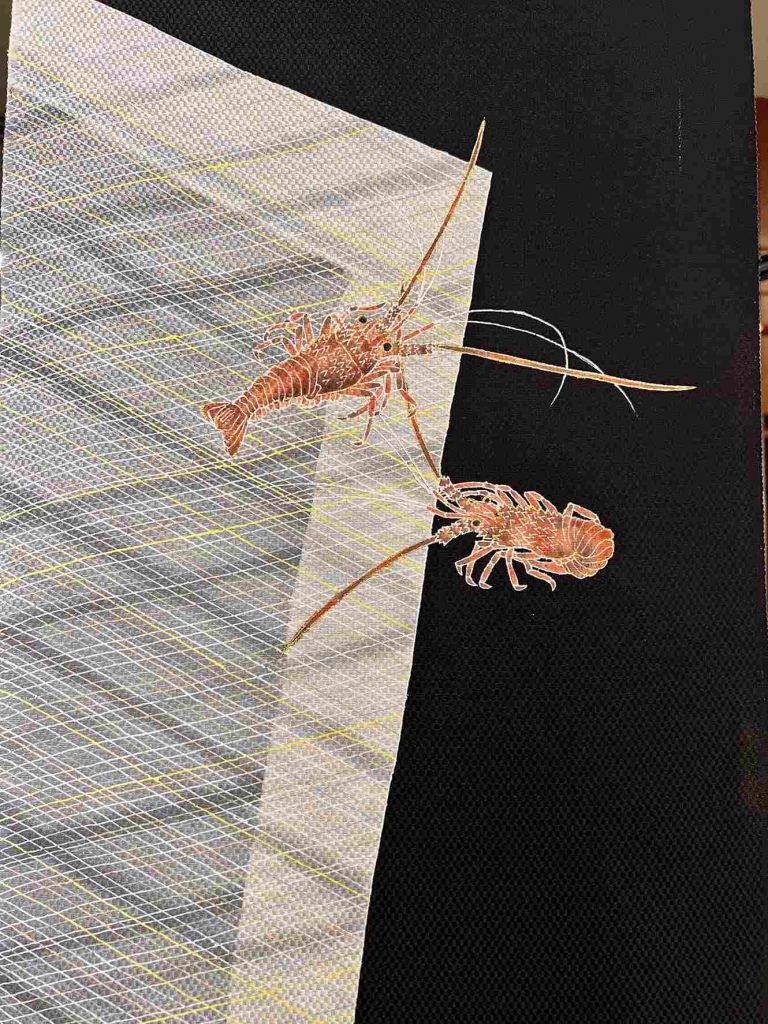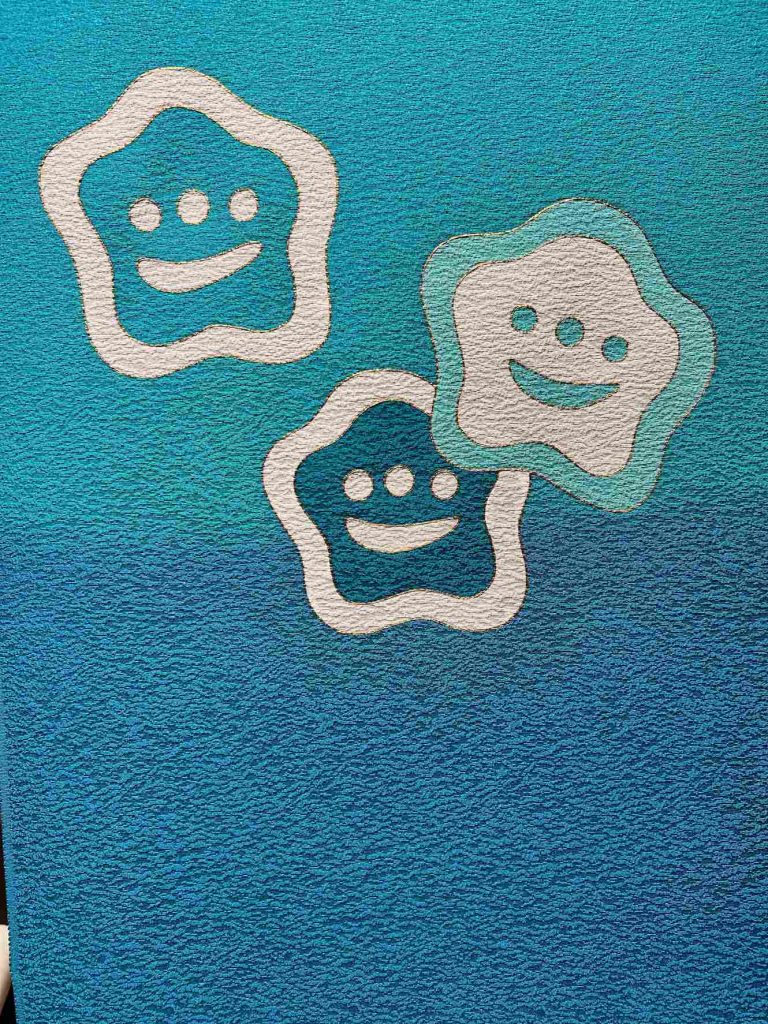 The beautiful turquoise shades of blue will brighten up any kimono and surely lead to a Happy New Year.
Many people love to see the sunrise over Mount Fuji at the New Year, and Honda's obi depicts the red sun behind Mount Fuji. Seeing Mount Fuji at New Year is another auspicious way to start the year.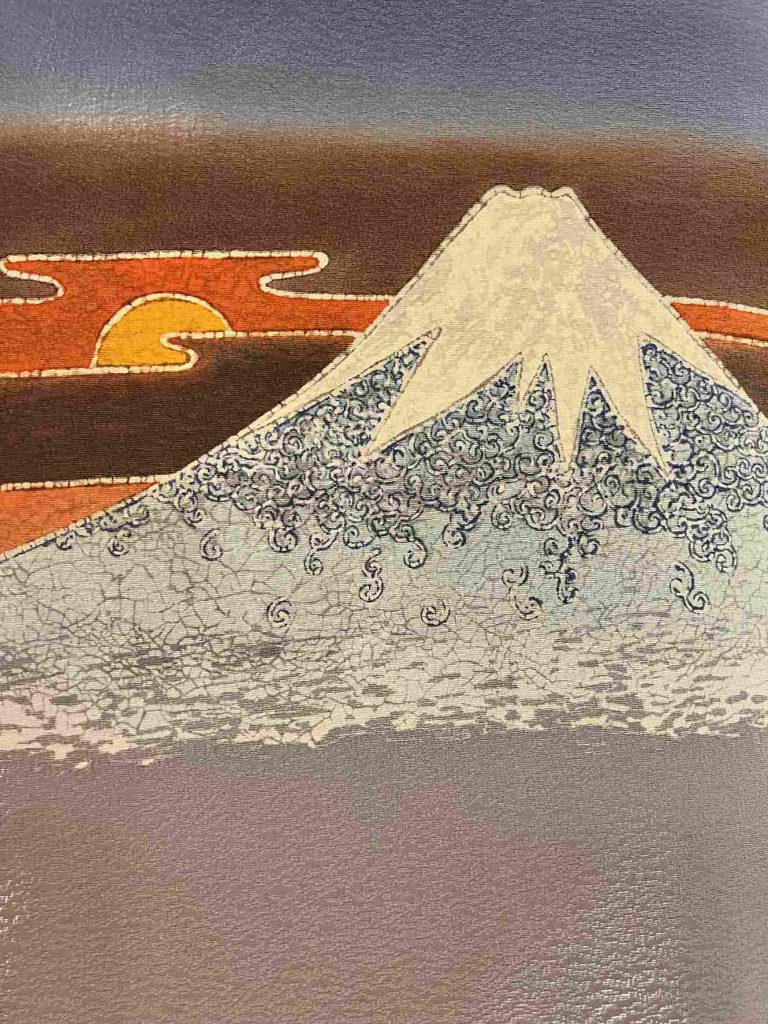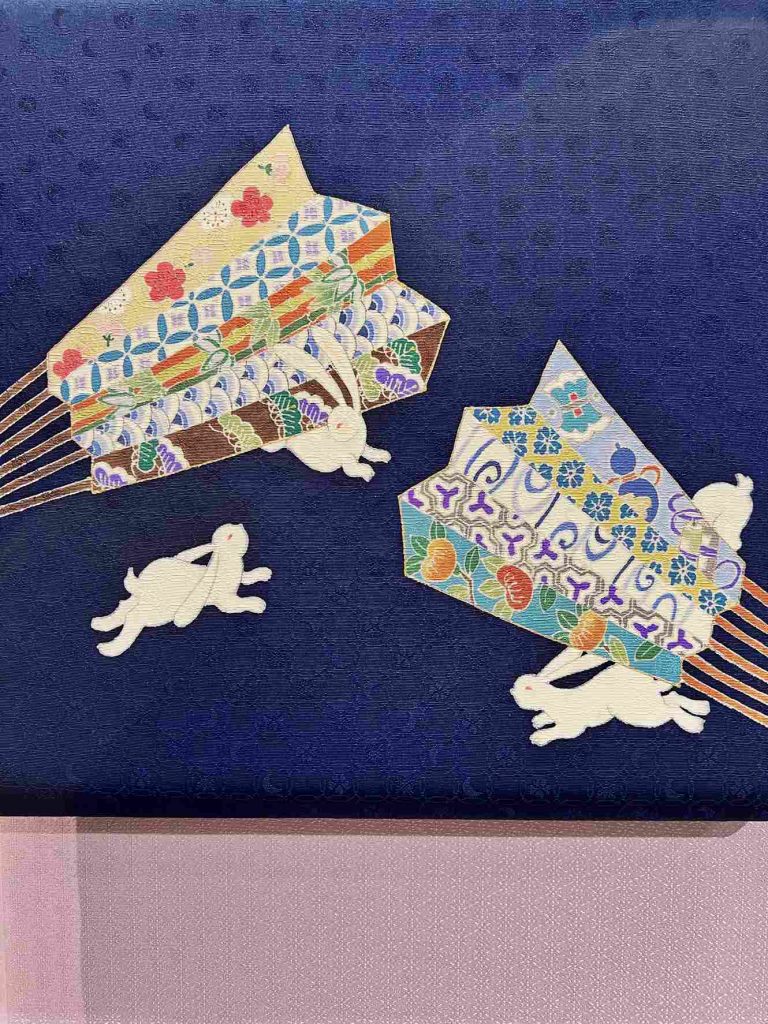 Year of the Rabbit
2023 is the year of the rabbit in the Eastern Zodiac and so Tanabe and Someya have made obi around that theme. Tanabe's rabbits are playfully chasing around two highly decorated fans on a navy-blue ground. They are getting the year off to a vigorous start.
Someya's fabric has silver threads in it and silver and gold snowflakes are falling. We can view his peaceful little snow rabbit through a small hole in bamboo wood. The bamboo leaves are laden down with snow, and two leaves make the ears of the snow rabbit. This obi would be suitable for Christmas or New Year and it has a magical charm to it.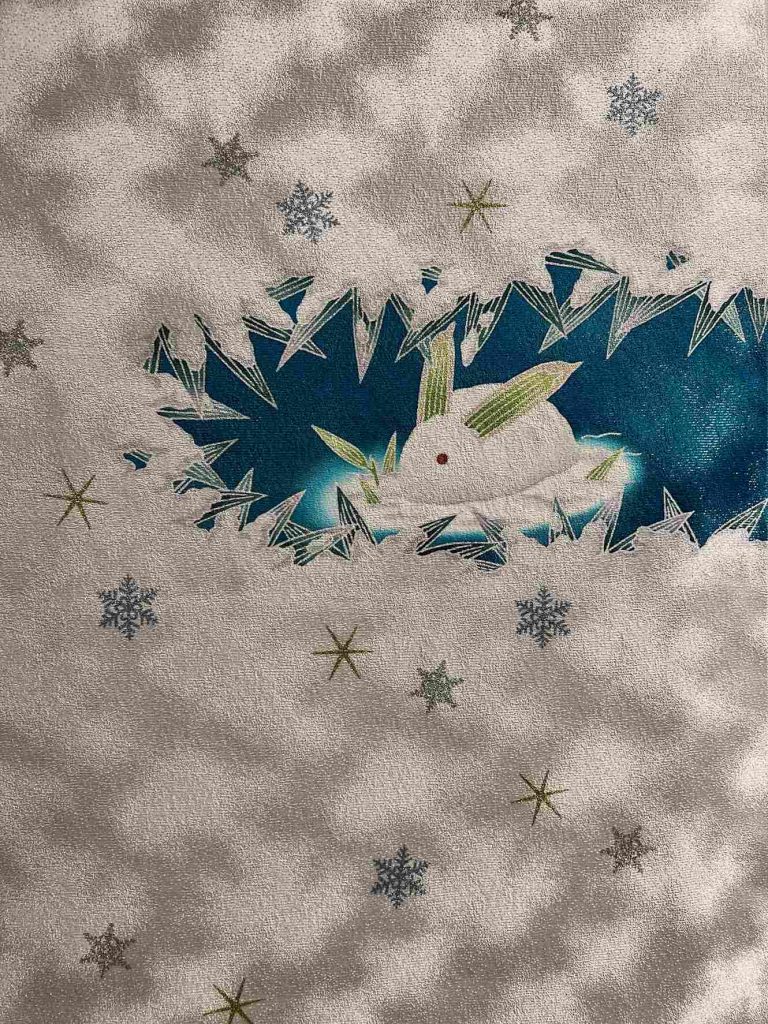 Kimono Styling for Winter
Drawn to the snowflakes all over it, I wore a Kaga yuzen kimono with a design of camellias on it. It has a camellia collar to match. The obi also has a design like snowflakes, so it matches perfectly.
The kimono has a little secret that can only be seen if you walk with a bit of a spring in your step, or if the breeze lifts the kimono a little. On the inside is a small snowman with a shovel to clear the snow.
Such hidden details are one of the things that I love about kimono. I had to sew some snow onto my beret to give the outfit a cheerful and quirky finish. I am ready for the winter!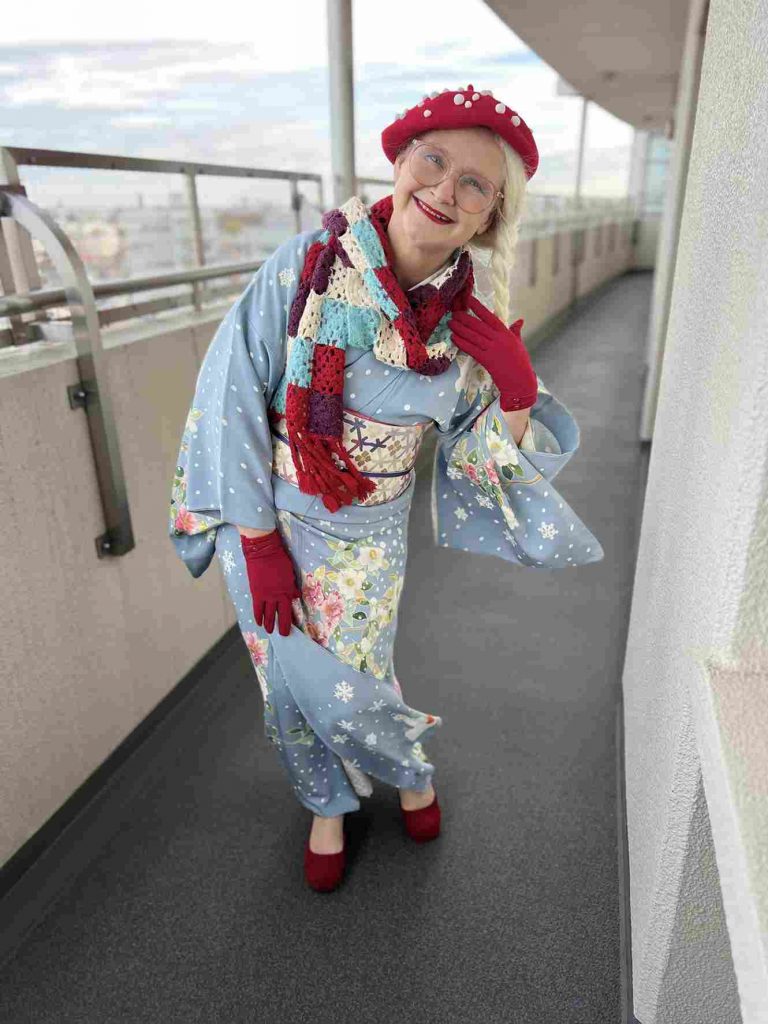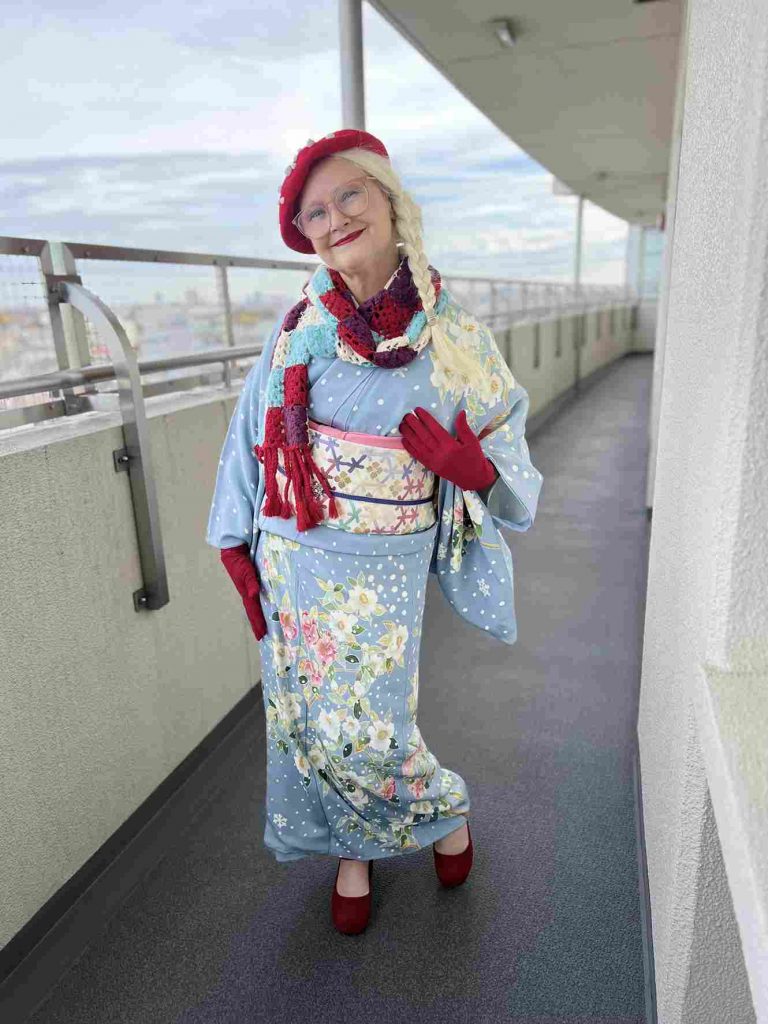 RELATED:
Author: Sheila Cliffe
Find other columns on kimono by author Sheila Cliffe here on JAPAN Forward.