NTT Bets on Technology and Agriculture in an Aging Society
"Our goal is to make agriculture an inspirational industry," explains NTT AgriTechnology Senior VP and COO Kobayashi about their new urban farming model.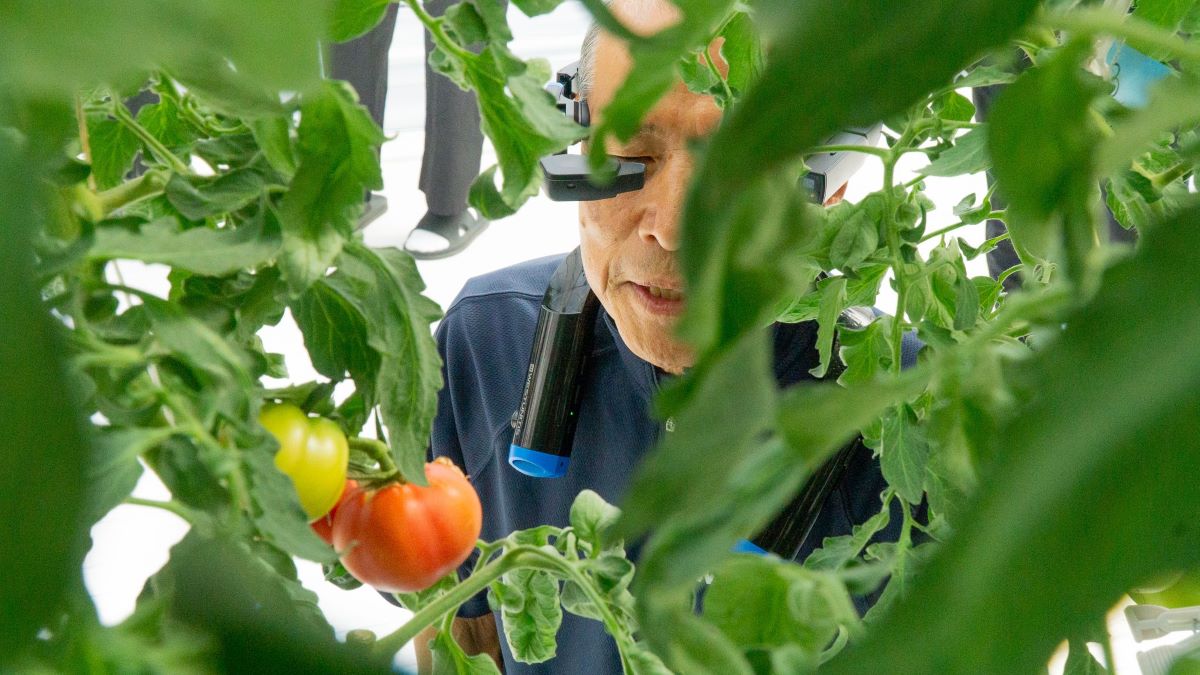 Digital technology giant NTT is placing its bets on combining agriculture and technology with an eye on Japan's aging population.
On October 23, NTT showed journalists how it's setting new trends in urban agriculture in the heart of Tokyo. The conglomerate's latest enterprise is called NTT AgriTechnology Corporation.
In a greenhouse in Tokyo, reporters could also see how smart eyeglasses and 5G connectivity are being used to encourage remote learning in cultivating greenhouse tomatoes.
By educating the next generation of farmers, NTT hopes to address the falling number of agricultural experts. Equally important, it also aims to create urban agriculture centers in the capital, and to achieve that it is collaborating with the Tokyo Metropolitan Government.
Reducing the distance between farmers and consumers, the initiative also has implications for a sustainable society.
They're aiming to narrow the gap between cities and farmlands by introducing new technologies and lowering the hurdles to entering agriculture. Ultimately, the hope is that these efforts will increase the appeal of the agriculture sector as a whole.
"Our goal is to make agriculture an inspirational industry," says Hirotaka Kobayashi, NTT AgriTechnology Senior Vice President.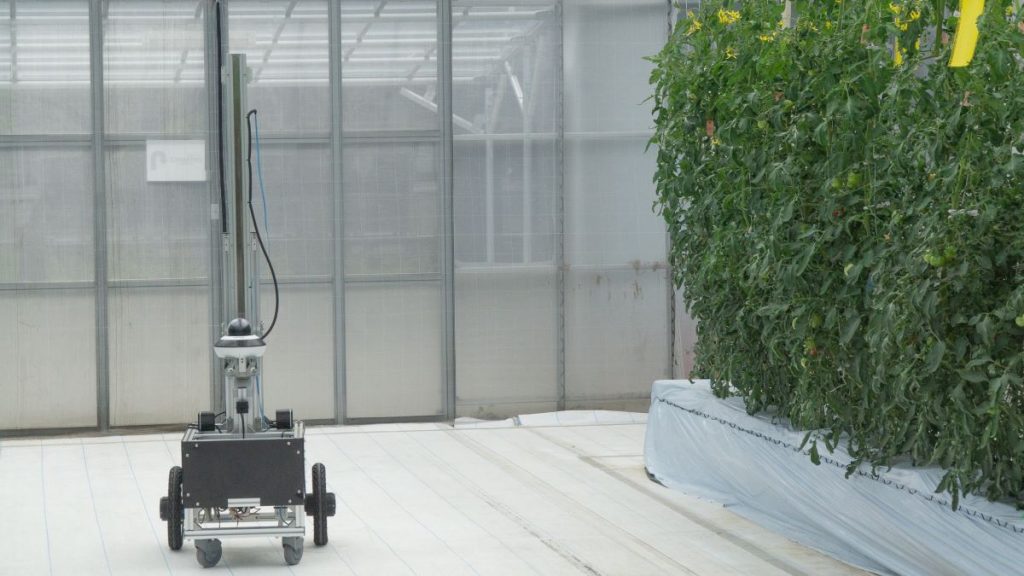 Cultivating a New Kind of Agriculture
Sanhei Hattori walks confidently towards a tomato plant. We are standing in a tomato greenhouse at the NTT AgriTechnology Corporation branch in Chofu.
"I am a little concerned about this plant," says Hattori in the microphone of his smart glasses, focusing on a section with browning leaves. He is connected with an expert in Tachikawa, in what NTT calls its cockpit.
The expert can see what Hattori is looking at through images captured on his smart glasses. Also, real-time video is shared via several 4K ultra-high resolution ceiling cameras. A mobile camera device that can be operated remotely shares the videos through a 5G connection.
Responding to Hattori's concern, the expert asks him to move the camera's point of view. Ultimately the expert reassures Hattori that the plant's condition is not a problem.
In fact, the cockpit is located more than one hour away. Nevertheless, as in any educational relationship, Hattori interacts regularly with the advisors there.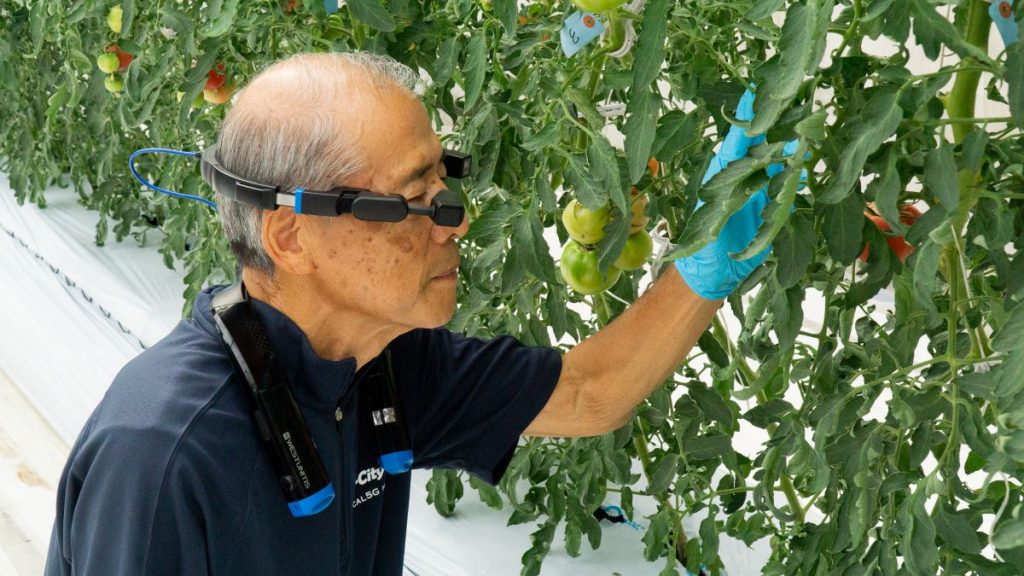 Taking Up Smart Glasses and AI In His 70s
Even when not connected through online video calls, the smart glasses are equipped with AI technology. This allows automatic counting of leaves or measuring of the plants. Both features, which previously would have taken place manually, speed up the farm's monitoring tasks.
In addition, a computer gathers data from the greenhouse and optimizes temperature, humidity, luminosity, soil water content, and more.
These features have expanded the accessibility of farming to the general population. With no prior experience in agriculture, Hattori has successfully raised 350 tomato plants while working 9:00 AM-4:00 PM, five days a week.
Remarkably, Hattori started working on the project in 2020, at the age of 72. As he explains, it took about a year to get used to the high-tech system.
One key to the project's success has been the easy access to expertise. Hattori says, "It's like always having a teacher next to me."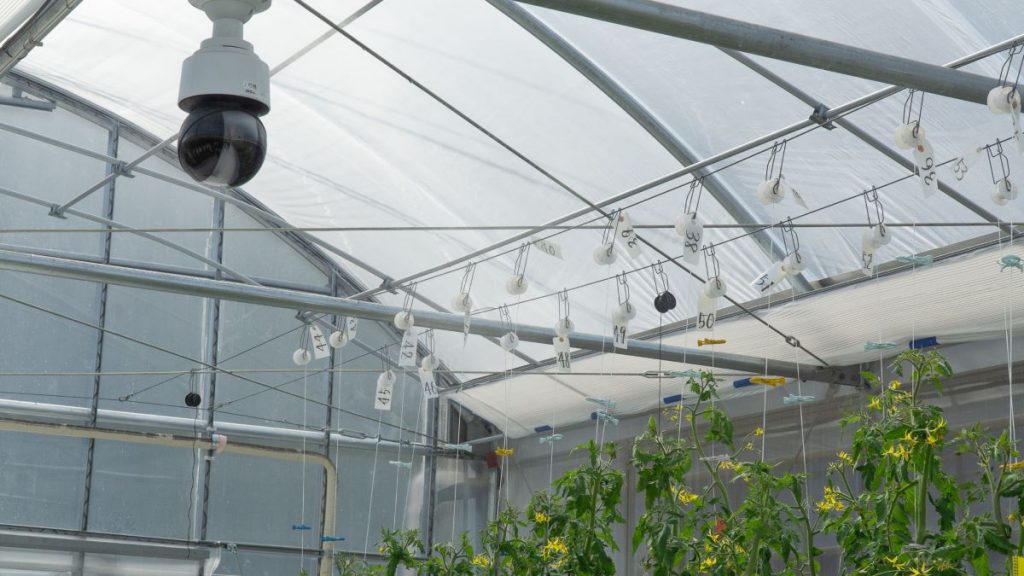 Educating the Next Generation of Farmers
Demographic trends have been a big reason behind NTT's new agriculture enterprise.
For example, the number of key agricultural workers involved in private farming decreased to 1.36 million in 2020 from 1.76 million in 2015. That represented a drop of 22.4% over five years. Moreover, 69.6% of those key agricultural workers were 65 years old or older, according to data from Japan's Ministry of Agriculture, Forestry and Fisheries.
Those numbers illustrate the difficulty in teaching agricultural practices to the next generation, a process called agricultural extension.
In 1998, 10,634 people worked in agricultural extension. But the number had decreased by 32% to 7,202 in 2021. That was also according to data from Japan's Ministry of Agriculture.
Therefore, NTT began experimenting with communication technologies to facilitate teaching best practices to farmers, many of whom have little experience. With initiatives such as the one in Tachikawa, experts can remotely guide farmers in several locations, without spending time commuting.
An Increasing Trend
Other large companies have also experimented in the urban farming realm. Panasonic announced an urban farming pilot project in Singapore in 2014, locally sourcing vegetables for a Japanese restaurant. Itoya, the popular stationery company, established an urban farming section on the 11th floor of its Ginza branch in Tokyo. These initiatives have aimed to create a new farming model for cities: small-scale, yet closer to the greatest number of consumers.
By 2050, according to United Nations estimates, two out of three people could live in cities. Urban farming could therefore have a growing impact. Tokyo itself has provided an interesting example of urban farming, with products grown all over the capital, especially in the Western part of the metropolis.
Yet, barriers remain. The cost of infrastructure to support this budding method is quite high. Kanako Ooishi, associate business manager of NTT AgriTechnology's New Business Development headquarters, estimates that building the infrastructure for an interconnected greenhouse costs approximately ¥40 million JPY (~$267,000 USD). This number is a tall order for small farmers, who might take years to recoup their initial investment.
"Ideally, local governments could provide financial assistance to help lessen the burden on individual farmers," expressed Ooishii.
The smart glasses, which cost ¥250,000 JPY (approximately $1,600 USD) are somewhat more affordable. They can also be purchased at a couple of dozen locations around the country, posits NTT AgriTechnology's Kobayashi.
NTT is also experimenting with alternative initiatives. For example, it has created a lettuce-growing truck that works by growing plants using small amounts of water and LED lights. The lights are in turn powered by solar panels.
"We are already getting inquiries from various shopping malls which are interested in setting up the lettuce truck in idle space such as parking lots," explains Ooishii.
Creating Circular Economies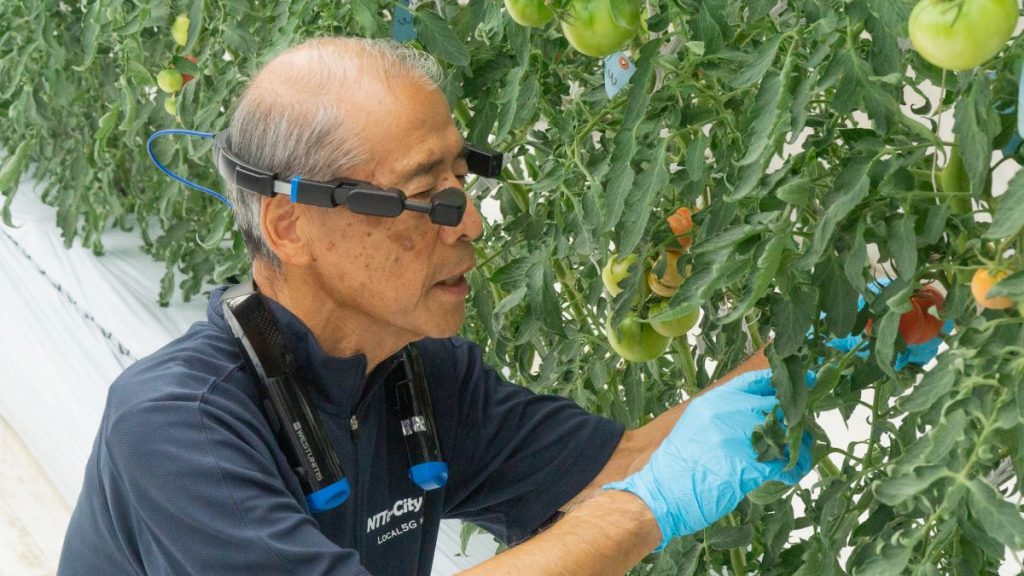 Although the high-technology greenhouse model might not be an immediate solution for small enterprises, NTT has already been working locally to create virtuous sustainable cycles.
For example, it has shared its produce with a local school in Chofu which, in turn, has used the produce in school lunches.
Biowaste from the produce subsequently has been sent back to NTT, which has used it in its biofuel-powered energy plants.
As food security and sustainability remain talking points going forward, we can expect to see more initiatives like those of NTT in the future.
It feels like it's a new frontier. As the farmer Hattori puts it, "It's exciting to be doing this new project."
RELATED:
Author: Arielle Busetto