Resurrecting Winston Churchill, and Other Stories From Japanese Special Effects Makeup Artist Kazuhiro Tsuji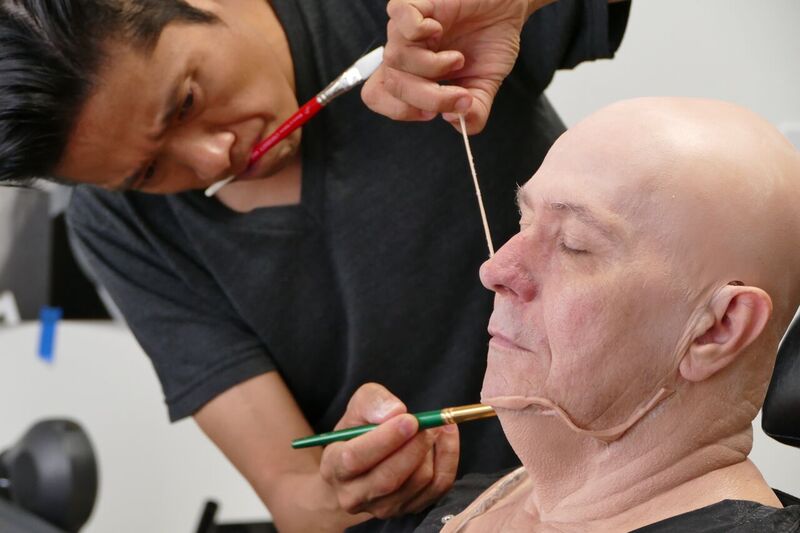 A Japanese special effects makeup artist has caused a revolution in Hollywood. He is Kazuhiro Tsuji, 48, the artist from Kyoto who was awarded the Academy Award for Best Makeup and Hairstyling for his work recreating the former United Kingdom Prime Minister Winston Churchill for the film Darkest Hour.
Tsuji is a modernist sculptor who resides in the United States, although he recently returned to Japan in time for the movie's premiere—and an interview with The Sankei Shinbun and JAPAN Forward.
Tsuji became the first Japanese artist to win the Academy Award for Best Makeup and Hairstyling. He was nominated in 2007 and 2008 before finally receiving the honor for the Churchill movie.
The film is a masterpiece that depicts Churchill's courage and determination during World War II as he faced a crisis that threatened Britain's survival. Actor Gary Oldman starred as Churchill and received an Academy Award for Best Actor.
The movie's double Academy Award is a testament to Hollywood's awe at Tsuji's magical ability to transform the slim Gary Oldman into the stout Churchill.
Tsuji received the golden statuette on March 4 at the awards ceremony in Los Angeles. He praised Oldman as he said, humbly, "I am honored to have been on this spectacular journey with you. I wouldn't be standing here if it weren't for you."

Tsuji was born in Kyoto in 1969. He taught himself special makeup techniques during his high school years, and moved to the US in 1996. He polished his skills under the guidance of Dick Smith, the Master of Special Effects Makeup who transformed the acclaimed Marlon Brando into the great Italian Mafia boss in The Godfather.
Chewbacca's Hair
Asked what first drew him into special effects makeup, Tsuji explained, "I was inspired by Star Wars when I was eight years old."
What inspired him exactly? Tsuji smiled mischievously as he replied: "Chewbacca's hair. I was curious to know what it was made of."

Tsuji's interests are unique, but so is his lifestyle. He was interested in art, crafts, and design from a young age, and he had dexterous hands. When he was a high school student in Kyoto, he was stunned by a photo of Dick Smith's creation of the former US President Abraham Lincoln, which he found in a film magazine.
What he did next was extraordinary. He used makeup to transform his own face to look like Lincoln and sent a photo of it to Dick Smith, who immediately sent a letter of advice. Tsuji followed Smith's advice and made another attempt. He repeated this process with Smith for a year, sending more than a dozen photos and letters. Smith then invited him to go to the US.
Sudden Retirement from Hollywood

After traveling to the US, Tsuji worked on major Hollywood hits, including Men in Black (1997) and Planet of the Apes (2001), before suddenly leaving the film industry.
"The requests I received in Hollywood were all about creating monsters and [imaginary] creatures with exaggerated features for comedy and science fiction films. I started to have doubts about the discrepancy between the demands of Hollywood, where many films focus on commercial profit, and the kind of creativity I was aiming for," Tsuji revealed.
"Special effects makeup can take hours. Some selfish actors couldn't endure it and walked away during the process. Often that meant I had to re-apply their makeup. I couldn't bear that kind of life," he said.
Tsuji's turning point came when he created a bust of Dick Smith, which was twice the size of his actual face, for Smith's 80th birthday. It moved Smith to tears, and he expressed his admiration and praise for Tsuji's work in front of his students. 

The experience of leaving such a lasting impression on his audience gave Tsuji a sense of accomplishment and fulfillment that he had never felt before. He retired from working for Hollywood and focused on creating giant busts as a modernist sculptor.
Request From a Renowned Actor

In 2013, Tsuji created a double-sized bust of American artist Andy Warhol, the flag-bearer of pop art. The bust was displayed at an exhibition in New York and further popularized both names in the modern art world.
There was one man who kept a close eye on Tsuji's work after his Hollywood retirement—the British actor Gary Oldman.
"When I first received an email from Gary three years ago, requesting that I do his special makeup, I refused. I had no intention of returning so easily after having retired from Hollywood, but he didn't give up. He insisted that at least I should visit his home," he said.
Oldman continued to lure him after Tsuji finally visited his home. "I will only accept the role of Churchill if you agree to do my makeup. If not, I will refuse the role," the actor told him.
Oldman's face contrasts greatly with Churchill's. Oldman's eyes are close together and his face is narrow, while Churchill's face was round and his eyes far apart. Oldman was fully aware of this and could only trust Tsuji to give him the miracle he needed.
"To be honest, I thought it was going to be the hardest makeup project of my life," Tsuji confessed. However, this challenge was exactly what added fuel to his creativity.
Tsuji decided to accept Oldman's request because of Oldman's passion and sincere desire to use Tsuji's skills. If Oldman was going to play Churchill, he was going to do so with everything he had, and Tsuji knew it. Besides, this time, he was going to resurrect a historical figure instead of producing a creature or monster. It reminded him of the time he created Lincoln for his first-ever makeup project during his high school years.
Tsuji collected as much information as he could on Churchill, such as photos and films. He was so determined that he even studied Churchill's personality.
What Churchill's Grandchild Said
When he finally saw the completed film, Tsuji was emotionally absorbed in a way that he had not experienced with previous films.
"When I watch the films I worked on, my eyes are usually only drawn to my makeup work. This time, I became immersed in the film's plot because Gary truly became Winston Churchill in the film," Tsuji said in a pleased tone.
"Maybe we'll retire if we both get an Oscar," Oldman had said to Tsuji. However, it is unlikely that Hollywood will let two people with such outstanding talent leave without putting up a fight. In fact, Tsuji is already besieged with requests to work on other films.
"I am so grateful Gary's passion lured me back to the film industry, and that Hollywood recognized my talent," Tsuji said as he smiled with satisfaction. "Actually, Winston Churchill's grandchild watched the film and said, 'It's Grandpa!' You have no idea how relieved I was to hear that."
Yasuyuki Totsui is a senior staff writer for the Sankei Shimbun Cultural News Department at Osaka.
(Click here to read the article in Japanese.)