Sakura 2018: Where to Catch the Last Cherry Blossoms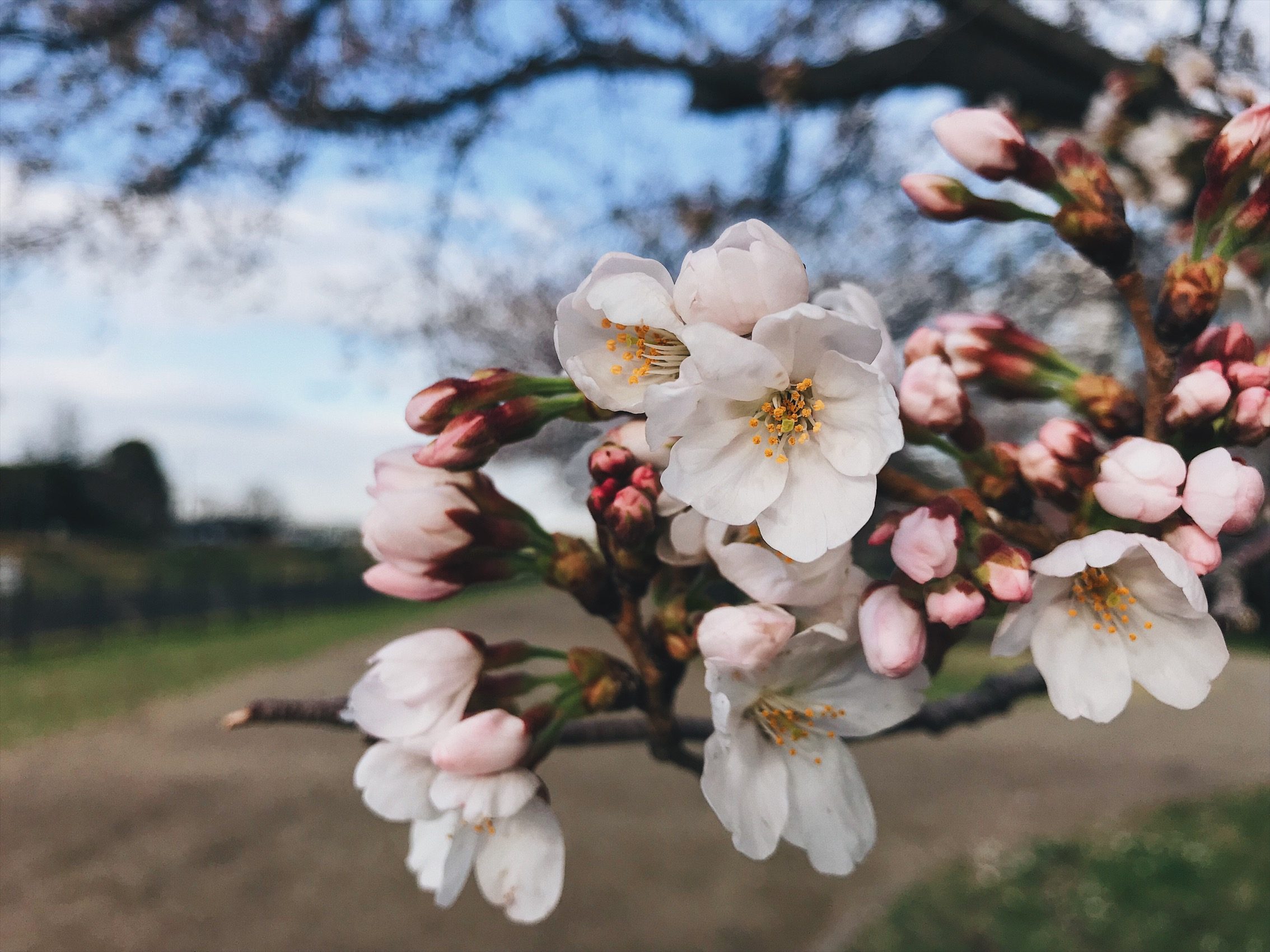 The cherry blossom season may be coming to a sudden end. However, while the blooms appeared in most parts of the country earlier than expected this year, flowers can still be viewed in other parts of Japan.
JAPAN Forward has created this list of suggested sakura viewing sites in the remaining northern holdouts. Both visitors and locals can still view this iconic symbol of spring in 6 prefectures and an island.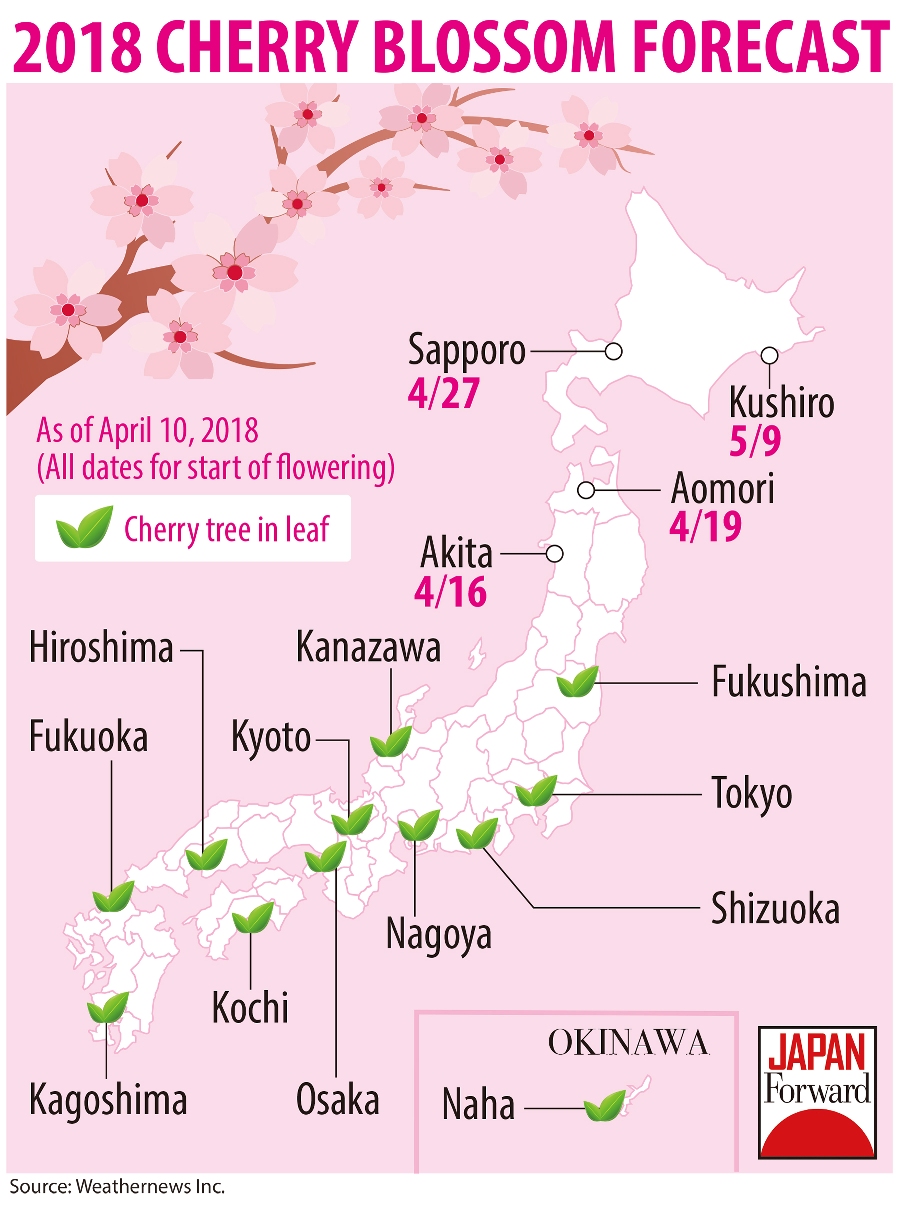 Fukushima
While overshadowed in early 2011 by the Fukushima Daiichi nuclear accident, Japan's third-largest prefecture is known for its natural beauty, which regularly attracts hikers and campers in the summer.
Stretching from the Pacific Ocean in the east, to a mountainous terrain in the west, Fukushima holds plenty of adventure for those who seek it—including unique locations for cherry blossom viewing.
Starting in late April, the Miharu Takizakura (meaning "waterfall cherry blossom tree") reaches the peak of its flowering season, drawing thousands of admiring visitors. Considered by some as the "single most beautiful cherry blossom tree in all of Japan," it can be found in the sleepy village of Miharu, in central Fukushima prefecture.
Despite its remote location, Miharu can be reached from Tokyo in about 80 minutes. Departing from Japan's capital, you'll ride on the JR Tohoku Shinkansen, which arrives at Koriyama Station. From there, the JR Banetsu-to Line takes you to Miharu Station.
Another option for cherry blossom viewing is the Tsuruga Castle, which is located in a part of the prefecture and is known for award-winning sake and samurai tradition. The area has grown in popularity for yozakura (night cherry blossom viewing), which illuminate the castle grounds and thousands of cherry blossom trees.
Other spots for viewing cherry blossoms in Fukushima include Hanamiyama Park, which offers a stunning view of Somei Yoshino trees (along with a few other varieties) against a backdrop of the Azuma Mountains.
Shinobuyama Park, located north of central Fukushima City is another well-known spot.
Miyagi
Dotted with ocean-facing ryokan (traditional Japanese inns), onsen, and other ways to escape big-city life, Miyagi has become a weekend retreat for Tokyoites. Although still recovering from the 2011 tsunami, the prefecture boasts a few great locations for a more relaxed o-hanami experience.
For instance, Shiraishi River Dike spans eight kilometers with nearly 1,200 cherry blossom trees, which include double-flowering varieties. In the background, the snow-capped Zao Mountain range can also be viewed.
Saigyo Modoshi-no Matsu Park in Matsushima offers an incredible panoramic overlook to the nearby bay and is regularly considered one of the top locations for viewing cherry blossoms in Japan.
The double-flowering variety makes another appearance at Shiogama Shrine. Located in eastern Miyagi, the shrine has over 200 cherry blossom trees, including 27 Shiogama Cherry Trees—a type of double-flowering tree, specific to that area—which have since been designated as a natural monument.
Yamagata
The natural beauty of Yamagata prefecture's mountains—notably the three sacred peaks of Dewa Sanzan—has inspired many, including the poet Matsuo Basho. It's reputation for tranquility and self-reflection, perhaps best epitomized in the Yamabushi (basically meaning "ascetic hermits," who cloister themselves at mountain retreats), can still be partially experienced through cherry blossoms.
Consider the Lone Cherry Blossom Tree of Taruguchi Pass, which often blooms amid the backdrop of lingering snow from the mountains.
Tsuruoka Park, located in western Yamagata, is another popular spot for cherry blossom viewing. Boasting the prefecture's earliest bloom with over 730 trees, the park holds a popular cherry blossom festival in late April that is enjoyed by locals and visitors alike. For many, the bloom represents a kind of rebirth following the cold winter months. The park actually has been featured in movies and, thus, is rather well-known throughout Japan.
The so-called "Sakura Line" running along the Mamigasaki River is lined with about 200 trees and illuminated at night. Nearby, visitors can find Kajo Park, which sits on the remains of Yamagata Castle. It's yet another spot for yozakura, with 1,500 cherry blossom trees along the moat being lit up during the night. A short trip away is the Kubo-Zakura, a nearly 1,200-year-old tree.
There, unquestionably, are other spots for viewing cherry blossoms in Yamagata, including Tendo Park (Mazisuruyama), Eboshiyama, and cherry tree countryside locations like Kama-no-Etsu Farm.
Iwate
Steeped in Japan's long feudal history, Iwate is the country's second largest prefecture with a rugged coastline, mountains, valleys, and folk tradition—explaining why it's often called the "Lost Japan." Modern legends also come from Iwate, including the rather unique yuru-chara (a kind of mascot created to promote a region, business, or event), the Cabbage Man.
Unsurprisingly, Iwate also has quite a few phenomenal spots for seeing cherry blossoms.
Kitakami, located in far western Iwate, is renowned for a strip of trees along the riverbank. A cherry blossom festival is held in Tenshochi Park until May 7. It features features local foods, river cruises, and even a horse carriage ride through the cherry tree tunnel. There are about 10,000 cherry blossom trees and over 100,000 flowering azaleas in the park, which often begin to bloom in mid- to late April.
You can also view cherry blossoms at Genbikei Gorge, in the prefecture's south. Carved from volcanic rock of nearby Mount Kurikoma, it was declared a natural monument and place of scenic beauty in the 1920s.
Akita
The pine-lined streets of historic Kakunodate offer a glimpse into the high-altitude scenery that can be found throughout Akita prefecture. This includes Tazawa-ko, a volcanic lake that visitors can swim in, alongside countless hot springs, shrines, photogenic towns, and mountain summits. For the history buffs out there, Kakunodate is not just Tohoku region's most famous cherry blossom spot. It also has a samurai village, complete with Edo-period houses. The bloom usually occurs during Golden Week in either late April or early May.
In Kakunodate, several hundred cherry blossom trees can be seen along the Hinokinai River, which is a great location for o-hanamai.
Located in Yuzawa City, southern Akita, is the iconic Oshira-sama's Weeping Cherry Tree near Shiryama Shrine. Estimated to be about 210 years old, it usually blooms from late April to mid-May. The bright pink flowers of the lone tree contrast with vivid, dark greens from the surrounding pines.
Aomori
In the northern reaches of Japan's main island, Honshu, lies the beautiful, though under-visited, prefecture of Aomori. Perhaps best known for its Nebuta festival held in August, this interestingly-shaped prefecture is growing in popularity as a stopover for visitors heading to Hokkaido.
Even so, Aomori has remarkably few tourists and maintains a sleepy feel most of the year. From the Osore-zan volcanoes—a site of religious pilgrimage—to Hakkoda's mountains, Towada-ko's beaches, and Hirosaki's emerging food culture, Aomori has plenty of attractions, including some amazing locations for cherry blossom viewing.
Starting in late April, Hirosaki Park becomes pink as nearly 2,600 trees of 50-plus different varieties bloom. Considered one of Japan's Top 100 Cherry Blossom Viewing Sites, the park holds an annual cherry blossom festival between April 23 and May 5.
Renowned for being the largest-scaled in Japan, the cherry blossoms of Hirosaki Park were originally acquired from Kyoto in 1715. A unique pruning technique results in the park's cherry blossom trees having five to seven floral buds, compared to the average three to four. This results in a thickness, which causes the branches to hang down because of the increased weight.
The park has boat rentals for visitors near Hirosaki Castle, from which you should get an incredible view of nearby Mt. Iwaki. Following the bloom itself, the spot is also known for a unique phenomena called the "cherry blossom carpet." This occurs when the petals of trees near the castle's moat fall, covering the surface and turning it pink for several days in May.
Those willing to travel further in Aomori can visit the Hirosaki Tenmangu Shrine, which boasts what is considered the oldest cherry blossom tree in the prefecture, reportedly some 700 to 800 years old.
Other spots for viewing cherry blossoms in Aomori include Ashino Park in Goshogawara City and Kanchogai-dori (sometimes called Komakaido) in Towada City.
Hokkaido
Japan's northernmost island is a place for nature lovers. From its wild landscape dotted with primeval forests, vivid blue lakes, and (in spring) colorful alpine flowers, Hokkaido is a renowned location for both Japanese and foreign travelers.
During winter, the island transforms into a paradise for winter sports enthusiasts with ski resorts in Furano and Niseko. An internationally-recognized snow festival is held annually in the prefecture's capital, Sapporo, a city also know for incredible food and local craft beers.
Perhaps unsurprisingly then, Hokkaido is a popular travel destination for cherry blossom viewing. The colder environment, however, means a later bloom—typically occurring in April or May—when compared to elsewhere in Japan.
Located on the southern tip of the Oshima Peninsula, the small town of Matsumae historically served as the de facto capital of Hokkaido during the Edo Period, when the Matsumae clan ruled over much of the island on behest of the Shogunate.
Although it was later eclipsed by neighboring Hakodate in the 20th century, Matsumae is now a popular tourist destination. Selected as one of Japan's Top 100 Cherry Blossom Spots, the gardens around Matsumae Castle boast some 10,000 trees. Additionally, in late April, a cherry blossom festival is held on the castle grounds, where visitors can sample Hokkaido's well-known local seafood, all while being surrounded by delicate sakura.
The previously mentioned Hakodate is yet another spot for o-hanami. Those visiting Goryokaku—a well-known, five-pointed star fort—see thousands of cherry blossoms encircling the military fortification. This includes nearly 1,600 Somei Yoshino trees, which are considered rare on the island, along with Oyama-Zakura (sometimes also referred to as Sargent's Cherry Tree), a particular type of cherry blossom prevalent in Hokkaido. Contrasting with the white flowers of the Somei Yoshino, the Oyama-Zakura's flower is a darker pink. Locals often gather around Goryokaku to have barbeques (usually jingisukan, a Hokkaido specialty that's named after the Mongolian warlord, Genghis Khan) and view the fleeting beauty of Hakodate's cherry blossoms.
Of course, Hokkaido's modern capital of Sapporo is not without its popular cherry blossom viewing spots. Perhaps the most well-known is Maruyama Park, which draws large crowds because of its convenient location.
Nakajima Park is another option. Having many different varieties of cherry blossom trees—including Somei Yoshi, Oyama-Zakura, Shidare-Zakura, and others—the park offers a long period of time for viewers to catch a glimpse during the island's brief spring.
Asahiyama Park, likewise, is often said to be the most famous cherry blossom spot in Hokkaido, hosting a yozakura festival in May.
Hokkaido has many other spots for viewing cherry blossoms, including Noboribetsu Onsen Flower Tunnel, Shizunai Nijukken Road—another of Japan's Top 100 Cherry Blossom Spots—in Shinhidaka, and Seiryuki Temple in Nemuro.
Are you visiting any of the sites mentioned here? Send us your choice sakura photos for a chance to get published in our weekly gallery of best images from our readers, like this!