[SOCIAL WIRE] ARASHI Band Thrills Fans By Opening YouTube Channel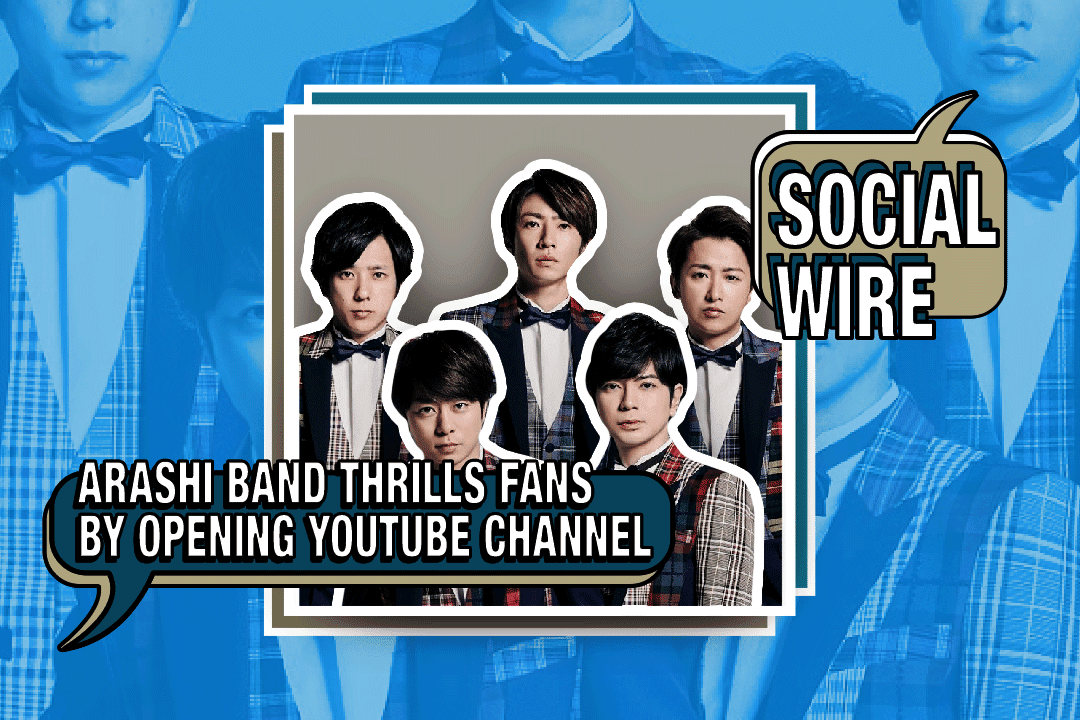 The Japanese band under Johnny's Associates ARASHI thrilled their fans from all over the world on October 9 at just after 5 PM by finally opening their YouTube channel. We look at how the fans reacted to the news.
The announcement was made on YouTube Japan's official Twitter account, "At last... Arashi has arrived on YouTube."
This comes as a welcome surprise as the group has until now stayed away from digital platforms. ARASHI has also made select tracks available for streaming on Spotify and Amazon Music, where fans can listen to the five songs: truth, Monster, Love so sweet, Happiness, A ・RA・ SHI.
The Twitter netizens got an initial hint that the announcement was coming earlier in the day, as at 12:00 AM LINE Music leaked the announcement, but then deleted the tweet.
Fans from all over the world on Twitter rallied in a complete storm of excitement about ARASHI's YouTube Channel announcement:
神運営すぎ、まじ一生ついてく https://t.co/XqbUVT2GxZ

— 田中聖大 ミスター立教No.5 (@rikkyo2019mr5) October 9, 2019
デビュー曲とかのミュージックビデオフルであげてるんだけど、どうなってんのこれ!!!!!やべぇ!!!!!どうせ活動休止したらニノのゲーム実況チャンネルになるんでしょ!!!!!期待するよ!!!!! https://t.co/moRFdJ5yfr

— Lily 認証バッジ💙 (@Lily93758928) October 9, 2019
@hikakin
やばすぎる😭💕 https://t.co/eBi97I8tsm

— えりか😎 (@hikakinlove516) October 9, 2019
嵐がYouTubeチャンネルを開設する世界線に迷い込んでしまったようだ…
死ぬほど聴いちゃうからこの流れでSpotifyにもシャス!!!! https://t.co/hccvGW6kwl

— 影。/かげまる (@kagemaru0205) October 9, 2019
ちょっと、、!!!まってくれえ、、、、😭😭😭😭😭なみだ😭😭😭☺️😭😭☺️ https://t.co/UBPQJtRVkf

— きゃんの ゆき🎡✈️ (@maroooyuki) October 9, 2019
これは本当に最高😖💗
即チャンネル登録した!

— みづき@SSter🐤すずしょうとやで時代は。 (@comedy0608) October 9, 2019
嵐さん本当に素敵なプレゼントありがとうございます💞
ありがたすぎます…🥰

— ゆ ち な @優奈に名前変わるかも (@AR_YUKINA) October 9, 2019
嵐のチャンネルと嵐の[Official Music Video]がYoutubeに現れる世界………………This is 令和………………………………!!!!!https://t.co/vD57hk05jI

— iris (@iriSquirrel) October 9, 2019
WHAT@??@?@?!?!?@?@?@?@? https://t.co/kQPxMwBhXU

— puREEwater100% | 𝗡𝗼𝗧𝗮𝗴𝗦𝗽𝗼𝗶𝗹𝗲𝗿 (@zerowisdom) October 9, 2019
Omg Arashi on Youtube too?? Guys is this really reality I am living in?? 😂😂

I am so confused but wow welcome Johnny's to the world kekeke@_brewingstorm @ShoyukoTakirin

Can't wait for @meelychan to wake up to this and lose her shit kekekehttps://t.co/uiSrL5soSR

Holy moly!!! pic.twitter.com/eYI14rvJyR

— Māmeido 5 and you X20 (@MelbMermaid) October 9, 2019

— Ven 🇲🇾 Nyoungrangdan 🐰🐶 💕🍓💍 (@WonyosUnni) October 9, 2019
AM I DREAMING????????? https://t.co/3maTO2vJ39

— 🌺 ʟᴇɪ 🌺 (@imaginepiggy) October 9, 2019
Author: JAPAN Forward