[Speaking Out] Constitution's Article 9 Impedes Japan-U.S. Alliance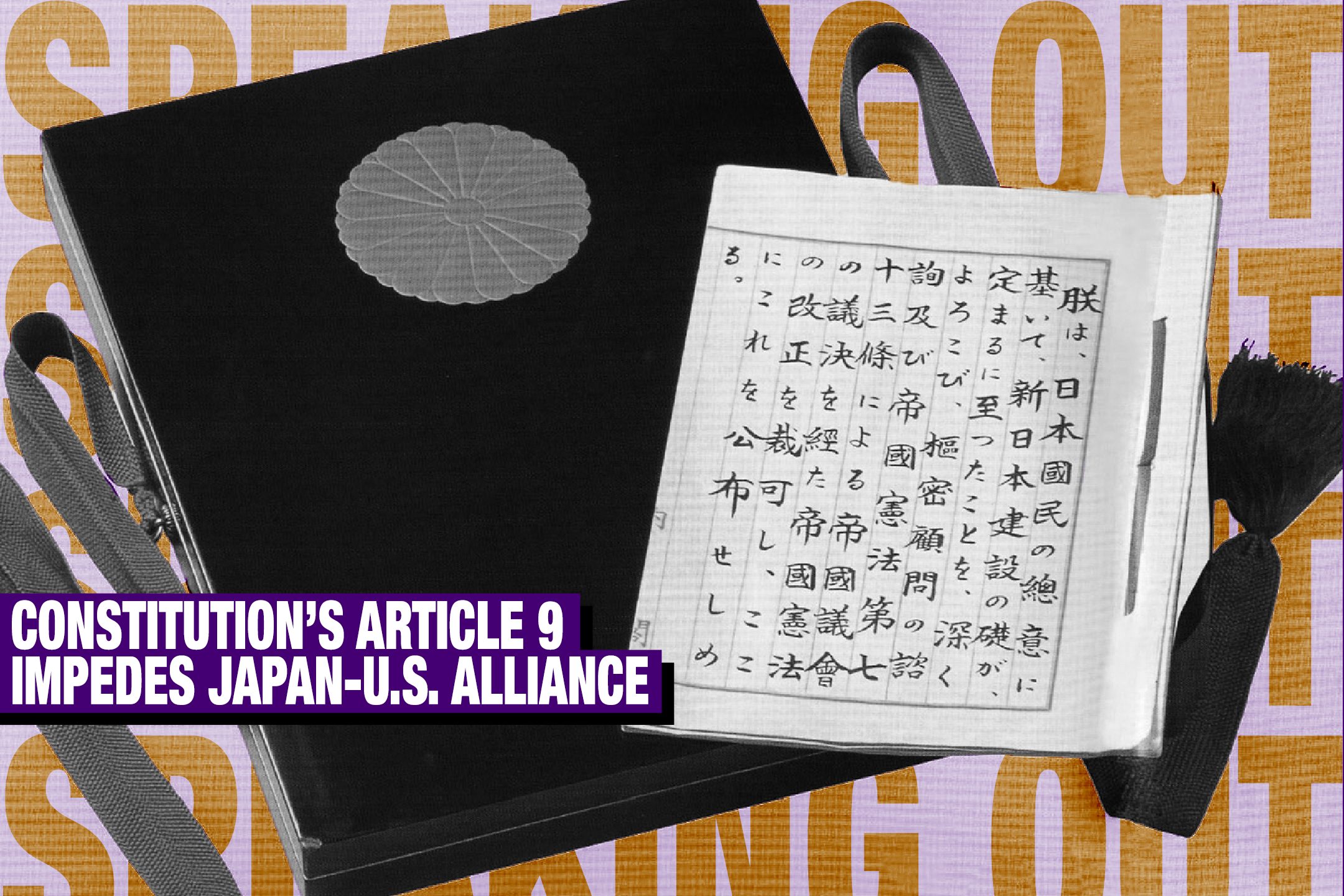 Subscribe: Apple Podcasts | Google Podcasts | Android | Email | RSS | More
On the 74th anniversary of the end of the Pacific War, I feel that the world is entering a new phase as the international situation has been reversed since years just after the war. Japan as a whole needs to wake up to these new circumstances as quickly as possible.
When the war ended, the United States-led allied forces devised systems to prevent Japan and Germany from restoring their military power. For this reason, they forced Japan to accept Article 9 of the Constitution. (RELATED ARTICLE: Japan Constitution's Article 9 is Anti-Peace. Why Preserve It?)
The "MacArthur Notes" show the basic points the Supreme Commander of the Allied Powers said he wanted to be included in the new constitution, including the attempt to prohibit Japan from exercising even the right of self-defense. (RELATED ARTICLE: Japan Needs Constitution Change to Have Capabilities to Strike Enemy Bases)
Lord Hastings Lionel Ismay, a close aide to British Prime Minister Winston Churchill during World War II and the first North Atlantic Treaty Organization secretary general, is known for his famed statement that NATO was designed to "keep the Soviet Union out, the Americans in, and the Germans down."
Germany was allowed to have federal military forces that were designed only to deter the Soviet Union, and these forces were incorporated completely into the NATO. This is the reason German forces don't have their own staff office.
Japan Fails to Respond to U.S. About-Face
How has the situation changed today?
The United States is still the biggest player in the international community. Its leader President Donald Trump has publicly criticized the unfairness of the Japan-U.S. alliance in which the U.S. is obliged to defend Japan while Japan is not obliged to come to the defense of the U.S.
A perfect example can be found in the current crisis in the Persian Gulf. The U.S. has demanded that relevant countries form a U.S.-led coalition to defend their respective oil tankers from attacks. Indeed, it would be natural for a country to defend its own tankers.
Nevertheless, then-Japanese Defense Minister Takeshi Iwaya told U.S. Defense Secretary Mark Esper at their meeting last August 7 that Japan would decide on its response upon consideration of factors such as securing stable crude oil supply, Japan's alliance with the U.S., and Japan's friendly relations with Iran.
It is difficult to understand why he gave consideration to relations with other countries before Japan takes any action to defend its tankers.
Iwaya's remarks indicate Japan's dilemma — that it cannot respond to changes in the international situation. It seems particularly difficult for Japan to adjust to the about-face in U.S. attitudes toward Japan.
As a result, President Trump may see Japan as a strange country that raises various excuses to buy time. In this case, the delay is in response to the U.S. proposal for a coalition to pave the way for Japan to defend its own ships.
Japan Required to Be Strong
Since 2018, President Trump has strongly urged NATO allies, especially Germany, to abide by their international commitment to spend at least 2% of GDP on defense. President Trump at a private meeting indicated he could withdraw the U.S. from NATO, according to U.S. press reports.
The United States now demands Japan and Germany to be militarily strong. And the Japanese Constitution that prevents Japan from becoming militarily strong has become an impediment for the U.S.
NATO as a military alliance is becoming irrelevant as its members fail to abide by their commitments to contribute and participate.
Japan should have national armed forces in response to the changing international situation. We must take note of the necessity for speeding up amendment of the Constitution to that end. (RELATED ARTICLE: What Self-Defense Buildup is Japan Allowed? 'Minimum' in Constitution is Relative)
(A version of this article was first published by the Japan Institute for National Fundamentals, Speaking Out #614, on August 20, 2019.)
Author: Tadae Takubo
Tadae Takubo, PhD, is vice president of the Japan Institute for National Fundamentals and a professor emeritus at Kyorin University.