[Speaking Out] Hypocrisy of Korean Comfort Women Support Group Exposed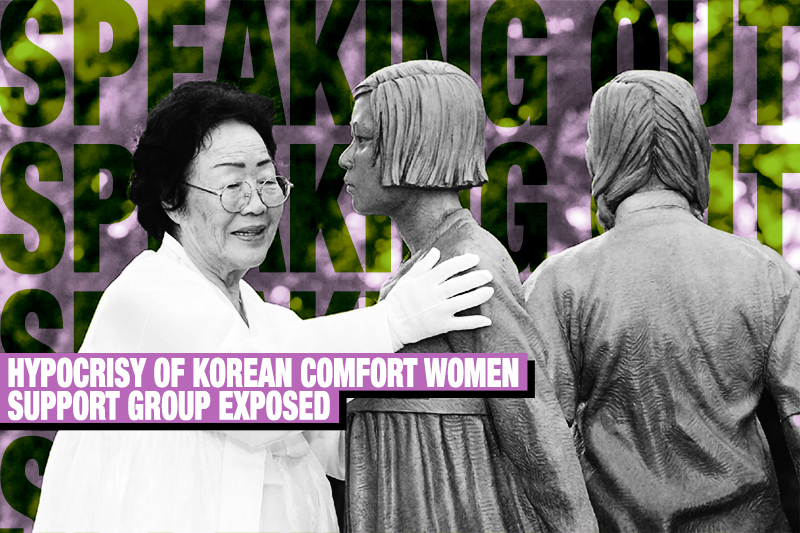 In South Korea, former comfort woman Lee Yong Soo has harshly criticized Yoon Mee Hyang, a former leader of a powerful comfort women support group, for the group's unspecified spending of donations and other allegations. This has led to the revelation of suspicions about accounting fraud, donation embezzlement, and political exploitation of the group's activities.
At last, prosecutors have launched full-fledged investigations into those suspicions.
Misappropriation of Donations
The group, the Korean Council for Justice and Remembrance (formerly called Korean Council for the Women Drafted for Military Sexual Slavery by Japan), made problematic accounting reports, including an imbalance between revenues and expenditures. Managers of a beer hall and a funeral company have testified that payments from the group were contributed back to the group, leading to suspicions about kickbacks.
Given the group's use of Yoon's personal bank account for collecting donations, her deposits worth ₩300 million KRW (about $240,000 USD), her cash purchase of a condominium unit worth ₩200 million KRW (about $160,000 USD), and her daughter's education at a United States university costing ₩100 million won (about $80,000 USD) a year, it is suspected that donations to the group have been misappropriated.
Furthermore, it has been revealed that Yoon cooperated with her husband and his fellow pro-Pyongyang activists in attempting to persuade woman restaurant employees who defected from North Korea to go back to the North. Surprisingly, her husband and his associates have reportedly sung North Korean revolutionary songs and admired the North Korean dictatorship.
Former comfort woman Lee has also claimed that the group's Wednesday rallies in front of the Japanese embassy in Seoul stoked hatred and failed to resolve the comfort women issue. She added that Yoon should not serve as National Assembly legislator after winning an assembly seat as a proportional-representation candidate of the ruling camp in a general election last April. (RELATED: South Korea's Political Parasites Deprive Comfort Women of Closure and Healing)
However, the problems are not limited to the hypocrisy of Yoon and others. While Japanese and South Korean mass media remain silent, a factor behind Lee's criticism of Yoon is that the comfort women issue itself has increasingly become revealed as a myth.
Build Momentum for Breaking Down the Myth
Recently, it has been reported that Lee complained that Yoon and the comfort women support group failed to defend her at a time when the authenticity of her testimony as a former comfort woman had been doubted in South Korea.
In the support group's collection of testimonies by former comfort women published in 1993, Lee said that she had run away from home because of poverty and followed a Japanese trafficking broker to become a comfort woman, and that she had been happy to receive a red one-piece suit and leather shoes from the broker. Later, however, she changed the story and said she had been coercively recruited by Japanese military.
In 2018, Hwang Ui Won, a reporter for the Media Watch news site, investigated this point and published a long report. Then, Yoon and her group began to distance themselves from Lee, instead of protesting the Hwang story.
Anti-Japan Tribalism, a bestseller published in South Korea and Japan in 2019, denied the storyline of comfort women as coercively recruited sex slaves, and described those women as poverty-caused human trafficking victims.
Since last December, journalist Hwang and the Anti-Japan Tribalism authors have held a rally every Wednesday to call for removing a comfort woman statue in front of the Japanese embassy, countering a weekly rally by the comfort women support group. Picking up the group's collection of testimonies by former comfort women, they have asserted that the so-called coercive recruitment of comfort women as sex slaves was a fiction and that comfort women were those who were trafficked due to poverty.
In Japan, campaigns that the Asahi Shimbun and others triggered in the 1990s to portray comfort women as coercively recruited by Japanese military have become widely known as fake. I am breathlessly watching to see if the time is coming for the force of truth to break down the lie in South Korea at last.
(A version of this article was first published by the Japan Institute for National Fundamentals, Speaking Out #683, on May 28, 2020.)
Author: Tsutomu Nishioka
Tsutomu Nishioka is a senior fellow and a Planning Committee member at the Japan Institute for National Fundamentals and visiting professor at Reitaku University. He covers South and North Koreas.