[Speaking Out] Moon's Party Wins Majority Seats: South Korean Voters Choose Leftist Dictatorship Path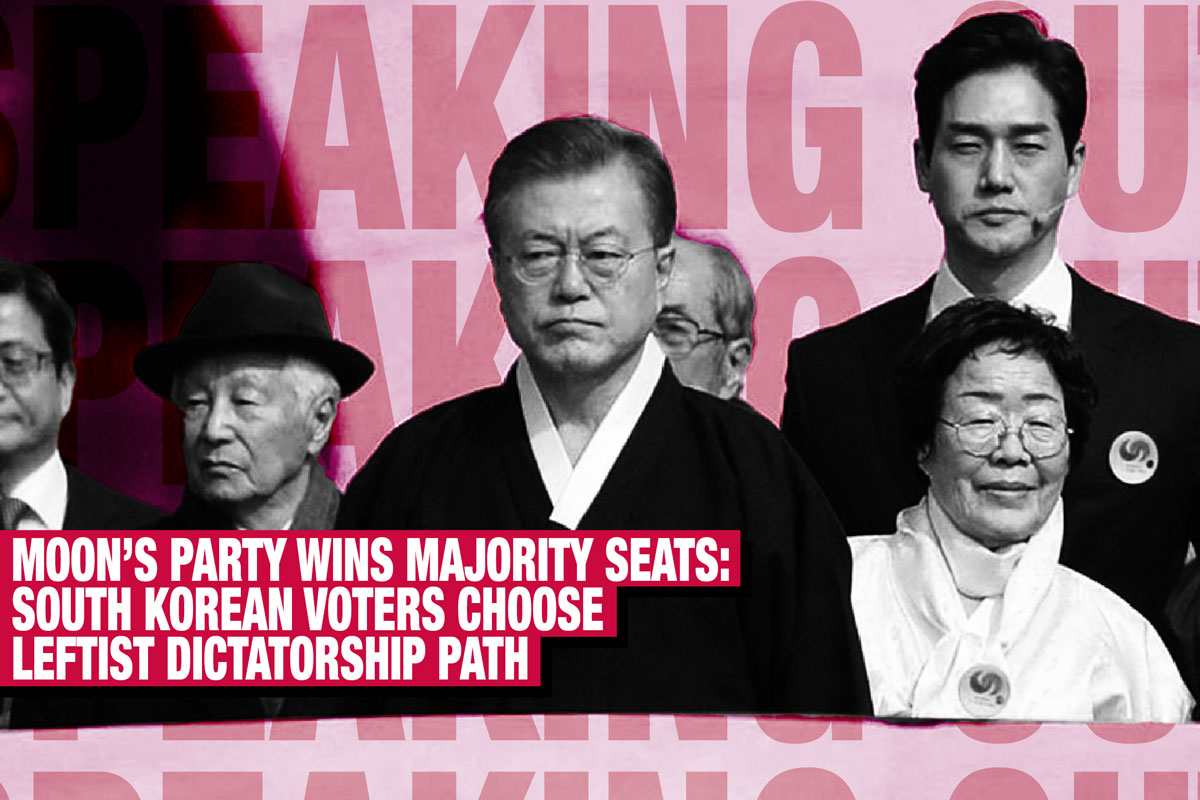 In South Korea's general parliamentary election on April 15, President Moon Jae In's ruling camp ― the Democratic Party and its satellite partner, the Together Citizens' Party ― won a landslide victory, taking 180 seats or three-fifths of the 300 National Assembly seats.
The ruling camp's effective strength came to 189 seats, including nine for small two leftist parties: the Justice Party with six seats, and the Open Democratic Party with three. In contrast, the conservative United Future Party, the largest opposition group, obtained only 103 seats. The middle-of-the-road opposition People's Party won three seats.
In the unicameral South Korean National Assembly, bills supported by a three-fifths majority can be subjected to the so-called fast-track process, where the Speaker can bring a bill to a full assembly vote even before the completion of committee-level deliberations that could be hindered by opposition resistance.
Ruling Camp Given Free Hand to Enact Bad Laws
In 2019, the South Korean ruling camp cooperated with minor leftist parties to narrowly achieve a three-fifths majority to enact two bad laws without consent from the largest opposition party. One of the new laws amended an election law. The other was the High-ranking Officials' Corruption Investigations Agency Act, which established a presidentially-controlled prosecutors office to investigate only high-ranking officials, including prosecutors and judges.
In the next parliament, however, the ruling camp can easily enact laws that would lead South Korea down the path of totalitarianism. South Korean voters have given the ruling camp a free hand to take any legislative actions it chooses, except a call for a constitutional amendment by national referendum.
Even a constitutional amendment referendum call is a possibility, according to many experts, if the High-ranking Officials' Corruption Investigating Agency arrests opposition legislators who have already been indicted for National Assembly Act and other violations.
In South Korea, a proposal to amend the constitution is made by a simple majority of the National Assembly lawmakers or the president. It must then be approved by two-thirds of incumbent lawmakers before being referred to a national referendum. If arrested opposition lawmakers are convicted and lose their National Assembly seats, with the number of incumbent lawmakers reduced, the two-thirds majority required to call a constitutional amendment national referendum would decrease proportionately.
Pay Attention to Conservatives' Counter-offensive
The Moon administration and the ruling parties made punishment of pro-Japanese citizens an issue in the election campaign. In response, a leftist group that organized anti-Japan rallies last summer designated eight opposition camp candidates, including United Future Party leader Hwang Kyo Ahn and the party's former floor leader Na Kyung Won, as "pro-Japanese" and conducted campaigns to defeat them on that basis. Among the arguments they made to voters were that the eight had made remarks endorsing the book, Anti-Japan Tribalism, a bestseller criticizing anti-Japan views of South Korean history. Six of the eight lost the latest election.
In contrast, Yoon Mee Hyang won a seat as part of the ruling camp through proportional representation. He leads an organization that has played a key role in worsening Japan-South Korea relations for over two decades by globally spreading falsehoods claiming comfort women were sexual slaves.
The anti-Japan group that campaigned to defeat the eight opposition candidates has called for a new law that would punish anyone for pro-Japan remarks, confiscate the assets of pro-Japanese citizens, cancel their honors and expel them from national cemeteries. A poll during the election campaigns found that 25% of ruling camp candidates supported the call.
A new law punishing anyone for pro-Japanese remarks could lead Anti-Japan Tribalism author and editor Lee Young Hoon, a former professor at Seoul National University, to be arrested.
"Korean people would be tried in the election," South Korean conservative journalist Cho Gab Je said before the election. "If the ruling camp wins, the country will take the same path as Venezuela [under a leftist dictatorship]."
Temporarily, at least, South Korean voters have chosen that path. However, it will be important to pay attention to the counter-offensive of conservatives who want to pursue free democracy in South Korea.
(A version of this article was first published by the Japan Institute for National Fundamentals, Speaking Out #674, on April 17, 2020.)
Author: Tsutomu Nishioka
Tsutomu Nishioka is a senior fellow and a Planning Committee member at the Japan Institute for National Fundamentals and a visiting professor at Reitaku University. He covers South and North Koreas.
RELATED ARTICLES