Comfort Women: Were They Prostitutes or Sex Slaves?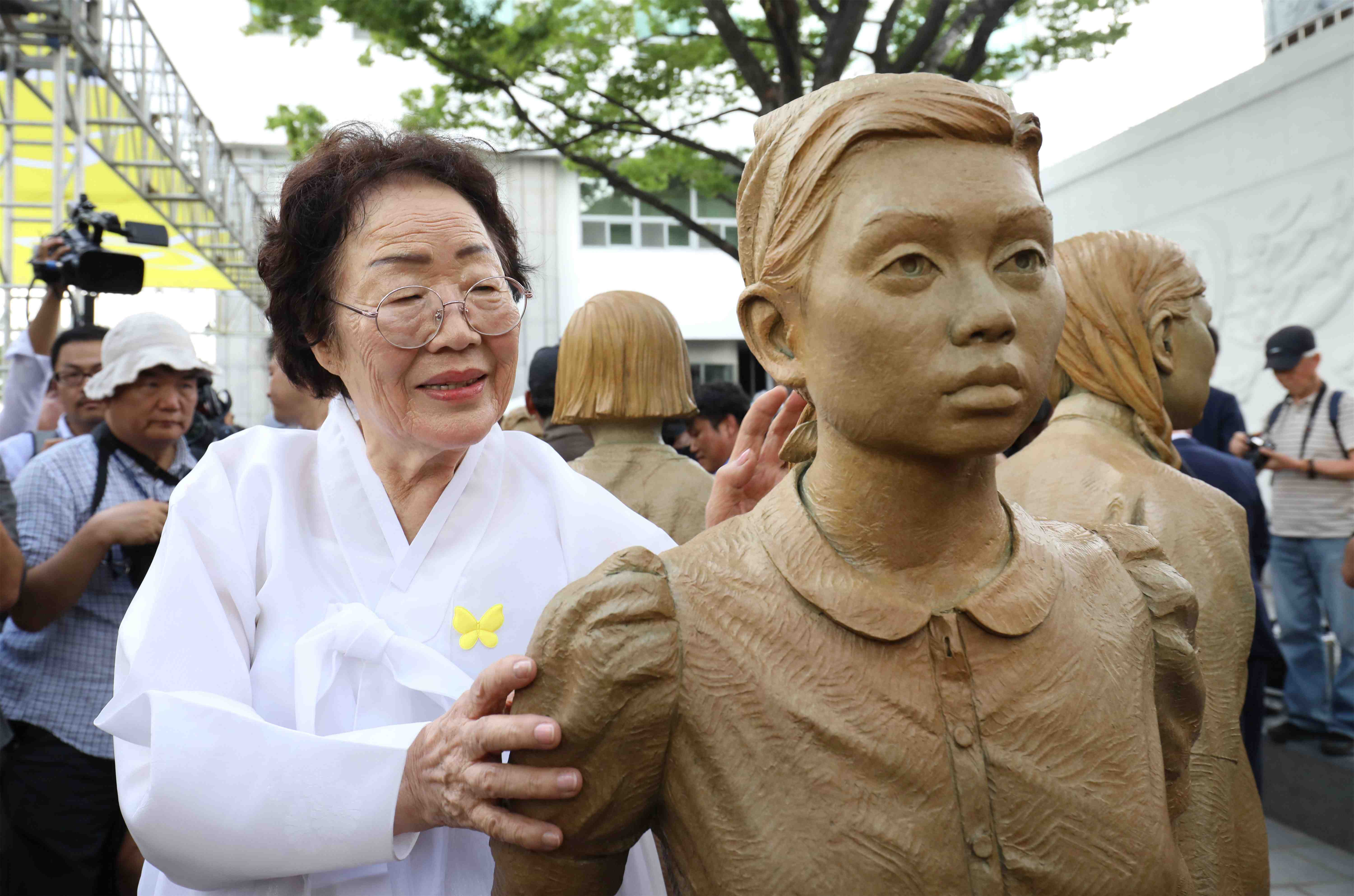 Professor Lew Seok-choon of Yonsei University in Seoul is under criminal investigation for libel and other charges for his lecture last September 19 where he said comfort women were prostitutes.
Not only Koreans, but also many Americans and even Japanese, believe the Japanese military comfort women system was forced sexual slavery. This view is widely held in spite of the existence of numerous primary source documents that prove otherwise.
Let's take a look at some of these widely held pretenses and compare them to what is said in primary source documents on the same subject.
Were comfort women sex slaves or paid prostitutes?
Contemporary U.S. Military Sources
One primary source is Report No. 49, U.S. Office of War Information, dated October 1, 1944. This is an interrogation report of 20 Korean comfort women in Burma. This report clearly states:
A "comfort woman" is nothing more than a prostitute or professional camp follower.
Allied Translator Records and Captured Japanese Documents
Another primary source is found in the ATIS (Allied Translator/Interpreter Section) Research Report No. 120. It says, "Amenities of the Japanese Armed Forces," dated November 15, 1945. Among them are the following:
From a captured Japanese document, "Rules for Restaurants and Houses of Prostitution," dated February 1943:
MANILA: "Persons receiving permission to open business [comfort station] will…submit…copy of personal histories of employees…." "Permission is necessary before anyone joins the establishment."
SHANGHAI SECTOR: "The prostitutes will possess licenses…." "Unlicensed prostitutes are strictly prohibited from plying their trade." "The prostitute and the operator will share equally the proceeds of the work done by the prostitute."
"Tacloban Brothel Regulations," undated: "Places called brothels in these regulations are special brothels operated with Filipino women (licensed prostitutes)."
Foreign Ministry Documents on Comfort Stations
Japanese Foreign Ministry documents from the wartime era were also captured and are among the primary sources available. These include:
Consul General Reports on the Status of Countrymen and Businesses in Chinese Cities: Report on Jiujian (sic)

Consulate Report No. 561, 11/8/38; Nanchang (sic)

Report No. 217, 8/9/39; Chiahu (sic)

Report No. 170, 8/2/39
All of these reports list comfort stations, together with other commercial businesses, not as something special. Operators are listed as civilians. Countrymen are identified as Japanese, Korean, and Taiwanese. There is no mention of any comfort station operated by military personnel.
Another Japanese document, the "Report by Governor General of Guangdong (sic), Report No. 37, 3/15/41," also lists comfort stations with other businesses run by Japanese, Taiwanese, and Koreans.
All comfort stations with Korean women were operated by Koreans, Japanese women by Japanese. There is not even a hint of military guards.
Diaries
The "Diary of Gordon Thomas" is another contemporary source on the subject. Thomas was the former editor of The Rabaul Times who spent three years in Rabaul (Papua New Guinea) operating an icehouse while Rabaul was under Japanese occupation. Comfort women often visited his icehouse and were not under guard. Mention is made of women from two different comfort stations fighting over customers.
The diary of a Korean who managed comfort stations in Burma and Singapore is also part of the record. Korean Professor Choe Kil Sung analyzed this diary. The following are extracts which clarify the status of comfort women:
When people think of a comfort station…quite a few…imagine a military camp or an army tent. And yet, it seems that, for the most part, the comfort stations were actually located in ordinary civilian buildings.
These comfort stations were also engaged in buying and selling, borrowing and loaning, and transfer of property.
Professor Choe concludes: "After I read the diary for the first time, I concluded definitely that the comfort stations were not military institutions, but rather similar to wartime brothels."
How Were Comfort Women Recruited?
Allied Translator Records and Interrogation Reports
A revealing source on the methods of comfort women recruitment can be found in the ATIS Research Report No. 120. In the section on Burma, the interrogation of the comfort station operator mentioned in Report No. 49 provides information on recruitment:
Prisoner of War, his wife and sister-in-law, had made some money as restaurant keepers in…[present day Seoul], but…, to make more money…applied to Army Headquarters in…[Seoul] for permission to take comfort girls from Korea to Burma….
Prisoner of War purchased [contracted] 22 Korean girls, paying their families from 300 to 1000 yen according to the personality, looks, and age of the girls. The girls were from [ages] 19 to 31…. Every "comfort girl" was employed on the following contract conditions. She received fifty percent of her own gross takings and was provided with free passage, free food, and medical treatment…. When a girl is able to repay the sum of money paid to her family, plus interest, she should be provided with a free return passage to Korea….
Another contemporaneous document is Interrogation Report of 163d Language Detachment attached to U.S. I Corps, Philippines. Report No. 163LD-I 023, titled "Combined Enemy Preliminary Report," dated May 21, 1945. This is an interrogation report of five comfort women, one from Taiwan and four from Korea, ages 19 to 28. All five were captured by U.S. Forces in Luzon, Philippines, in May 1945.
The status of the women is listed as "prostitutes." Circumstances of recruitment of Korean women are described in the report as follows:
The families of all the women were extremely poor and in order to save their families the expense of caring for them, they were sold to a Geisha House in Korea. They were sent to…Formosa [Taiwan]…. They returned to Korea on 29 Apr 44, left with 62 other women of both Jap [Japanese] and Korean nationality for the Philippines.
The knowledge of Koreans generally about the practice of comfort women was also investigated by Allied officials as territories were taken over from Japan near the end of the war. One such document is the report "Military Intelligence Service Captured Personnel & Material Branch, dated 25 April 1945. Interrogation Report, and the extract from it titled "Composite Report on Three Korean Navy Civilians List No. 78," dated March 25, 1945, regarding "Special Questions on Koreans."
The questions asked about comfort women were: Do Koreans generally know about the recruitment of Koreans by the Japanese Army to serve as prostitutes? What is the attitude of the average Korean toward this program? Responses were recorded as follows:
All Korean prostitutes that PoWs have seen in the Pacific were volunteers or had been sold by their parents into prostitution. This is proper in the Korean way of thinking but direct conscription of women by the Japanese would be an outrage that the old and young folks alike would not tolerate. Men would rise up in a rage, killing Japanese no matter what consequences they might suffer.
Indonesia: The Bart van Poelgeest Report
The Bart van Poelgeest Report was a study commissioned by the Dutch government in 1993 on comfort women in the Dutch East Indies (Indonesia). Excerpts of its findings are below. There was nothing in the report to indicate a general practice of using force in recruitment, although isolated cases were found:
The study shows that in recruiting European women for their military brothels in the Dutch East Indies, the Japanese occupiers used force in some cases.
The chief of staff of the 16th army on Java…decided that a license was required for the establishment of a military brothel. A license was issued only if certain conditions were met…. A further precondition was that the women working in the brothels had to do so voluntarily: according to the regulations, a license would only be issued if the women involved signed a statement to the effect that they were providing their service voluntarily.
The report went on:
To conclude, the documents available reveal of the two hundred to three hundred European women in the Japanese military brothels in the Dutch East Indies, some sixty-five were most certainly forced into prostitution.
There were about a half a dozen cases of forced recruitment tried by the War Crimes tribunal in Indonesia. This was in an area spanning 3,000 miles with 20,000 islands with a population of 70 million Indonesians and three hundred thousand Europeans.
Japanese Army Warnings About Illegal Recruitment
Another document uncovered by the Allies at the end of the war is a Japanese Department of Army Directive to Northern and Central China Area Armies, dated March 4, 1938. In this document, the Japanese Department of Army expressed concern and provided a warning to be on the lookout for comfort station operators who used illegal recruitment of women.
Others
Forced recruitment was a war crime. There was one case of war crimes trial of forced recruitment by a Japanese civilian involving two women on Guam. No war crimes records on forced recruitment have been found for Australian territory, French Indo-China (Vietnam, Laos, Cambodia), Malaya, the Philippines, Thailand, Korea, or the Pacific Islands.
Was the Japanese Military Concerned About Comfort Women?
Contrary to popular belief, the Japanese military was not an undisciplined armed mob raping and looting through Asia. The Japanese military had specific rules of conduct and they applied as well to interactions with comfort women. Abduction of women and rape were punishable under Japanese military law.
The Penal Code of the Japanese Imperial Army, enacted April 9, 1908, makes these points clear:
Part 9. Looting and Rape.
Article 86. On the battlefield or territory occupied by the Imperial Army, anyone looting of property of local populace will be punished by imprisonment of over one year. In the process of foregoing, anyone who rapes a woman/girl will be punished by indefinite prison term of seven years or more.
Article 88, Part 2. In the war zone or territory occupied by the Imperial Army, anyone committing rape of woman/girl will be subject to indefinite imprisonment or imprisonment of…. In event of death of a victim, penalty will be deathc….
The contemporaneous records indicate the comfort women system was a brothel system operated by civilians. Local military authorities established regulations, which operators and prostitutes were required to follow to conduct business in that jurisdiction.
Due to the need for brevity, details on the comfort women system mentioned in numerous other primary source documents were regretfully omitted. All information in this article is from my book, Wartime Military Records on Comfort Women (Amazon, 2017).
Those desiring in-depth knowledge of the comfort women issue are referred to Comfort Women and Sex in the Battle Zone by Dr. Hata Ikuhiko, translated into English by Dr. Jason Morgan (Rowman and Littlefield, 2018).
Author: Archie Miyamoto, Lt. Col., U.S. Army, Ret.