Spotlight on Chofu: The City of Soba and Monsters
Chofu promises a relaxing day out with its signature soba, botanical garden, temple, and quirky yokai from the world of master manga artist Mizuki Shigeru.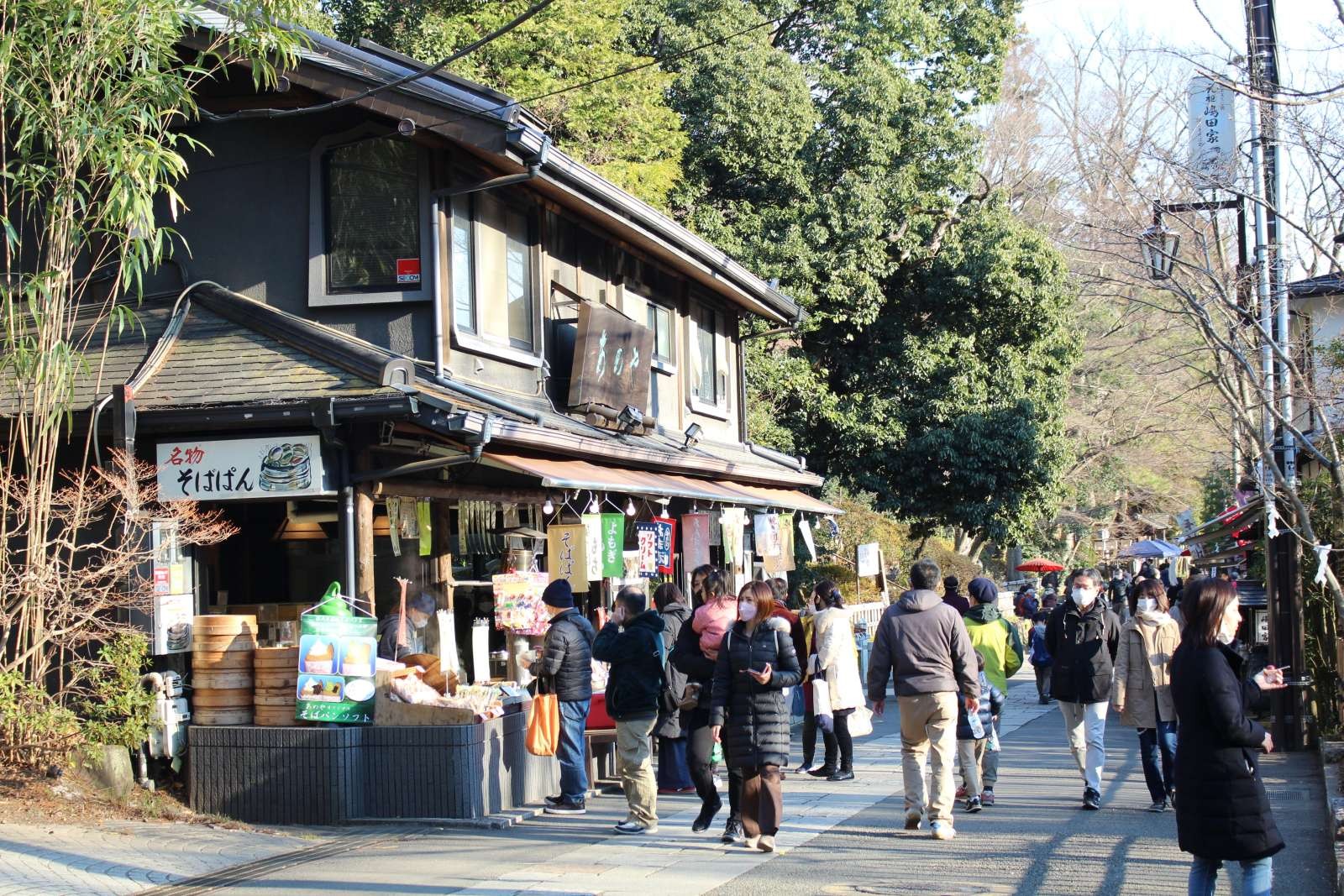 On December 24, my wife and I traveled to Chofu with two rather disparate goals. One was to have a soba (buckwheat noodle) lunch at one of the scores of restaurants near Jindaiji, the second oldest Buddhist temple in the Tokyo area. The other was to view an enormous flower at the Jindai Botanical Garden, a flower also noted for its revolting fragrance.
Having had cataract surgery on the December 22, we decided to take the Keio Line from Shinjuku to Chofu and then walk the 1.6 km (about 1 mile) to the park rather than cycle.
This route led to some pleasant serendipitous discoveries.
Walking to the Soba Restaurant Street in Chofu
Using a map from the tourist guide booth on the east side of Chofu Station, we walked north along Tenjin-dori Street. This was once a shopping street but is now mostly restaurants, several of which display signs saying they welcome families and kids.
Tenjin-dori Street leads to and terminates at Fuda Tenjin Shrine. It figures prominently in Gegege no Kitaro manga and anime series. The main character lived in a forest behind the Shrine.
In the Shrine precinct itself, there is a large sand sculpture of the principal yokai (monsters, ghouls, and goblins) in the series. Large, colorful figurines of these characters are a distinctive feature of Tenjin-dori street.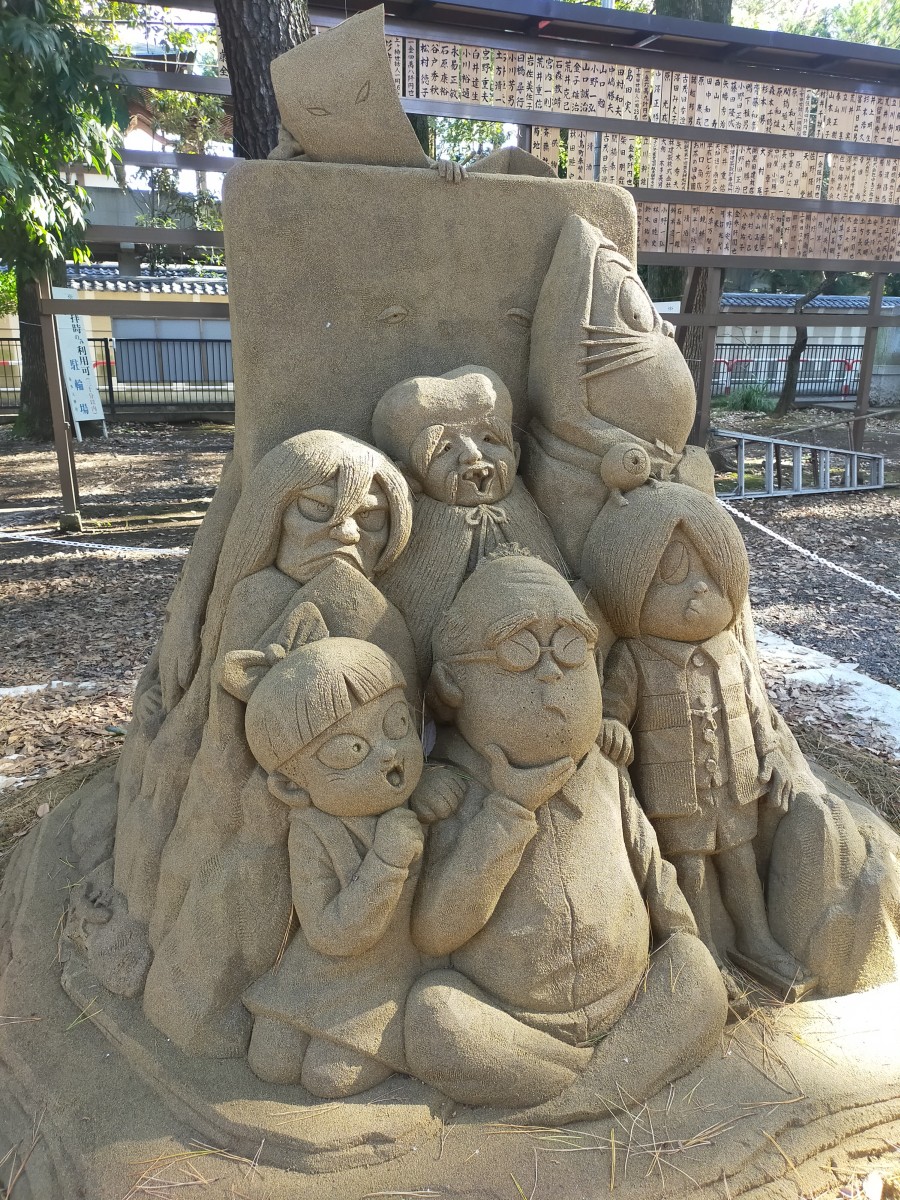 Shigeru Mizuki (1922-2015), the best-known of several authors who created 20th-century stories based on yokai, spent much of his life in Chofu.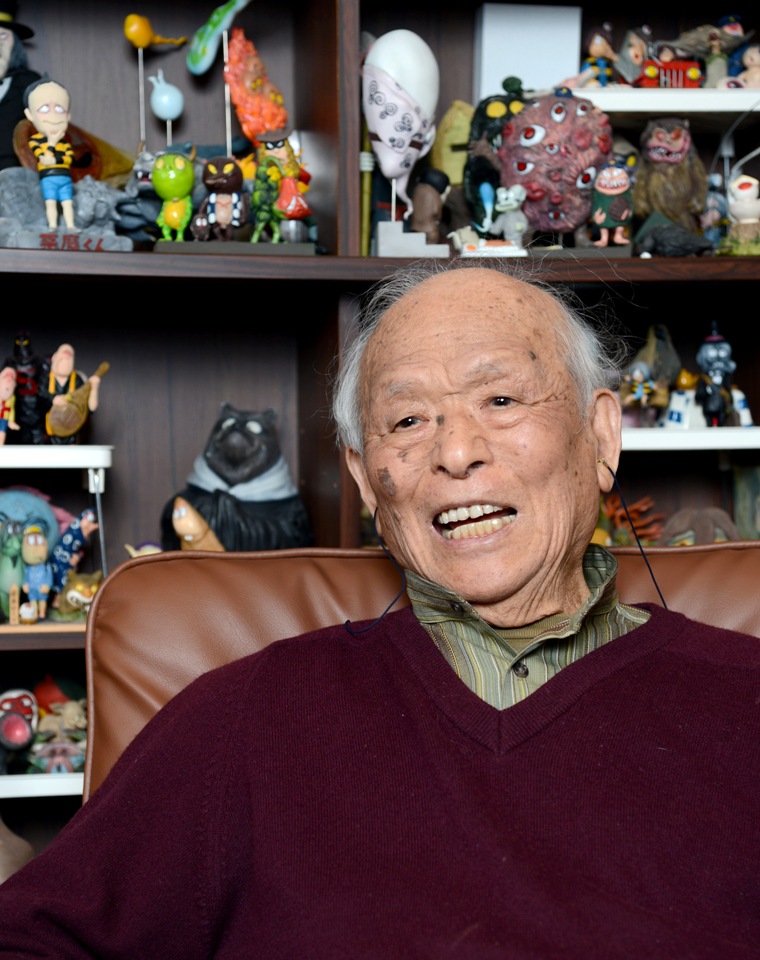 Just before the Shrine is the Shingon Buddhist temple Taishoji. It gets no description in the tourist guide, but it has a very attractive garden. We spent some minutes there taking photographs.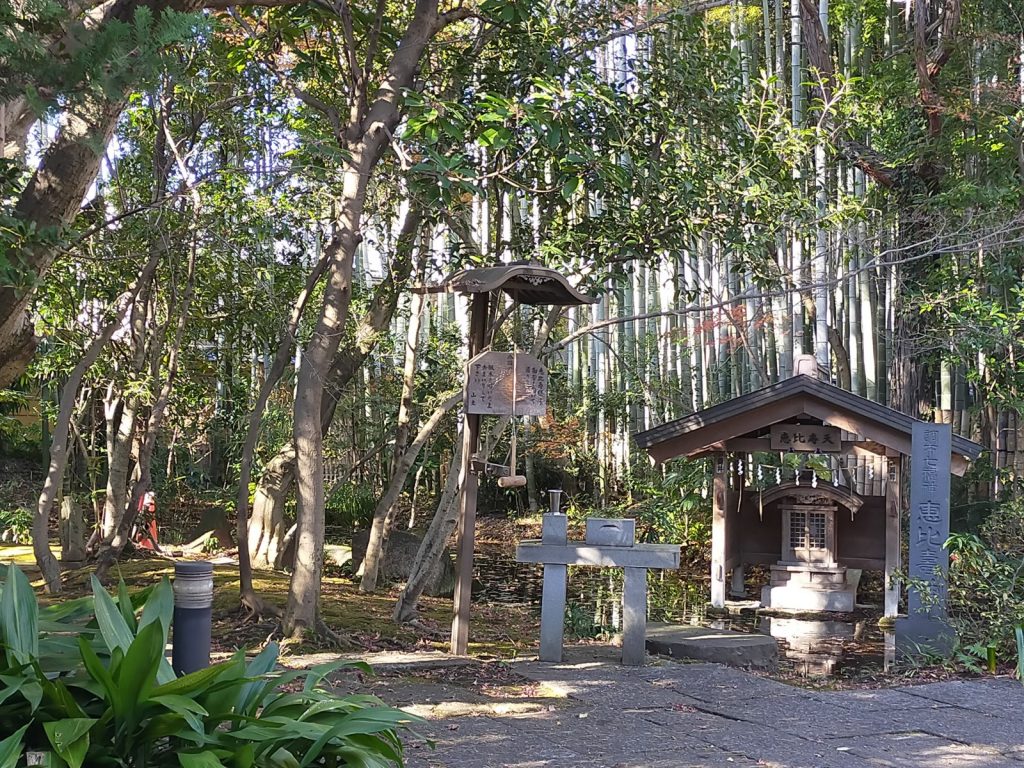 Walking north from the Shrine, we passed through rather generic but somewhat upmarket Tokyo suburbia until we reached Jindai Nigiwai no Sato (Chofu Wholesale Center).

Aside from being a functioning wholesale produce mart, there are shops, restaurants, and a farmer's market. The latter had numerous locally produced fresh vegetables including varieties seldom available in a chain supermarket.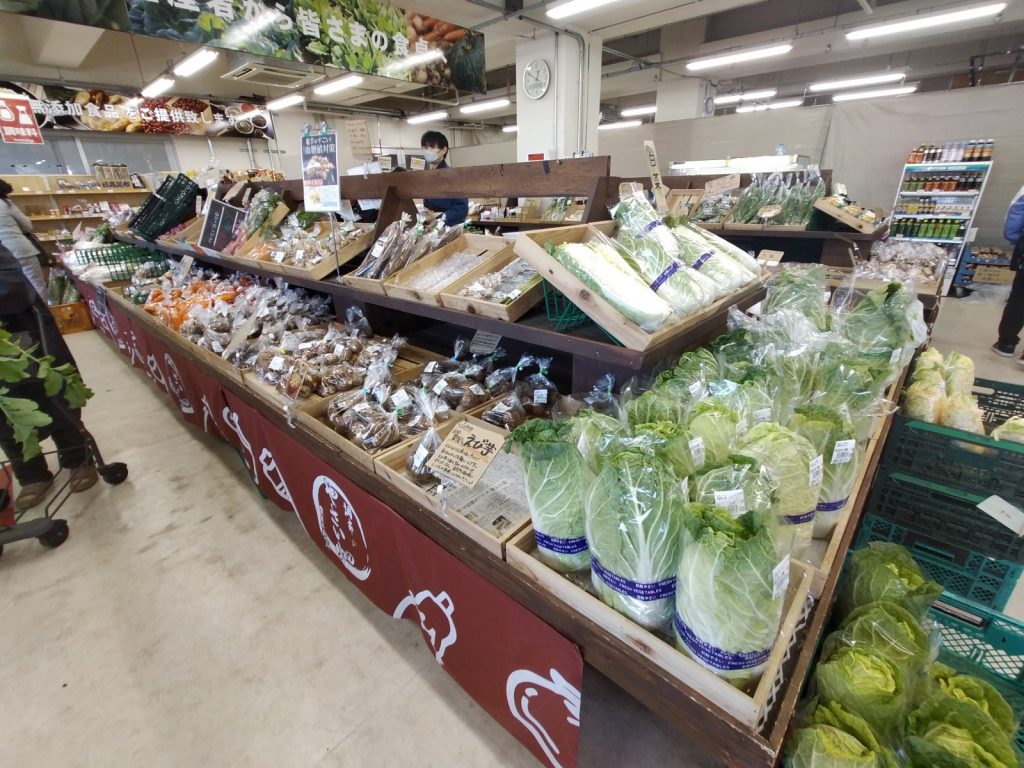 After walking through a decidedly upmarket area of single-family homes, we arrived at the soba restaurant street.
The Soba Restaurant Street in Chofu
There are roughly twenty soba restaurants along a street just below the bluff where Jindaiji is located. Most are family-oriented and offer a similar core menu. Some also offer street food, soba for home use, and souvenirs from open storefronts.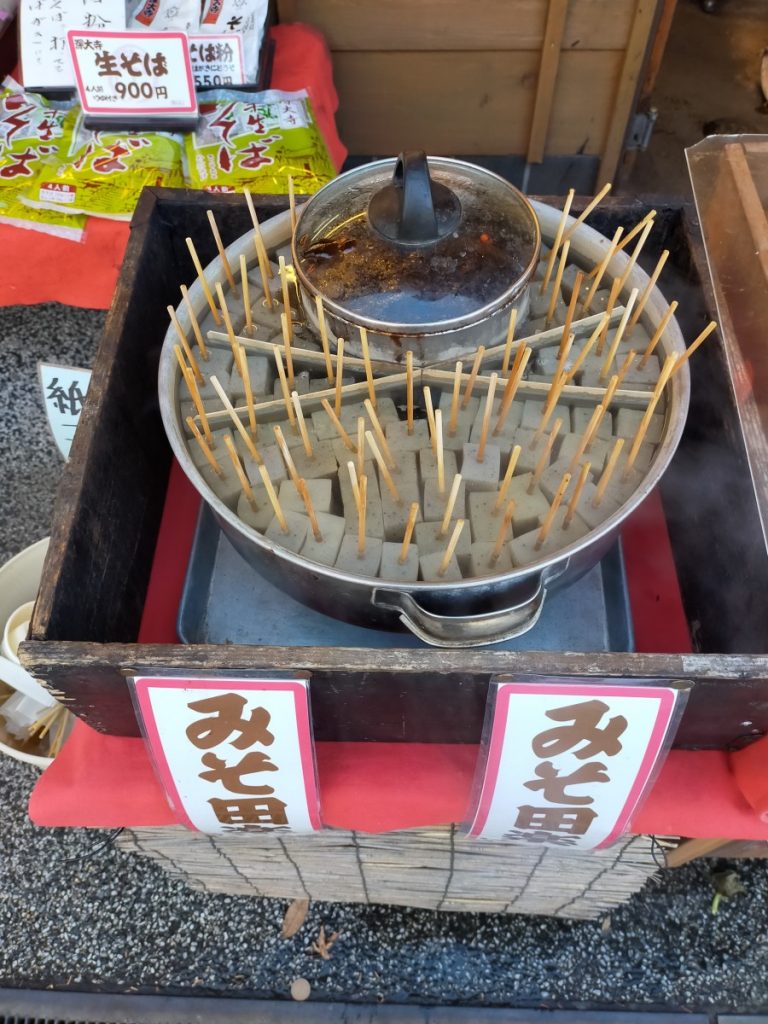 I am particularly fond of kusa-mochi dango (dumplings) and was gratified to find a shop offering them grilled. We each had one. A tasty treat for ¥200 JPY (about $1.50 USD).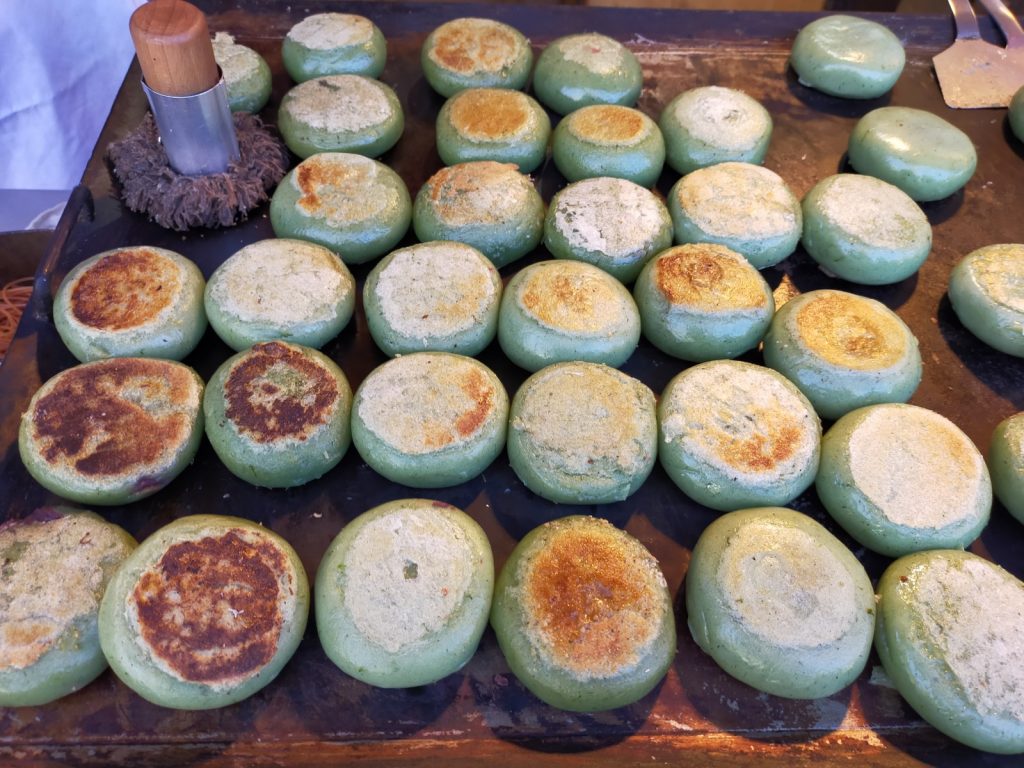 Two restaurants are situated on the edges of a pond adjacent to the main street. We ate at the restaurant on the west edge last year. As 2022 came to a close we chose the restaurant on the east side.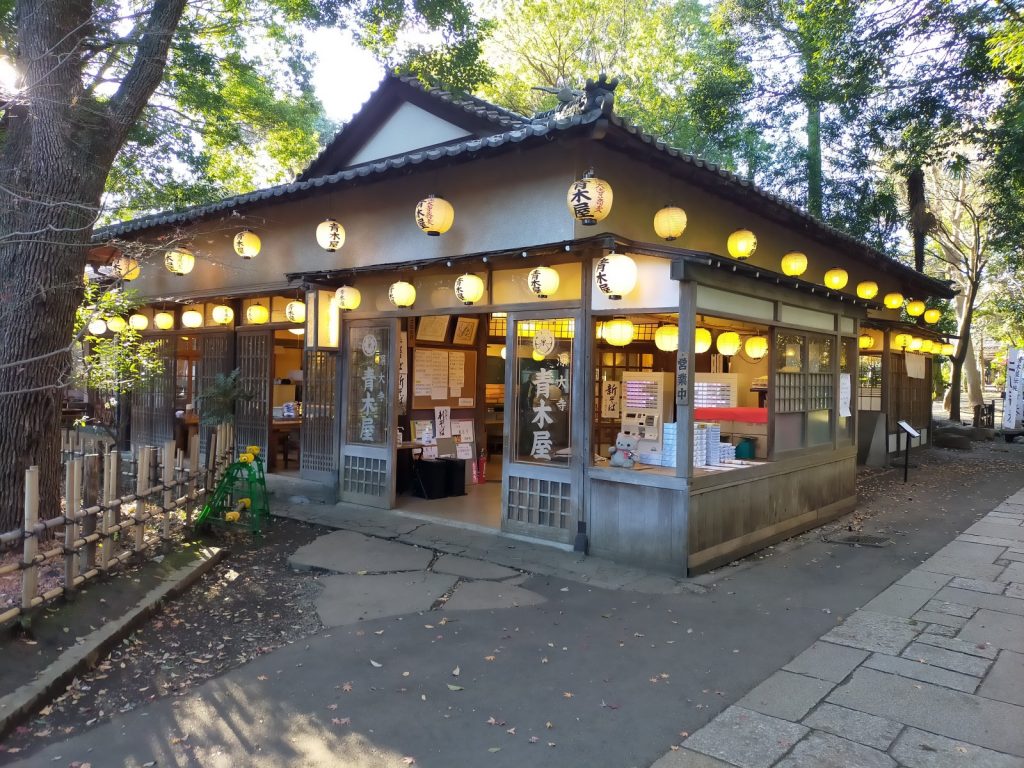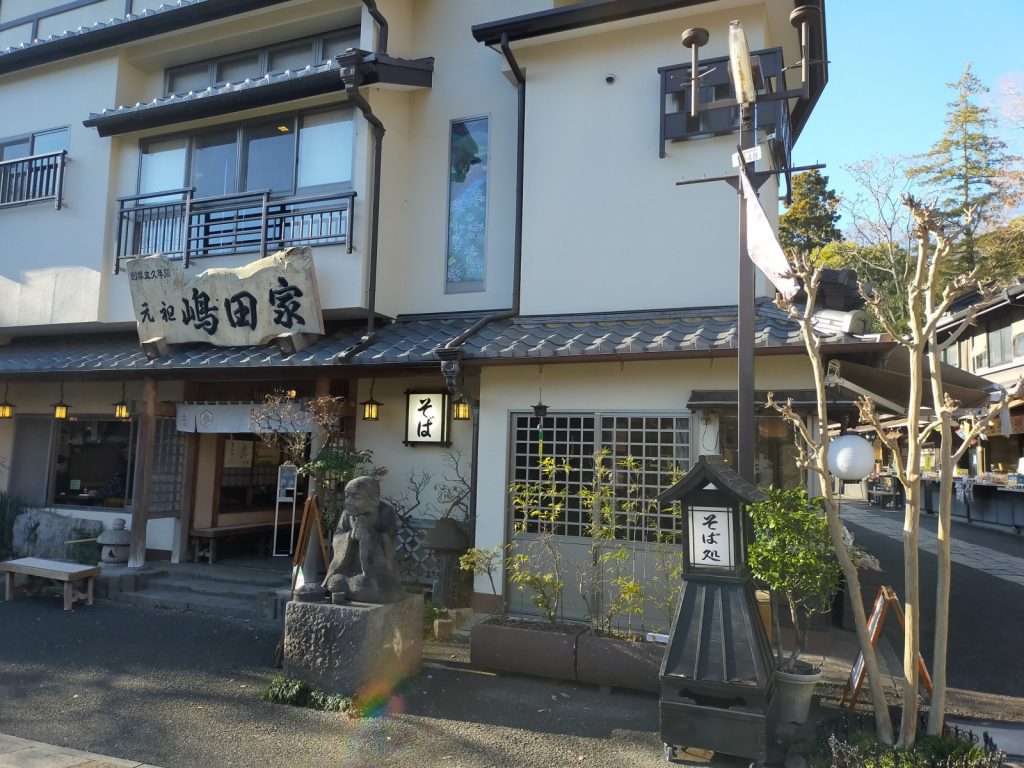 Both offer good value for money. I splurged and had a set-course lunch that had three different types of soba and a vegetable tempura mix. The cost was ¥2,200 JPY (about $17 USD) including sales tax. As is the norm in Japan, no tip is expected.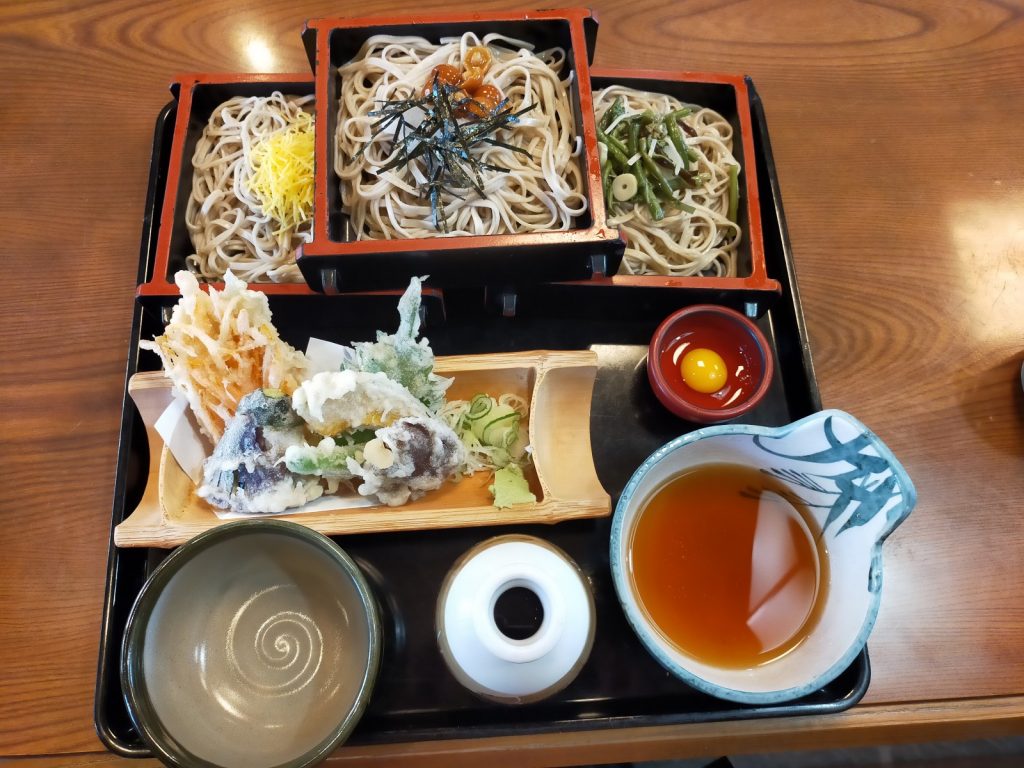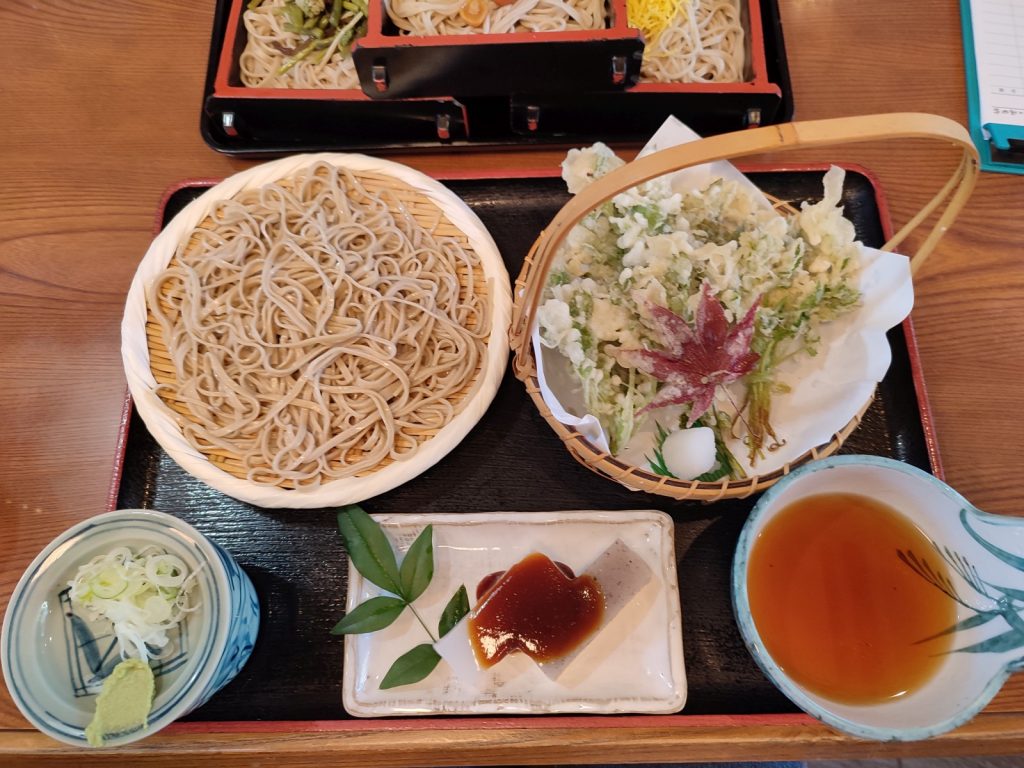 After years of being reported in English as an exceptionally expensive city, Tokyo is now being seen for what it always has been, especially in terms of dining out: a very inexpensive first-world city with excellent service.
Toshikoshi Soba
Because of the approaching New Year, the restaurants and shops at Jindaiji were doing a brisk business in toshikoshi soba to take home or send to someone as a gift.
Toshikoshi soba is an engi-mono 縁起物 (talisman, something that brings good fortune). The associations between toshikoshi soba and good fortune are numerous and varied.
Long and thin noodles are associated with long life and a happy home. Thinner noodles are easier to cut, which represents "cutting off misfortune" from the old year.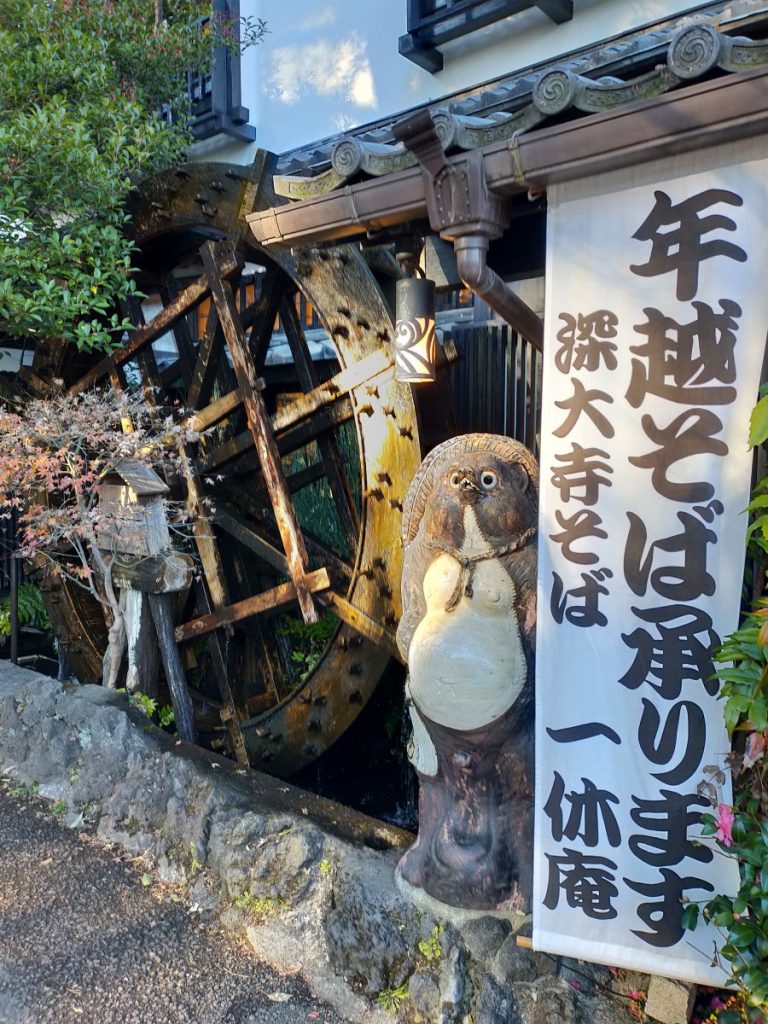 The buckwheat plant that is the source of soba flour can survive severe weather while growing. This gives toshikoshi soba an association with strength and resilience.
Documentary evidence for this custom can be found in mid-18th-century sources from Osaka. In some areas, people eat udon rather than soba. But the custom of eating toshikoshi soba is at least as common, probably more so, than that of eating fried chicken at Christmas — something that the English language news media takes up every year.
Hatsumode (初詣)
Another New Year custom is visiting a shrine or temple in the first days of the New Year. Many visit in the wee hours of the first day of the New Year. Popular sites in the Tokyo area can have between 300 and 400 hundred thousand visitors.
In the early 1970s, I made a hatsumode visit to the Meiji Shrine near Harajuku. I walked from my home not far from Shibuya. Well before I reached the Shrine, I heard an odd sound that I could not identify.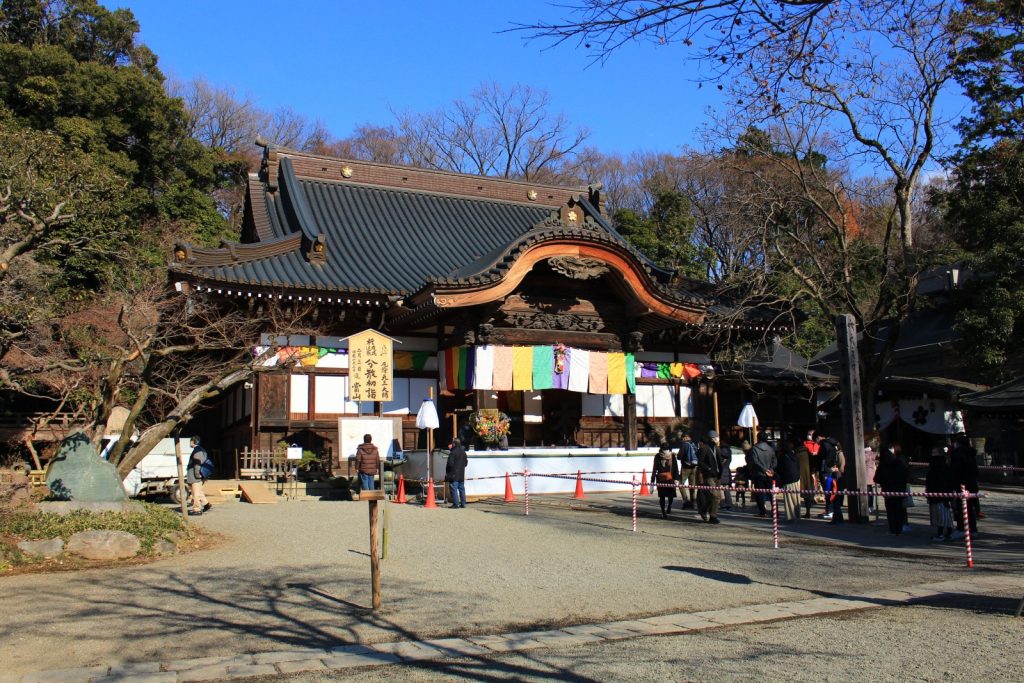 When I reached the Shrine, I found the sound of tens of thousands of people moving slowly along the pebbled paths. Never had I seen so many people in one place. The crowd control was magnificent.
Jindaiji is a relatively popular site for hatsumode visits. Carpenters were at work preparing extra ramps and stands to sell omamori (amulets) to hatsumode visitors.
Numbers may, however, be down somewhat overall at Jindaiji and other popular sites because there will be fewer or no overnight services on some rail lines.

Omamori are "valid" only for a year. Temples and shrines have collection boxes where people discard out-of-date omamori and other items that have a special, but no longer desired, connection to the current year. The items go through a ritual "cremation." The collection box at Jindaiji contained a prominent sign saying that it would not accept items that give off dioxins when burned.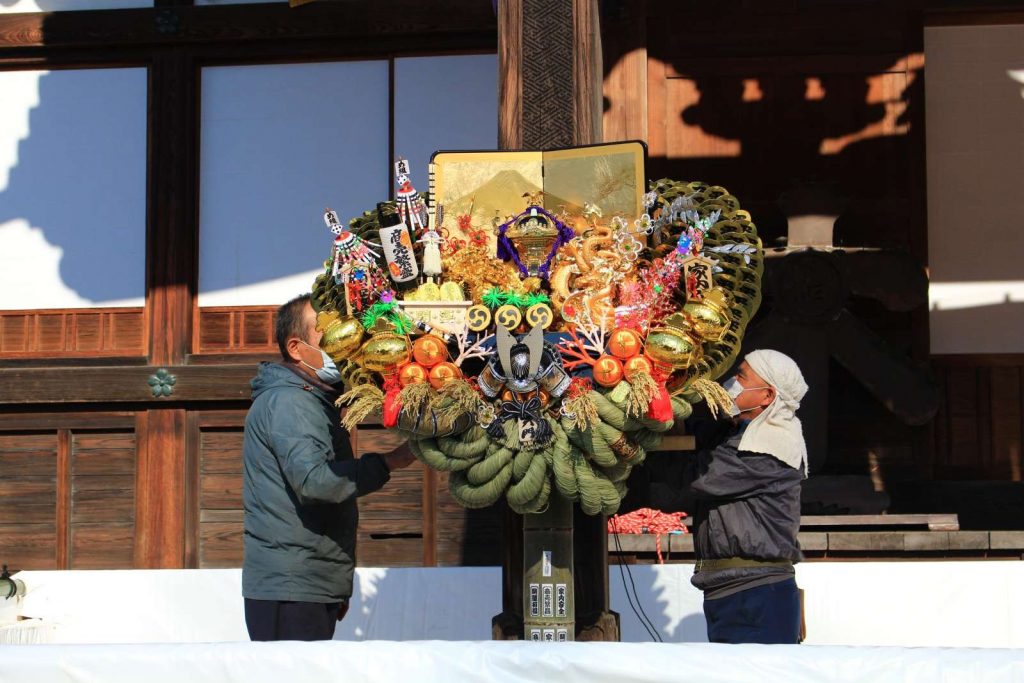 From Jindaiji the Temple to the Jindai Botanical Garden
Jindaiji Temple is adjacent to the Botanical Garden which has almost the same name. "Ji" meaning temple was dropped from the name postwar because it was thought having the name of a religious site attached to a public facility was inappropriate.
When we entered the Jindaiji-mon (Jindaiji Gate) on the east side of the Botanical Garden, we were pleasantly surprised to see that not all the autumn leaves were on the ground. There were still places that made for striking autumnal scenes.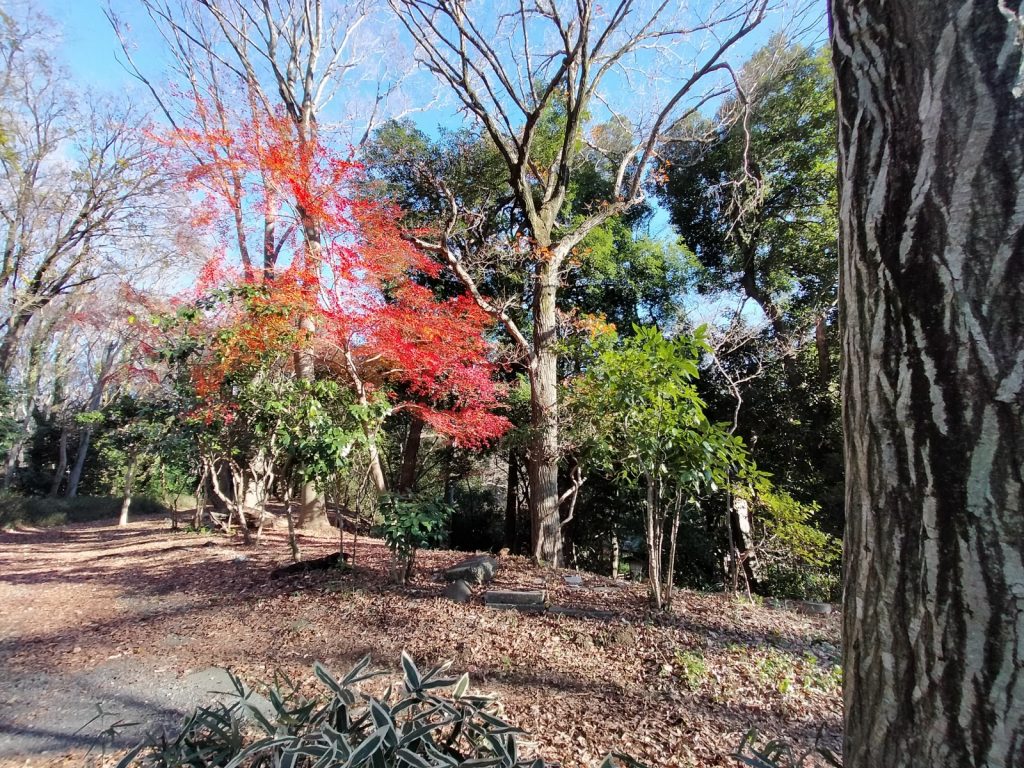 Moreover, even where all leaves had been shed, there was a stark beauty to be found in stands of trees that were leafless.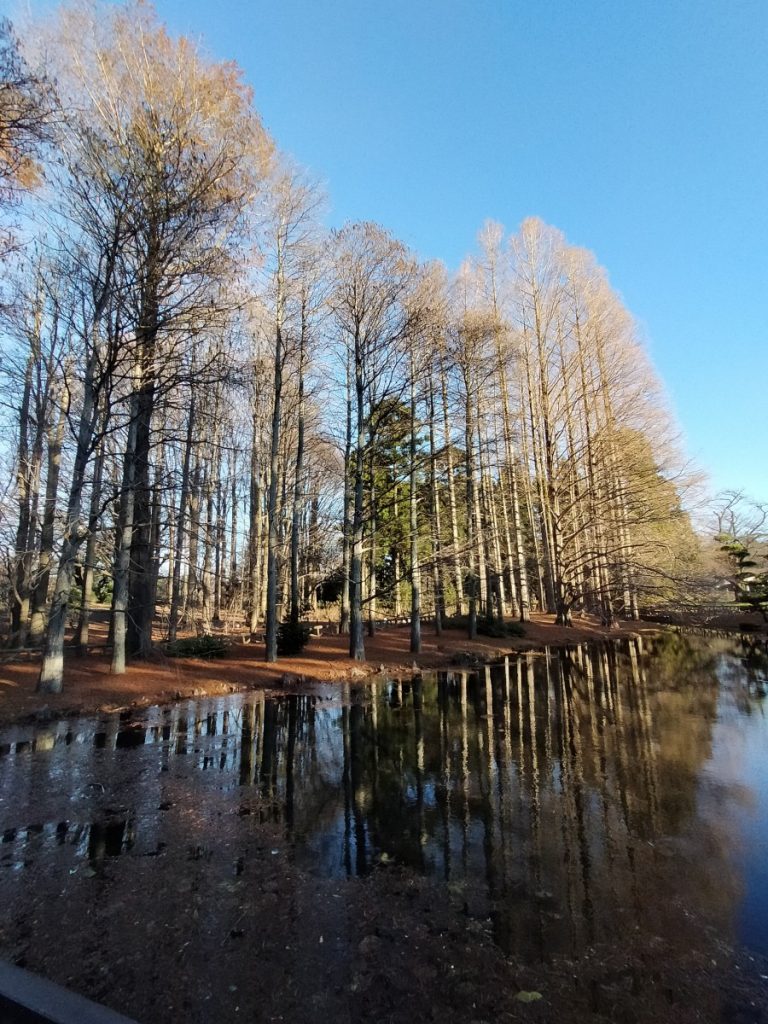 The Hothouse and its Flowers
Although both of us have visited the Botanical Garden a number of times, it was always to look at the outdoor displays including the fall rose festival. You can read about it in my JAPAN Forward article "The Roses Also Bloom in Autumn" from October 2021.
Even when most things outside are in full bloom, the hothouse is well worth a visit, especially for anyone interested, as I am, in close-up plant photography.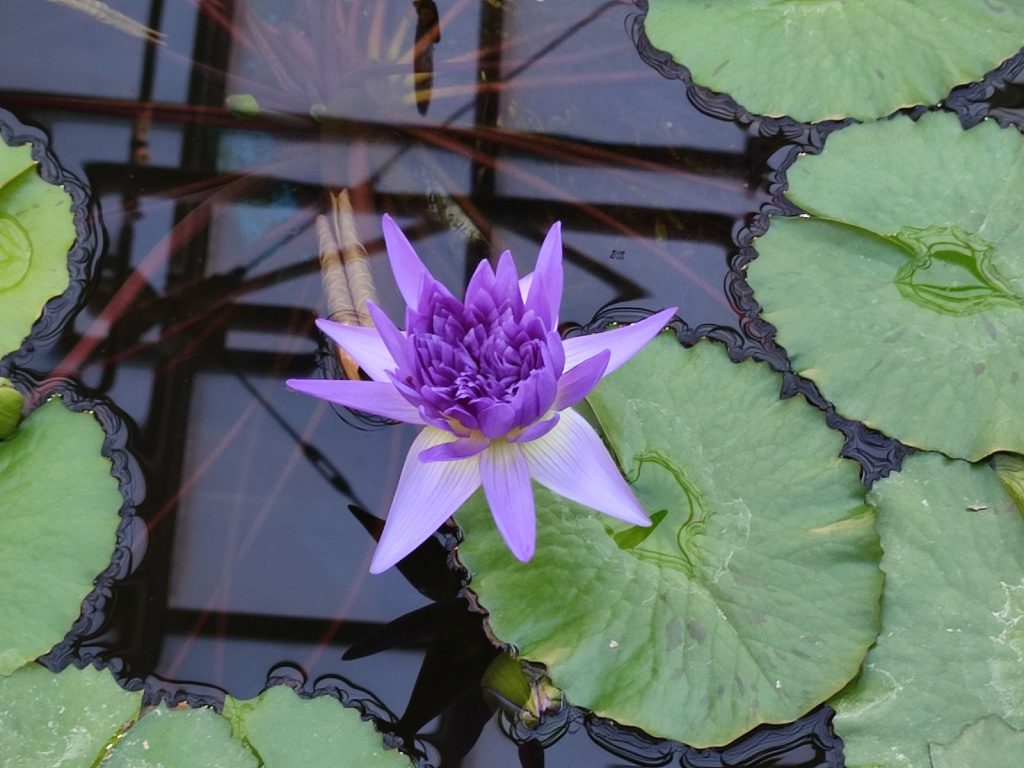 One could easily lose track of time with the variety of exotic items in the hothouse. Also, there are no restrictions on photography. The diffuse lighting and lack of wind make it easy to take striking photographs.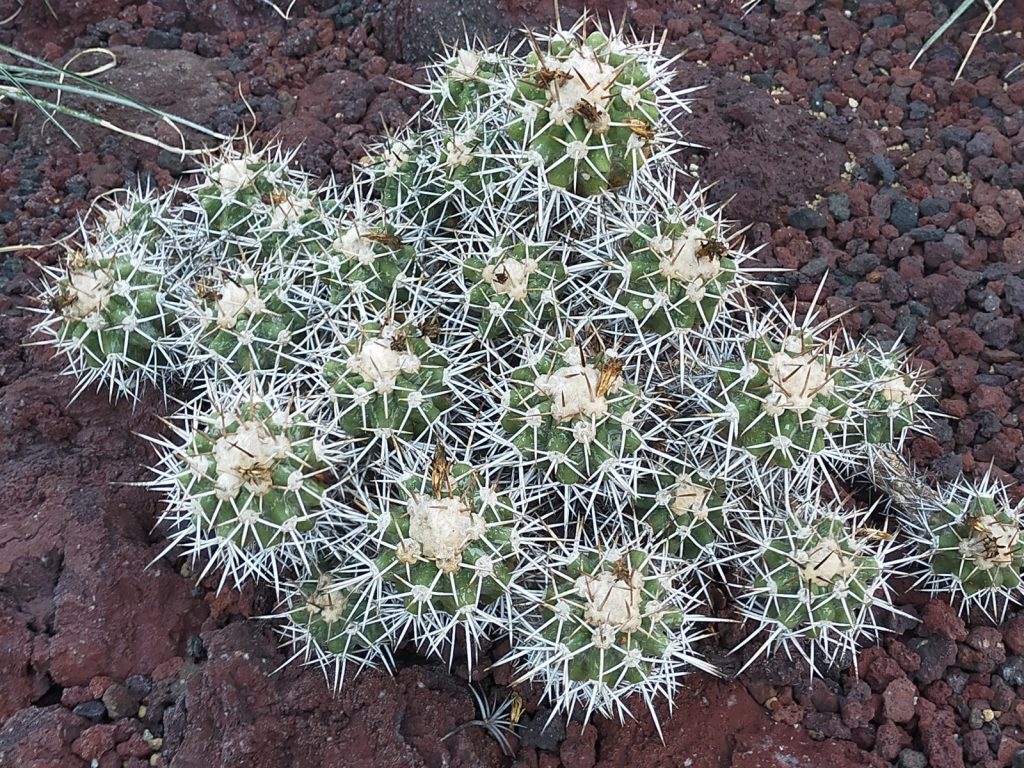 Unfortunately, the large and notoriously putrid-smelling flower that we had come to see had closed its blossom and the odor that makes it infamous was not in evidence.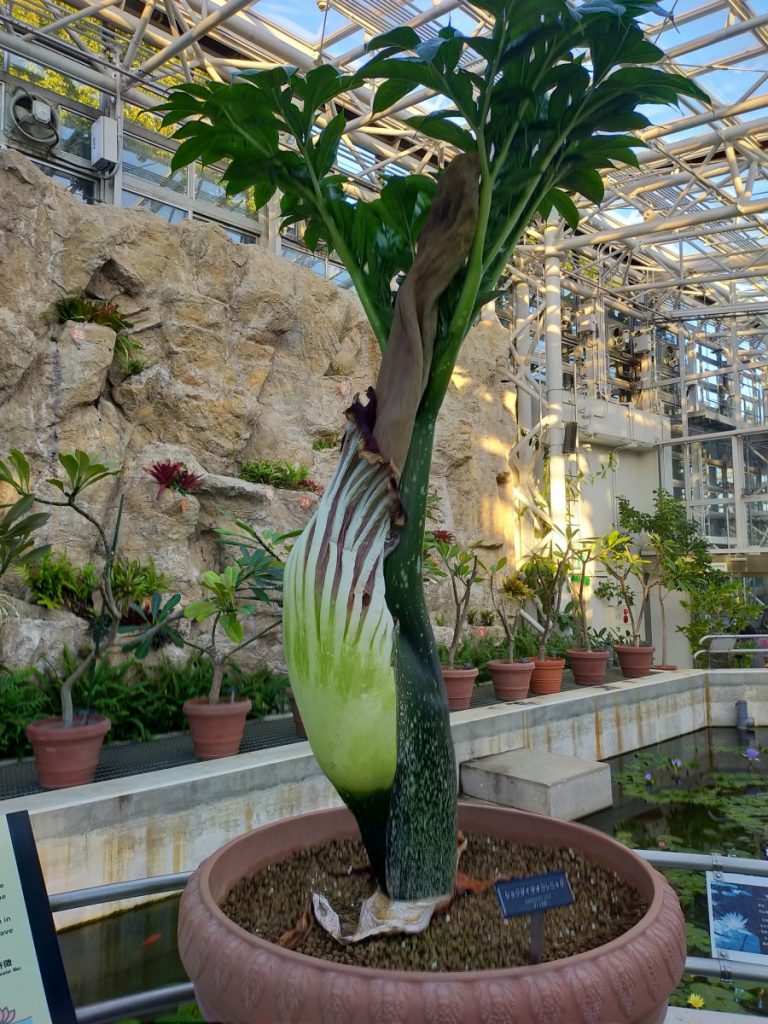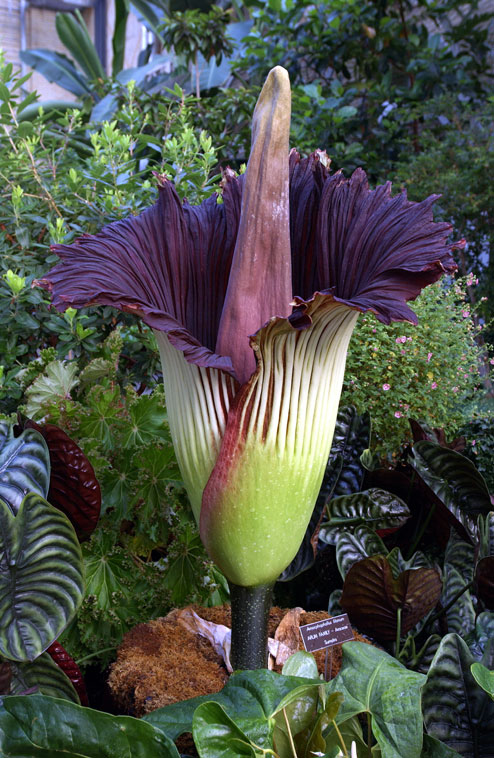 Nonetheless, what there was to be seen at the Botanical Garden both inside and outside was well worth the trip.
Admission charges and the operating schedule can be found at the official site.
Visiting Chofu
Prior to this trip, I knew Chofu only in terms of its small regional airport. From time to time when he was preschool age, I took my older son there for plane spotting. It serves private aircraft and commercial flights to the outlying islands that are part of Tokyo.

The area around the station has clearly been gentrified and is the locus for various events. Tenjin-dori Street looks like it would be a good place to find a favorite restaurant or coffee shop.
Only 23 minutes from Shinjuku with easy access to Jindaiji and the adjacent Botanical Garden, I now view it as one of the more attractive residential areas in Tokyo and expect to be using it for future visits to the Garden.
Travel to Chofu with visits to the soba restaurants and the Botanical Garden makes for an inexpensive and very pleasant outing for individuals, couples, and families with children.

RELATED:

Author: Earl H Kinmonth
Photographs by EH Kinmonth. Find other stories about Tokyo and nearby areas by Dr. Kinmonth at this link.