Sri Lanka Revives Port Project with India and Japan, signals 'China Caution'
The Japan-India-Sri Lanka trilateral, although still at a nascent stage, echoes the promise of propelling Colombo as an important partner in the regional maritime paradigm towards realizing a 'Free and Open Indo-Pacific'.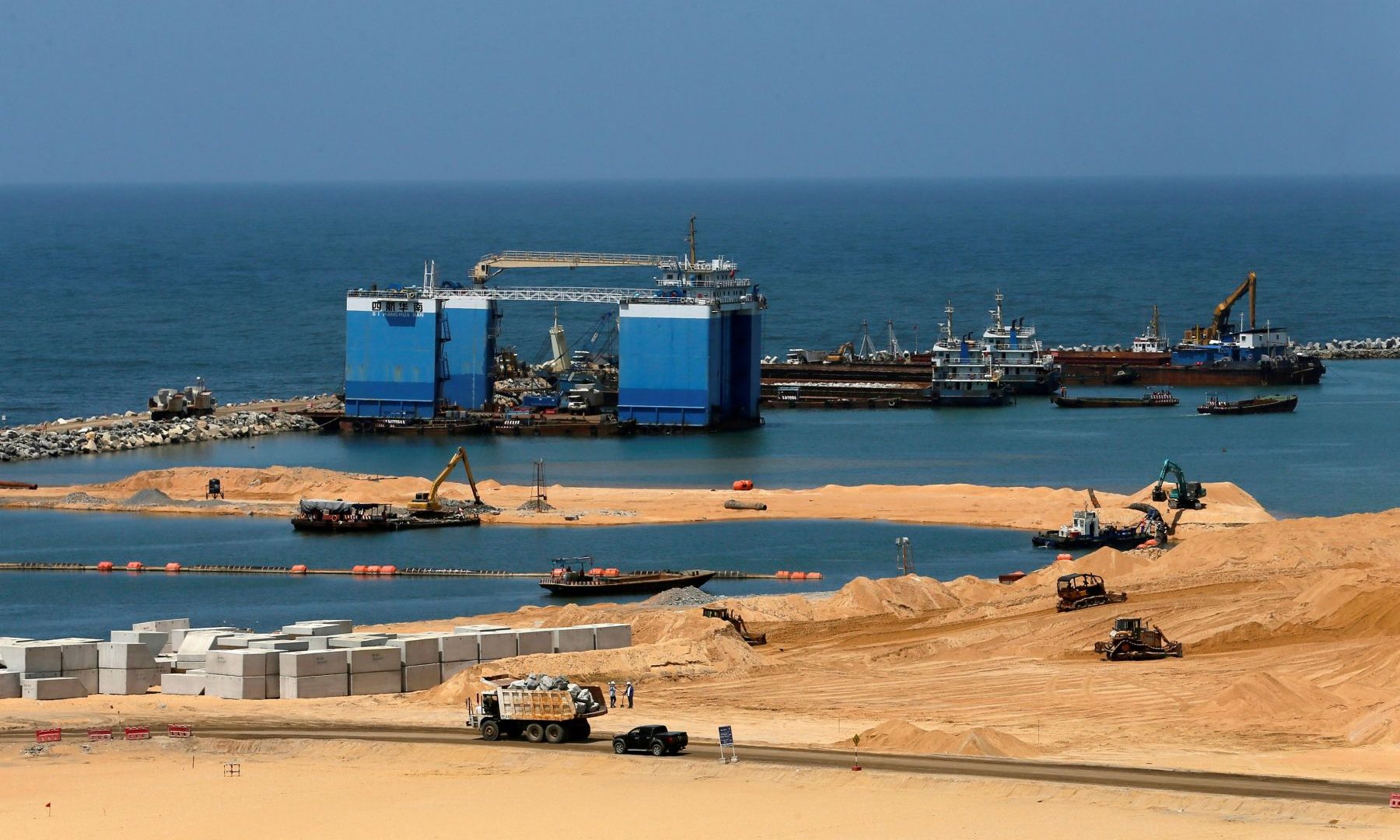 ~~


Sri Lankan President Gotabaya Rajapaksa referred to "regional geopolitical concerns" that he said played a crucial role in his government's rethink and revival of the Indo-Japanese investment project to develop a deep-sea East Container Terminal (ECT) located at the newly expanded southern part of the Colombo harbor.
The tripartite Japan-India-Sri Lanka deal for the deep-sea jetty standing next to the $500 million Colombo International Container Terminal, with 85 percent Chinese ownership was initially signed in May 2019 under the previous Maithripala Sirisena government.
The project signed between the state-run Sri Lanka Ports Authority (SLPA), India and Japan, was put on hold earlier by the Rajapaksa government. The delay was inferred as a signal that Colombo was rethinking the port deal so as to keep the 'Quad' (Japan, India, Australia and U.S.) at an arm's length, seemingly in order to placate China.


Port Deal a Sign of Indian Ocean's Growing Strategic Role
The green light for the project came soon after Indian External Affairs Minister, S. Jaishankar traveled to Colombo on a three-day official visit starting January 5, 2021.
The ECT is to be developed with 51 percent ownership by Sri Lanka's government. The remaining 49 percent is framed as an investment by India and Japan. The operations at the Jaya Container Terminal at the Colombo Port have already received support from Tokyo, which is set to further provide a 40-year soft loan with a 0.1 percent interest rate via Japan's Official Development Assistance (ODA) program.
Japan's expertise in providing quality infrastructure and state-of-the-art technology has been a clincher in many of its infrastructure deals across Asia and Africa, well matched by India's long experience of working inside Sri Lanka, in the present case.
It is well established that Sri Lanka has been prey to China's predatory economic debt-trap strategy. The Rajapaksa regime had come under scathing criticism in the past for awarding the Hambantota and Colombo Port City to China. Colombo was unable to repay the massive Chinese debt incurred under Chinese loans and, as a consequence, the Hambantota Port slipped out of Sri Lanka's control and was leased to China Merchant Port Holdings Limited for 99 years for $1.12 billion USD in 2017.
Against this backdrop, the joint development of the Port of Colombo highlights the magnitude of the Indian Ocean's growing role as integral to global trade diplomacy. It also illustrates the significance of the Japan-India Vision Statement signed in Tokyo on October 29, 2018, which is being realized through various collaborative projects between Japan and India throughout the Indo-Pacific region, especially in Sri Lanka, Myanmar, Bangladesh, and Africa.
India and Japan have been at the forefront of proposing a set of rules for infrastructure investment in many developing countries, including an increase in the transparency of contracts and giving due consideration to the debt repayment capacity of countries receiving investments.
The geo-strategic vitality of Sri Lanka, placed at the center of the Indian Ocean, is well-known in so far as its importance in securing sea-lanes and consolidating the connectivity of ports from South Asia to the Gulf and East Africa. The Port of Colombo faces major marine shipping routes and handles almost 90 percent of the country's seaborne goods bound for Europe, the Middle East, Africa and Asia. It is Southwest Asia's busiest port.


China's Strategic Debt Strategy
Given its strategic placement, Sri Lanka is fast becoming the pivot of rising Chinese naval presence in the Indian Ocean Region. This rising presence is much in sync with China's Maritime Silk Route strategy—a prominent feature of its just concluded 13th Five-Year Plan (2016-2020).
The maritime route is a proposed sea network of ports, coastal infrastructure projects beginning in Quanzhou in Fujian province and culminating in the northern Mediterranean Sea. By virtue of this strategy, Beijing has managed to gain increasingly greater access to the strategic pathways of the Indian Ocean, relieving access to Gulf oil—which has consequently condensed its dependence on passage through the Straits of Malacca. The latter remains a key potential vulnerability for China in the event of a future conflict.
Fully recognizing the need to boost its naval power projection capability, Beijing is leaving no stone unturned to gain greater access to ports and berthing facilities all along its Maritime Silk Route. The Chinese strategy for that matter is being nearly universally applied.
It identifies lesser-developed, economically feeble states across Asia, Africa, Latin and Central America, Indian-Ocean Region, and the Caribbean, and offers massive economic loans in order to render the state critically debt-ridden. Thus burdened with debt, these states have no option but to fall prey to China, as Beijing rapidly slides in to unearth strategic and political concessions designed to fulfill its regional security agenda and long-term strategic goals.
More specifically, there needs to be in-depth study of China's covert strategy of granting huge loans to smaller coastal island nations that are in dire need of developmental funds to improve infrastructure needs. The pattern that China is following, almost unvaryingly for handing out these loans, is one which reveals 'no conditions and/or transparency measures' when the loan is issued.
As soon as the island nation in question reaches the stage where it is unable to repay the loan and fulfill the loan conditions on time, Beijing steps in to 'offer' to 'waive off/relax' loan conditions in exchange for a 'few berths' in the said country's naval facility.


Regional Security Risks
In all, the long shadow of China's ports policy across the Indian Ocean and beyond is currently characterized by both, state and private-sponsored 'infrastructure investment'.
The military and strategic ramifications of these facilities are grave. They will all end up becoming communication and surveillance facilities, in addition to repair and replenishment centers for the Chinese PLA Navy. As such, they underscore the intransigent course of Beijing's influence in and across the Indian Ocean and the indo-Pacific at large.
In the wake of the latest ECT port project revival, the Japan-India-Sri Lanka trilateral, although still at a nascent stage, echoes the promise of propelling Colombo as an important partner in the regional maritime paradigm towards realizing a 'Free and Open Indo-Pacific'.


Author: Dr. Monika Chansoria
Dr. Monika Chansoria is a Senior Fellow at The Japan Institute of International Affairs (JIIA) in Tokyo. The views expressed here are those of the author and do not necessarily reflect the policy or position of The Japan Institute of International Affairs or any other organization with which the author is affiliated. She tweets @MonikaChansoria. Find other articles by Dr. Chansoria here on JAPAN Forward.