SUMO | Daieisho Collects First Emperor's Cup, Continues Trend of First-Time Winners at New Year Basho
Maegashira No. 1 Daieisho completed his title quest with a victory over Okinoumi on the final day of the tournament.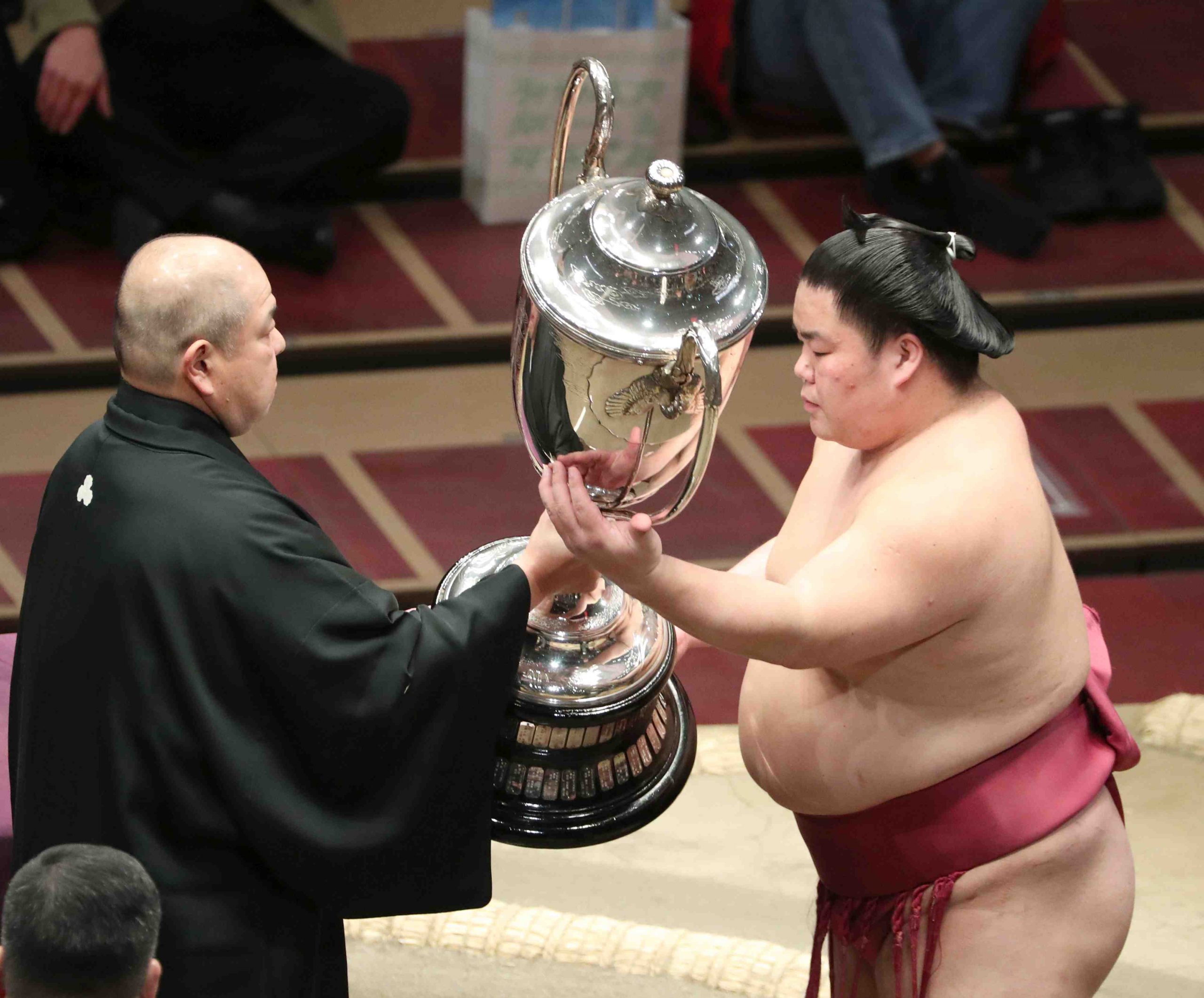 ~~
For the sixth consecutive year, the New Year Grand Sumo Tournament concluded with a first-time title winner in the ancient sport's top division.
Maegashira No. 1 Daieisho achieved the feat on Sunday, January 24 at Ryogoku Kokugikan, finishing the marquee event with a 13-2 record.
The 27-year-old Daieisho completed his strong run at the year's first tournament by exhibiting his powerful strength in a bout against No. 5 Okinoumi. The native of Asaka, Saitama Prefecture, set up his final show of force by pushing his foe in the throat, then shoving Okinoumi out of the raised ring to end the 15-day meet on a successful note.
"I was surprised to find that the Emperor's Cup is so heavy," Daieisho, who wrestles out of the Oitekaze stable, concluded after receiving the Emperor's Cup during an NHK interview. "I am just so happy."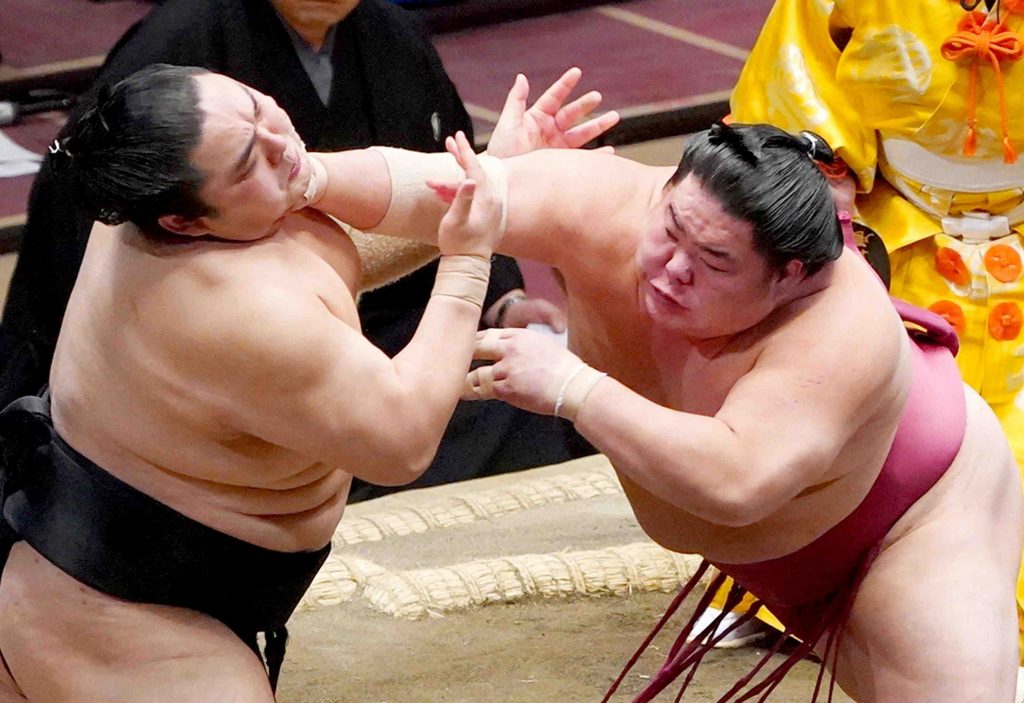 A year ago, Tokushoryu shocked the sumo establishment by emerging victorious at the New Year Basho with a sterling 14-1 mark. The maegashira No. 17 was the lowest-ranked wrestler to win a title since No. 14 Takatoriki did so at the 2000 Spring Basho. (In addition, he followed Tsurugahama, who won at the 1922 Spring Basho, as the only Nara Prefecture natives to haul in the championship hardware.)
In 2019, sekiwake No. 1 Tamawashi went 13-2 and won the New Year Grand Sumo Tournament.
In 2018, Georgian maegashira No. 3 Tochinoshin produced a 14-1 record and claimed the top prize in January.
In 2017, ozeki Kisenosato also won 14 of 15 matches to secure his first makuuchi division title to kick off the year in style. (Promoted to yokozuna, he won the Spring Basho two months later.)
In 2016, ozeki Kotoshogiku went 14-1 en route to his first top-division title.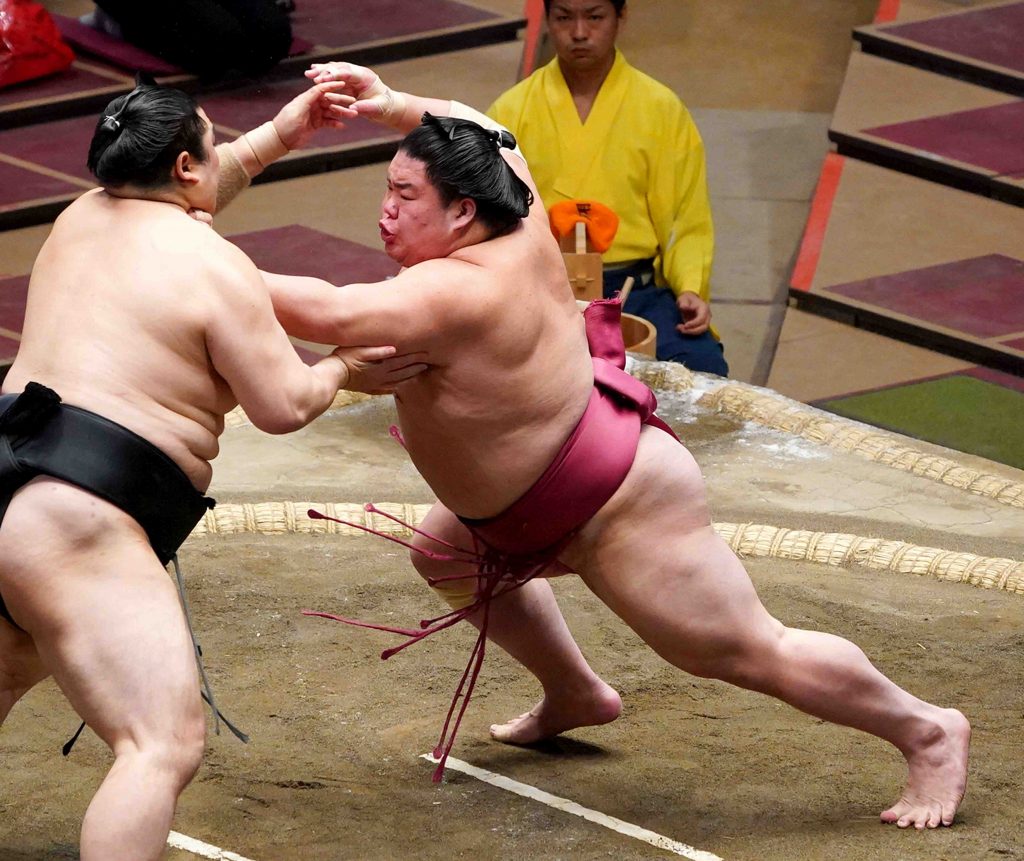 Through Day 11 of this month's tournament, Daieisho and ozeki Shodai were in a spirited fight atop the leaderboard, with both men owning 9-2 records.
Shodai, who received his first Emperor's Cup at the 2020 Autumn Grand Sumo Tournament, slipped to 11-3 with a loss to sekiwake Terunofuji on Saturday, January 23. He ended the meet with an 11-4 mark.
Daieisho, who is on target for promotion to ozeki, has recorded 10 or more victories in three of the last four grand sumo tournaments, including a 10-5 mark at the 2020 November Basho in Tokyo.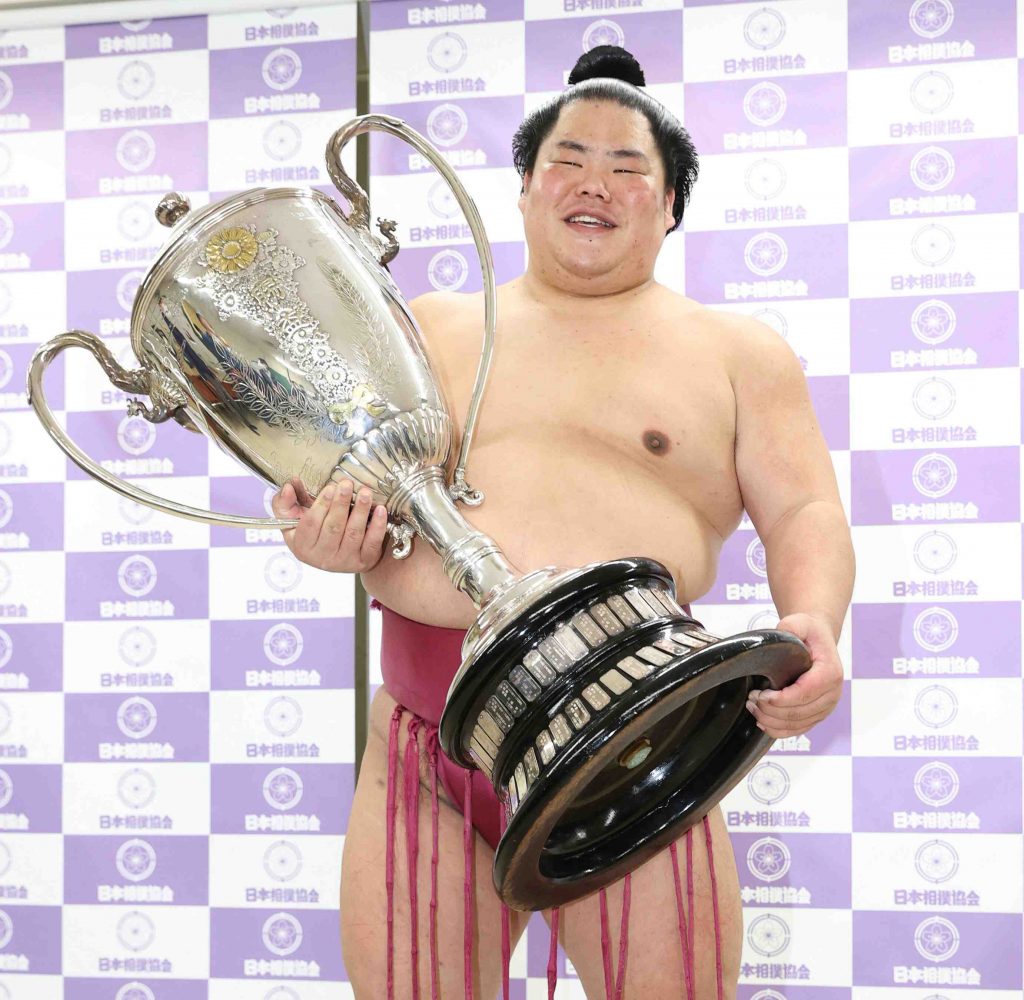 After handing Okinoumi his eighth defeat of the New Year Basho on the final day, Daiesho expressed pure delight.
"It's a sheer joy. I'm so pleased," Daieisho, who made his pro debut in 2012, was quoted as saying by Kyodo News. Okinoumi had held a 10-8 advantage in head-to-head matches entering their match on January 24.
Daieisho added: "I knew the only way forward was to wrestle in my style so I went into the match without hesitation, determined to have no regrets afterward."
In addition to the Emperor's Cup, Daieisho was presented the Outstanding Performance Award and the Technique Prize.
It was a tournament missing 16 wrestlers in the top two divisions, including all-time tourney wins leader Hakuho, due to COVID-19 protocols. Hakuho tested positive for the coronavirus in the run-up to the event.
What's more, fellow yokozuna Kakuryu pulled out before the tourney began due to a back injury.

Disappointing Outcome for Takakeisho
After receiving the second Emperor's Cup of his career last November, natural speculation persisted that ozeki Takakeisho would earn promotion to yokozuna with strong showing this month.
Instead, that objective remains on hold after the 24-year-old Takakeisho, who battled ankle pain, withdrew from the tourney with a 2-8 record earlier in the week.

Other Top January Performers
In addition to Daieisho and Shodai, other double-digit winners at the New Year Basho included ozeki Asanoyama and Terunofuji, both of whom went 11-4, and No. 15 Kotonowaka (10-5).

Author: Ed Odeven

Follow Ed on JAPAN Forward's [Japan Sports Notebook] here on Sundays, in [Odds and Evens] here during the week, and Twitter @ed_odeven.
</div>