Suntory Museum of Art | 'Styles of Play: The History of Merrymaking' Runs Through August 18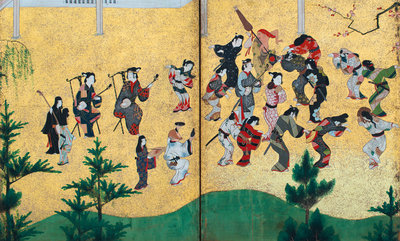 The underlying theme of the Suntory Museum of Art's collections is "Art in Life," and those who visit the venue will be introduced to the aesthetics and mentality of the Japanese people through each exhibition.
The current exhibition showcases a number of fascinating works focusing on the theme of "play" in Japan.
If you pay close attention to the detailed depictions of the Japanese people's facial expressions as they enjoy themselves "at play," you will see that "amusement" lights up one's face in any country or period. In this bustling era in which we live in, the show will make you long for the life illustrated in the works.
Among the many scenes of play introduced in the exhibition, the painting of dancing women, dressed in kimonos of the same pattern that appear almost uniform-like, is especially remarkable. Have a look at their facial expressions, dancing style, kimono designs, and hairstyles.
The origin of kabuki goes back over 400 years in Shijō Kawaramachi, Kyoto. Kabuki began there as a dance performance by a group of young beautiful women, much like the ones depicted in the art.
However, with the imposition of numerous restrictions during the reign of the Edo (Tokugawa) Shogunate, the performers soon became restricted to all-male actors, as they are today. But, come to think of it, just like the famous Takarazuka Revue performances, dancing by beautiful women may be a significant feature of Japanese culture.
The exhibition, which runs through August 18, will provide viewers with a glimpse into other forms of amusements as well. Look for "sugoroku," a backgammon-like game and "kai-awase," a shell-matching game, as well as renderings of various fashion styles, all which are likely to interest modern Japanese people as well as visitors from outside Japan.
Suntory Museum of Art
Styles of Play: The History of Merrymaking in Art
Exhibition: Follow this link for information about the exhibition.
Artworks: An English language list of the artworks shown in the exhibition can be found here.
Days: Open Wednesday through Monday; closed Tuesdays (except August 13).
Hours: 10:00-18:00 Mondays, Wednesdays, Thursdays and Sundays; and
10:00-20:00 Fridays, Saturdays and August 11. Last admission: 30 minutes before closing
Entry Fees:
Adults General: ¥1,300
High School and College General: ¥1,000 Advance: ¥800
Elementary and Junior High Student: Free
Disabled and One Caregiver with Certificate of Disability: Entry Fee Waived
Author: Yukihiro Watanabe